Tutorial: DIY Candy Wrapper Key Fobs
Lazies, I buy candy for the wrappers. It's true! They are a source of novelty 'fabric' waiting for fun and attention.
What could be sweeter than key fobs sporting your favorite candy wrappers! Collect colorful, bright, and tasty candy wrappers, laminate with my Slicker iron-on vinyl, then stitch up some sweet key fobs. Make a few or a slew! Then join the Lazy Girl community online at Facebook to share pics, tips and fun.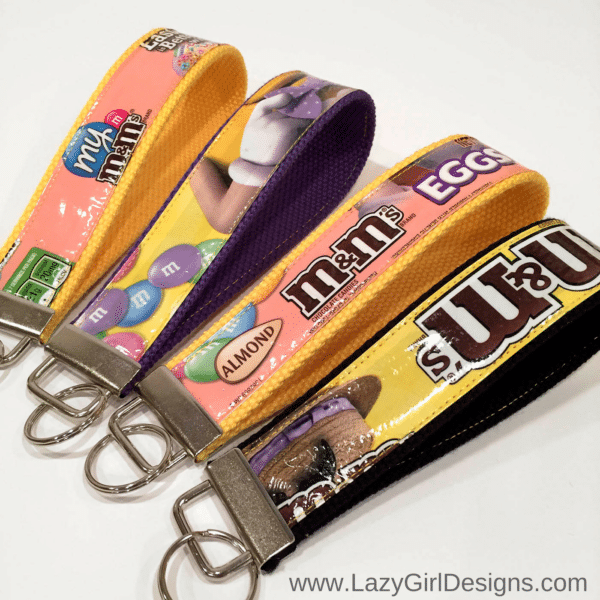 Supplies: Makes several Candy Wrapper Key Fobs
– Candy wrappers of choice! I chose bags printed for Easter
– Cotton strapping at 1 1/4" wide or use your favorite purse handle directions to make a strap
– Slicker Iron-On Glossy Vinyl, SLG1021 from Lazy Girl Designs
– Key Fob Hardware at 1 1/4" wide, LGD711 from Lazy Girl Designs
What Is Slicker Iron-On Glossy Vinyl
I love the versatility of our Slicker Iron-On Glossy Vinyl! It's a layer of vinyl, with adhesive on one side, and comes with a paper backing. In the picture below, you can see the roll of pre-cut Slicker SLG1021 toward the top; a piece of Slicker with the corner peeled from the paper backing; and the candy wrapper bag rinsed, cut open, and fused with Slicker.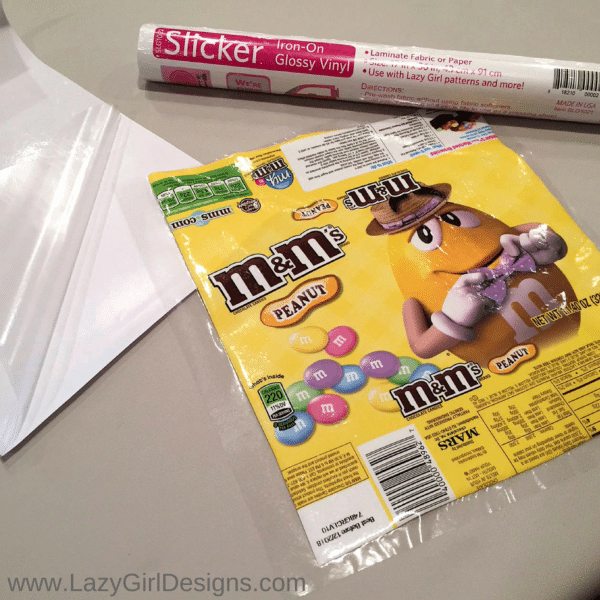 Getting Started
– Rinse, pat dry, and cut open candy wrapper.
– Fuse Slicker Iron-On Glossy Vinyl to top side of candy wrapper.
To Use Slicker
To position the Slicker on your candy wrapper, work on a hard, supportive surface like a counter top or cutting mat. Follow the directions on the product to peel the paper backing, place the vinyl with adhesive side on top of the candy wrapper and smooth in place.
Once in place, take your wrapper/Slicker to the pressing surface. For good measure, place a sheet of paper under the candy wrapper to protect your pressing surface.
Use the Slicker paper backing as a press cloth and place it shiny side down on top of the Slicker. If you are not using the whole wrapper, cut off a small piece and test fusing it with Slicker. Slicker is re-positionable. You can pick it up and move it before fusing if needed.
Press according to the directions from the Slicker packaging to fuse Slicker to the candy wrapper. You're working with plastic and a warm iron, be quick about things.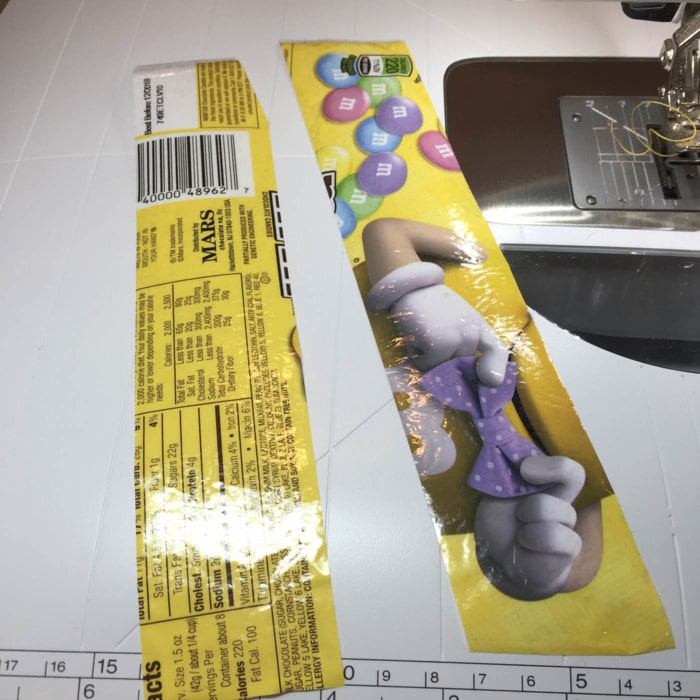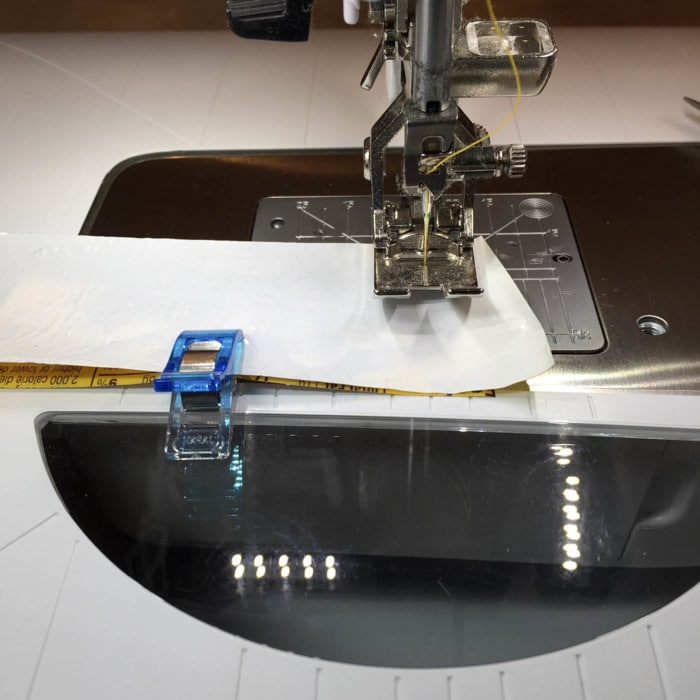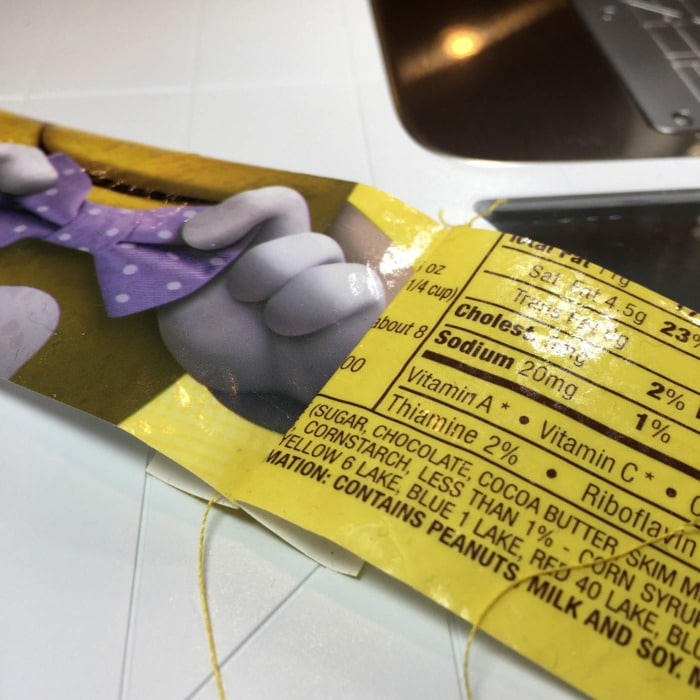 – Cut strips 1 1/2" wide. Each fob needs 14" length total.
– Place strips right sides together and seam to get the length needed.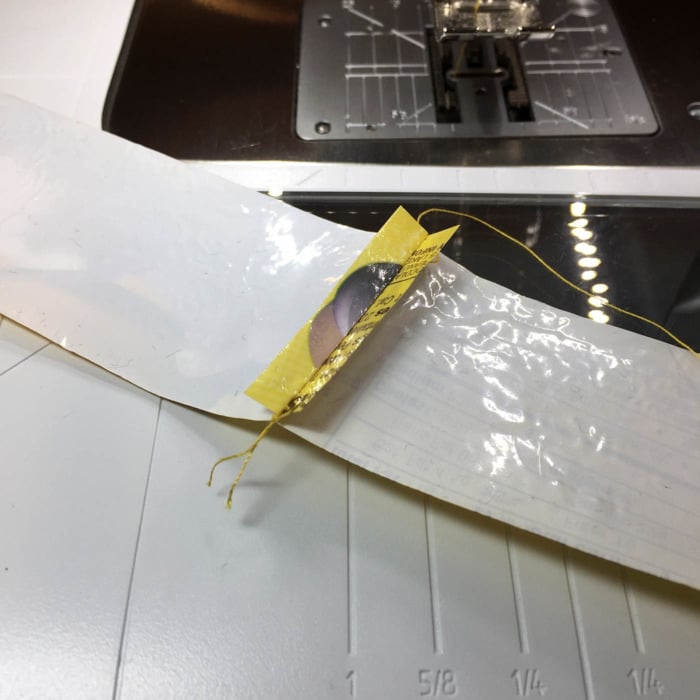 – Finger press the seam open and trim seam allowances.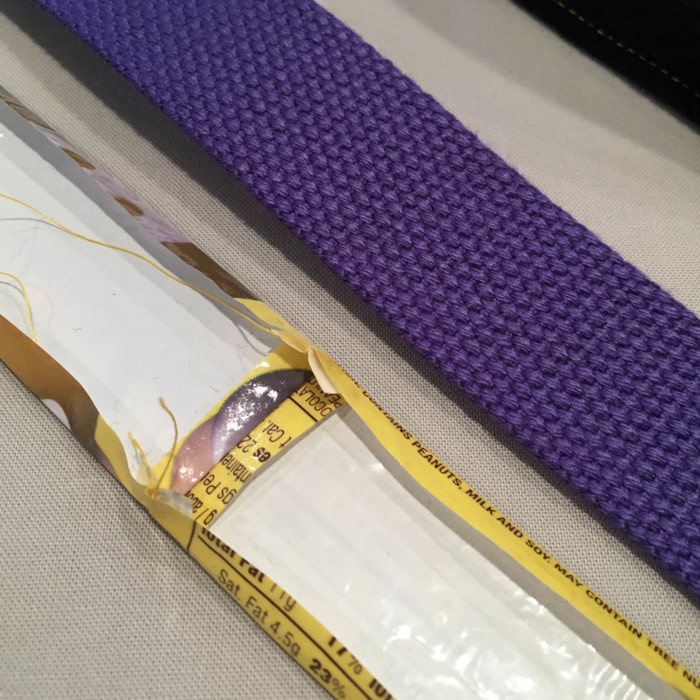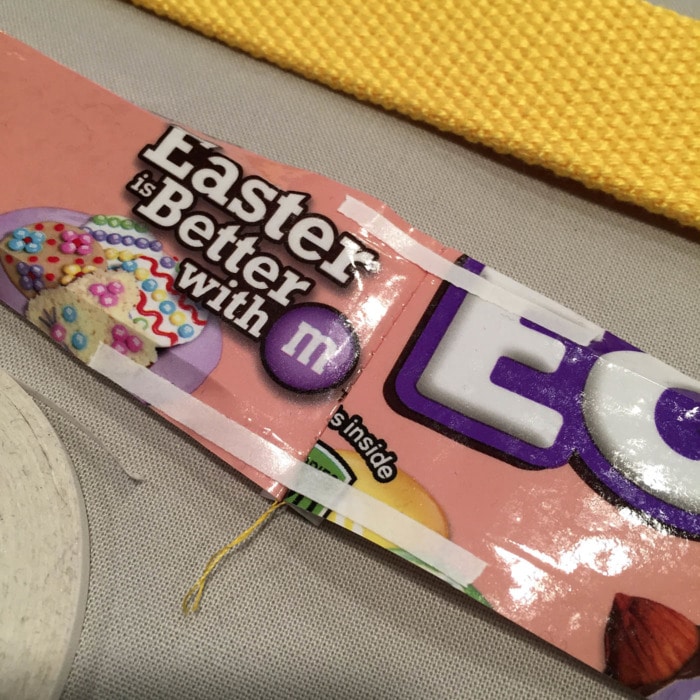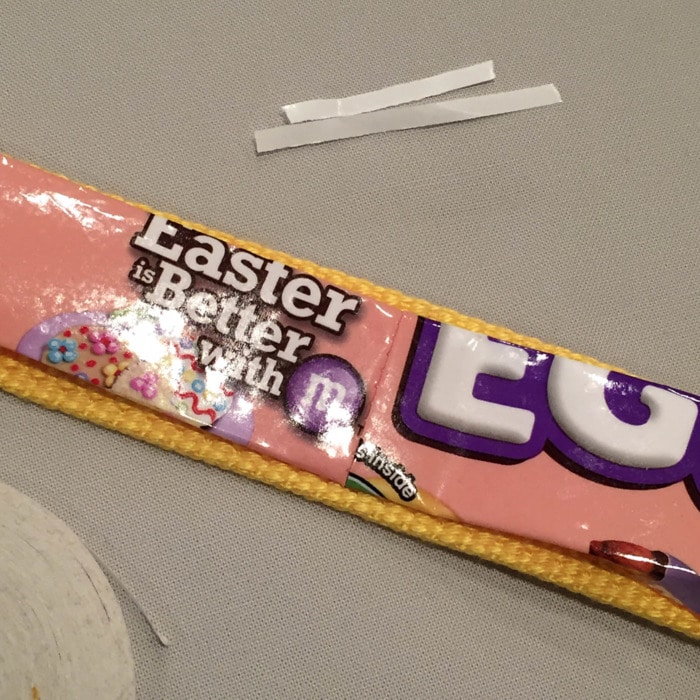 – Carefully fold under long edges of wrapper strip so it is narrower than the cotton strap.
– Lazy Tip: The seam allowance area is the most unruly. Add a bit of double sided adhesive tape to the wrapper where shown.
– Peel paper backing and adhere wrapper to strap. Secure this area to help manage the project.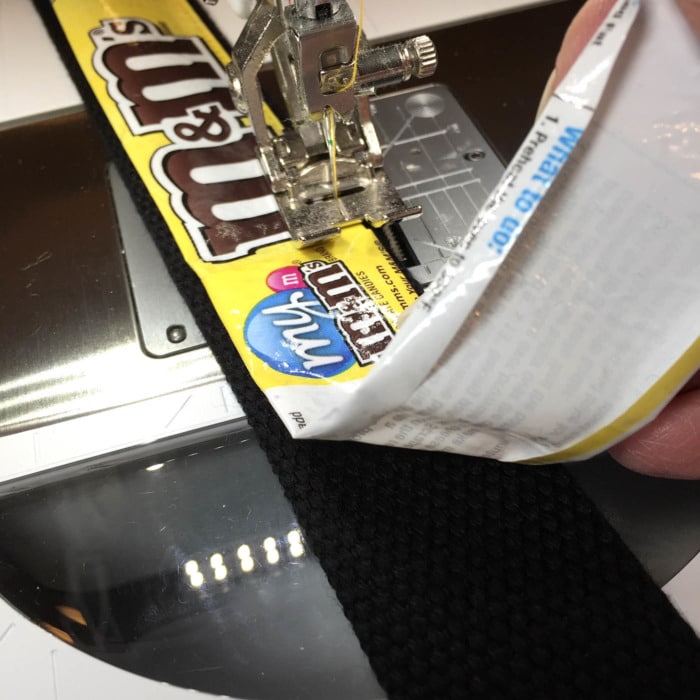 – Straight stitch on the wrapper, close to the edge, through all layers.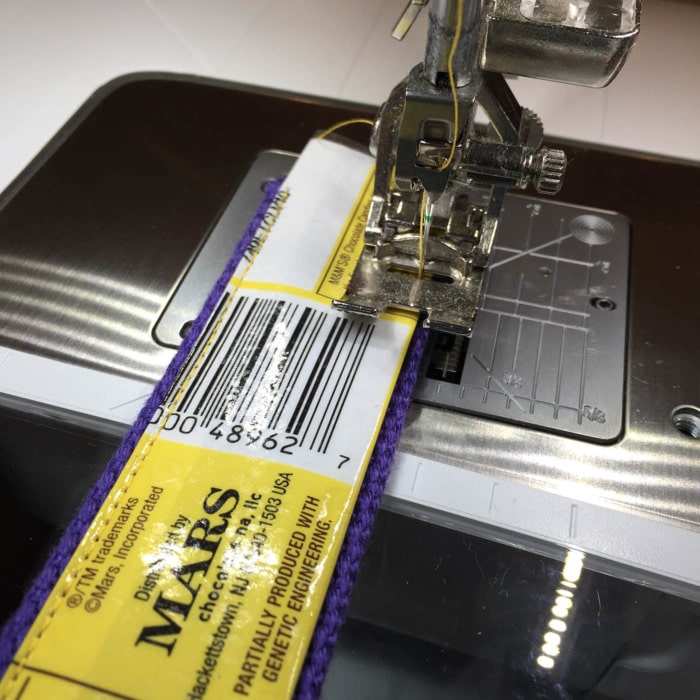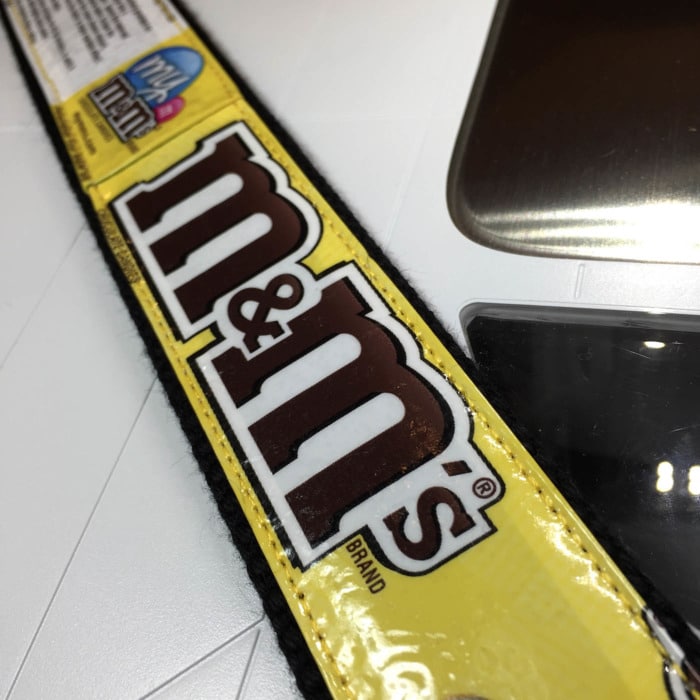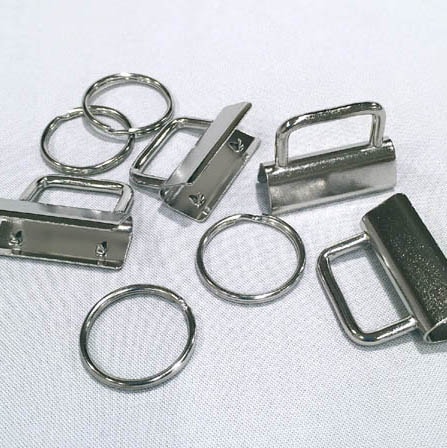 – Stitch the second edge of the wrapper.
– Trim the ends of the project as needed. Final length of 12-13" is good.
– Fold the strap in half, matching the ends. Take a few stitches through the ends to keep them together.
– Place ends in the key fob hardware and finger press or use pliers to close the hardware, clamping down on the strap. Enjoy!
Slicker Product Info
Buy Slicker is available in 1yd x 17″ item SLG1021, or on the bolt at 10yds x 17″ item SLG102.
Shop Owners
The Slicker Iron-On Glossy Vinyl is available from all the major distributors.
Please sign-up for my Wholesale Newsletter here.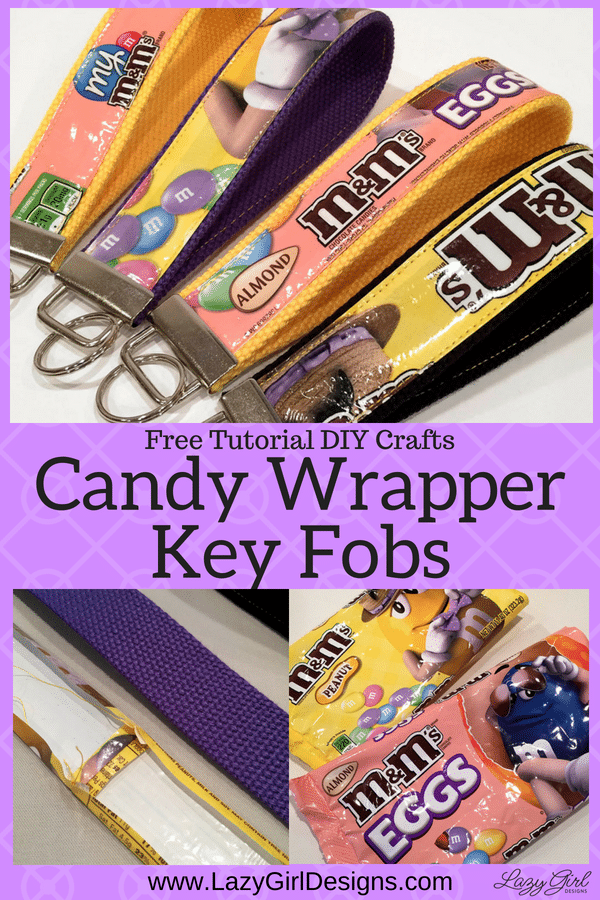 Claim your FREE printable tutorial below!
Print it and keep it with your patterns for reference.
Like and share this post with your stitchy friends.
Join me in the Lazy Girl community on Facebook here: Facebook Lazy Girl
That's Pinterest-ing!
Join me on Pinterest here, remember to 'Follow' me there, and pin this post and pics to your Pinterest boards.
Enjoy!
Joan