You'll Love These Stylish Secure Bags For Home And On The Go
Make a crossbody bag and small zipper pouches to stay organized and secure at home and on the go, travel.
Lazies, Stay organized and secure in style with these cute zippered pouches and a smart crossbody bag. Zoey Zips pouches are perfect for sewing notions, travel gear, a pencil case and more. And the Lexi Carryall is the perfect cross-body bag to keep your purse items safe and tidy on the go. Make them in fabrics you love to stay organized and secure in style.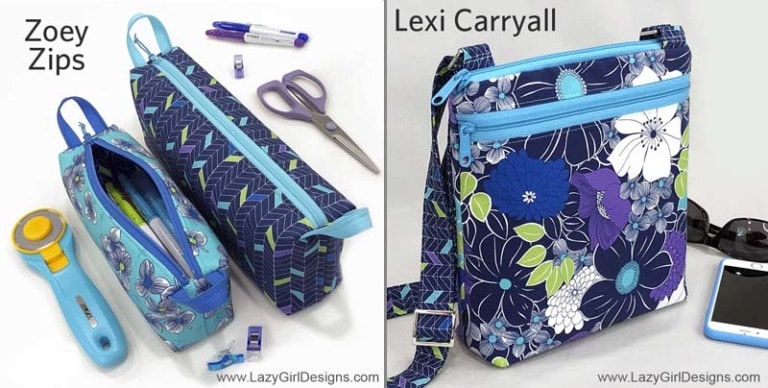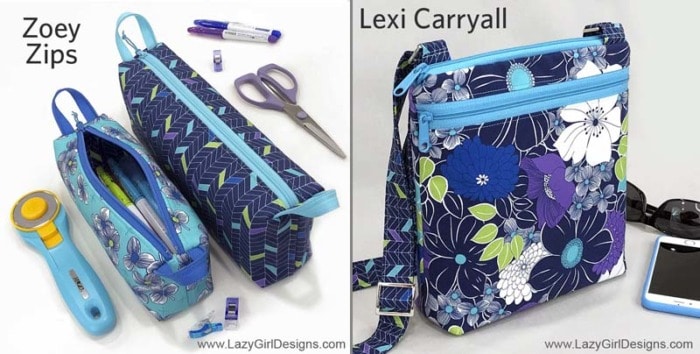 Zoey Zips: Zipper Pouches in Two Sizes
These pencil-case styled zipper pouches are so useful and handy. And these pouches up the ante with cute basket-style zipper handles. The sewing pattern includes two sizes to keep all your goodies organized in a zip! Cut squares, add a zipper and sew!
What would you use these small zipper pouches for? Well, think of all the ways you use plastic zip bags for keeping small items together. These fabric zip bags are just as useful.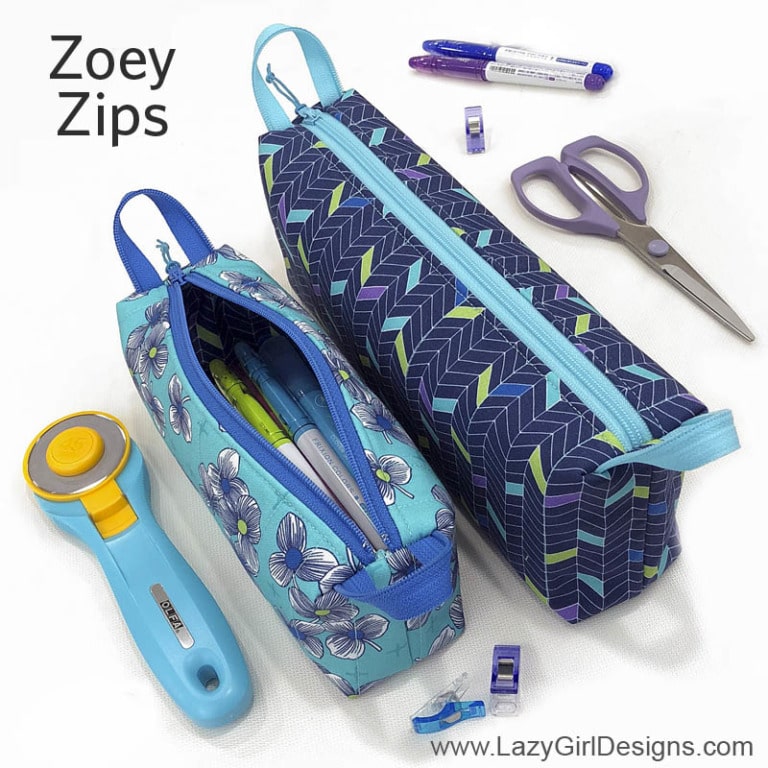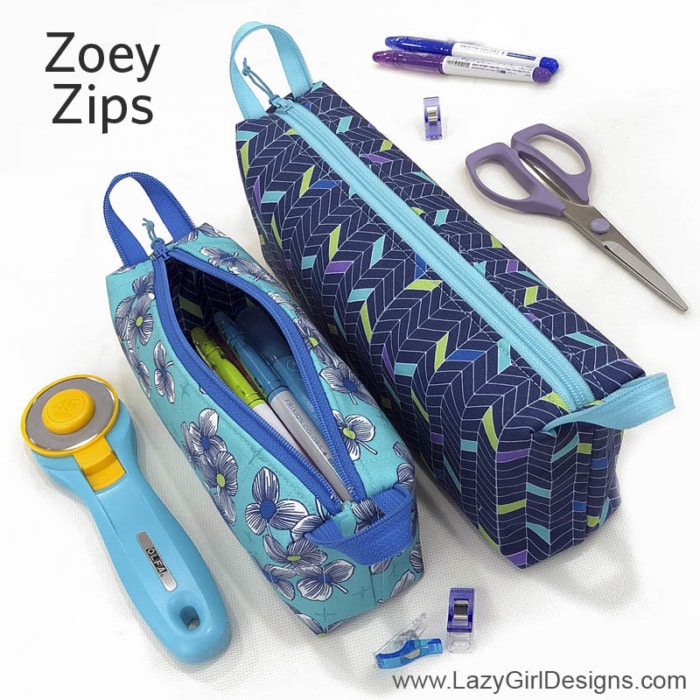 Zoey Zips pattern, item LGD146
Here are some of the ways I am using Zoey pouches
I'm visualizing Zoey made in theme fabrics for all of these different uses.
My make-up brushes
Nail polish supplies
Sewing kit or notions
Coffee/tea supplies
First aid kit

Buy Now: Zoey Zips Pattern
Printed Pattern: Order Zoey Zips Printed Pattern
PDF Pattern: Order Zoey Zips PDF Digital Download Pattern
Make Useful and Stylish Handles From Zippers
Create these sassy basket-style handles from left over zipper length. How cool is that? Bags of this size and shape can be hard to grab and hold on to. But these unique handles are easy to grab a hold of, or they can be used to hang the bag from a hook. That means these handles offer an extra layer of security not usually seen on bags similar in size and shape.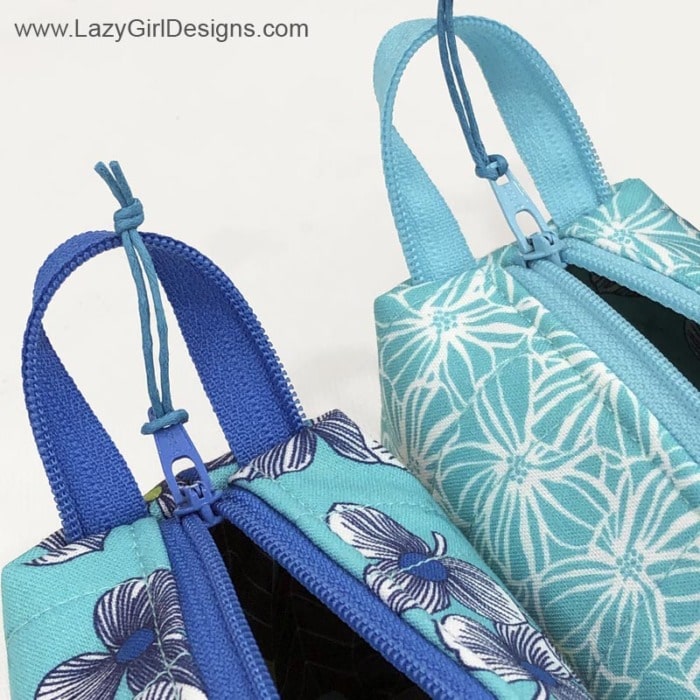 Small Zoey needs a 14″ zipper to have enough length
for the bag closure as well as handles.
Small Pouches Make Travel More Sane
Have you ever arrived at the hotel after a long trip, opened your suitcase and found your belongings in chaos? At a minimum, Zoey is perfect for keeping things together inside a suitcase. And because of its pencil-case shape, Zoey can be tucked inside a boot or shoe to save room. Carry toiletries in Zoey, then hang on a hook in the hotel bathroom.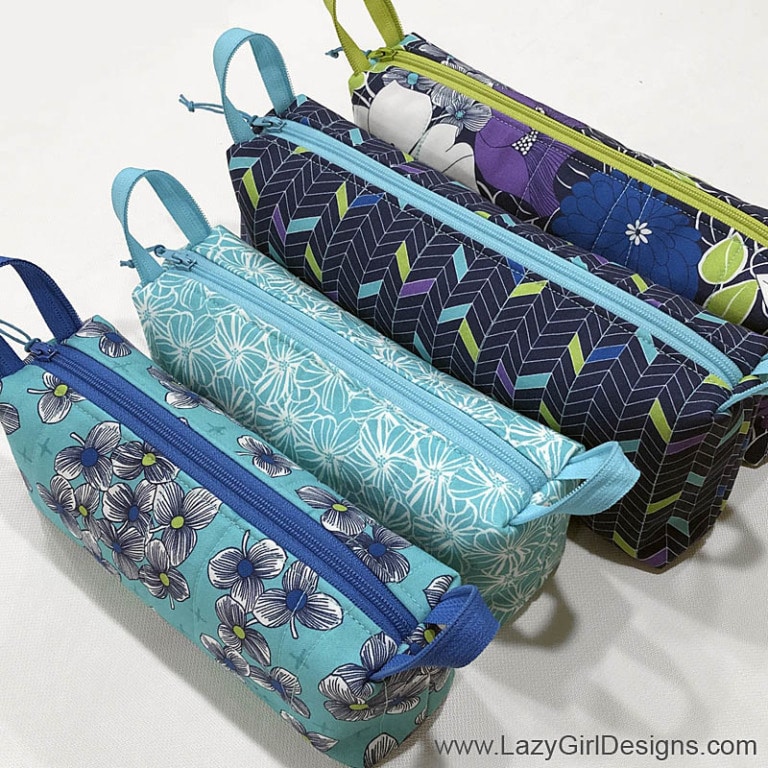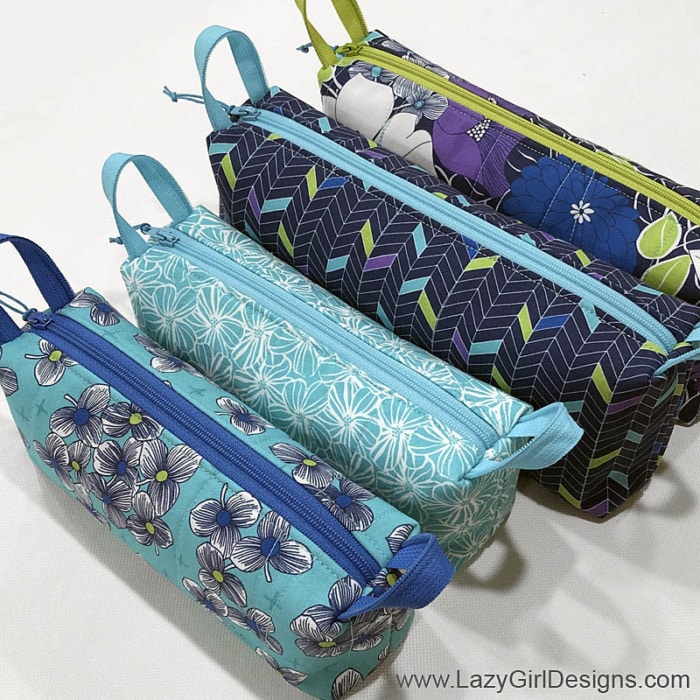 Make a coordinated set! I use several Zoey bags to keep outfits together when I travel. A small Zoey will hold jewelry or small clothing items for an outfit. Then I slip the handle onto a hanger and keep it with the outfit.
Follow my Pinterest board for Small Zipper Pouches
Zipper As Design Element
Now, this is more than cool, by using the zipper as handles on this project, we are continuing the color story of our fabric and supplies. The zipper handles are the same color as the zipper closure and that offers visual continuity across the whole pouch.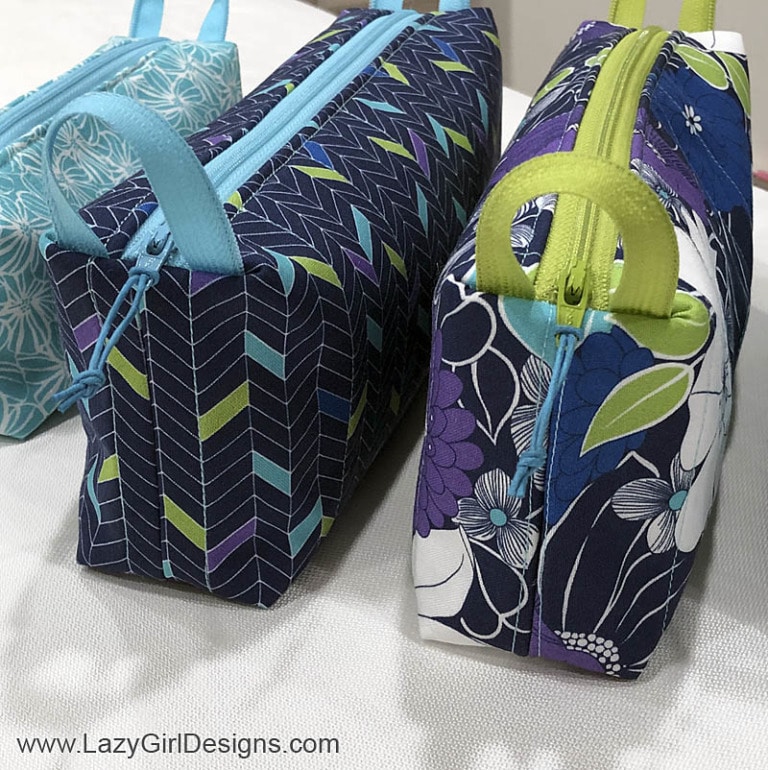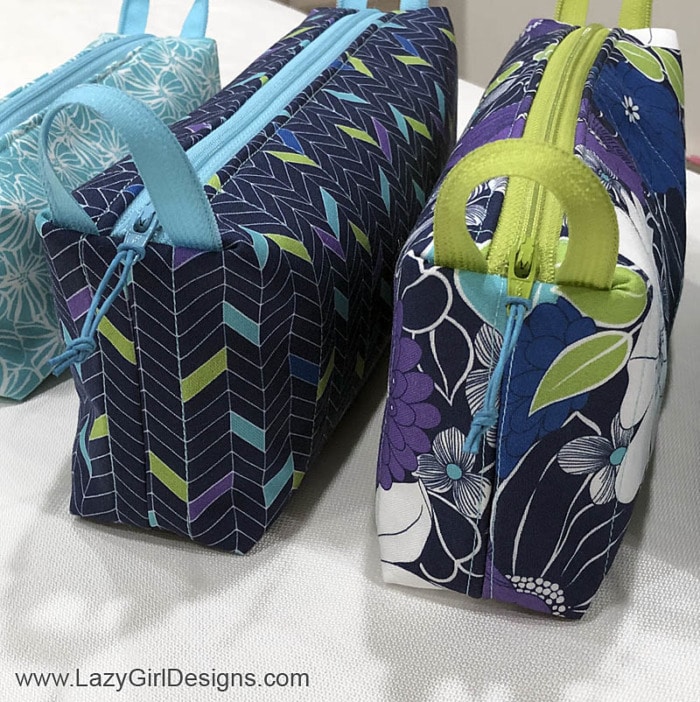 It's almost as though the zipper goes into the seam and comes out the top of the bag like a loop on a roller coaster before disappearing back into the seam.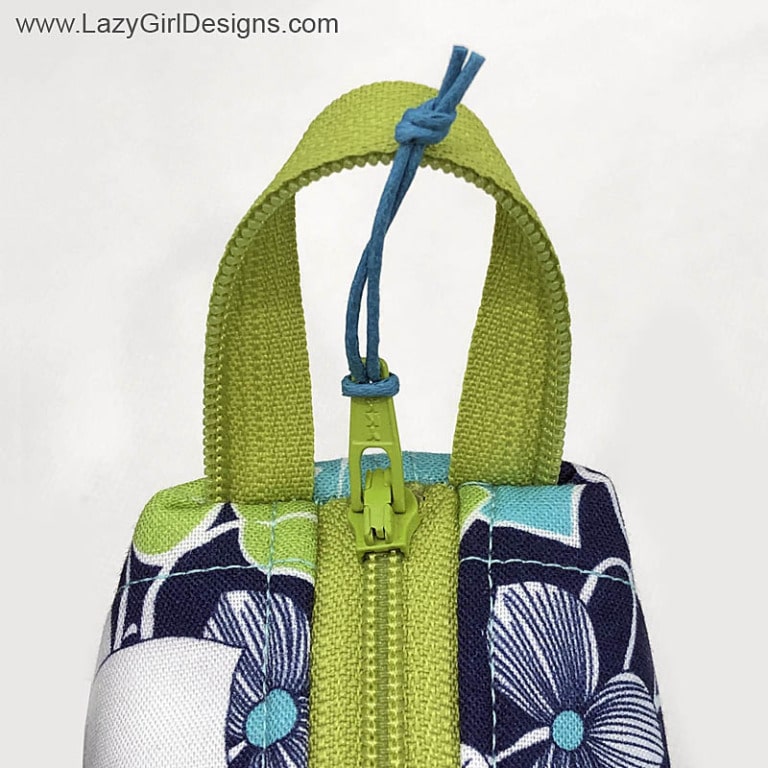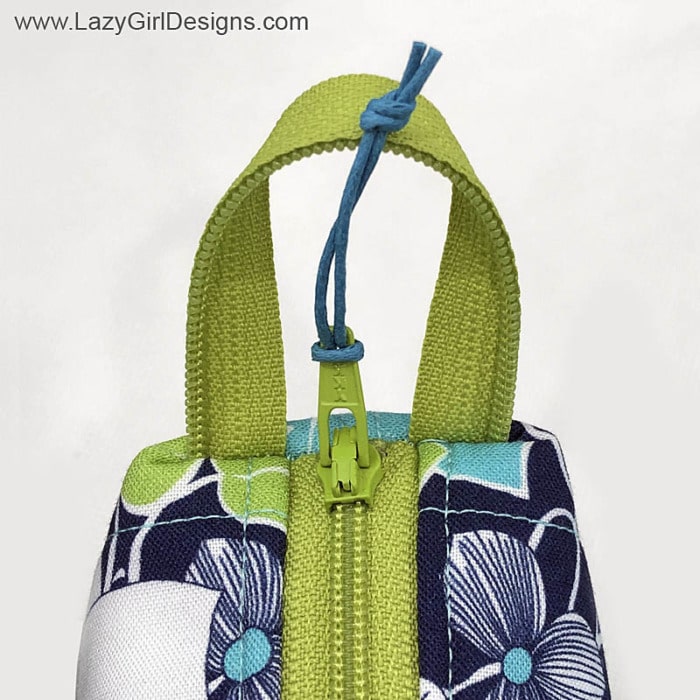 This post contains affiliate links. I make a commission when you order items through those links.
Lazy Tip: Did you notice the waxed cotton cording on the zipper pulls? Cotton Waxed Cording 1.0mm
For more zippered pouch projects, try the Bendy Bag here.
Lexi Carryall Crossbody Bag
Leave the kitchen sink at home, Lexi carries all you really need when on the go! Everyone needs a smart, cross-body bag with an adjustable strap.
Lexi has a zippered main compartment loaded with pockets and holds a standard 500ml water bottle. Front zip pocket is perfect for quick access to secure storage.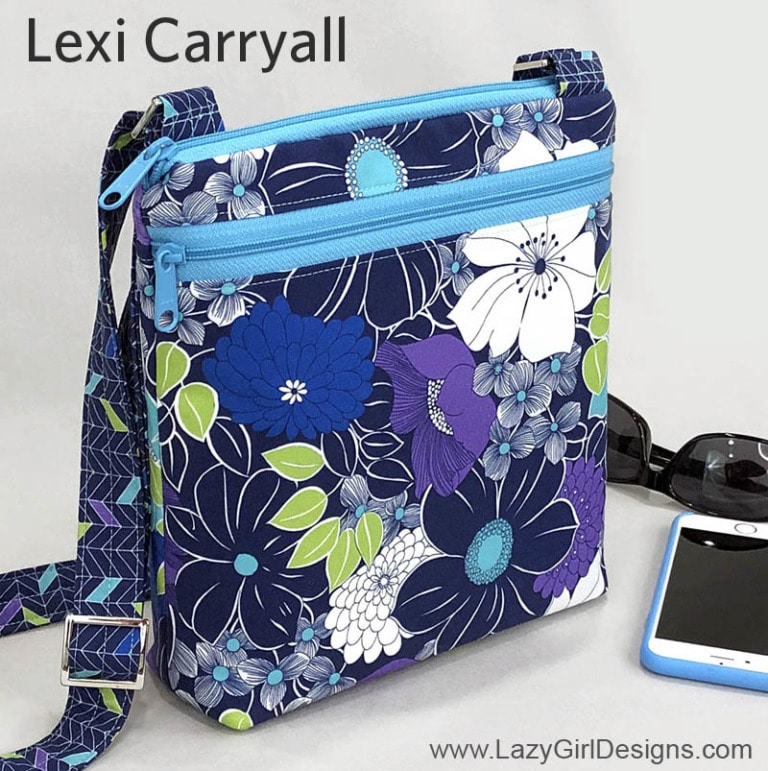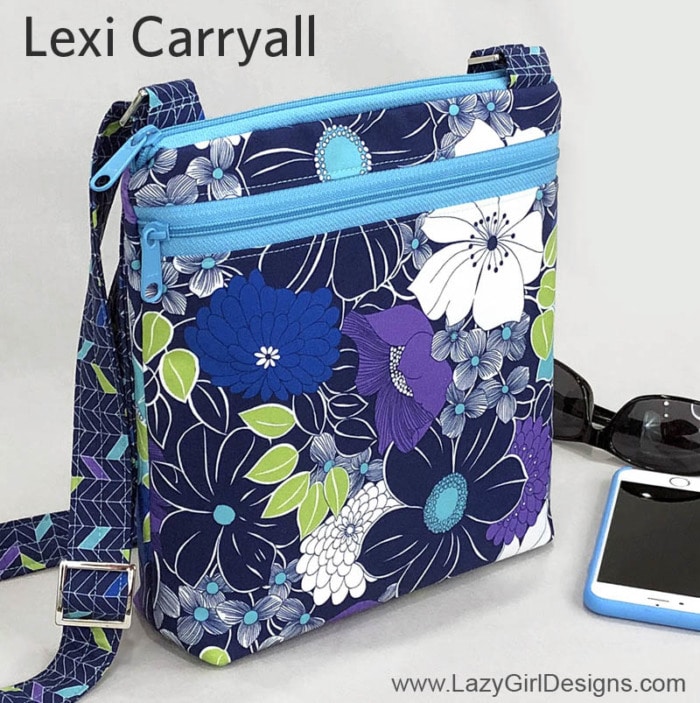 Lexi Carryall pattern, item LGD147
Lexi hangs close to the body, keeping all of your possessions safer and more secure than other larger or shoulder bag style purses.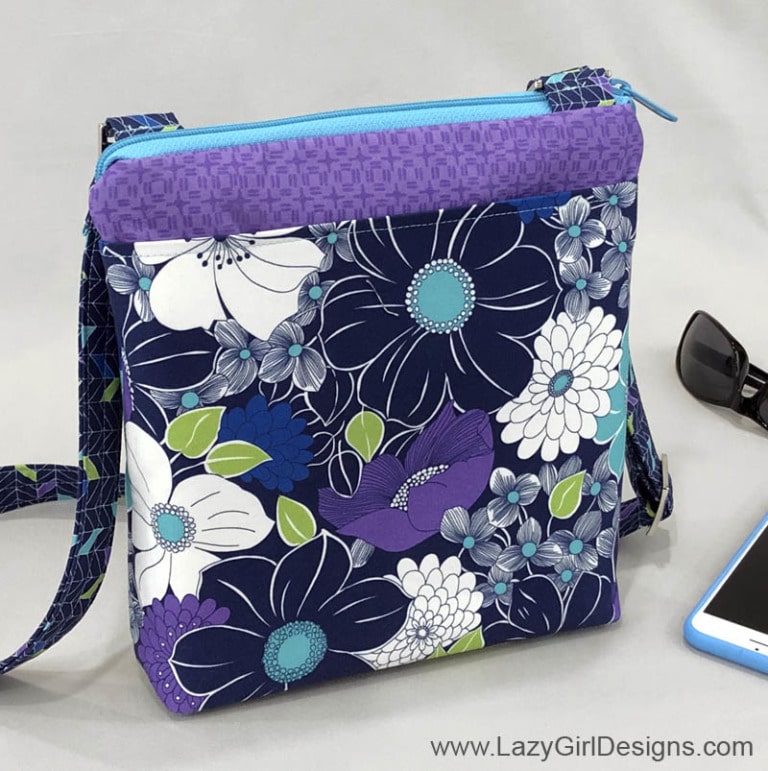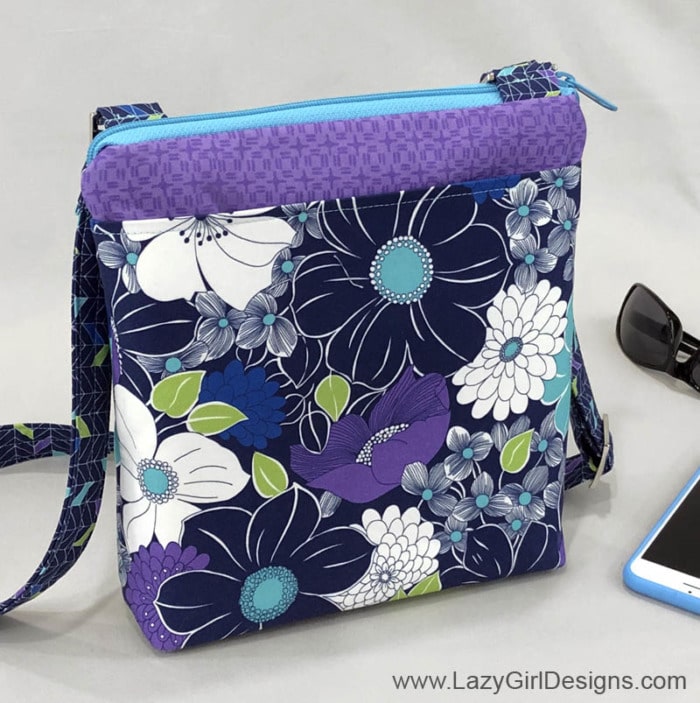 Do you rummage around the bottom of your bag for little things? The slip back pocket is large and deep to keep convenience items handy. Use this pocket to keep written lists, candy, napkin, lip balm, and more. You know that small stuff that can get lost at the bottom of your bag. Keep that stuff in the back pocket where you can get to it without dumping your bag.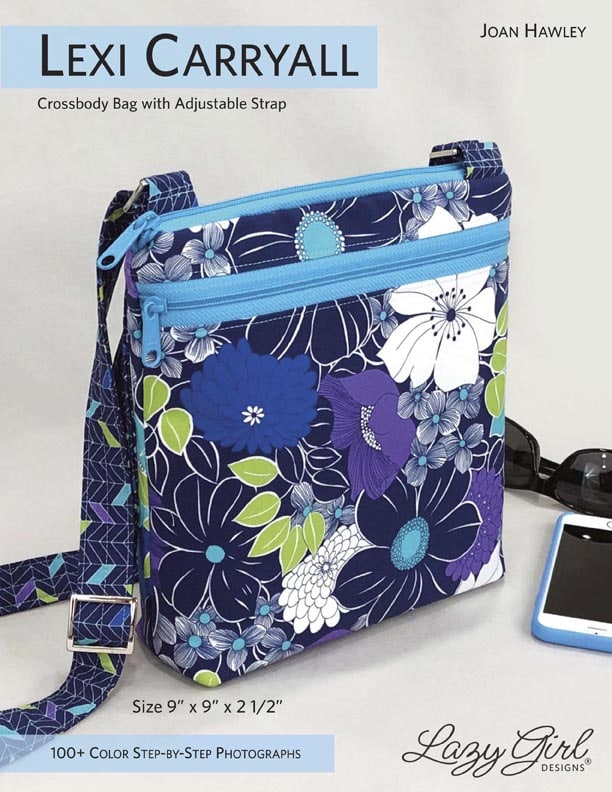 Buy Now: Lexi Carryall Pattern
Printed Pattern: Order Lexi Carryall Printed Pattern
PDF Pattern: Order Lexi Carryall PDF Digital Download Pattern
Always Carry A Bottle of Water In Your Bag
I love being able to carry a bottle of water in my bag. Lexi is wide and deep enough to accommodate a standard 500ml water bottle. Hey look, there's my cell phone nestled nicely, too.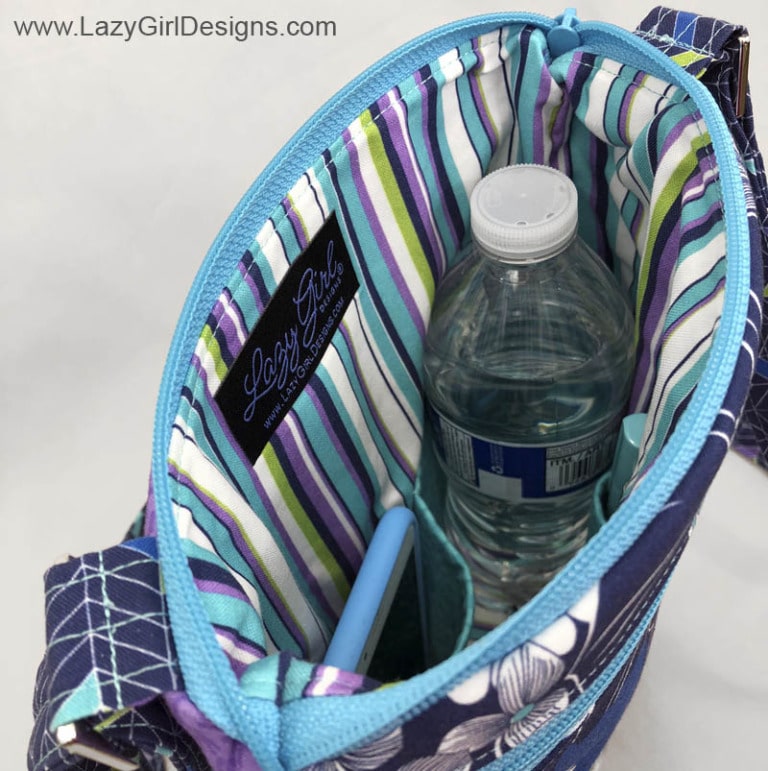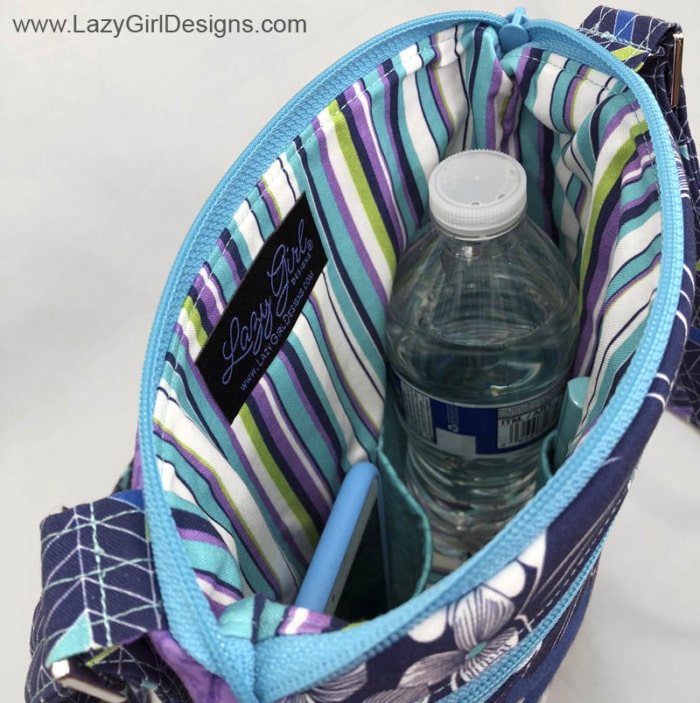 Lexi is loaded with slip pockets around the inside lining of the bag, offering organization for all that you carry. That's a pen pocket near the water bottle.
Zippered Bag Opens From Edge To Edge
Take a minute to notice the unique zipper installation. I use a new technique on Lexi which allows the zipper to bend over the edges of the bag and open from end to end for crazy-good access. This means I can open the bag and see everything and get into and out of the bag quickly. Use a double-pull 4.5mm zip for best results.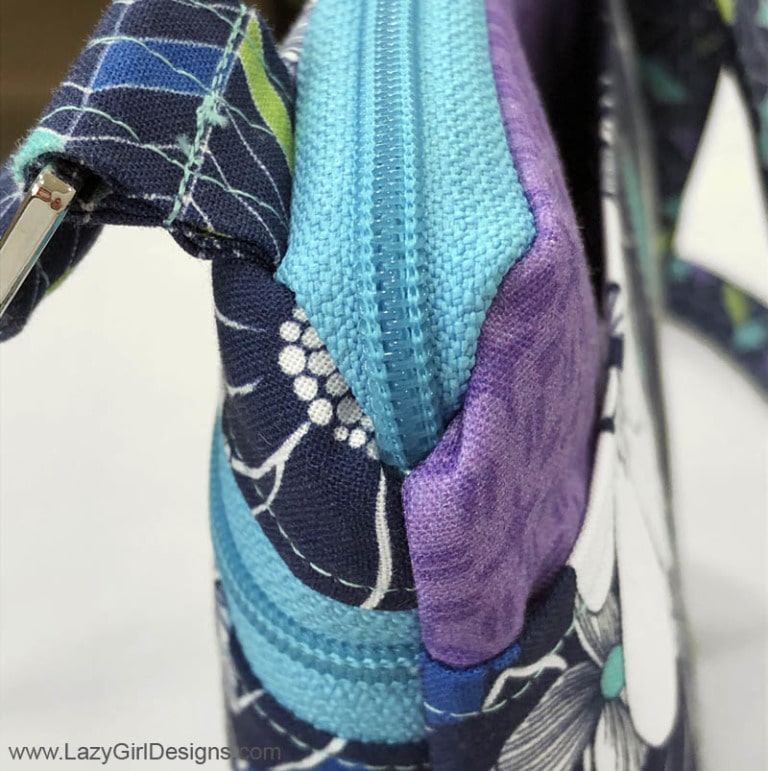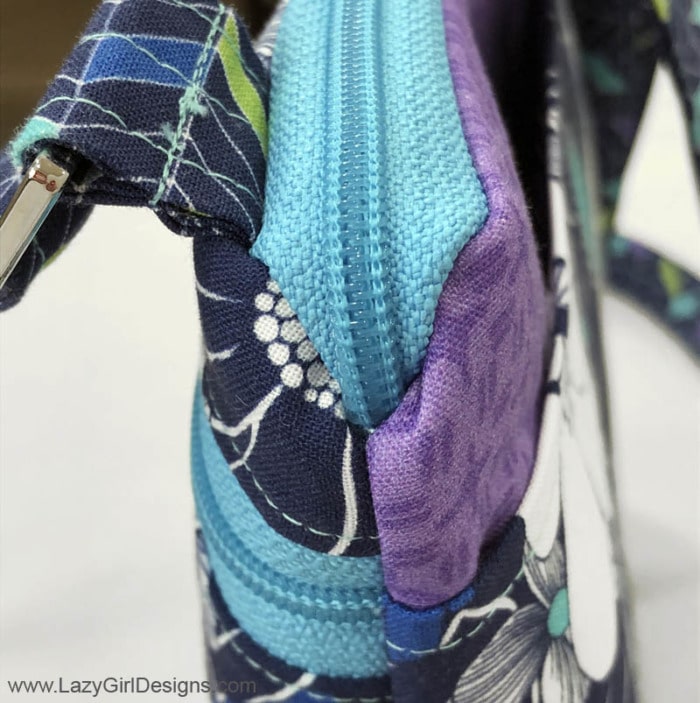 Some bags offer an opening that is restricted with fabric tabs at the ends of the zipper which creates an opening that is challenging to use at best. You can't see things, your hand rubs against the zipper, you wrestle to get large items in or out – ugh, it's frustrating.
Adjustable Strap Offers Style, Options, and Security
Lexi has an adjustable shoulder strap, offering flexibility in how you carry the bag. The strap can be lengthened or shortened to wear cross-body or straight from the shoulder.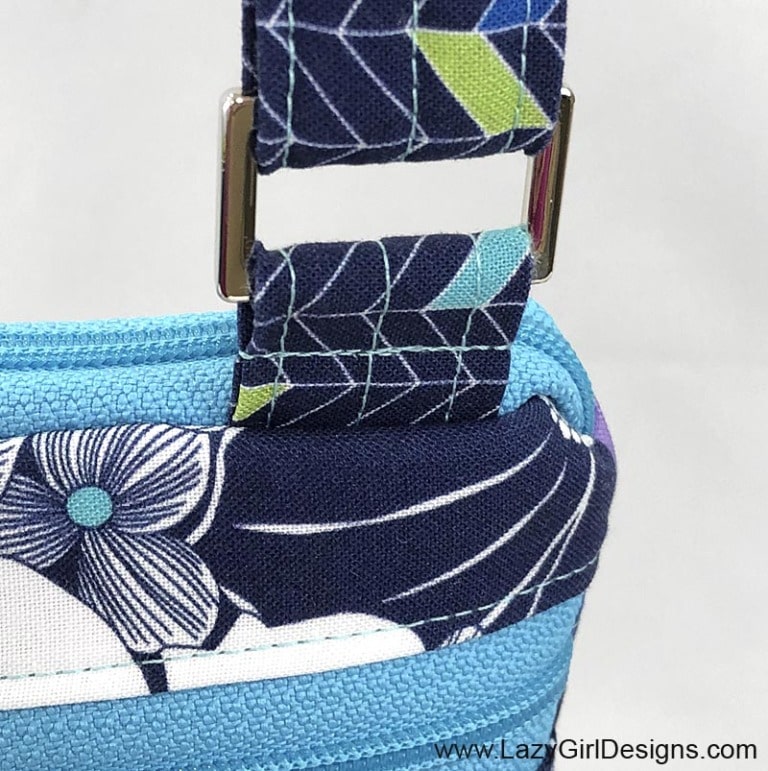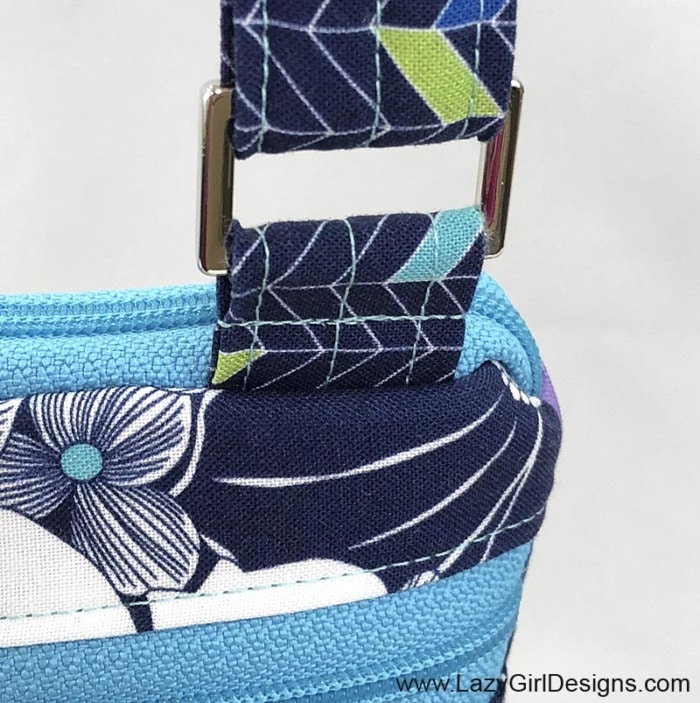 The ends of the shoulder strap are attached next to the zipper at the top edge of the bag. Tabs with 'D' or rectangular shaped rings are sewn into the seam at the zipper. A strap with an adjustable slide ring is then attached to both 'D' rings at the top edge of the bag.
By the way, you can hang other things from the 'D' ring like a gorgeous decorative tassel or a small bottle of hand sanitizer.
See how I used the adjustable strap from Lexi as inspiration for making Adjustable Elastic Ear Loops on a Face Mask
For more bag inspiration, follow my Pinterest board Purses & Bags To Make and Sew
Get The Zoey and Lexi Patterns
The Zoey and Lexi bag shapes are on trend right now!
That's Pinterest-ing!
Follow me on Pinterest and pin this post to your Pinterest boards.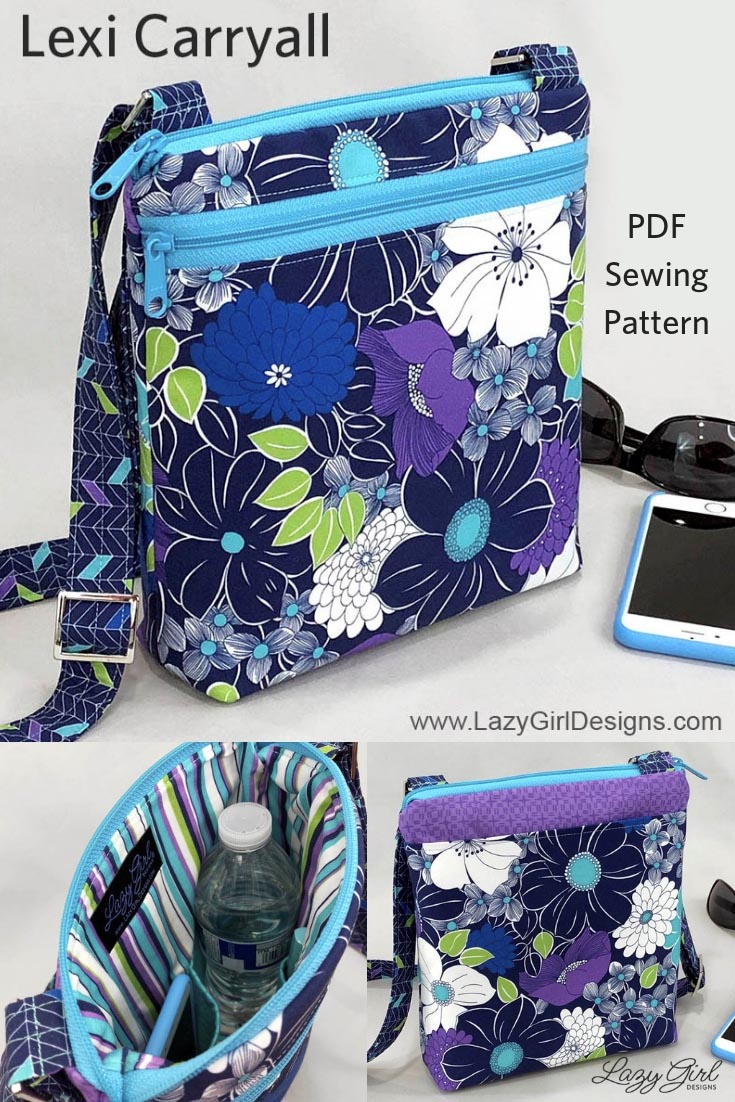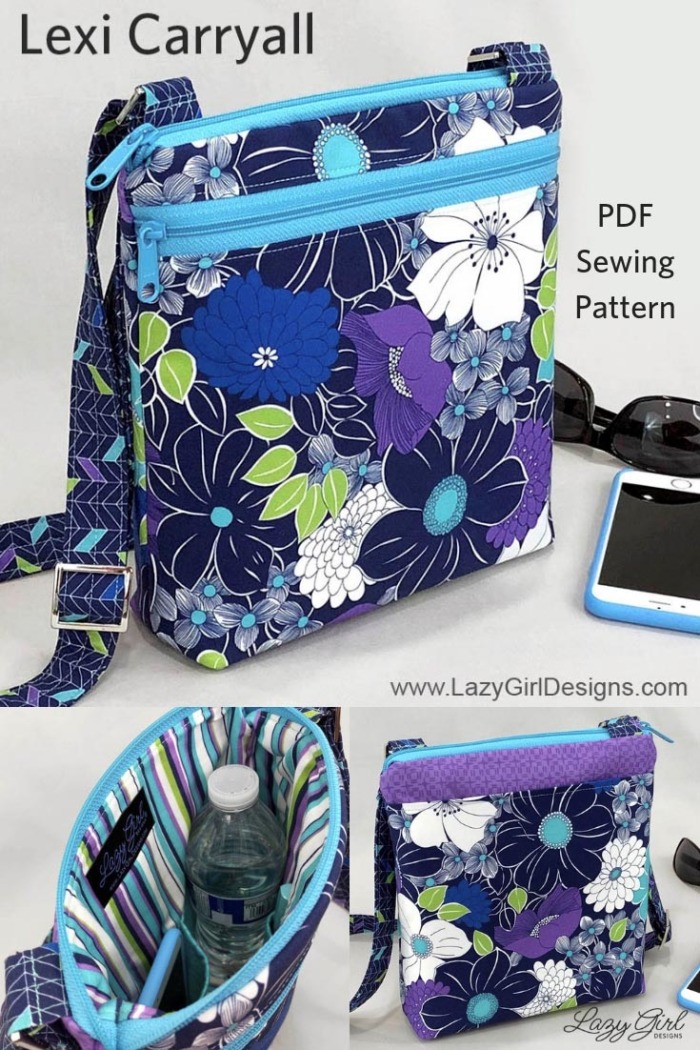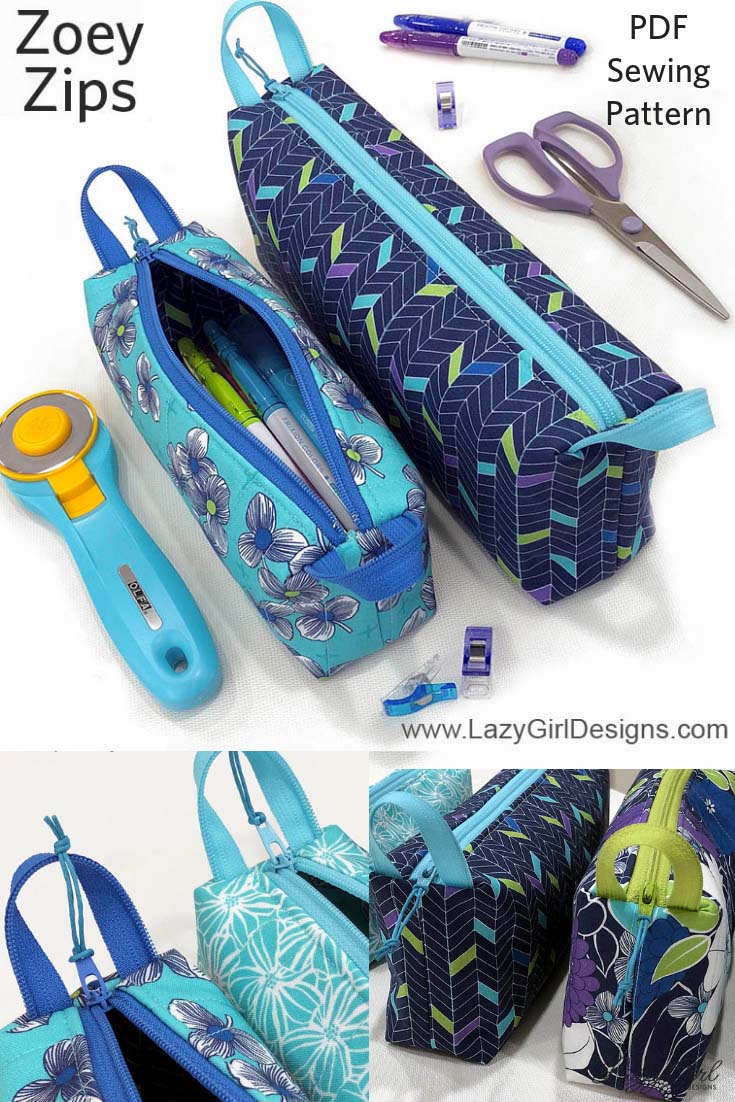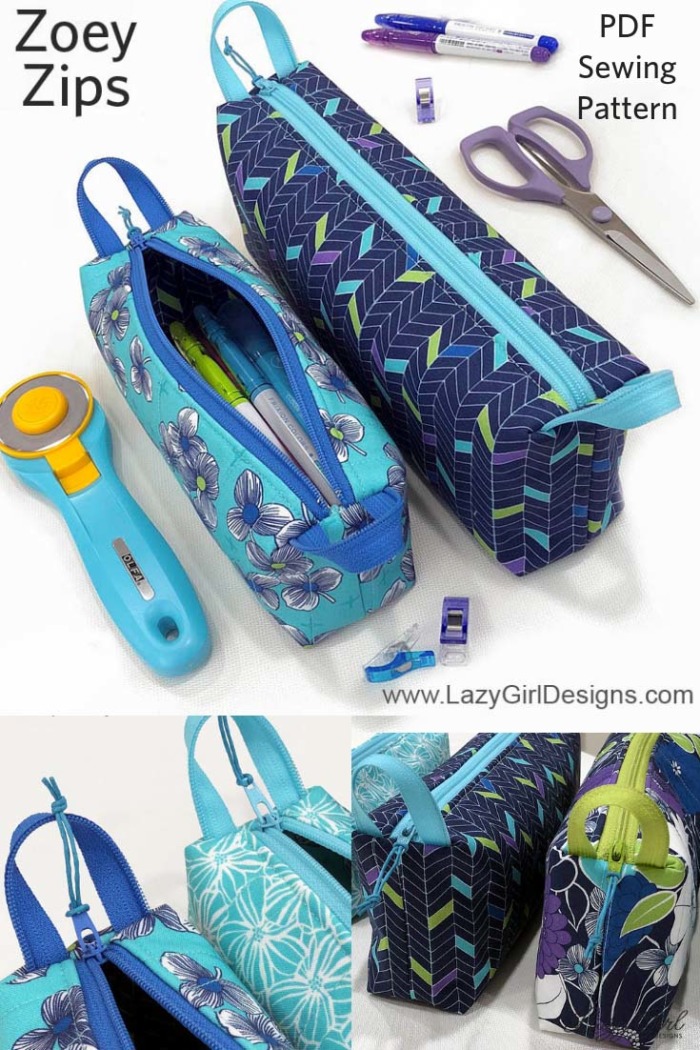 Subscribe to receive emails for my blog and newsletters about new patterns and project ideas.
Enjoy!
Joan
Joan's Sewing Group | Pinterest
Like and share this post with your stitchy friends.