Free Tutorial: Easy Sew-In Support for Bag Bottoms
Lazies, Get ready to support your bags in a whole new and easy way! Check it out, then grab a FREE printable tutorial below. So let's take a look at this crazy-good and convenient sew-in bag bottom, to support your next bag project. Be sure to see our announcement below, too.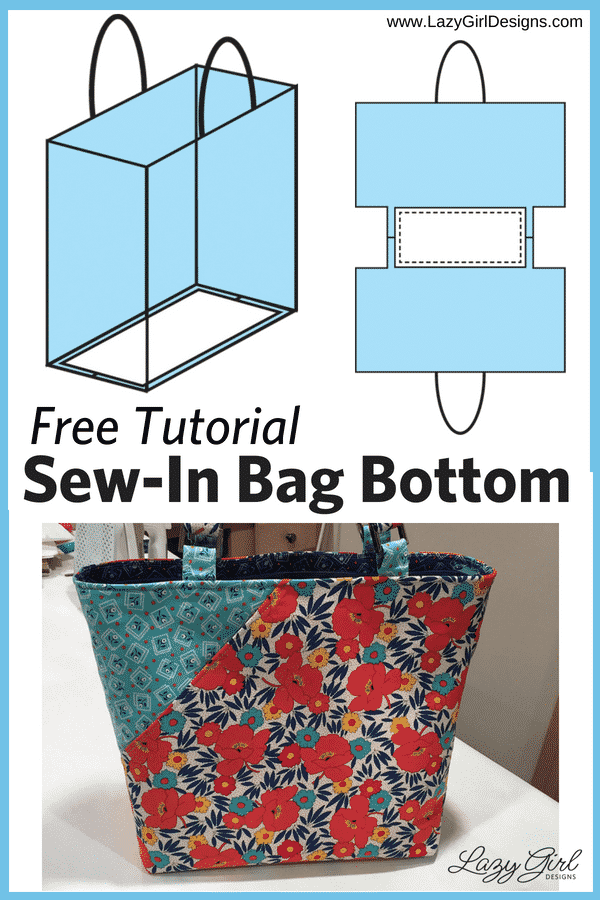 Sew A Better Mousetrap
Our Stiff Stuff firm sew-in interfacing SLG107 can be cut to size and sewn directly into the bottom of your bag project. It's lightweight, flexible, and yet sturdy enough to offer the support your bag needs. It offers flexibility that our acrylic, rigid, pre-cut Bag-E-Bottoms can't.
Stiff Stuff Firm Interfacing
Stiff Stuff is a sew-in product. It is not fusible and there is no adhesive on it. Find Stiff Stuff on the bolt, packaged yardage, or in packaged squares online or at your local quilt shop.
Stiff Stuff for Bag Support
Custom cut and add Stiff Stuff after sewing the bottom seam, but before sewing the side seams. I use our Candice pattern LGD130 in this tutorial.
Determine Size
– Sew the bottom seam of your bag, press the seam allowance open.
– Measure the width and length of the bottom of your bag where shown.
– Cut the base 1" shorter than the length and the same width as the cut-out corners.
– Keep the base 1/2″ from the cut edges of the project to accommodate seam allowances.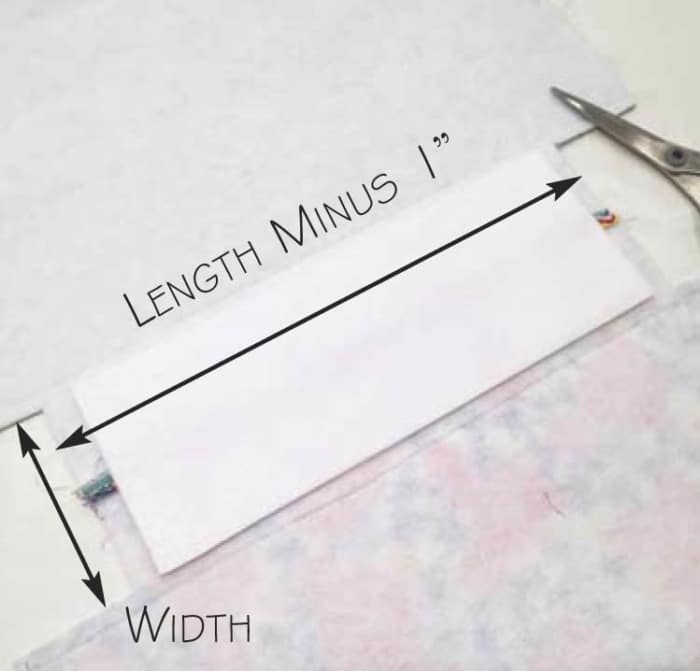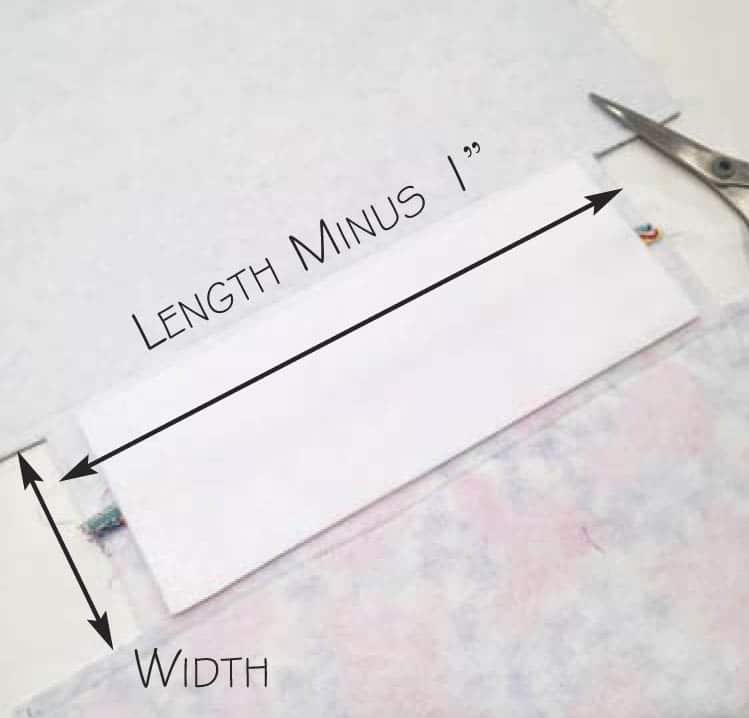 Number of Layers
– Because Candice is a large-ish bag, I used two layers of Stiff Stuff. In this case, I just cut one long piece and folded it in half.
– Use one layer of Stiff Stuff for small to medium sized bags. Use two layers for larger bags.
– When using two layers, add a bit of glue/tape between the layers just to keep them together during stitching.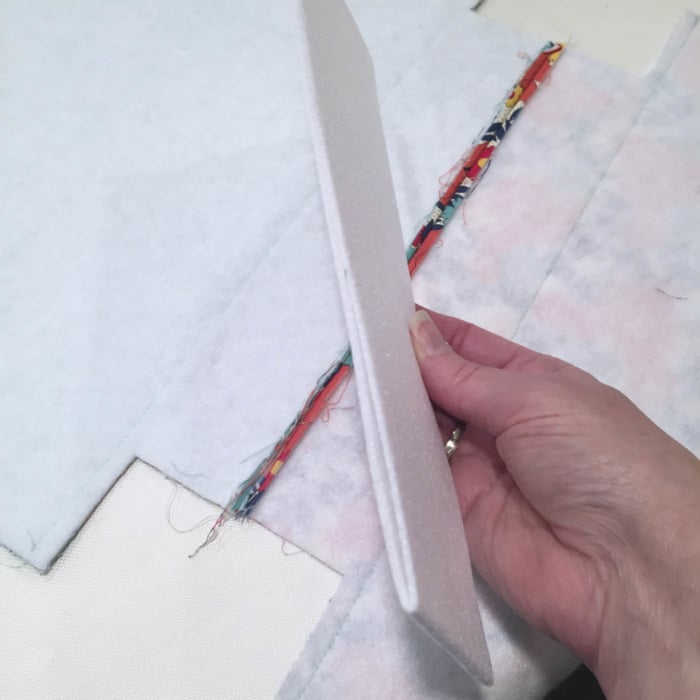 Stitch In Place
– Lengthen your stitch a bit to accommodate sewing through all the layers and stitch 1/4″ from the base edge.
– Stitch through all layers to attach the base to your project.
– Tip: You can use double sided tape or a bit of glue to hold the base in place while sewing.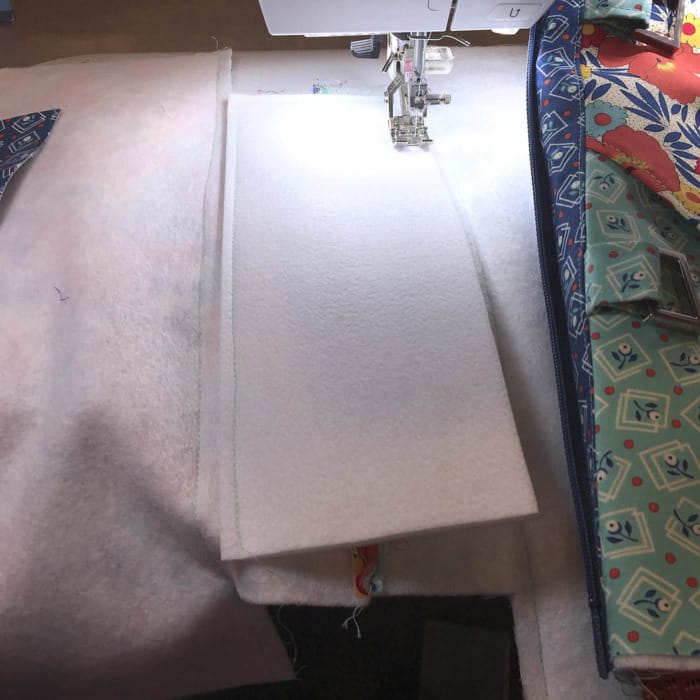 Finish and Enjoy!
– Finish the side seams and box the bottom corner seams.
– You can see the Stiff Stuff is safely away from the seams.
– Stiff Stuff is flexible enough to easily turn the bag right sides out.
– The stitching will show on the outside bottom of your bag.
– Tip: use a thread color that coordinates with the fabric.
This simple trick of sewing the Stiff Stuff base into your bag provides stay-in-place support for great posture. Look at this gorgeous Girl. These fabrics are 'Harlow' from QT Fabrics.
Additional Bag Bottom Options
Another way to incorporate Stiff Stuff support is to create a false bottom that sits on top of the lining of your finished bag. To make, cut to size and cover with fabric, then place inside your finished bag. It will be held in place by the purse contents.
Purse feet can be added through the Stiff Stuff for extra stability.
Note – Since our Bag-E-Bottoms were sized to fit our bags, you can simply cut Stiff Stuff to those dimensions and you are good to go!
Where To Buy Pattern and Supplies
– Stiff Stuff is available in yardage cut from the bolt (SLG107, SLG1071, SLG10720), or
– Pre-cut packs of 10″ squares (SLG107SQ).
Check your local quilt shop for both. The 10″ squares will work for small/medium bags. Pick up a 1/2-1 yard from the bolt and tuck away so you always have it. Stiff Stuff can be folded/rolled. Press with a press cloth and heat/steam to remove wrinkles/folds.
ANNOUNCEMENT: Bag-E-Bottoms are Retiring
I introduced our line of Bag-E-Bottoms acrylic bag bases in 2003 and it changed the way we bag. With this better mousetrap, we are retiring our line of Bag-E-Bottoms. You've served us well, sweet friends! When current inventories at our warehouse are gone, that's it.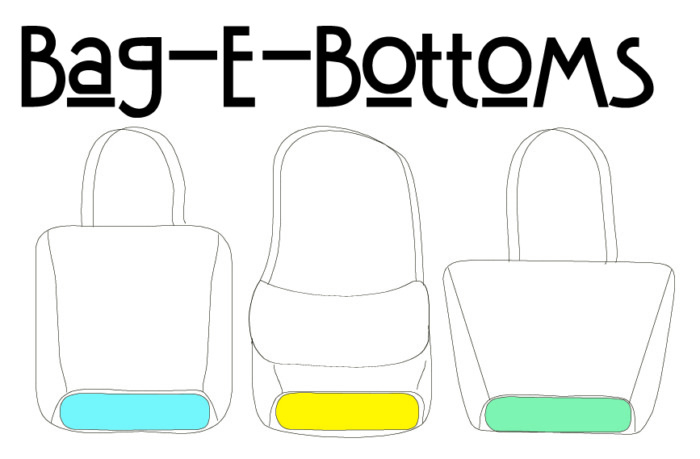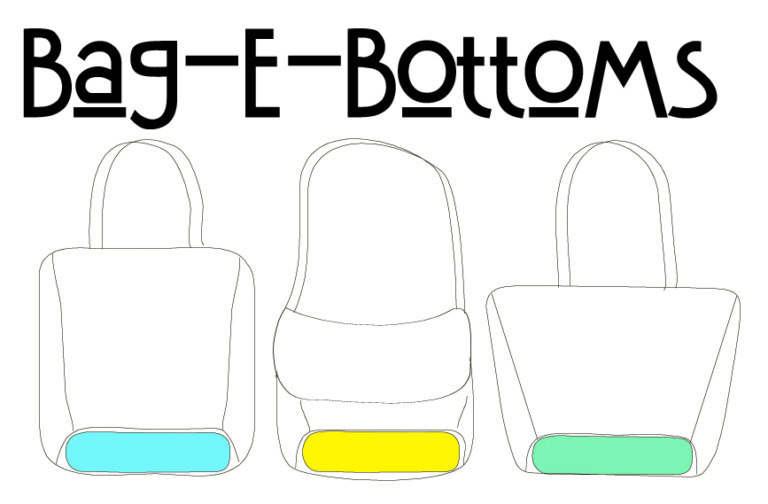 Shop Owners
The small bits left over at the end of the Stiff Stuff bolts are great for bag bottoms.
Please sign-up for my Wholesale Newsletter here.
Claim your FREE printable tutorial below! Print it and keep it with your patterns for reference.
Like and share this post with your stitchy friends. Join me in the Lazy Girl community on Facebook here: Facebook Lazy Girl
That's Pinterest-ing!
Join me on Pinterest here, remember to 'Follow' me there, and pin this post and pics to your Pinterest boards.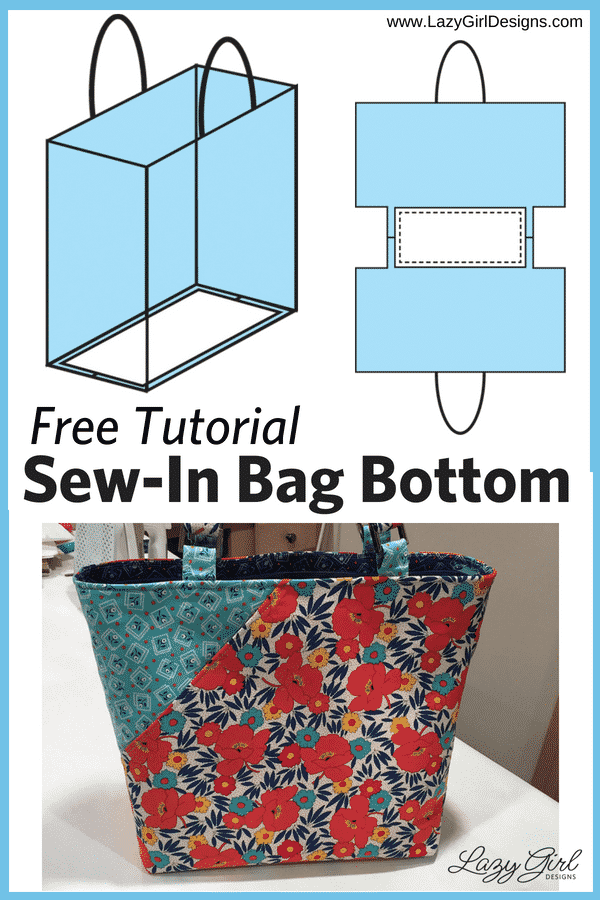 Enjoy!
Joan