Laminate Your Own Fabric for Easy-Clean Projects
Lazies, Have you tried our Slicker Iron-On Glossy Vinyl to laminate your fabric? If not, here's a great new reason to give it a try: the new Glo and Go pattern from ByAnnie.com. Annie Unrein has done it again with this cute duo that wrangles and corrals your essentials beautifully. Use Slicker to laminate the lining fabric, then wipe clean for easy maintenance.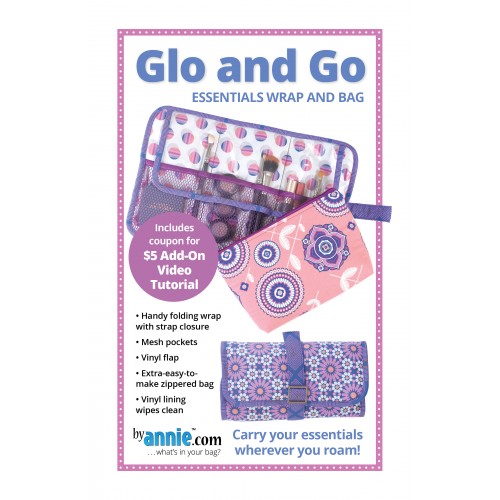 Glo and Go, item PBA269. (photo ByAnnie.com)
What Is Slicker?
Slicker is a sheet of glossy vinyl with a fusible adhesive on one side that allows you to laminate fabric or paper. The fusible is covered and protected by a paper backing. Slicker can be fused to flat surfaces such as fabric and paper.
When fused in place, fabric or paper stays soft. Slicker can be stitched through, just remember to lengthen your stitch so as not to perforate the vinyl. Use clips instead of pins when possible.
Why Use Slicker
Fuse Slicker to fabric to laminate it and make it water-resistant. It's perfect for make-up bags or other projects you'd like to easily clean with a wipe.
Slicker can be fused to paper, too! Laminate signs for your front door. Turn a child's artwork into a placemat. Just fuse Slicker to one or both sides. See our tutorial here: Slicker Tutorial.
Slicker How-To: Peel, Stick, Press, and Stitch!
– Peel the paper backing.
– Place sticky side against right side of fabric.
– Use paper backing as a press cloth and fuse, then remove paper.
– Stitch your project! Save the paper backing for touch-up pressing.
– To clean, wipe with a damp cloth. Do not launder in washing machine.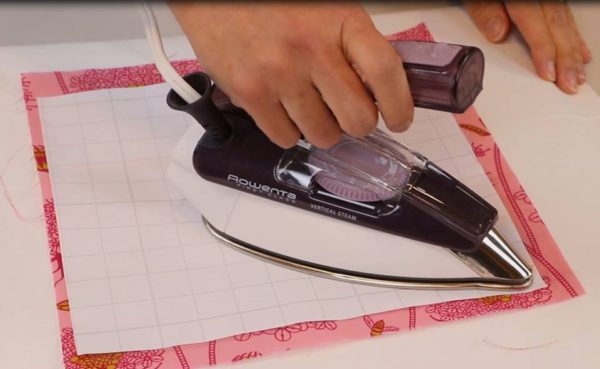 Use paper backing for a press cloth. (photo ByAnnie.com)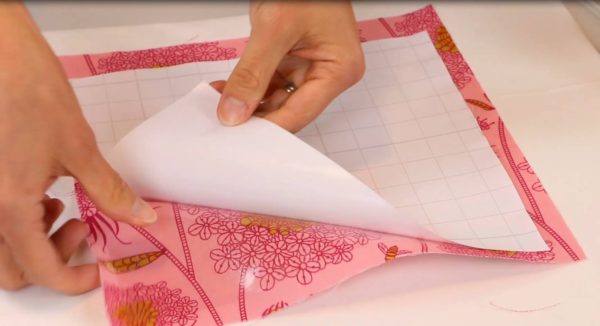 Remove paper and reveal gorgeousness! (photo ByAnnie.com)
Glo and Go from ByAnnie.com
The Glo and Go pattern includes two designs: a handy folding wrap and a zippered bag. Together, this dynamic duo is perfect for make-up, craft supplies, travel essentials and more.
Save Those Slicker Scraps
I keep all the leftover bits and pieces of Slicker to laminate small things such as templates, gift tags, or refrigerator art.
Keep all the cuttings in an envelope with the instructions. Use the small pieces to laminate a sign for your front door, or a favorite saying to hang on the fridge.
Slicker Product Details
Our Slicker is available in 1yd cuts (17″ x 36″, item SLG1021), or on the bolt (17″ x 10yds, item SLG102).
Shop Owners
ByAnnie.com stocks our pre-cuts of Slicker for one-stop shopping. Slicker is also available at Checker, Brewer, United Notions, EE Schenck, and Quilt Source (Canada).
Keep up with Annie:
Website ByAnnie.com
Facebook ByAnnie.com
Lazy Girl interfacings:
Try our whole line of interfacings to support and enhance your fabric creations.
Available on the bolt or in project-sized cuts.
– Fusi-Bond Lite
– Slicker Iron-On Glossy Vinyl
– Face-It Soft
– Face-It Firm
– Dreamy Sew-In Fleece
– Dreamy Fusible Fleece
Like and share this post with your stitchy friends. Join the Lazy Girl community on Facebook here: Facebook Lazy Girl
Enjoy!
Joan
Instagram @JoanHawley
Facebook Lazy Girl
Pinterest Joan Hawley