The Best Easy Sewing Patterns to Organize Your Life
Lazies, Here are ten quick and easy sewing patterns you can sew to help keep your house, purse, and life organized. They make great gifts and stocking stuffers, too. And they are all scrap busters using the leftovers from other projects or small cuts you may already have on hand. Perfect for you, kids, guys, and friends, this collection of sewing organizer projects will use up scraps, and you'll always have a gift at the ready.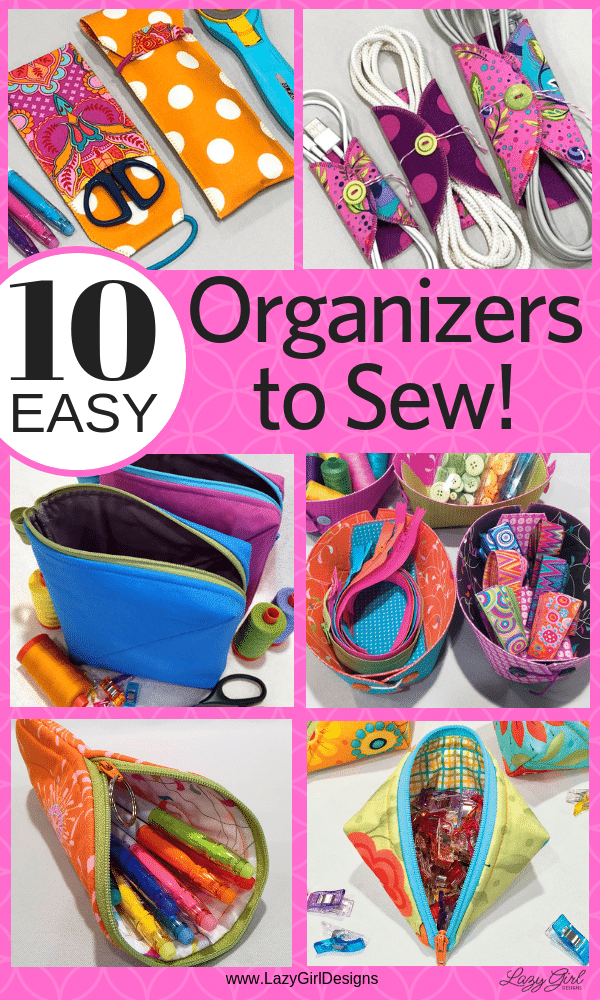 1. Casey Quick Cases for Pencils, Straws, Tools
Casey is simple to make and uses a ponytail hairband for an ingenious closure. You can also hang Casey by the hairband to keep things handy. Perfect for straight-handled scissors, rotary cutter, pencil case, crochet/knitting tools, eating utensils, and reusable drinking straws, too. Keep a few made up ahead of time for a gift in a pinch.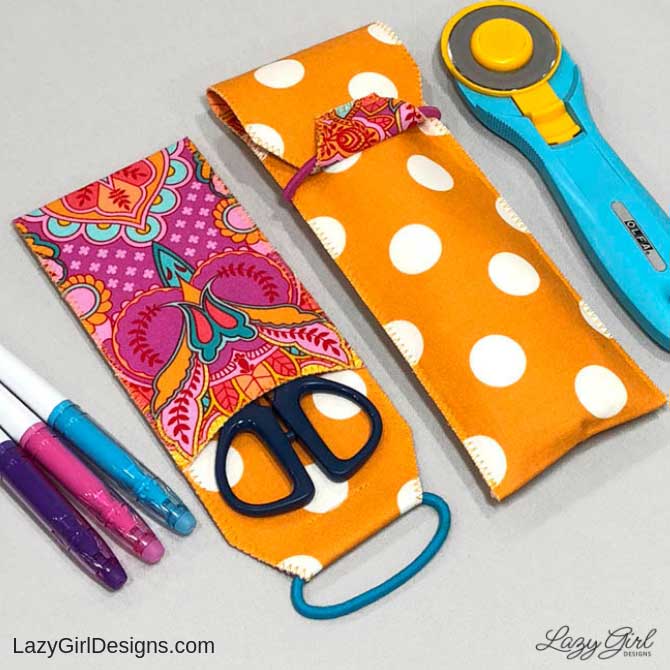 2. CoCo Cord Kimonos for Phone Cords and More
Everyone has cords to keep these days. Wrap them in beauty with this adjustable cord kimono. All three sizes fit in your hand but can hold a wide range of cords, cables, and more. Get those gorgeous buttons out and put them to work as a closure on these keepers. Sewing on the go? Wrap the cords for your machine, iron, portable light, and more. Gifting something with a cord – add a few CoCo Cord Kimonos to complete the gift.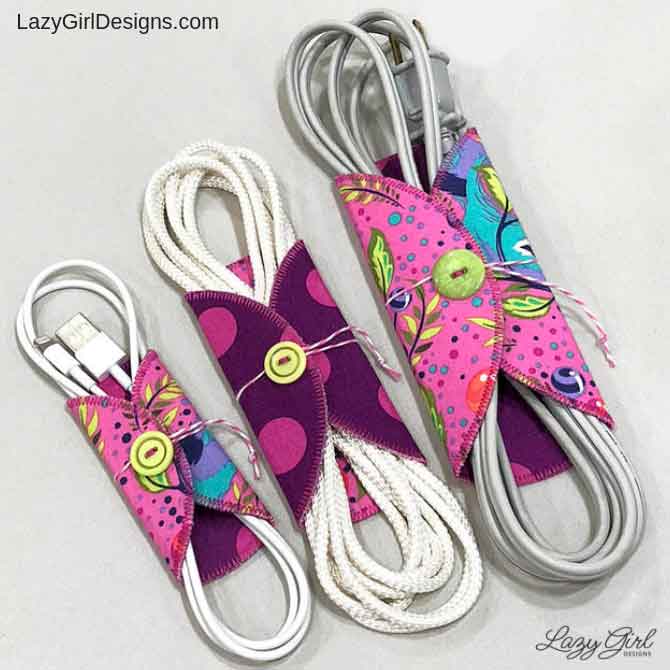 3. Banana Bag the Perfect Pencil Case
Made from 10in squares of fabric, this banana-shaped bag holds all sorts of goodies. When unzipped, the bag sits open for easy access. When zipped, the bag shape looks like a banana. Add a split ring to the zip for a quick zipper pull. Make Banana Bags and to hold your marking tools, small rulers, and more. Fill with school supplies for your favorite back to schoolers.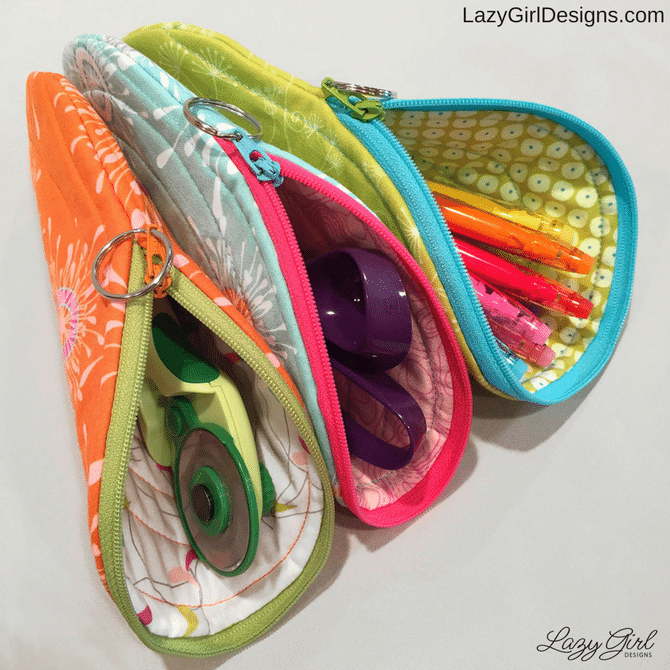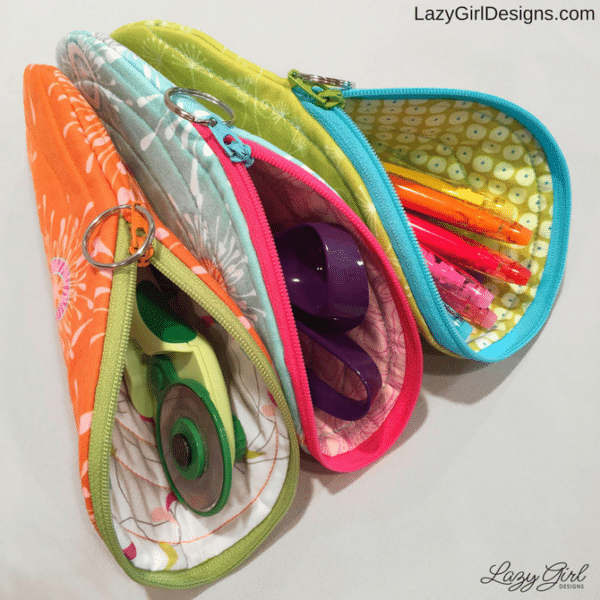 Get the pattern here.
4. Sadie Sweet Sacks for Food or Supplies
Sadie is a simple pouch with a gusset that allows her to expand and stand. She's perfect for holding and keeping all sorts of supplies in my sewing room. Sadie is designed to have Slicker Iron-On Glossy Vinyl fused to the lining, but you can skip the vinyl and make a fabric pouch. Sadie beautifully holds zippers, thread, hand sewing supplies. Make Sadie and fill her with first-aid supplies or perhaps coffee/tea on the go. Add a bow, and she's the perfect gift bag.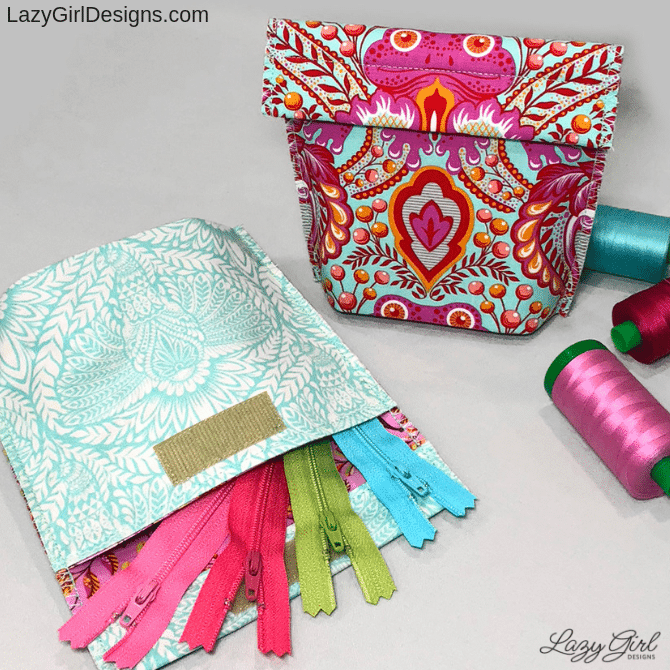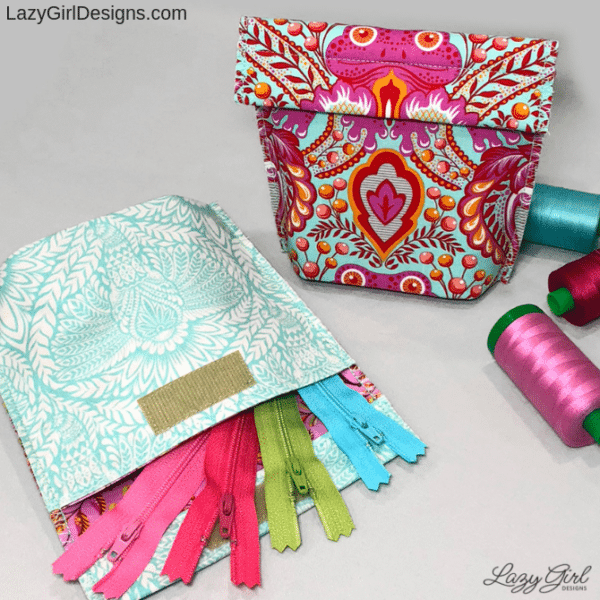 Get the pattern here.
5. Button Boats for Beautiful Open Organizers
Two 10in fabric squares and a few buttons – instant organizers! I have these all over the house, and they make great gifts. Button Boats fold flat for storage. Use to hold supplies in your sewing room, glasses on your nightstand, keys by the door, or a little gorgeous junk drawer where needed. Fill with handmade soap or cookies, wrap in cellophane, add a bow, and note.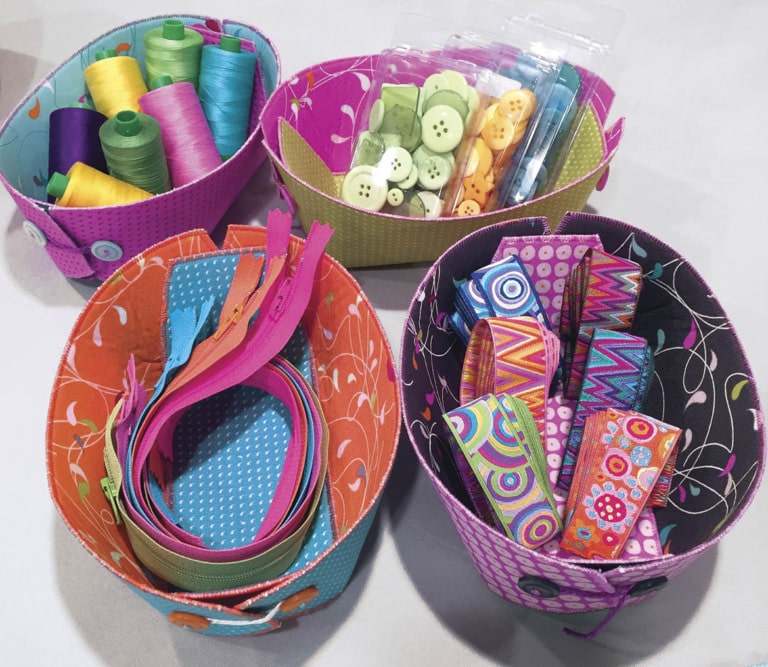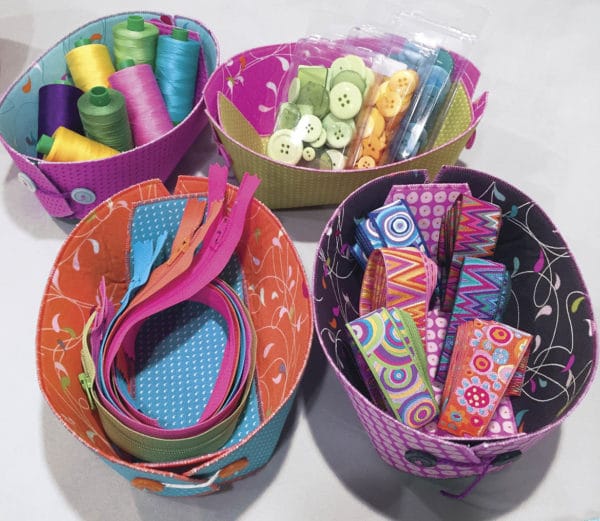 Get the pattern here.
6. Hang On – A Pocket To Hang Where Needed
Just like the name, hang a little pocket where needed. The Hang On is a quick and easy pocket to hold a few things nearby. I use one in the sewing room for essentials. Keep your sunglasses safely snuggled in a soft fabric to prevent scratches. Hang on a doorknob to keep keys at the door. Fill with chocolate and gift to a friend.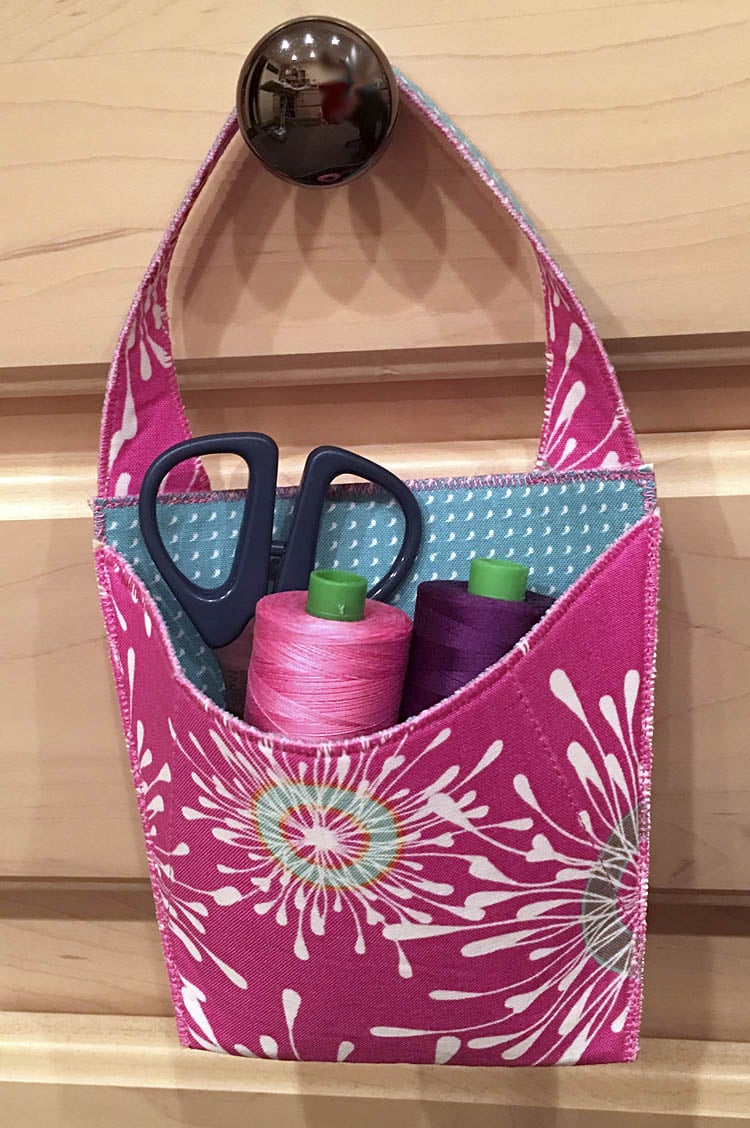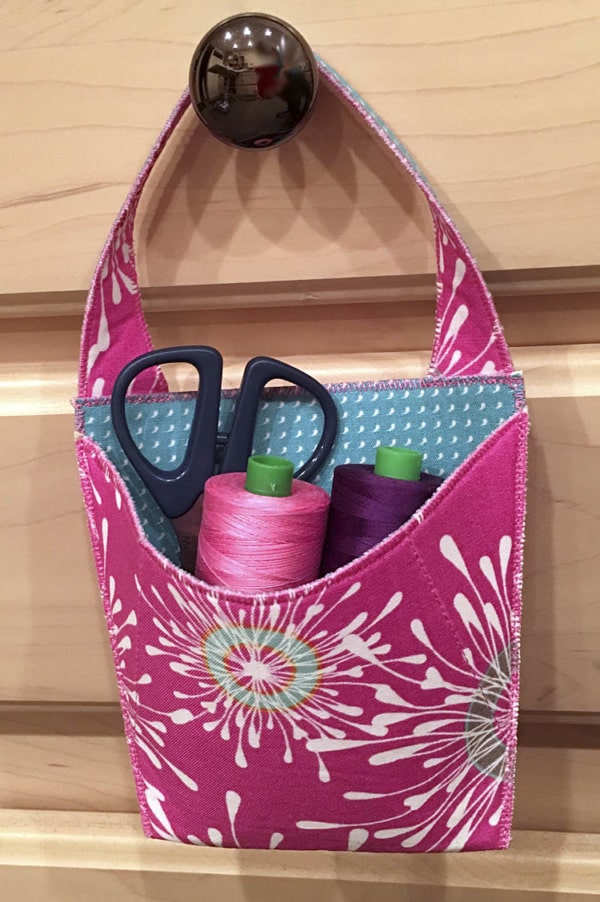 Get the pattern here.
7. Tray Chic – Trays to Match Your Decor
Simple, quick, gorgeous trays to help keep you organized. I have these all over my sewing room. The more I use them, the more I find things that need them. I love keeping supplies for a project together in a tray: zipper, buttons, thread, purse hardware. It helps keep the chaos at bay. Use a Tray Chic as the base for gifting, fill it with lovelies, wrap in a beautiful ribbon, and the recipient has a re-usable tray.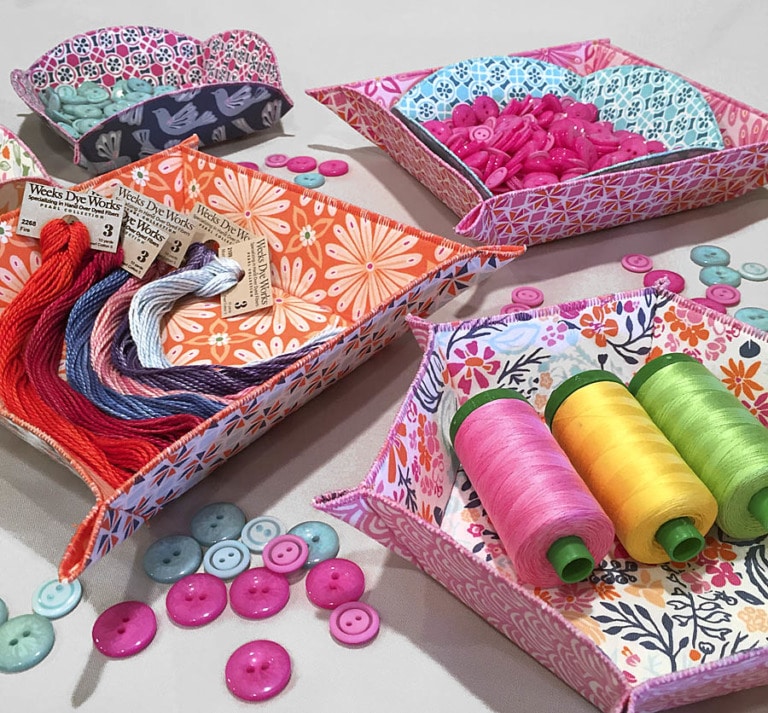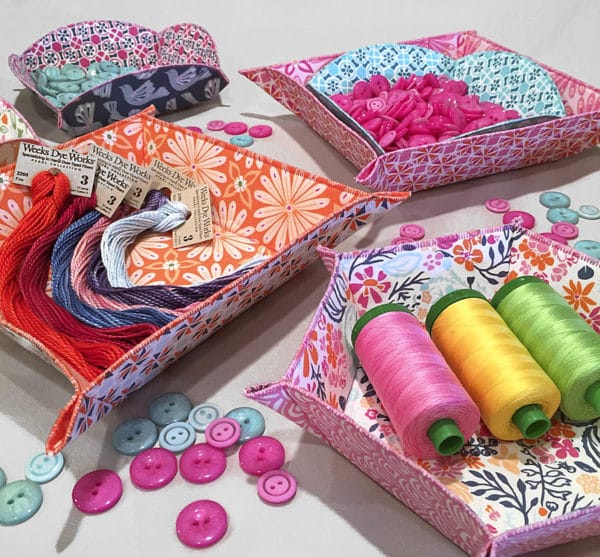 Get the pattern here.
8. Sweetpea Pods Small Zipper Pouches
These funky little zippered pouches have my heart! The unique zipper installation makes these cuties sit open when unzipped, perfect for grab-n-go things like sewing clips, candy, safety pins, candy, and candy. Make in holiday colors and fill with sweets to gift to your favorite peeps.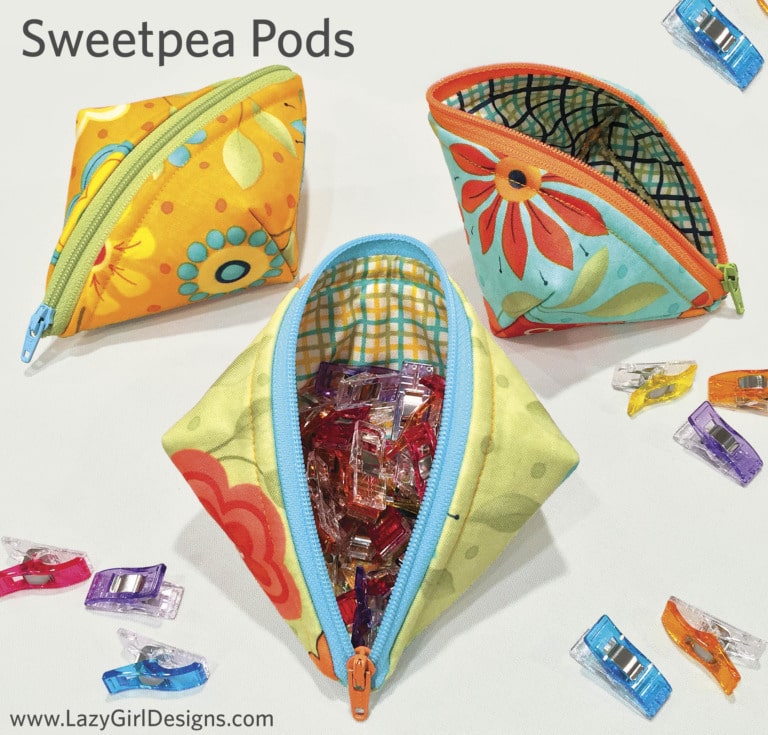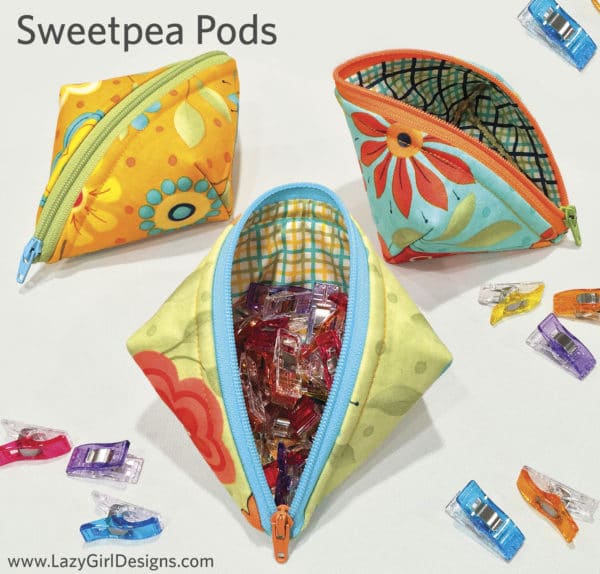 Get the pattern here.
9. Becca Bags – the Perfect Supplies or Makeup Bag
Becca Bags are a quick project for an all-purpose zippered pouch. Look at all of the goodies she holds. Yes, all of that fits in Becca. Not only is this project quick, but it's also easy to embellish, embroider, and personalize. Make a themed bag and fill with goodies.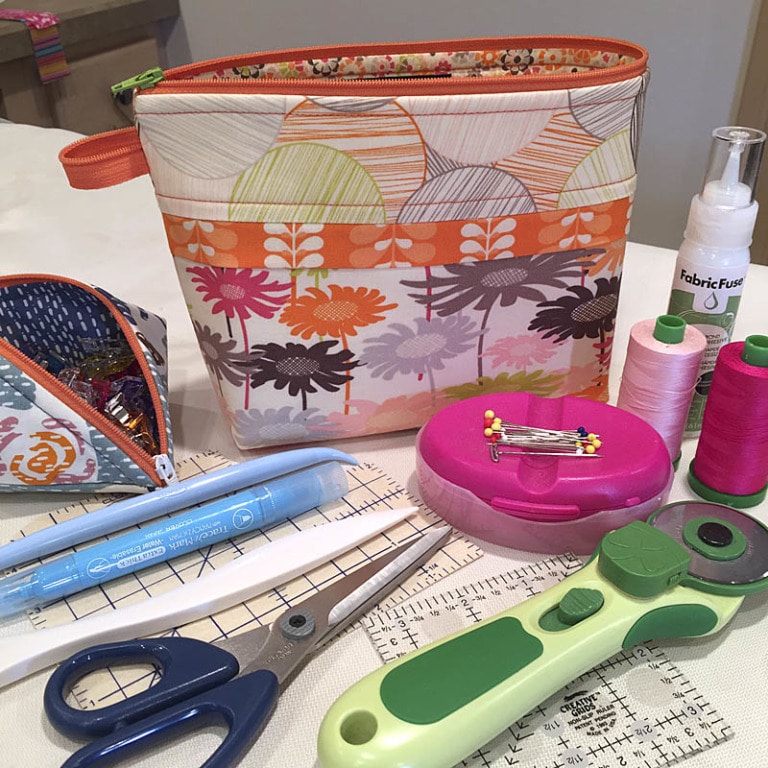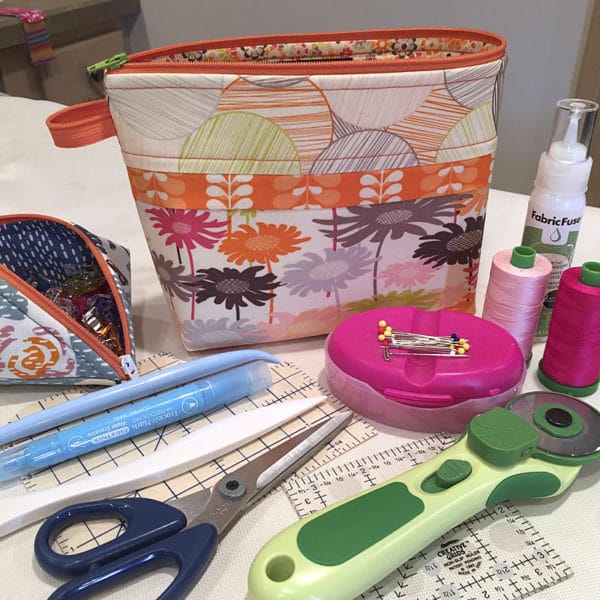 Get the pattern here.
10. Bendy Bag Tall Zipper Pouches That Stand Open
Two fat quarters and a zipper never looked so good. Bendy is perfect for sewing supplies because she stands up and opens, making her easy to work out of. Bendy is a great guy gift for gear, too. She unzips in one motion and sits at attention. Perfect for cords and accessories.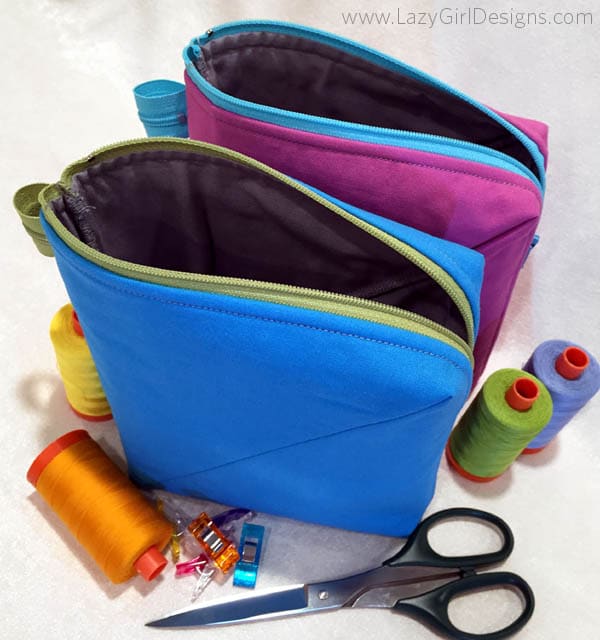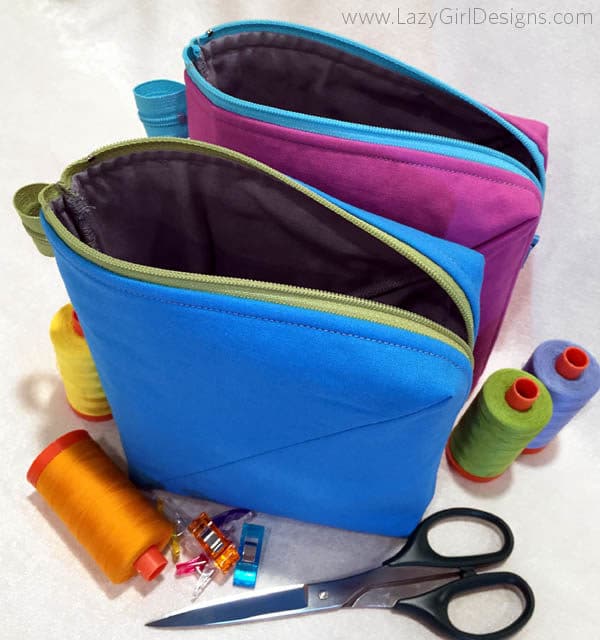 Get the pattern here.
Get the Patterns
Patterns for all of these projects are available at quilt shops in-store or online.
Shop now: organizer sewing patterns

Fabrics and Supplies
All of these designs use a small amount of fabric and supplies, making them fantastic scavenger patterns to use leftovers from other projects. Add zippers or buttons, and you have everything you need.
That's Pinterest-ing!
Follow me on Pinterest and pin this post to your Pinterest boards.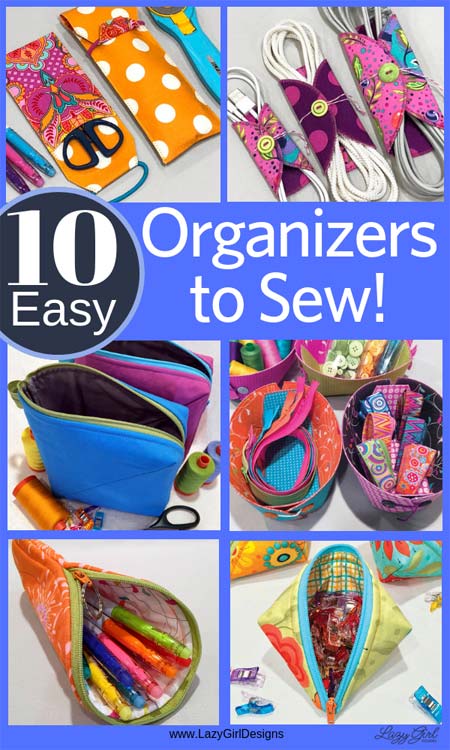 Subscribe to receive emails for my blog and newsletters about new patterns and project ideas.
Enjoy!
Joan
Joan's Sewing Group | Pinterest | Instagram | Twitter
Like and share this post with your stitchy friends.