Easy DIY Valentine's and Go-To Gifts
Lazies, Need some quick DIY Valentine gifts? Wait until you see what I did for Valentine's Day! Get ready for some pink and orange fun. If you need a bunch of little gifts in a hurry, consider our Sweetpea Pods sewing pattern. They are perfect for Valentine's Day, teacher's gifts, Easter egg hunts, parties, and more. I recently made this bunch Sweetpeas for Valentine's Day. They are so quick, easy and perfect for assembly line production that they are my new Go-To gift.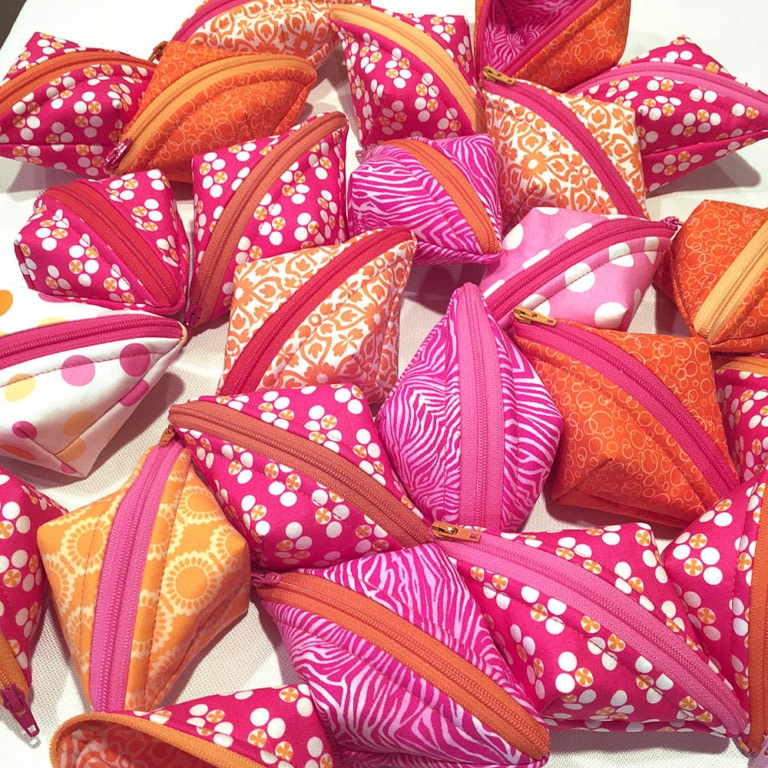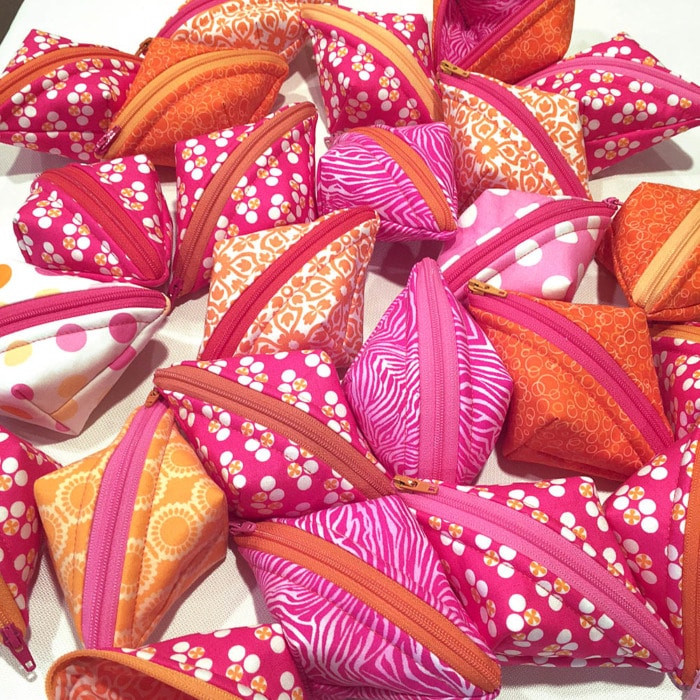 Hello Gorgeous! 24 Sweetpea Pods waiting to be gifted.
DIY Valentine Materials: Fabric and Zippers
Decide how many you need to make, and add a couple for good measure, just in case. In total, I used 7 different fabrics and 8 different zipper colors, plus extra zip pulls. Then dive in, follow the pattern, and mix up all the ingredients. I had more of some fabrics than others, so I tried to mix things up.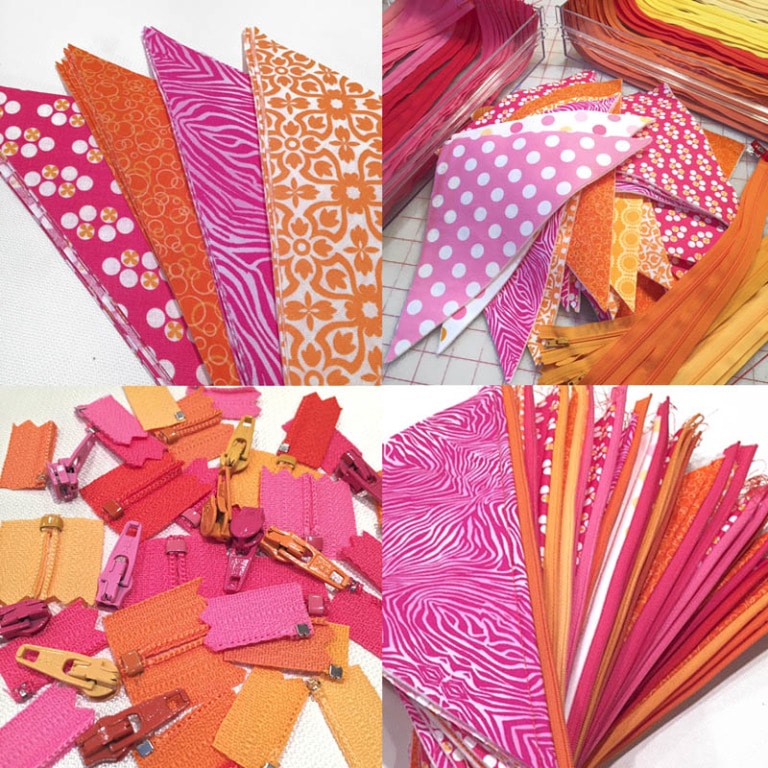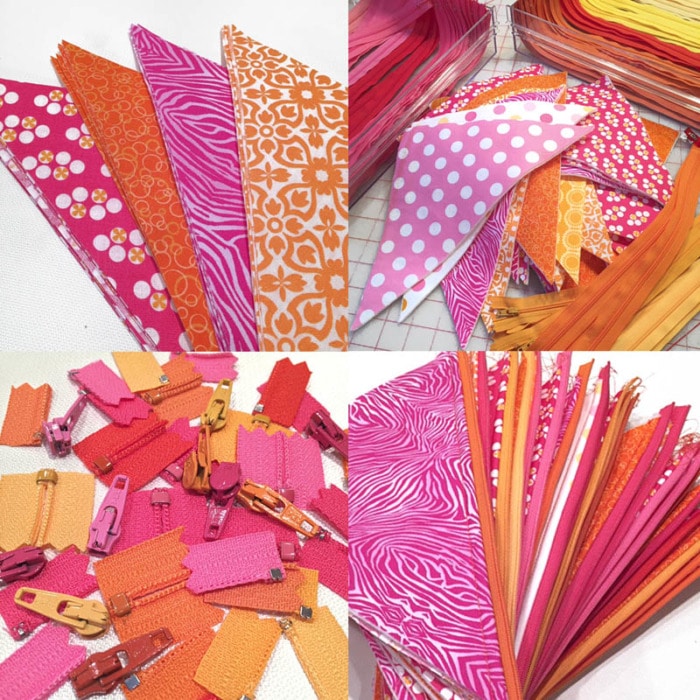 Fabric selection, zipper selection, oh those zipper butts and pulls, and assembly
Mass Production
Crafting these little cuties was beautiful at each step of the way. They look like they are standing at attention, like a crowd lurking around, trying to see what I'm up to. Ha! I'm up to my elbows in Sweetpeas, that's what I'm up to.
I worked on these over several short sewing sessions. I did make a couple of extra – just in case I had any disasters or needed to keep one/some for myself – you know what I'm talking about.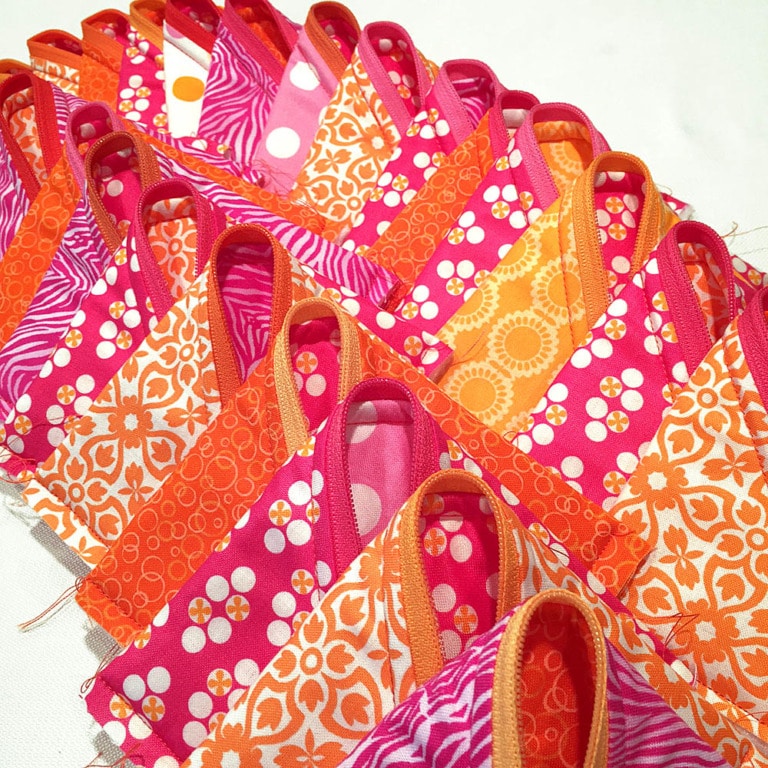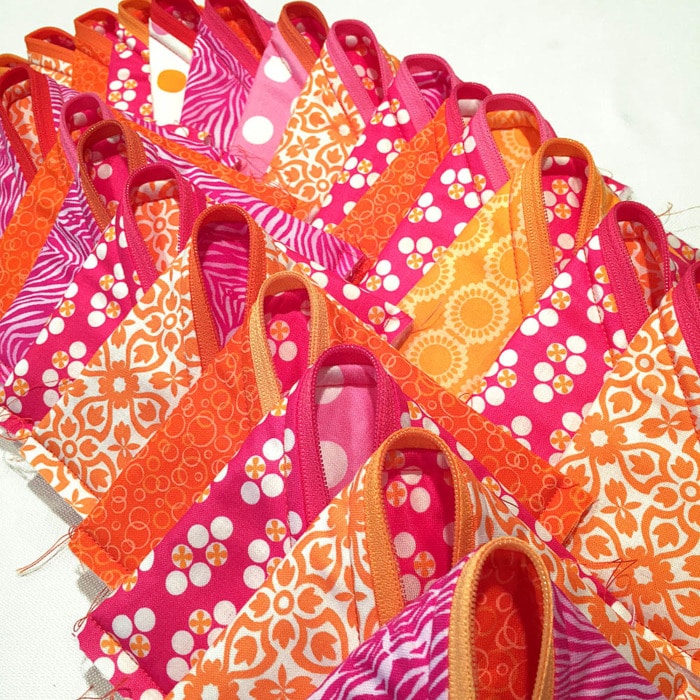 Crowd control. Pick me, pick me! No, pick me!
How To Gift
Try to match the fabrics and contents to your theme. Sweetpea is big enough to hold small sewing gear, first aid supplies, tea/sweeteners, school supplies, etc. Focus on little things that would be nice to have at hand and carry in a purse, backpack or luggage. Also look for novelty items that always bring a smile.
I'm always inspired by the designs of Julie Herman of Jaybird Quilts. I love Julie's Rock Candy Table Topper, so I played around a bit with the diamond-shaped Sweetpeas. I didn't have enough to make the whole design, but this is a start.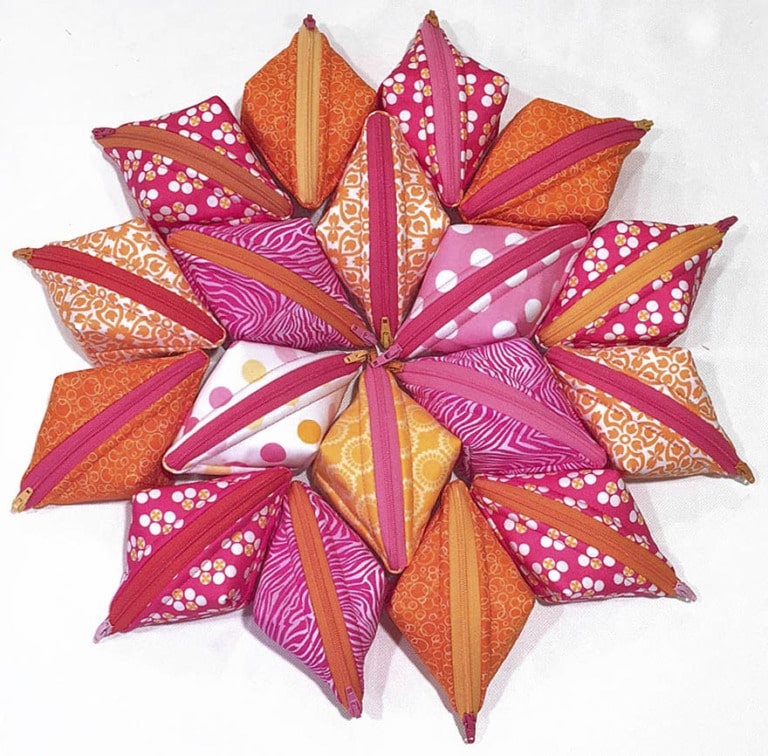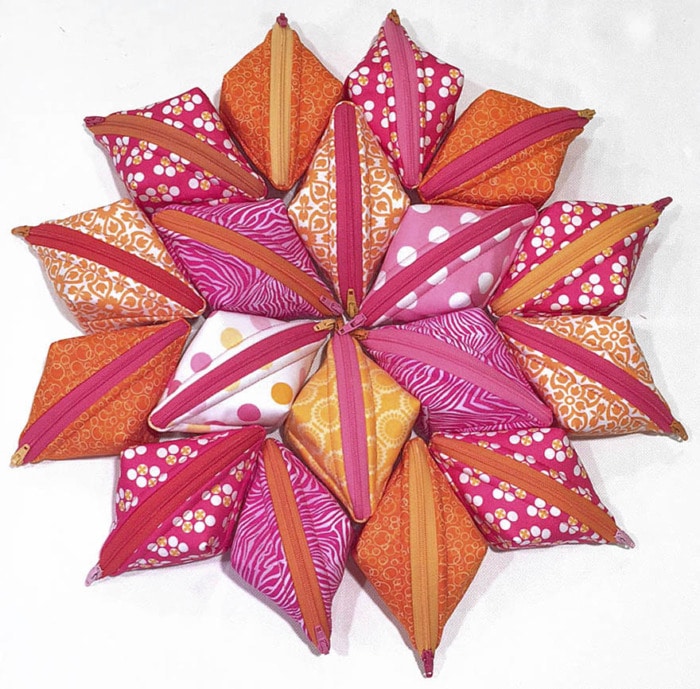 They are just fun and lovely to play with.
Valentine's Day
I made these for my mom to give her a fun and loving Valentine's Day experience. Mom loved receiving a gift bag full of these, plus bags of chocolate candies to treat. My idea was for mom to enjoy filling the pods with candies, then enjoy handing them out.
Mom thoughtfully chose who got which pod, and she told each Valentine why they were special to her. I enjoyed tagging along with mom as she shared love with her friends.
Resources
More info about Sweetpea here. The Sweetpea Pods pattern, zips and extra zipper pulls are available at quilt shops and online retailers.
Buy Sweetpea as a PDF download pattern here.
Zippers and extra zipper pulls
That's Pinterest-ing!
Join me on Pinterest here, remember to 'Follow' me there, and pin this post and pics to your Pinterest boards.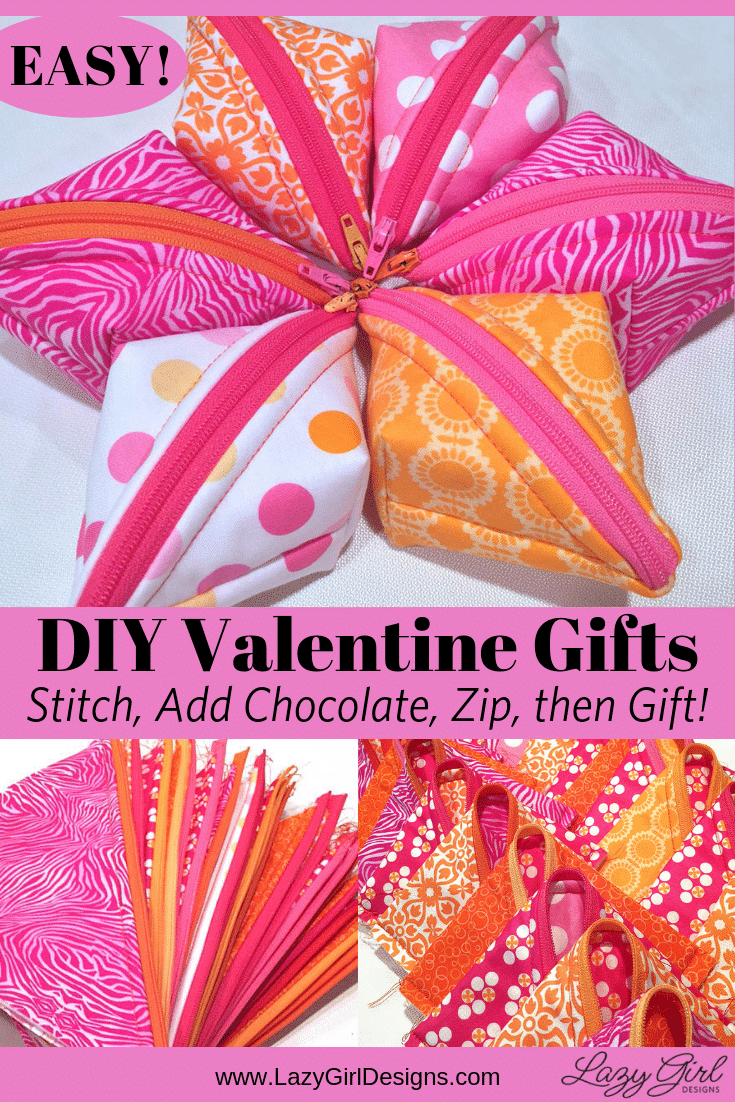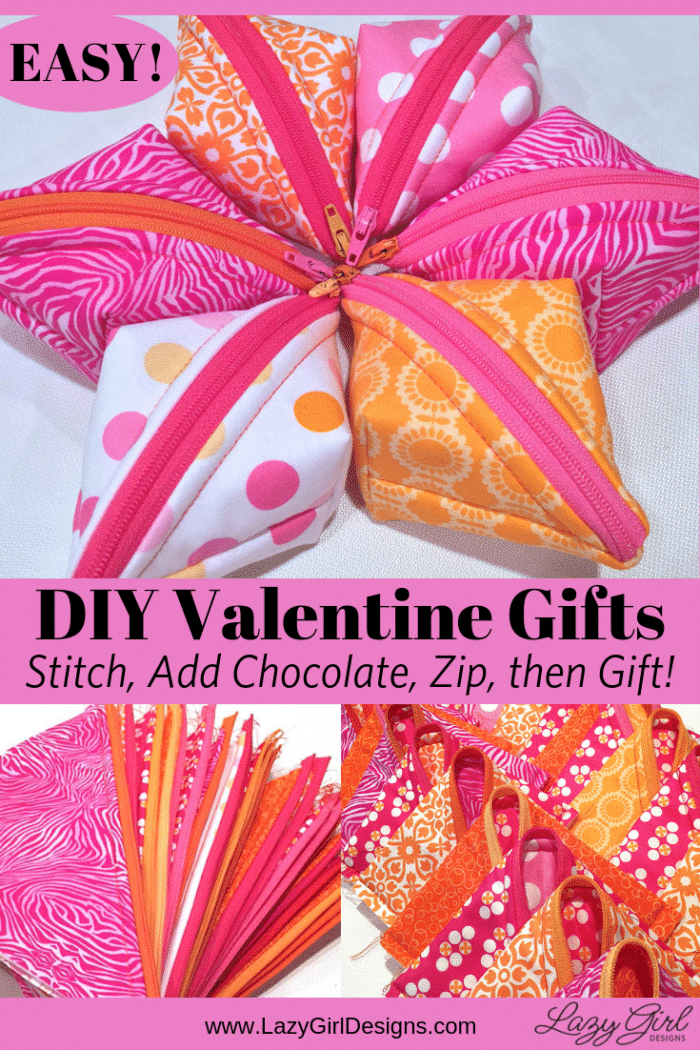 How will you gift Sweetpea Pods? Make a few from scraps as you work on other projects, and soon you'll have a stockpile of pods ready for gifting!
New to our blog? Subscribe to get emails so you don't miss a juicy morsel.
Like and share this post with your stitchy friends.
Join me in the Lazy Girl community on Facebook here: Facebook Lazy Girl
Enjoy!
Joan
Facebook Lazy Girl
Pinterest Joan Hawley
Save