New Patterns Debut at Quilt Market!
Lazies, I head off to Quilt Market in Houston this week where the new zipper pouch designs will officially make their debut. I know, they already feel like old friends, don't they? Here are a few pics and details about how our new Girls work together. If you missed their announcement, catch up on all the juicy zipper gossip in the previous post here.
Meet The Zipper Pouch and Key Fob Designs
Sweetpea Pods, Becca Bags and Fobio are three new patterns, each with their own brand of zippy fabulousness. All three use my new Lazy Girl One-Zip technique where a length of zipper tape is folded back on itself, then use my magic 'Easy-On' trick to easily put the pull on.
The new Girls are wonderful on their own and they work together, too.
Fobio + Sweetpea = Adorable Wristlet!    
Fobio + small Becca = Instant Wristlet!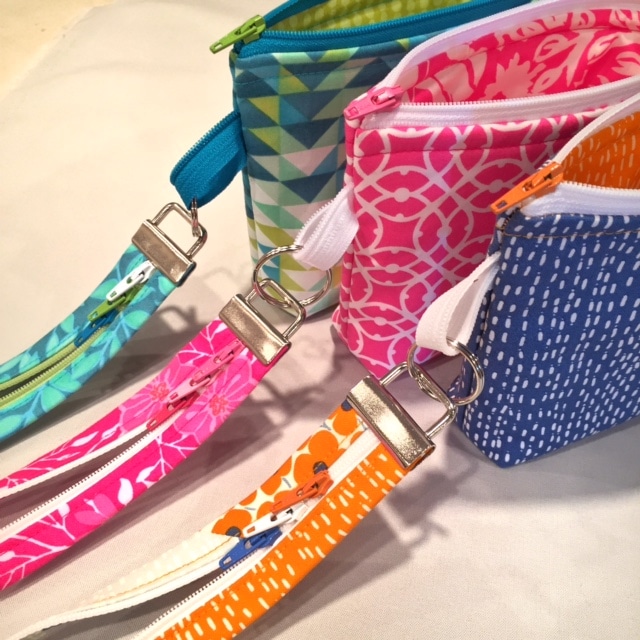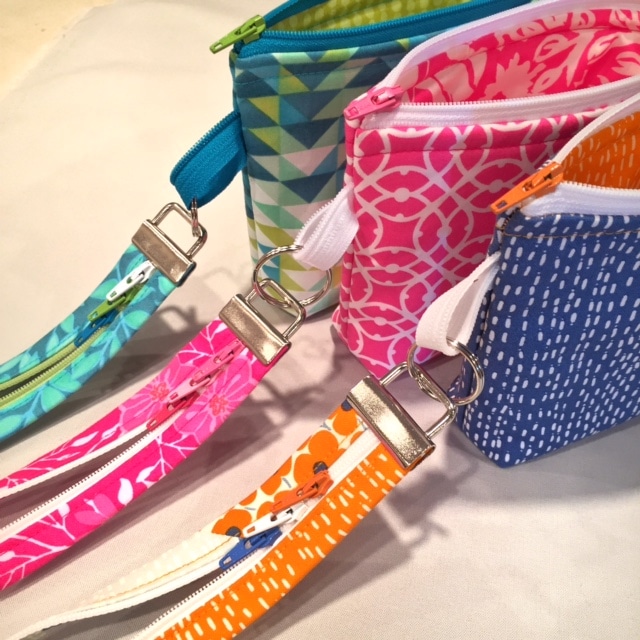 Every Girl likes to dress up. It's easy to add beautiful trim like these Tula Pink ribbons from Renaissance Ribbons below. Use your decorative stitches here, too.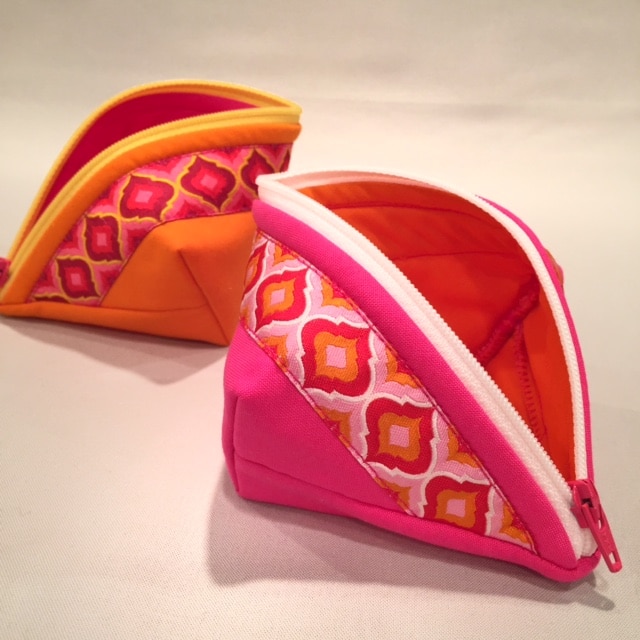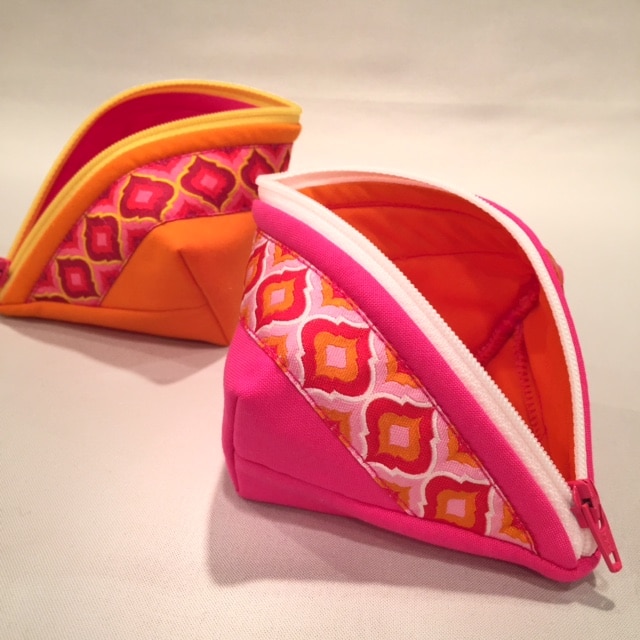 It's true, Girls like to gather. Sometimes in small groups. This is the only way I'll be doing Cathedral Windows designs – with zips!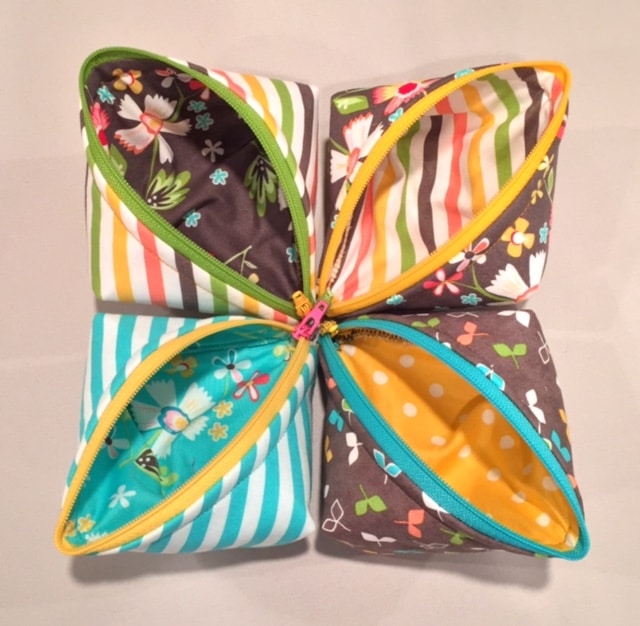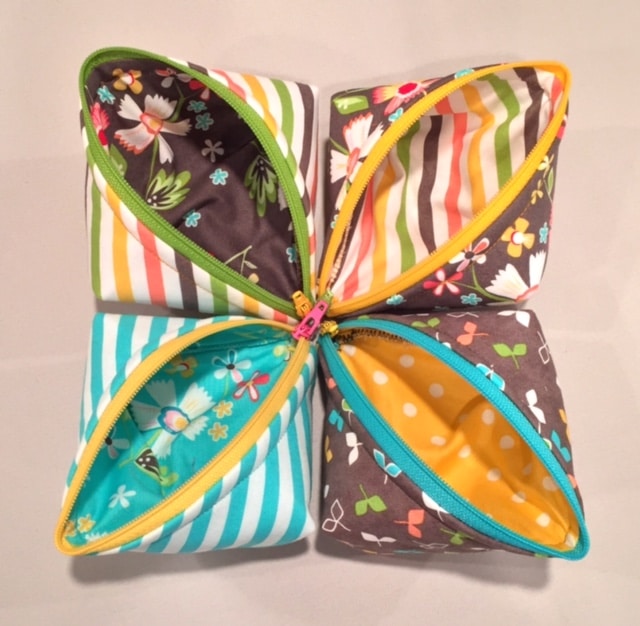 Sometimes you need to literally make some new friends. 🙂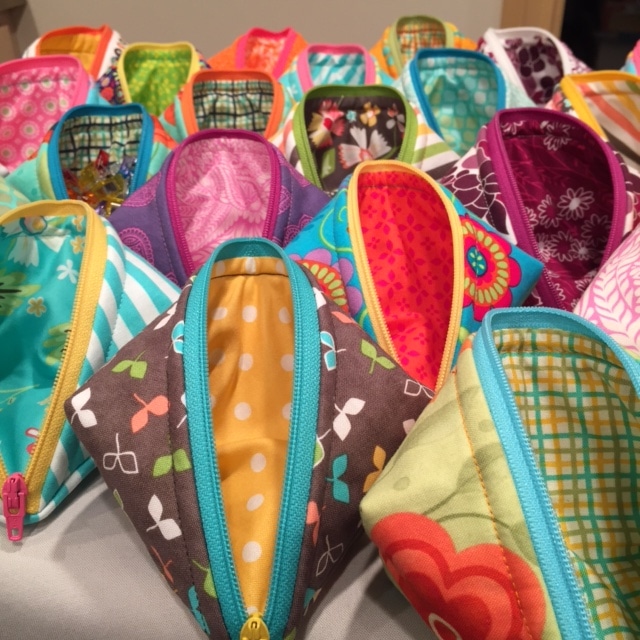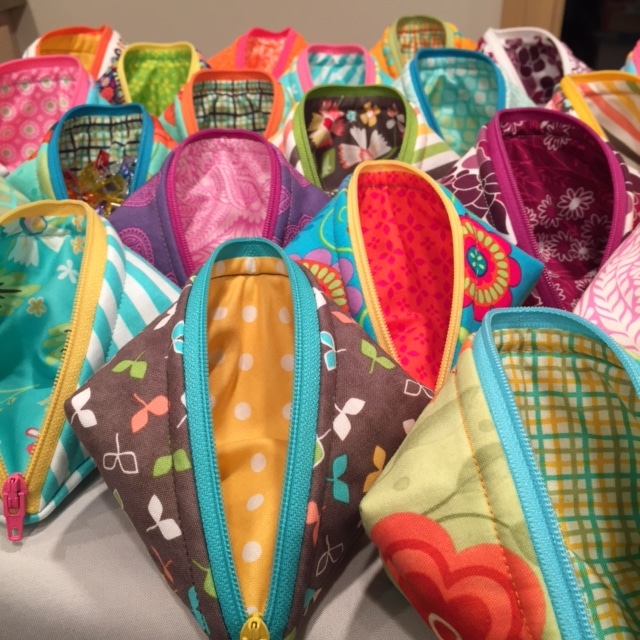 Quilt Market
All of the following beauties will be at Quilt Market. Stop by their fabric manufacturer's booth to see them! Samples will also be on display at Checker and United Notions.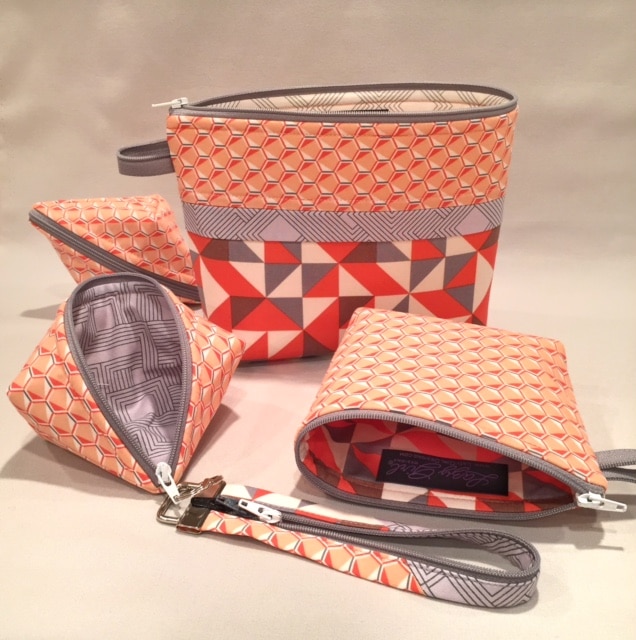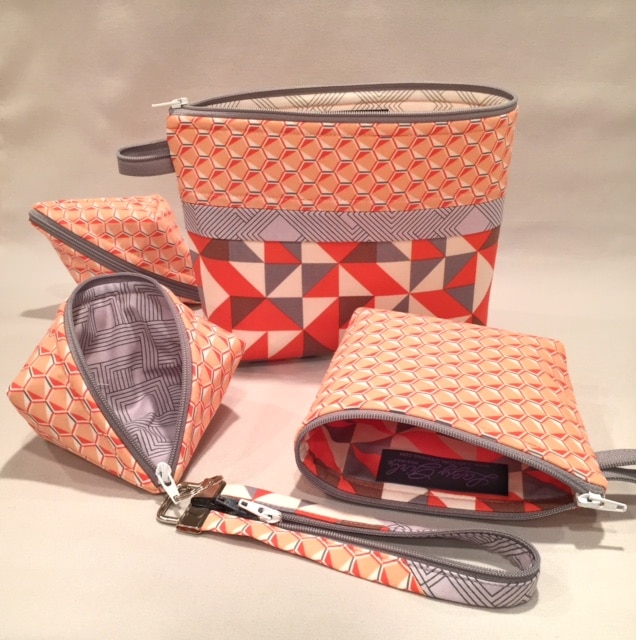 Fragmental fabric line by Angela Walters for Robert Kaufman.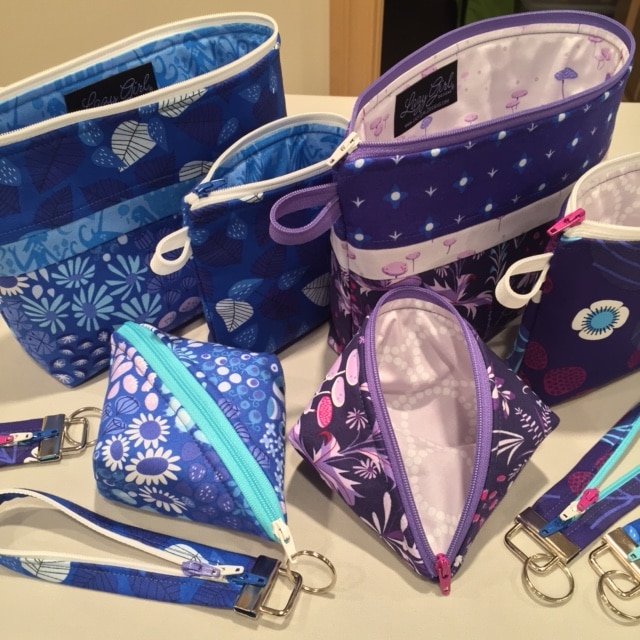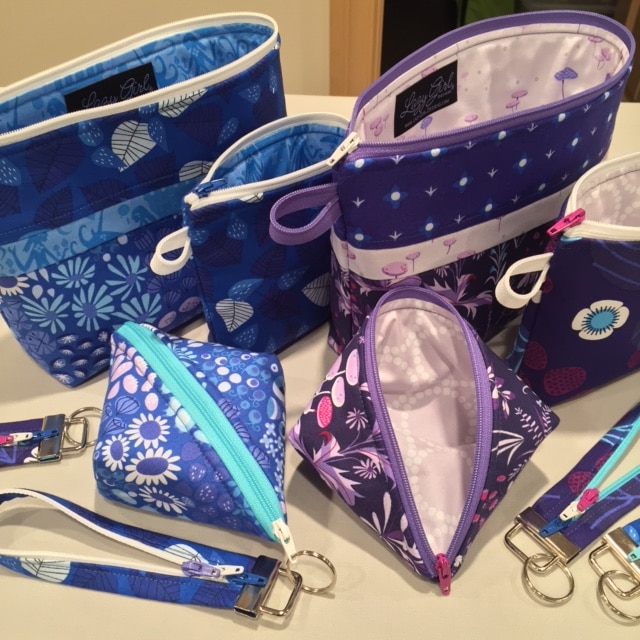 The Lovely Hunt by Lizzy House for Andover Fabrics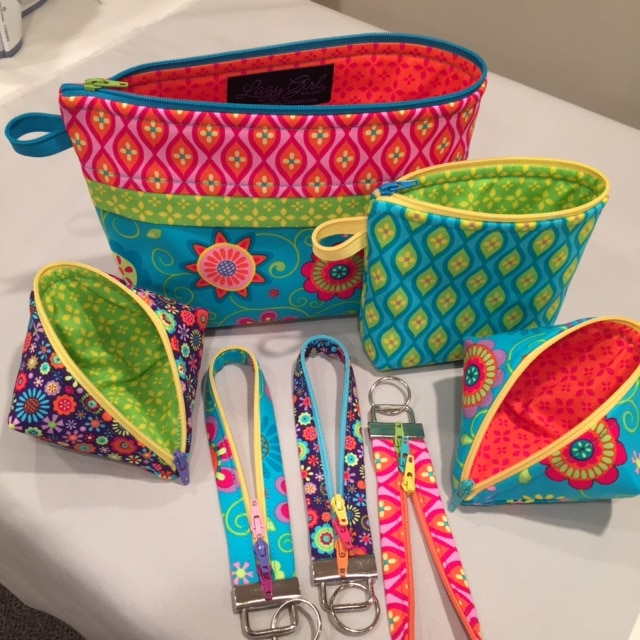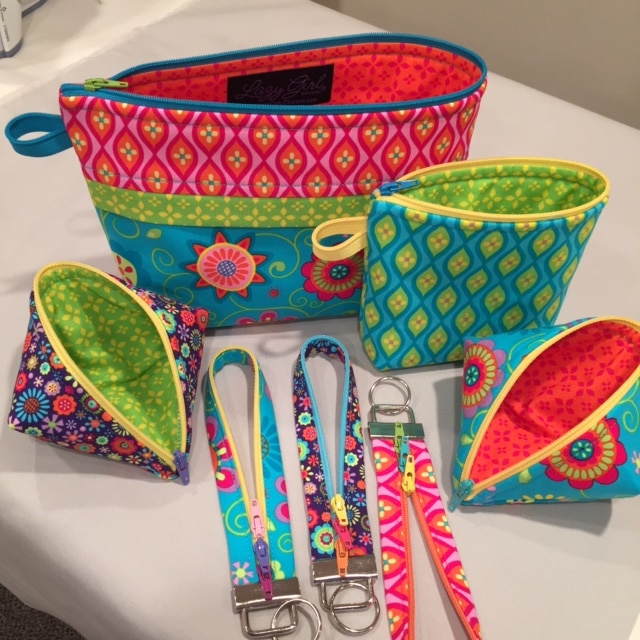 Petalmania from Timeless Treasures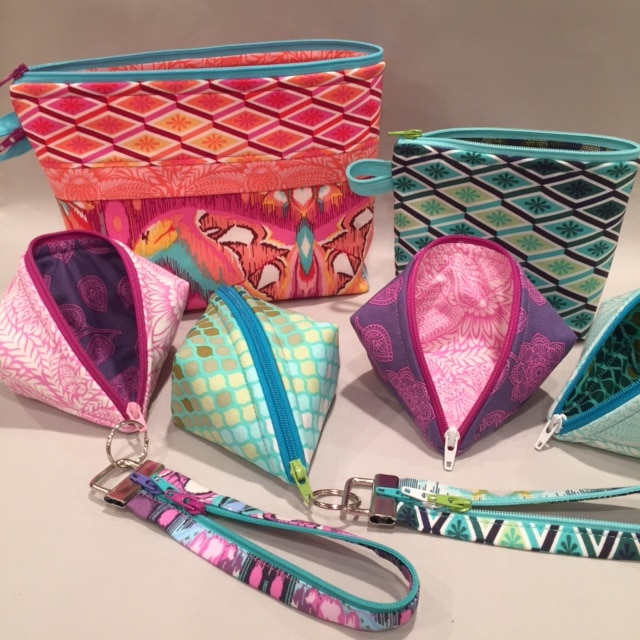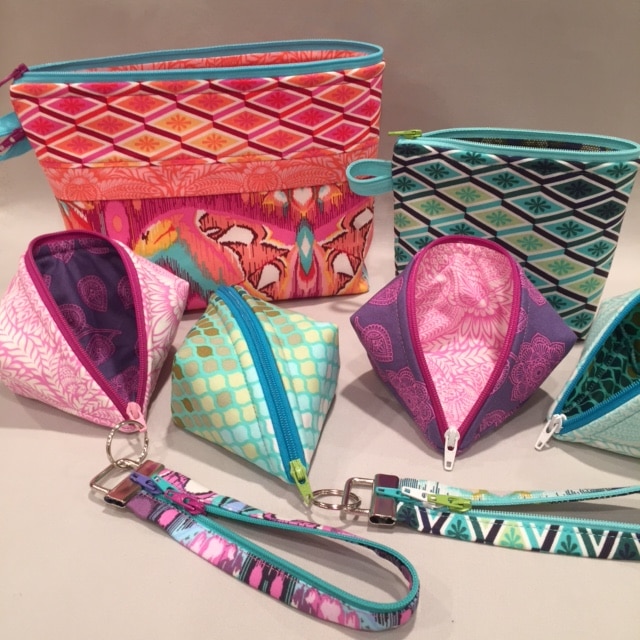 Eden by Tula Pink for Free Spirit/Westminster
All of these beauties were stitched with Aurifil Thread, and use Lazy Girl Interfacings. Thank you to the amazing fabric companies for the opportunity to work with you on stitchy goodness.
Quilt Market
Shop owners, join me in my Schoolhouse at 11:35, room 372D, on Friday in Houston. Terry and I will be demonstrating the One-Zip technique and showing all of our new zippery goodness at Checker's booth Saturday (Terry) and Sunday (Joan) at 2.00. Terry offers everything you need to get up and running with her new products: Start Up Kit of zips, hang clips, hang cards, a new display option.
We are both taking orders now for all of our new goodies, or order through your fav distributor.
Where to Order
Order e-patterns here at our website.
Check with your favorite Lazy retailer to see if they'll be offering our goodies.
Get all of the zippers, pulls and key fob hardware at Zipit here.
Lazies, what do you think? Are you ready to change things up a bit? Post a comment, I'd love to hear from you!
Enjoy!
Joan
Instagram @JoanHawley
Facebook Lazy Girl
Pinterest Joan Hawley