New Pattern: Meet Our Bendy Bag
Lazies, You know there is something special about this new Lazy Girl just by looking at her. How do you get the zipper to bend and sit open like that? Where did Bendy gets her awesome shape? Wow, I never thought of doing that with the end of a zipper. That's right, Bendy is busy with new ideas and techniques from start to finish! Please allow me to introduce you to my latest design – Bendy Bag, Lazy Girl Designs #LGD134, available late February.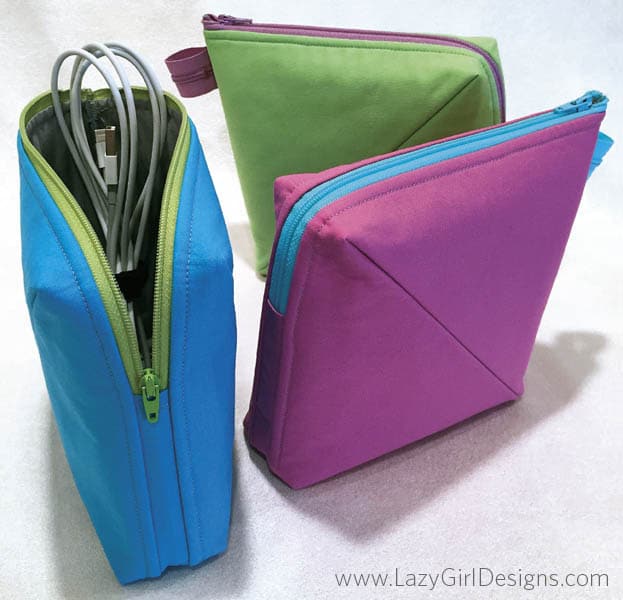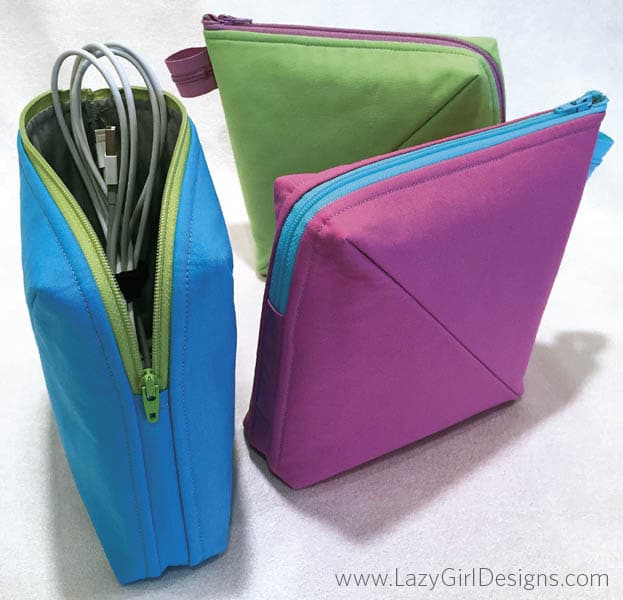 Bendy Bag pattern by Lazy Girl Designs #LGD134, $9.00
Finished size approx: 3" x 6" x 6″
Where Did She Get That Funk?
Bendy gets her unique shape from all the seams working together. But the big player here is the 'Bend' seam on the side – that's what gets the party started. Everyone falls into line after that. Don't worry, this is the usual easy project you've come to expect from Lazy Girl.
New Techniques
Every Lazy Girl bag design includes at least one new element. As you work your way through my patterns, you are building a skill set and tool box of tricks to use throughout your sewing career. There are at least three new techniques in this project:
– Perfect zipper installation with new casing treatment
– How to make the zip grab tab
– Those fabulous bendy seams on the sides
Open Wide and Say 'Ah'
Bendy unzips in one motion and stands at attention with a wide mouth for easy access.The unique, but easy zipper installation, combined with the bag shape, causes Bendy to stand open very nicely. That means she is easy to load/unload and work out of. Bendy is perfect for toting gear, cords, goodies and more.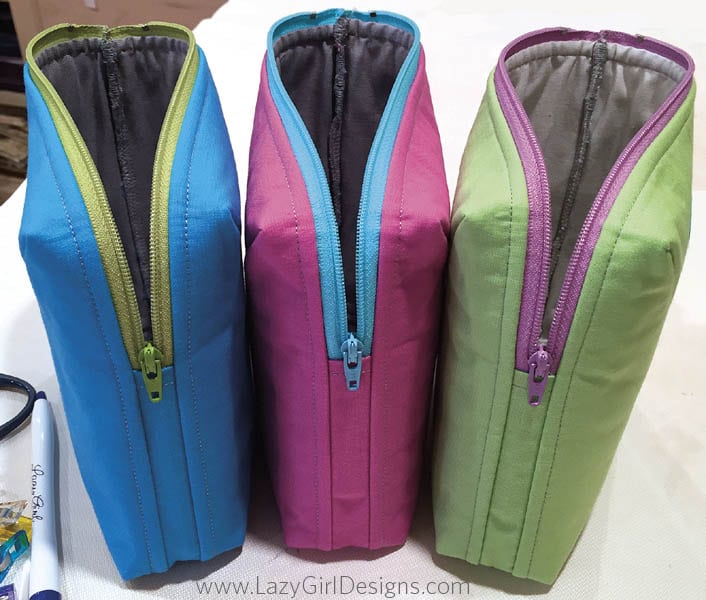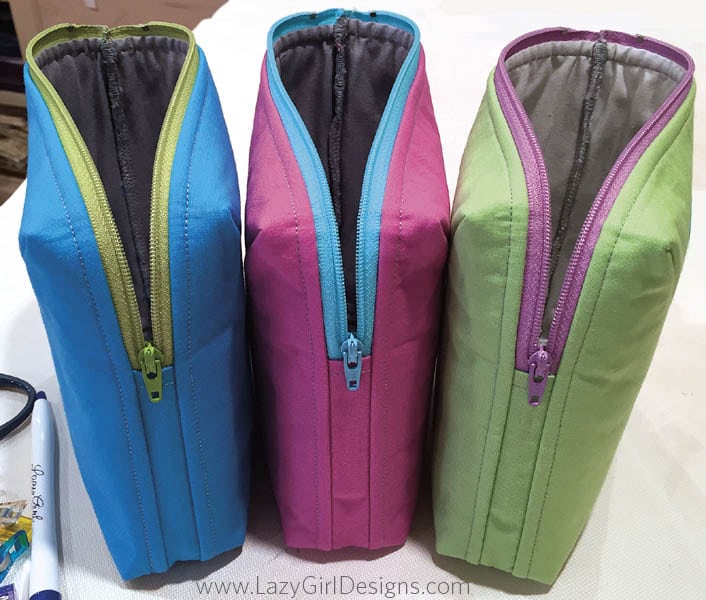 Bendy stands open for easy access.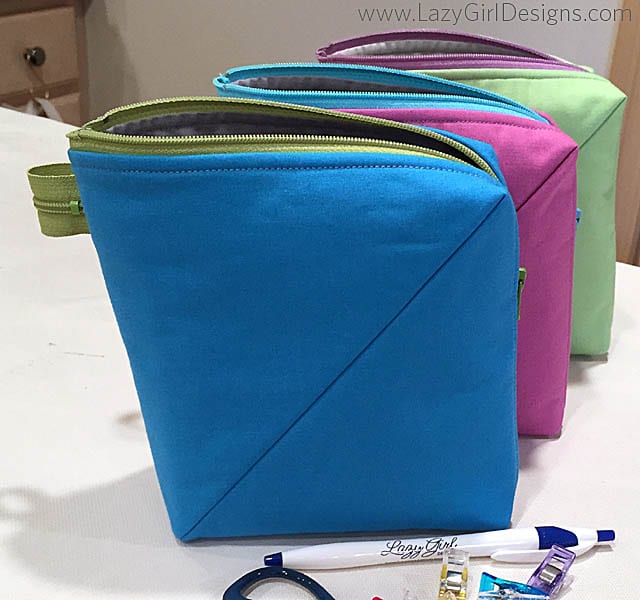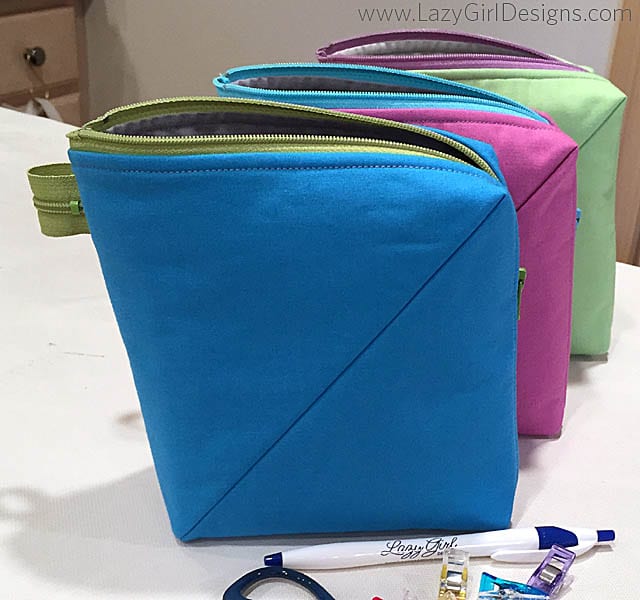 Look at that profile! Bendy has wonderful posture.
Shapely
You can see from this view that Bendy has all sorts of fun and funky angles. Bendy is relaxed and leans back a little. She looks like a diamond from the side view.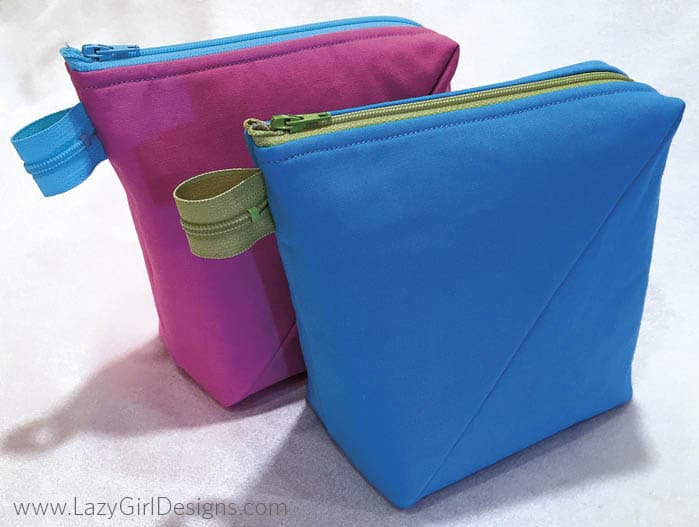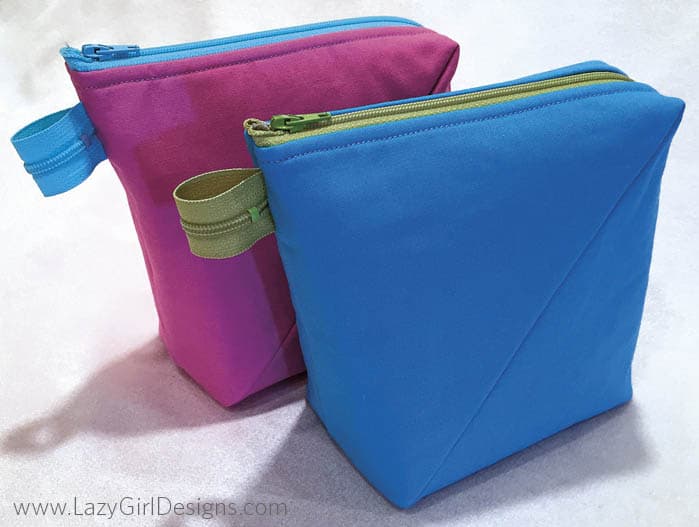 The angled side seam wraps from one side of Bendy,
down to the bottom back, and then up the other side again.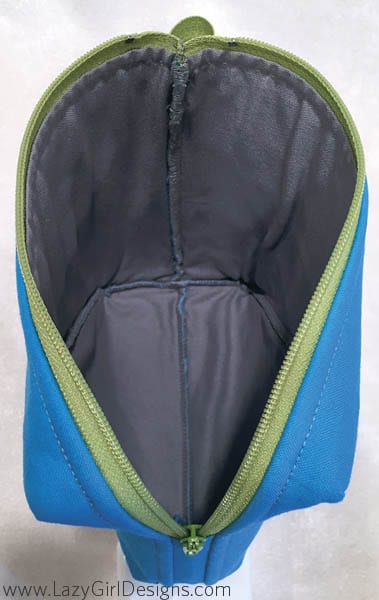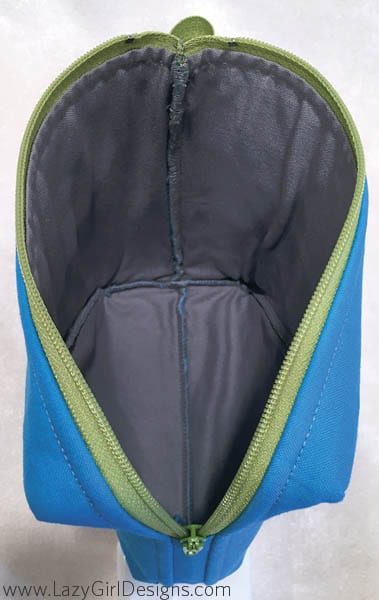 You can see here that Bendy is wider at the bottom in the back
than she is at the bottom front. That helps her stand tall and steady.
New Seam Treatment
Also notice that you can see the seams on the lining. But, they look pretty nice! All exposed lining seams are trimmed and finished with a tight zigzag stitch. It's nice and tidy in there!
Capacity
For a small zip bag, Bendy has great capacity. Here Bendy comfortably holds my iPhone accessories. Bendy holds lots of nice things, like my #Aurifil thread. A standard rotary cutter and sewing supplies fit nicely, too.
Zip Grab Tabs
Here's a better look at those cool zippered grab tabs. Doesn't the zip make a great detail? Fun and functional! I love the zips from Atkinson Designs. Their zippers are 14″ long, come in scrumptious colors, have a great price and they are the perfect length for Bendy. Available at local quilt shops.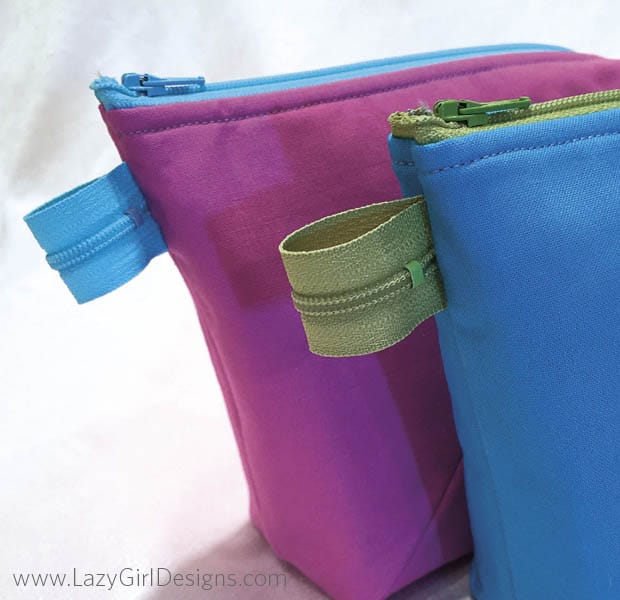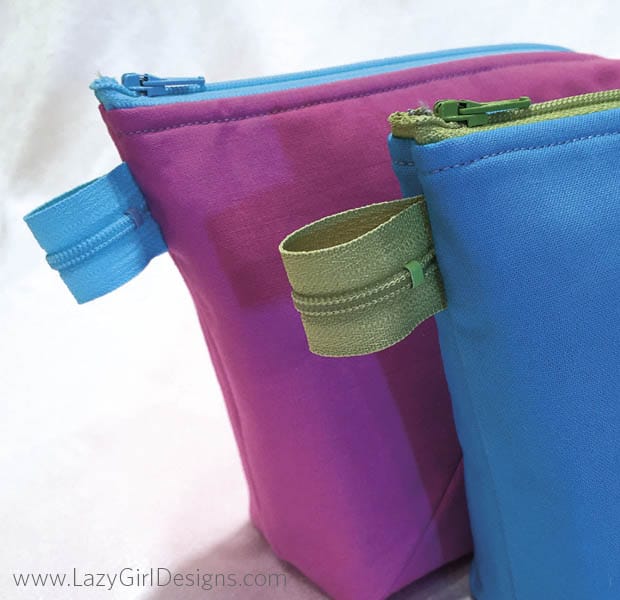 Those zip grab tabs are just about the cutest!
Bendy Bag LGD134
Bendy will be available by the end of February 2015. She's a quick and easy project that uses supplies you likely already have on hand.
Bendy will be available at your local quilt shop and online retailers.
Supplies
Fabric
Two 1/4 yds: one for outside, one for lining, (Fat quarters 18" x 20" or 42" wide from the bolt)
Batting
1/4 yard x 42" fusible fleece (or 1 piece at 18" x 20"). For best results use Dreamy Fusible Fleece by Sew Lazy item SLG106.
Zipper
One 14" (or longer) zipper, polyester all-purpose. I highly recommend Atkinson Designs or Coats & Clark zippers.
Do not use a sport-weight or metal zipper. The zipper teeth will be sewn over and cut during this project.
– Rotary cut project
– No pattern pieces provided.
– Exposed seams on lining are trimmed and nicely finished with tight zigzag stitch.
– Not recommended for directional prints.
– Use 100% cotton quilting weight fabric.
Press It!
I use several of my Clover Press Perfect tools on this project. The 2×4 Mighty Mini Board and the Iron Finger are perfect for pressing this small project. Our Iron Safe is great for working with the fusible fleece.
Click to enlarge the pattern cover images.
As Shown
All of the Bendy Bags shown here use #KonaCotton by Robert Kaufman fabrics, #Aurifil thread, and zippers from #AtkinsonDesigns.
Bendy will be here before we know it!
Thanks for joining in on the fun of our new Girl, Bendy Bag!
Where to Buy
Lazy Girl Pattern Store
Tell Me All About It
What do you think of Bendy? Please leave a comment and share on Facebook.
Enjoy!
Joan