The Secret To Our Wonder Wallet Pattern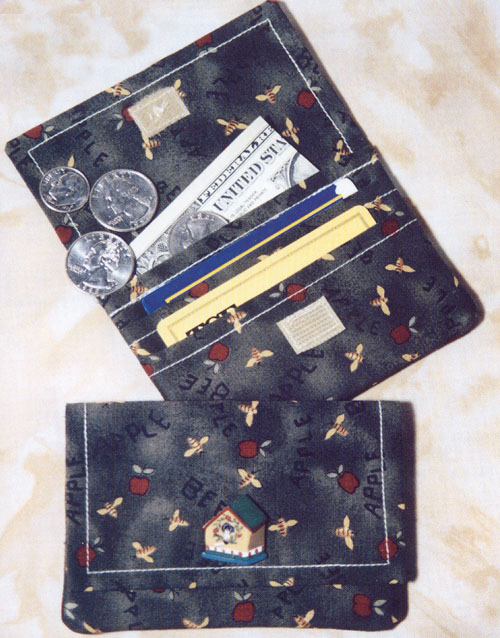 Lazies, Later this year will mark an unbelievable 10 year anniversary for one of my most loved patterns – the Wonder Wallet (WW). To this day, our Wonder Wallet pattern continues to enjoy huge popularity. Get a cup of coffee and join me while I share the secret behind this unassuming little design.
Later, we'll see Susie Simser's well-packed Wonder Wallet in the next installment of Show Us Your Lazy!
The Wonder Wallet was designed to meet my needs. One of my biggest complaints with ready-made purses, wallets and the like is that often times they are rigid, wasteful in their cumbersome design, and usually offer features I'd rather not have. Give me high function with a workable structure and don't give me more than I actually need.
Let me give you an overview of this action-packed little cutie. The WW is just a bit bigger than a credit card at 4 1/4″ x 3″, and has four pockets: two for cards, one for cash/checks (folded) and one for coins.
The WW is designed to be thin, flexible, and truly be 'wimpy' from a structural standpoint to serve its intended purpose of more function than substance. Similarly, a zip top plastic bag is unsubstantial, but highly functional and flexible in its many uses.
Give it the 'stuff' test.
I know what you are thinking. I need a 'real' wallet. The WW can't hold all of my stuff, it's too small. You might be surprised how much this wallet can hold.
Let's take a look at Susie Simser's fully loaded wallet. After making a WW, transfer the contents of your current wallet, one by one, until you can't fit any more. When fully loaded, my wallet looks a lot like Susie's and is 1″ – 1 1/4″ thick. I can fit a dozen or more cards (license, insurance, credit, etc), cash folded in the back pocket and coins in the pocket in between. Great job Susie!
Next, you might be wondering how can you keep the coins in without a zipper or separate closure for that pocket. Woohoo! One of my favorite details in this design. The flap that closes the wallet closes the coin pocket at the same time.  Coins can't escape when the wallet is closed.
Fast forward ten years and boy do I have a collection of stories, comments and whatnot about how this unassuming little design has been used that can raise an eyebrow and tickle a funny bone.
My favorite tale is the lady who carried one in her bra. That sure left me curious but I wasn't bold enough to ask any questions. I did want to know, though.  Over here? Under there? Did she mistake the 'Wonder' part of the name and pack two where needed? I just smiled and matched her excitement with 'That's Great!'
Others:
– People carry them in their socks, pockets, jackets, undergarments, around the neck, wrist, and ankle. 
– Use them to 'wrap' gift cards.
– Others decorate packages with a bow and a wallet.
– Some make a wallet to match every purse. 
– Some make them with no intended purpose just because they are enjoyable and quick to make.
– Some showcase fabulous buttons.
Alterations:
– Interfacing – Adds bulk to the seams, be cautious.
– Batting – Cover piece only. Expand the project width 1/8″ to accommodate the thickness at the seams.
– Lengthen and widen for passport/travel documents.
– Round the corners of the cover flap.
– Add a vinyl pocket to the back for an ID holder.
– Add a shoe lace for a neck pouch
– Add elastic around the back for a wrist/ankle wallet.
– Working with thicker material? Add 1/8″ to the width of the project. Perhaps leave the second card pocket off to reduce bulk during construction.
The Wonder Wallet is the only wallet I've carried since its inception. It's the perfect combination of easy to make, holds everything I need, fits in any bag, and is great for gifting. Invariably, when I run into Lazy Girls here and there, they start to rave about their Wonder Wallets.  I love hearing their stories and I'd love to hear yours, too. Post your story in the comments section below.
A big Lazy 'Thank You' to Susie Simser for sharing her project.
The Wonder Wallet pattern can be purchased here or from stores here.
Recent Posts
Bold Bags Featured at Leisure Arts
Joan Hawley Tapes 8 Shows with Kaye Wood
Watch Lazy Girl Online Now
Make a Snazzy Purse in Three Steps