11 Sewing Tools that Will Make You A Better Sewist
Lazies, That old saying of 'the right tool for the right job' applies to your sewing room, too. The right sewing room tools will create a properly equipped creative space that will save you time, keep you organized, and make you a better sewist. Whether you have a dedicated sewing room or pack things up and stow them away, good tools and sewing equipment make sewing more enjoyable and successful. These are some of my favorite finds for my sewing space and craft room. Treat yourself to that special something or upgrade to a better piece of sewing equipment.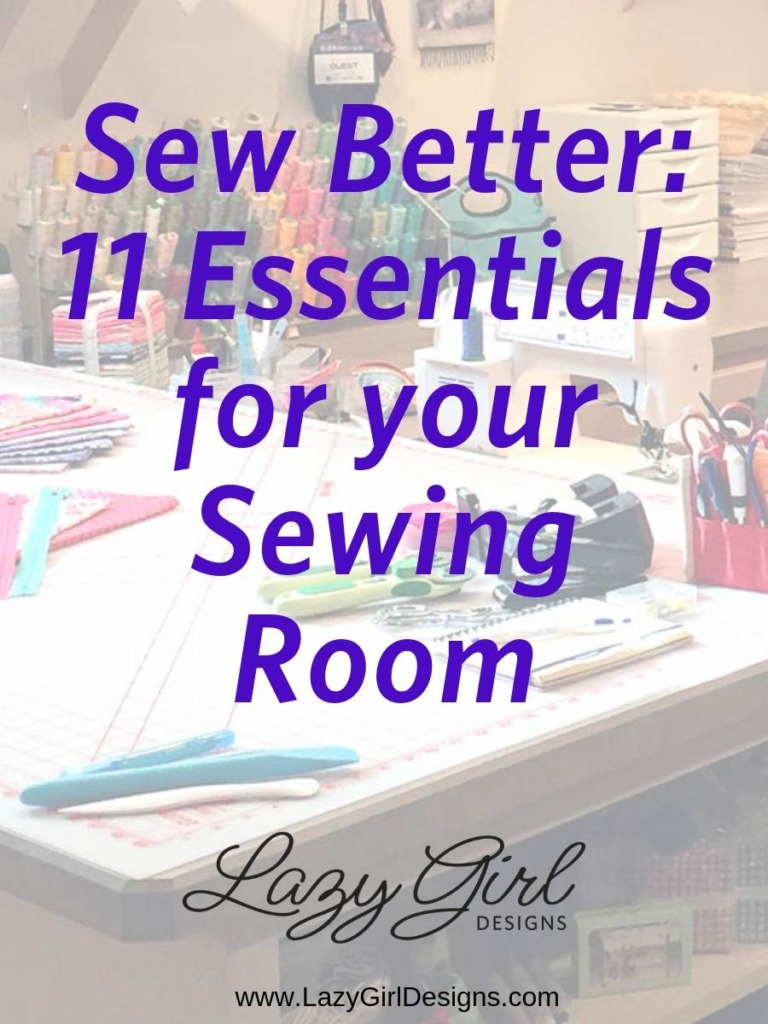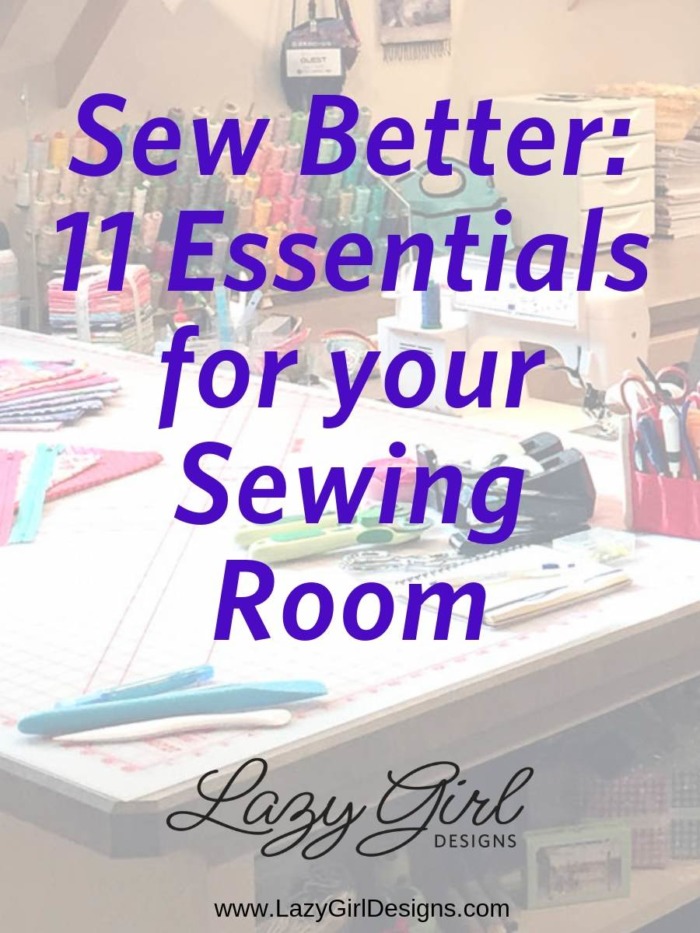 I've been sewing for decades and I'm still finding just the right problem solvers or basics for my sewing space. When you come upon a great find, it's worth sharing. The following are some of the pieces of equipment I'm happy with and you might be on the hunt for some of these, too.
Where To Buy
Visit my Amazon store where you can find all of the tools, supplies, notions, and more that I recommend.
Or click the image for each item in this post for more info.
Note: This post contains affiliate links. I make a commission when you order items through that link.
1. Sewing Chair with Good Support
A good flexible chair will offer the right support when sitting at the sewing machine so you'll be able to see what you are sewing and won't tire out so quickly. Look for a chair with adjustable height so you are sitting at the right height for your sewing surface and machine. Lumbar support will help with the proper posture while sewing.
Oh my, I've been through so many sewing chairs that I've lost track. A year or so ago I went to a sewing retreat and fell in love with the chairs. So I reached out to the retreat owner for info and was shocked to find out how affordable these chairs were.
I immediately bought one for my sewing room. I love the lumbar support! The chair swivels, rolls, and leans back. The arms also raise up and out of the way. Love, love, love this chair
In fact, I love it so much that I bought a second chair for my office. Love it there as well.
Tour my Dream Sewing Room
Take a tour my dream sewing studio and craft room. I finished my basement to create the sewing studio of my dreams.
Irons – Three Sizes for Different Needs
Our projects can have big, medium, and small pieces and elements. Be sure you have the right collection of pressing equipment so your efforts can be efficient and successful.
2. Singer Steam Press for Big Jobs
A steam press is a really big iron that will press/fuse a large item evenly from edge to edge. That even bond will ensure a better performance for your finished project.
I bought mine years ago and I'm grateful every time I use it. I can fuse interfacing to fabric in seconds. This is amazingly handy when I have a lot of fusing to do. I also use it to fuse fleece to fabric.
This model has a range of heat settings and has a steam function. I use it dry, without steam. It's a counter top model and it can be closed/locked and stored away when not in use.
3. A Good Basic Iron
I've had a number of irons over the years and I always come back to Rowenta. An iron that has some weight to it will improve the pressing result. A large water reservoir will save you time by filling the tank less often.
They offer tons of styles and price points. Get one you can afford. Use the recommended water (tap or distilled) and keep the soleplate clean.
4. The Perfect Travel Iron
A small travel iron is good for on the go and at home. Think of all of the small things you press. A travel iron is small enough to get inside a bag or other small project. They are darn handy. Includes a steam setting and has a long cord. Throw it in your luggage when traveling.
Thread and Bobbin Management
Wow, this is a huge topic. In general, I wind a bobbin to go with every spool of thread and I need to keep those babies together for sewing sanity.
5. Golf Tees are Pretty and Easy for Bobbin Management
Sewing room organization is a must. It allows you to easily see what you have, not lose track of stuff, and keep from buying the same thing over and over again. I use golf tees to pair my thread and bobbin. There are lots of options out there, but this is quick, easy, and colorful – and it works for me, so that's what I'm doing at the moment.
6. Specialty Product for Bobbin Management
These 'hairpin' shaped plastic organizers are fantastic for keeping bobbins and spools together. And they come in pretty colors, too.
7. Bulky Project Supplies On The Go
If you take projects with you on the go, you'll want some smart pouches to keep things together. These packing cubes and project zip bags are so handy! The blue bags shown are deep and accommodate thick or larger things.
8. Flat Packs For On The Go
All of these are small, soft-sided, zippered pouches with a mesh panel so you can see what's in there. Look, these sweethearts come in all sorts of shapes, sizes, and colors. I like a variety so I have what I need for different sizes of things/supplies. I use these when I take projects with me traveling.
9. Shelving, Drawers, and Cubbies
I always feel like I need more shelves and storage options for my sewing equipment and supplies, so these shelving and cubbies seem perfect. They are small so they can be fit in here or there – that's especially nice if you don't have an available wall for a full shelving unit.
Arrange these 6 cubes and cubbies any way you like. Here they are shown stacked in two rows of three.
10. Rolling Drawers
This set of rolling drawers can be tucked under a sewing table or in a closet if needed. I love these for keeping small groups of things together.
11: Project and Supply Storage Options
From zippers and purse hardware to project bits and pieces – I need help keeping it all sorted in my work space. So I like these storage items for lots of different things. All of these are clear so I can see what's in them. And they stack, carry, and store easily. You'll find a use for them.
– The large Sterilite bins with lids are fantastic for large projects or lots of supplies/fabric. They stack, you can see what's in there – I have tons of these!
– The little container in the middle is a fabric strip container and it's great for zippers.
– The 'pizza box' style bin is nice for small projects and supplies.
– Click images for more info.
More Sewing Room Recommendations
Find more of my finds and picks for extensions cords, notions, rulers, lights, and more in my Amazon store.
Note: This post contains affiliate links. I make a commission when you order items through that link.
IKEA Hack Ironing Board
Make the pressing station and ironing board of your dreams with this IKEA Hack Pressing Station.
More Sewing Room Tours, Sewing Organization, and Pressing Tips
For more sewing room inspiration, follow my Ironing Board and Pressing Station Ideas, Sewing Room Tours, IKEA Sewing Room Ideas, and Sewing Organization Ideas boards at Pinterest.
That's Pinterest-ing!
Join me on Pinterest here, remember to 'Follow' me there, and pin this post and pics to your Pinterest boards.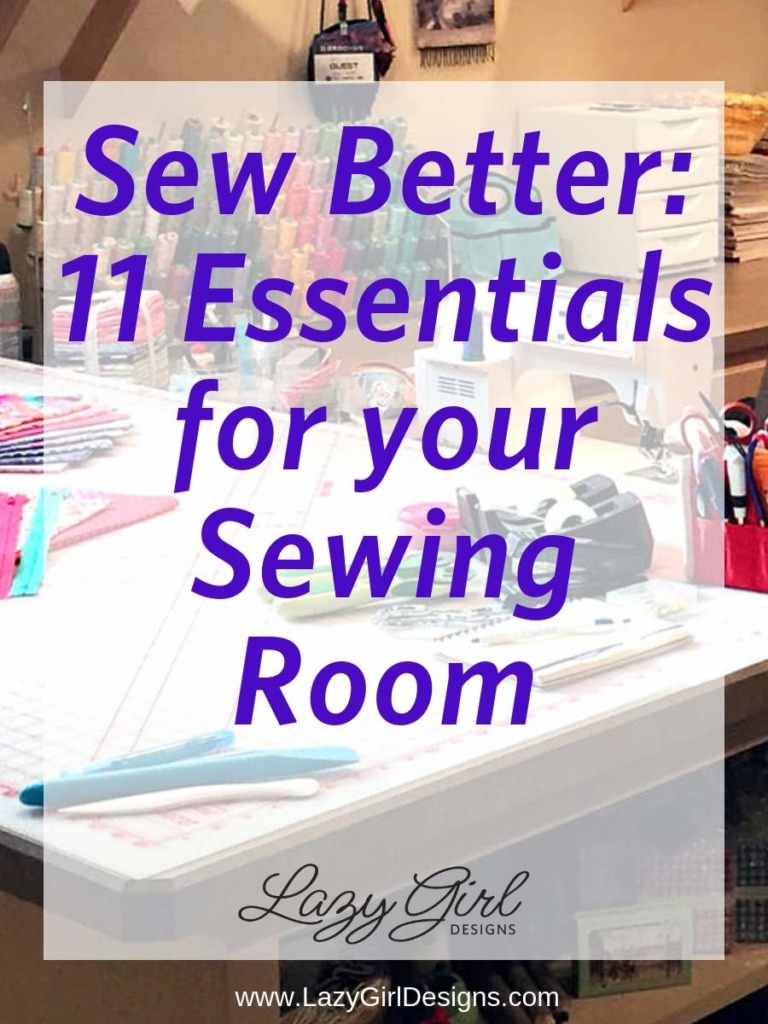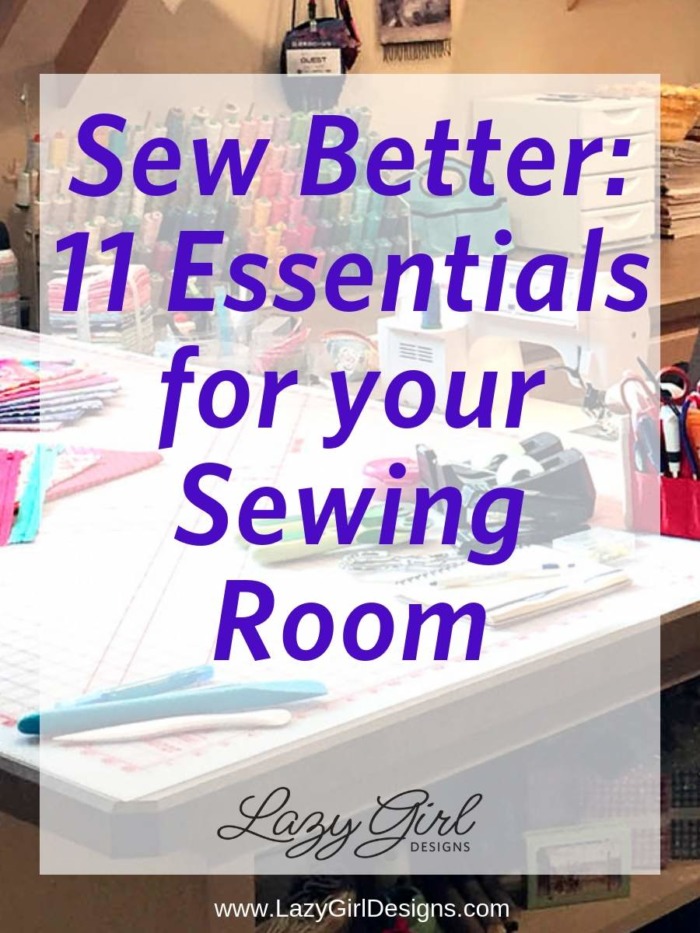 Subscribe to receive emails for my blog and newsletters about new patterns and project ideas.
Enjoy!
Joan
Joan's Sewing Group | Pinterest | Instagram | Twitter
Like and share this post with your stitchy friends.