Sewing Room Tour and Craft Room Ideas
Lazies, Join me for my sewing room tour and the craft room of my dreams! Over the years my sewing space has moved and changed while growing with my needs. In 2001, I designed my own sewing room in the basement. After six months of construction, Lazy Girl moved in to its current studio. I designed the studio for work flow and to keep me and my sewing supplies organized.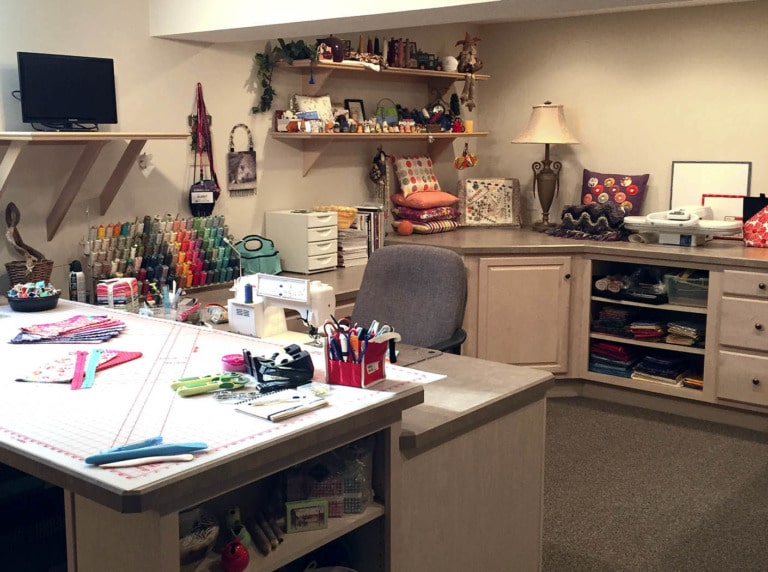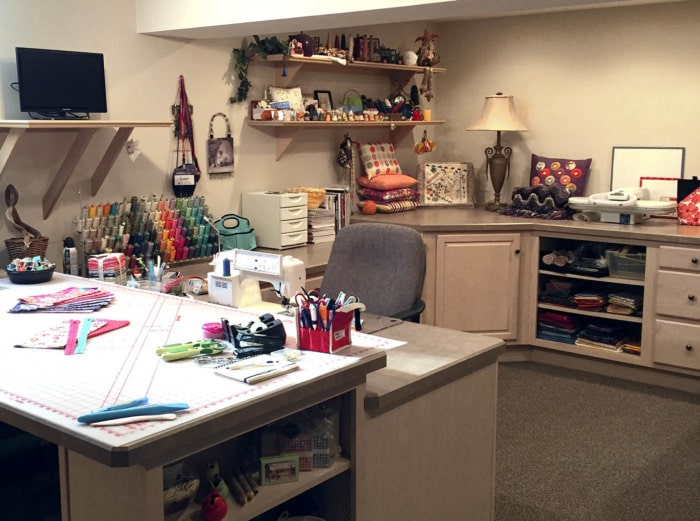 Basement Before Construction
Here's the unfinished basement before construction which was about 850 square feet of unfinished space. Just below the Dallas Cowboys sign is where the stairs land at the middle of the basement. I designed the finished space to put walls where the I-beams and support poles were located.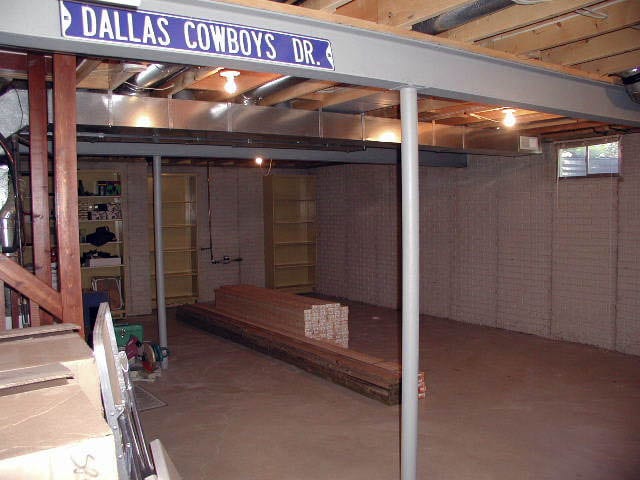 My Sewing Studio and Creative Space
My sewing studio is approximately 13′ x 20′. Here's half of my studio showing my sewing machine counter, which backs up to the elevated work surface and cutting counter. Beyond the studio is a storage room to the left and a full bath to the right. I chose cabinetry, wood stain, paint, and countertops to match or coordinate with the rest of the house upstairs. The carpeting is a commercial carpet.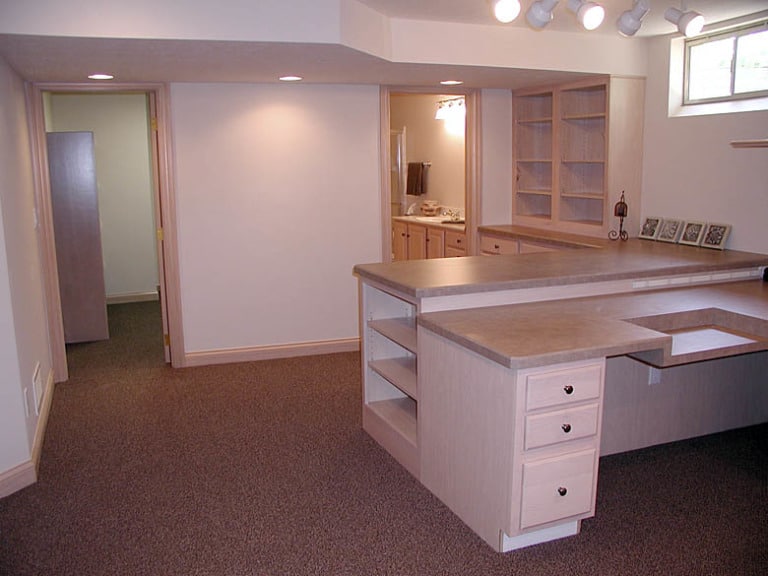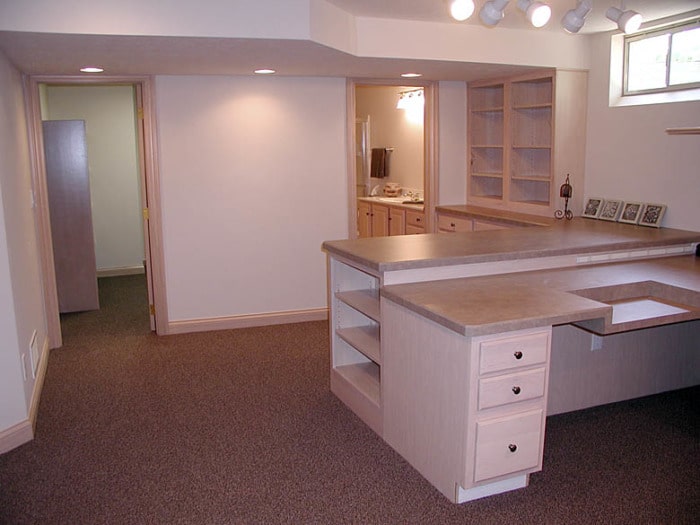 Built-In Cabinetry, Shelves, and Drawers
I designed the sewing room to have work surfaces at standing and sitting heights. There are drawers of different sizes for different functions. A large corner cabinet holds bulky things like sewing machine luggage or extra sewing machines. Shelves on the wall are to display my sewing themed gifts, collectibles, and treasures.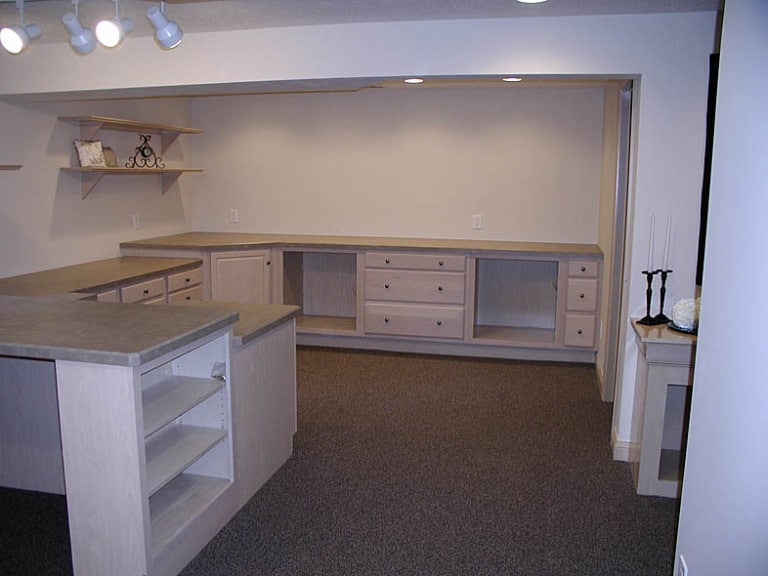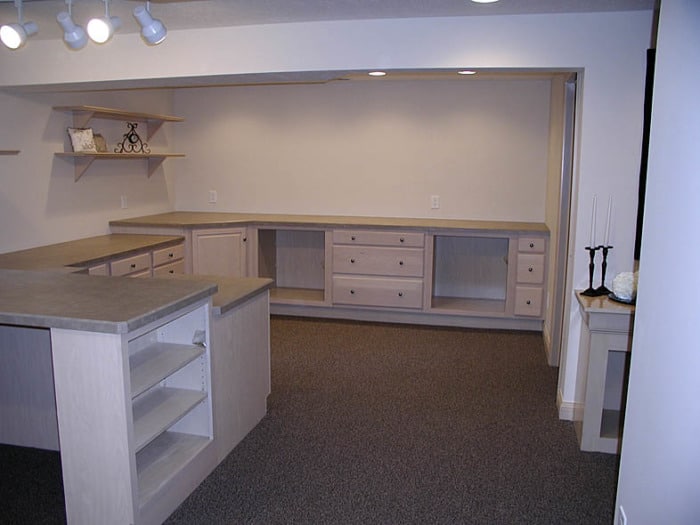 Create A More Open Staircase
A stairway to a basement can often feel narrow and dark like going into a cave. I widened the stairs to create a more open feeling and provide some fun display areas. We simply replaced the stair treads with wider boards. We located the new wall about 20″ from the steps which is where the I-beam ran across the ceiling. That created an opportunity to add a built-in element for displaying sewing goodies.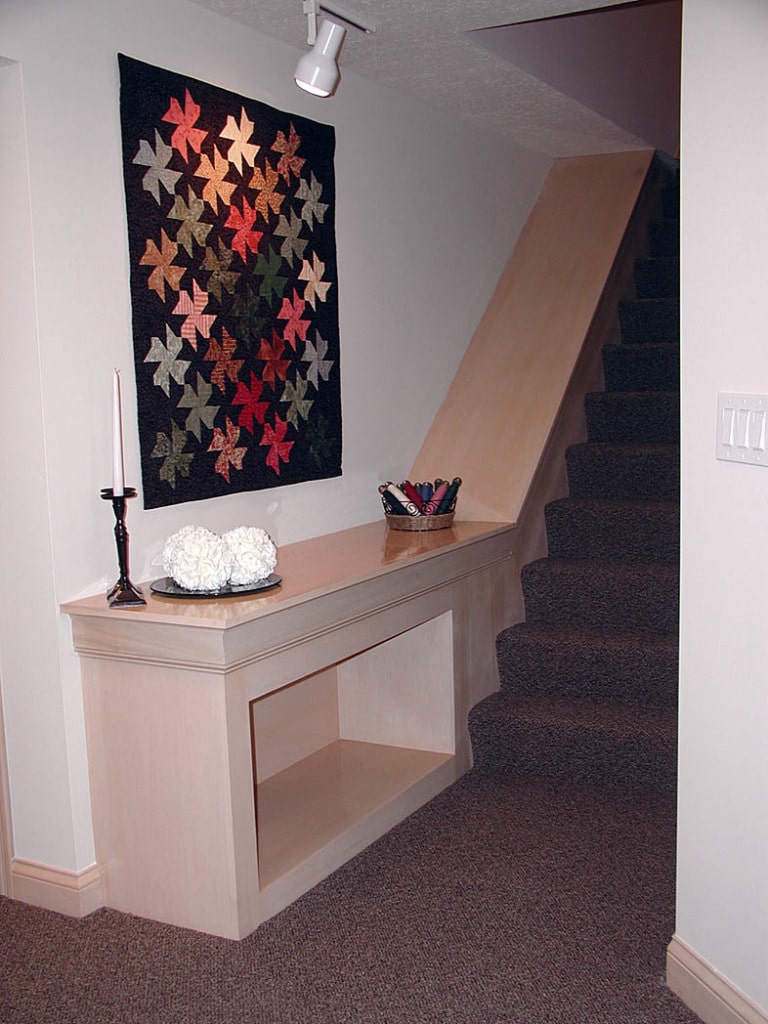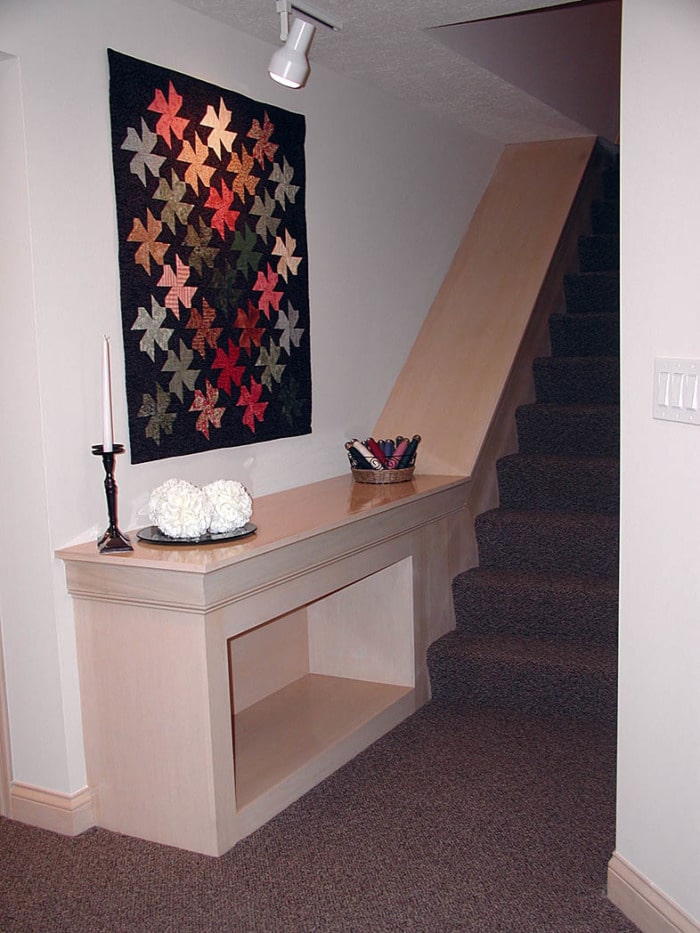 Large Elevated Ergonomic Work Table
This large, elevated counter is my cutting table and work station which has room below to store bolted goods such as my line of Lazy Girl interfacing. Shelves, drawers, and cabinets nearby are perfect to organize books, tools, supplies, and other resources. The work surface will fit a large cutting mat and still have room left over for notions, fabrics, etc.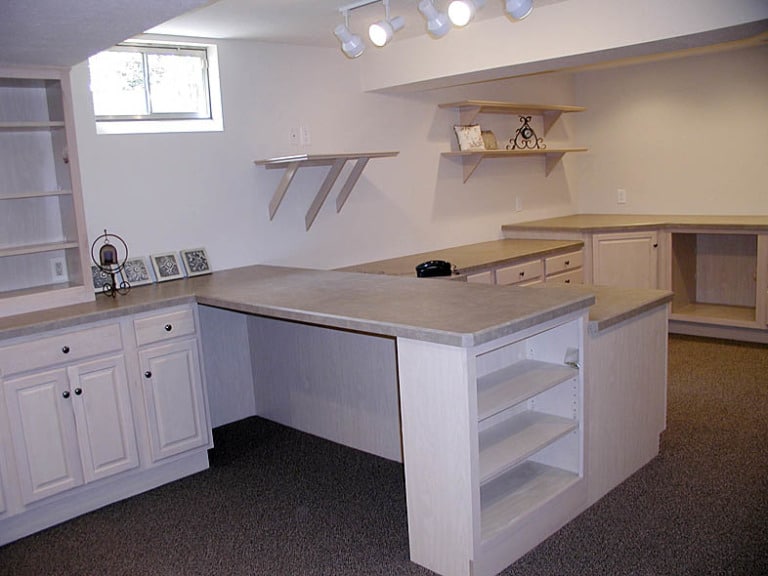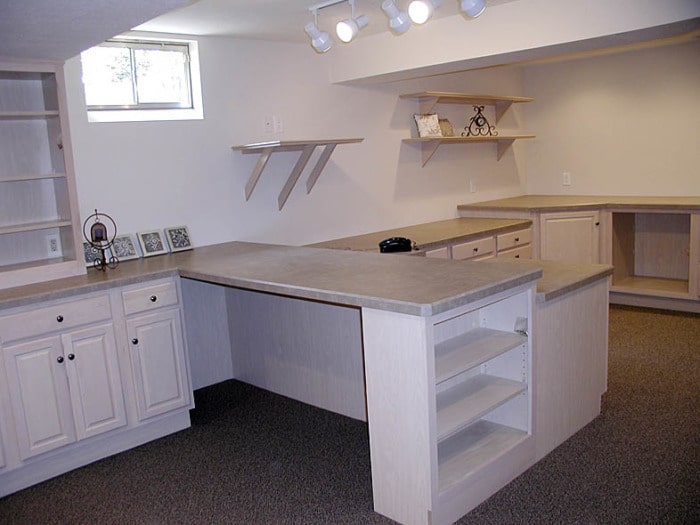 Extra Storage Room for Craft Supplies
Connected to the sewing room is a nice big storage room with built-in shelves which are perfect for luggage, display items and samples.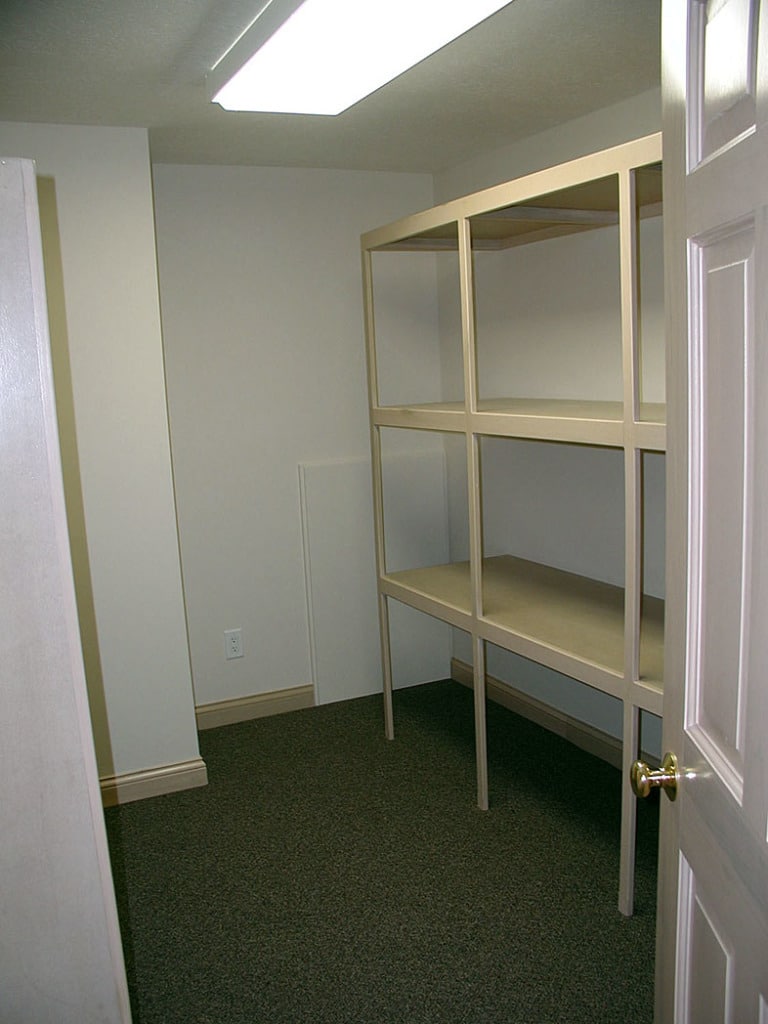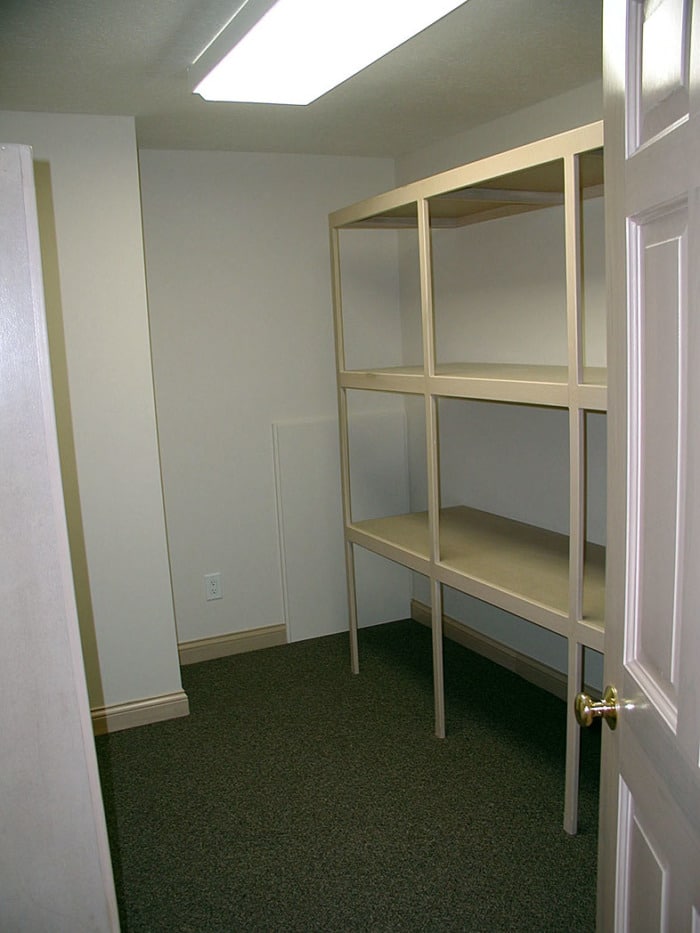 The other wall in this room has smaller shelves which are perfect for fabric, sewing supplies, and notions. That door to the left leads to the utility room.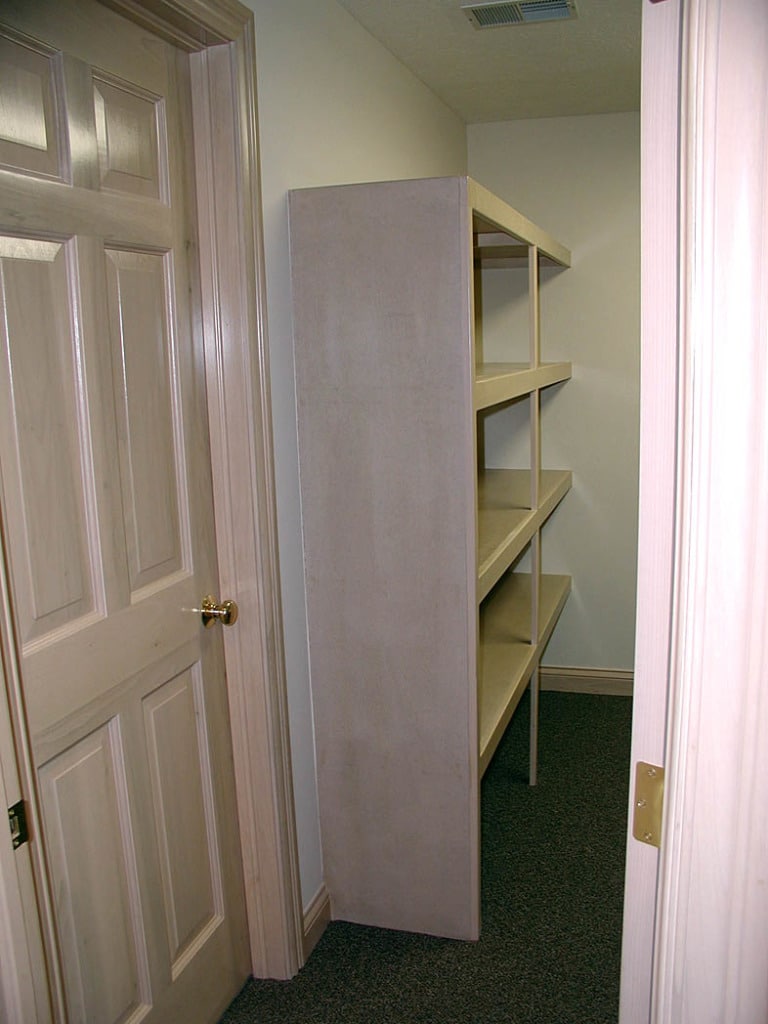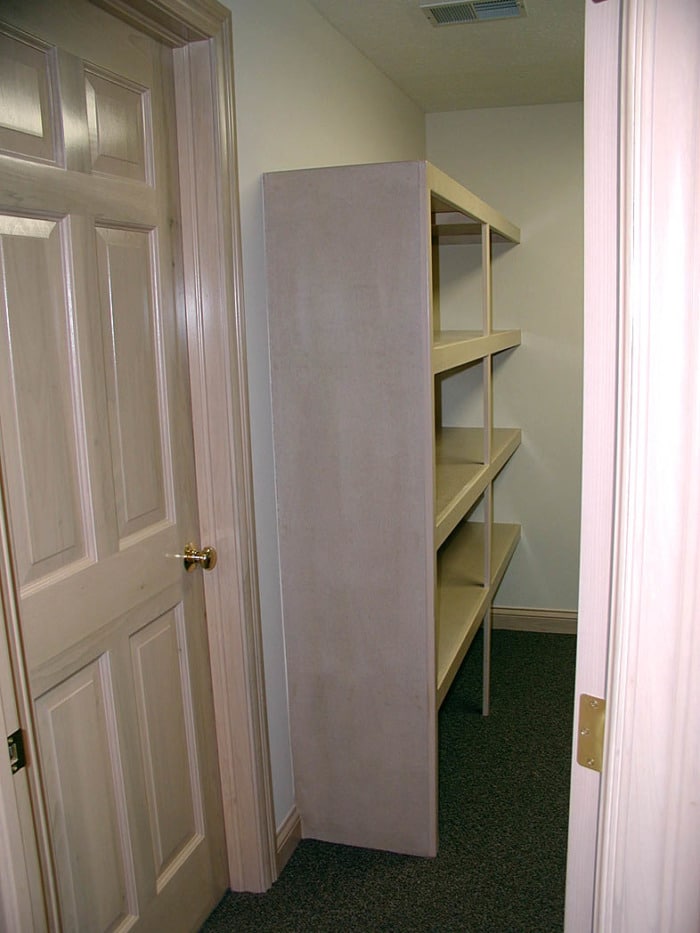 Storage for Large Items in a Spare Room
Finally, there's an extra room with a desk just off the studio which has become quite handy for all of the unexpected things I need to store. The large closet opens to storage under the stairs and access to the crawl space under the rest of the house.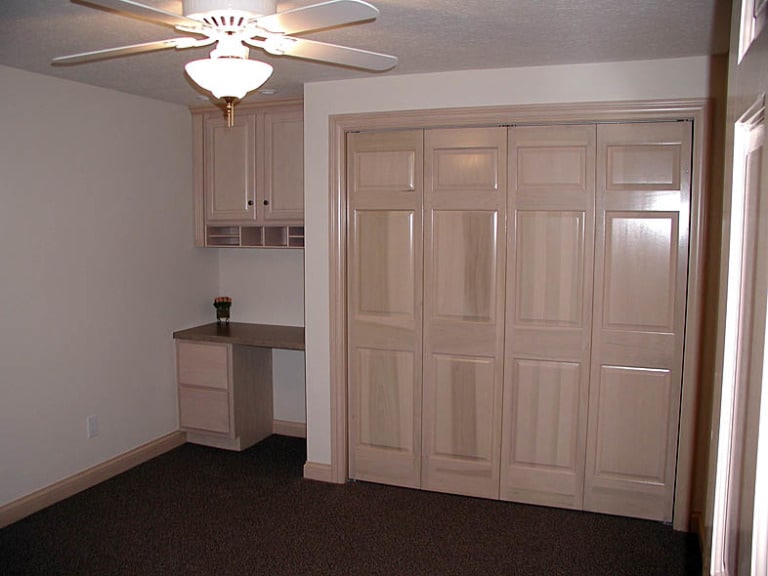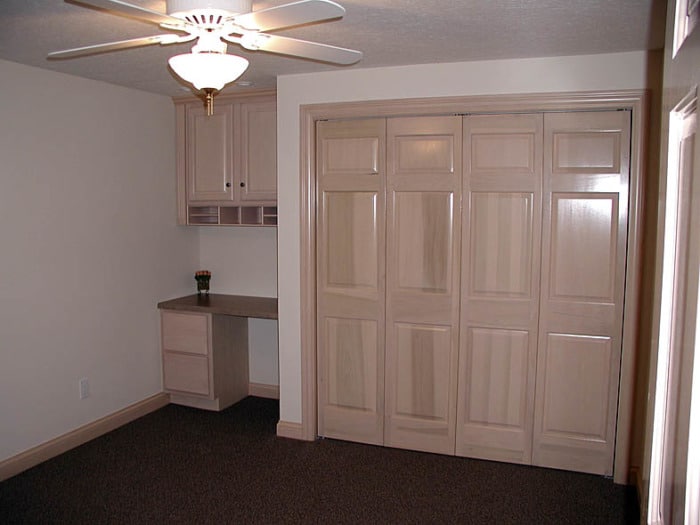 Sewing Studio and Craft Space
Here are a few pics of my sewing room and craft space with all of my stuff moved in.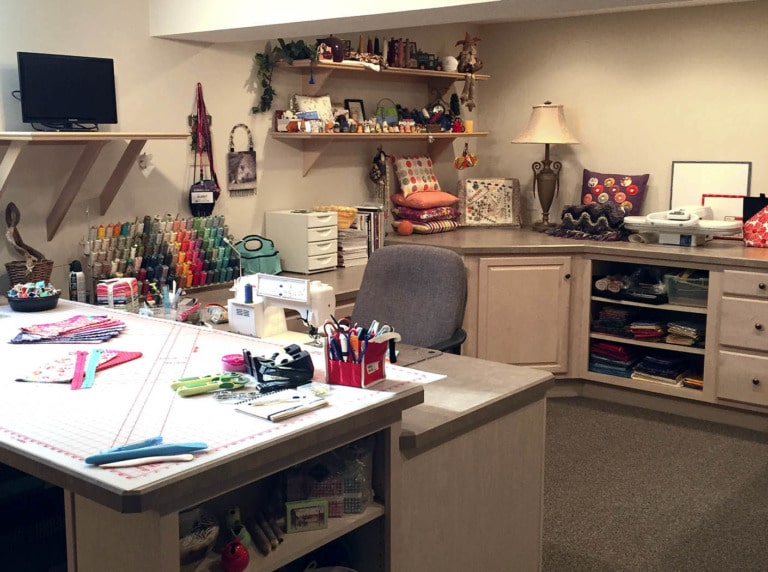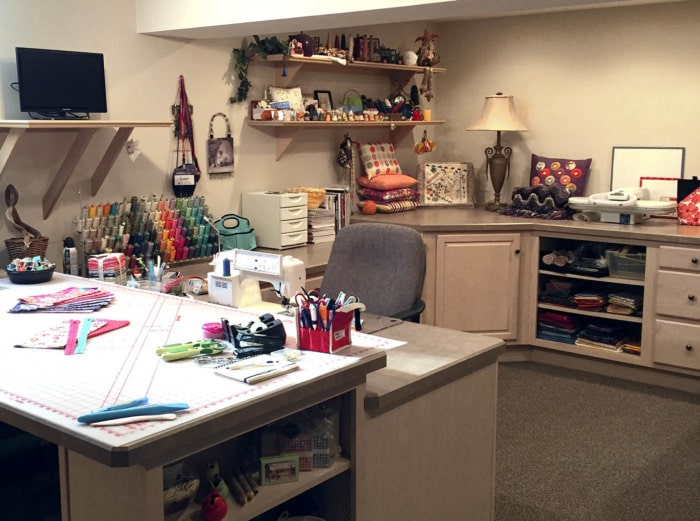 Ironing Board and Pressing Supplies
One corner of the studio is home to my pressing station. I also store sewing and craft supplies in this area such as everything from zippers and buttons to KAM snaps and ribbons. I also use drawers for pressing notions and open shelving for my pressing sheets and cloths.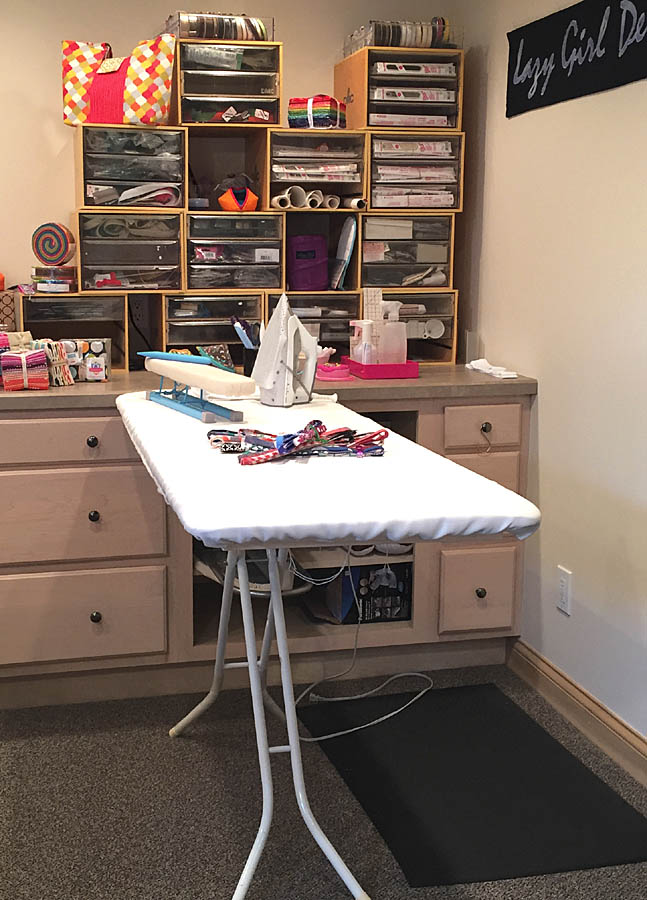 IKEA Ironing Board Hack
Take a tour of my updated IKEA hack pressing station: IKEA Hack Ironing Board.
Sewing Gifts Display Idea
I love having all of my sewing gifts and sewing themed collectibles on display, including treasures I pick up while traveling for my job. Other items are cherished gifts from my stitchy friends.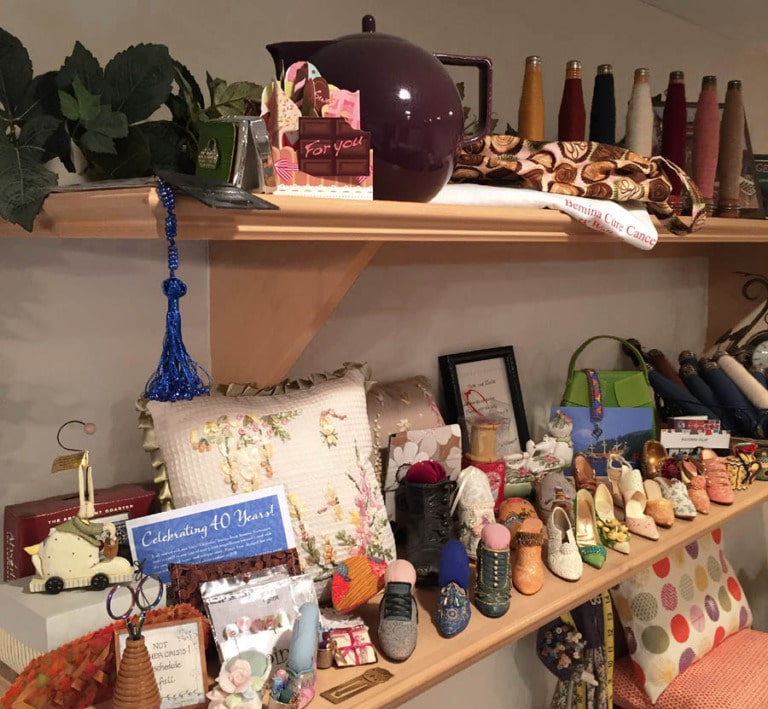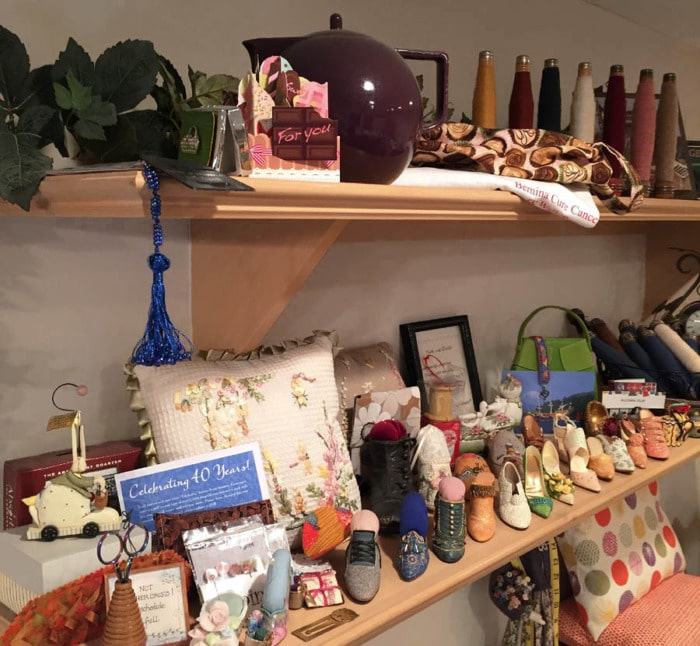 Sewing Room Organization and Craft Supply Storage
Some free-standing shelves work well for my Lazy Girl line of interfacing, supplies, and notions. I picked the shelves up years ago at Pier-1 Imports. The wooden boxes with clear drawers are old DMC floss display units I picked a long time ago from a store that closed.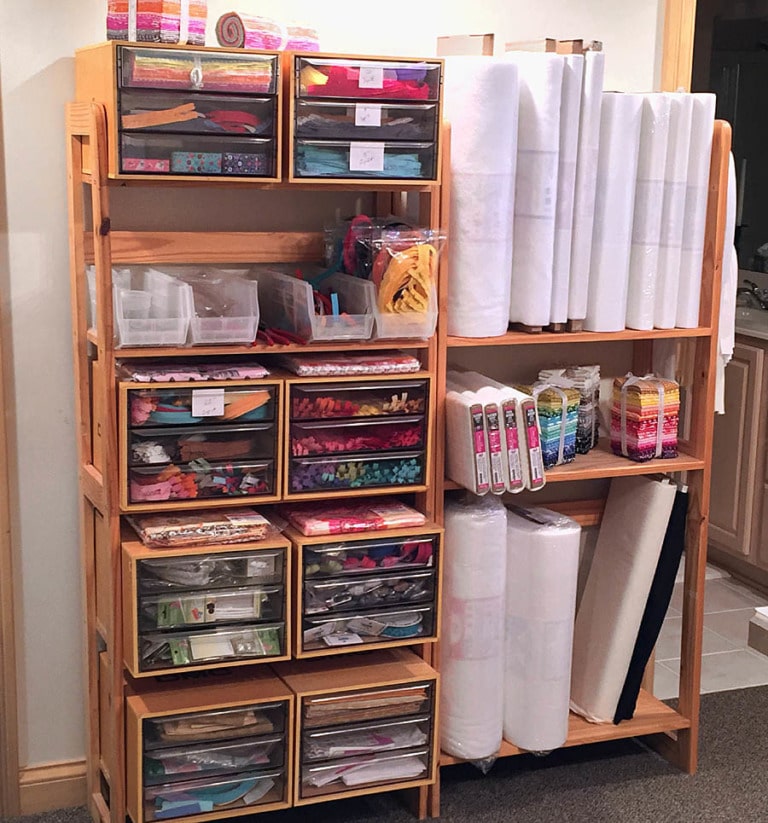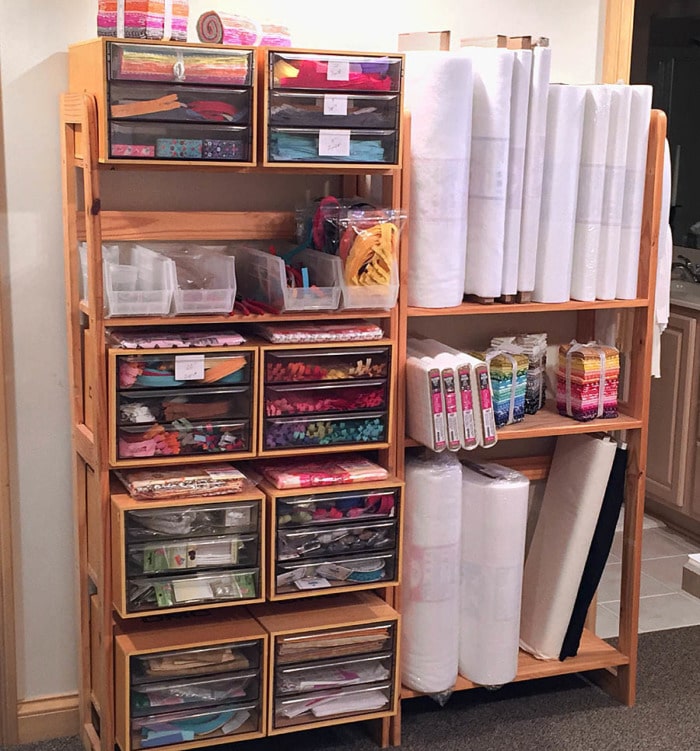 Sewing Machine Table Custom Countertop
I designed this countertop to have a lowered area to hold my sewing machine which puts the sewing surface at the same height as the counter. Here's a closer look at the nook I designed for my sewing machines. It's perfect for my Janome or BERNINA 740.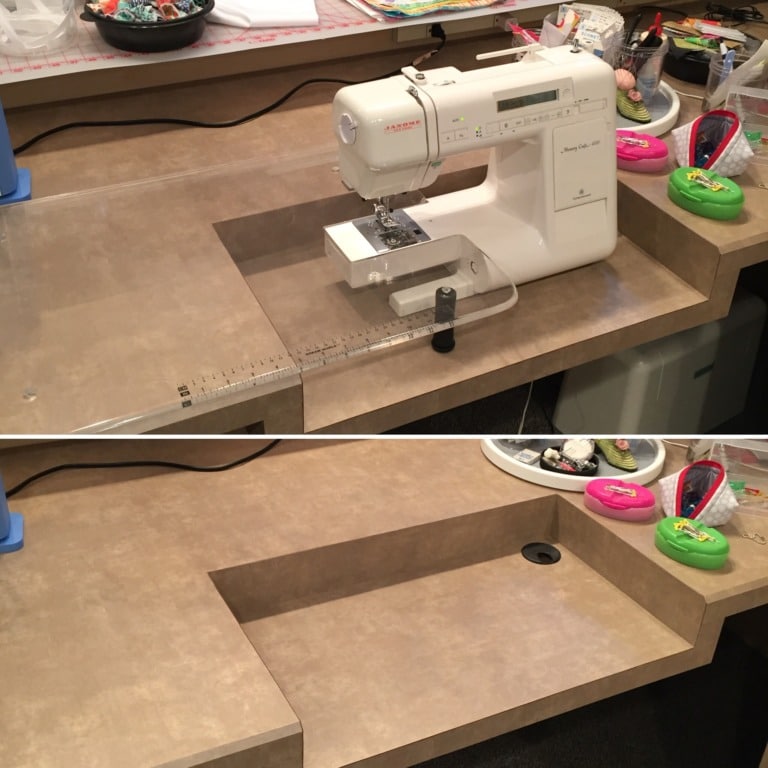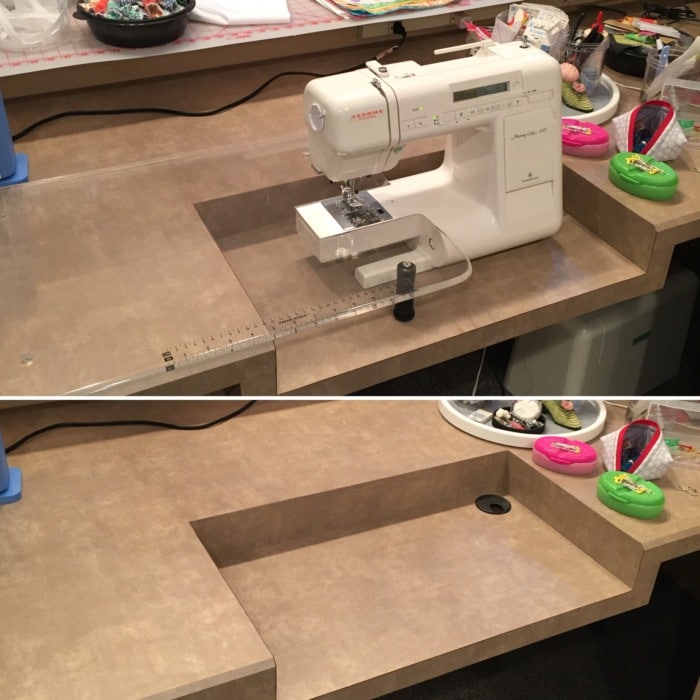 Here I am at home in the sewing room of my dreams. Thanks for joining me on a tour of my sewing studio and creative space!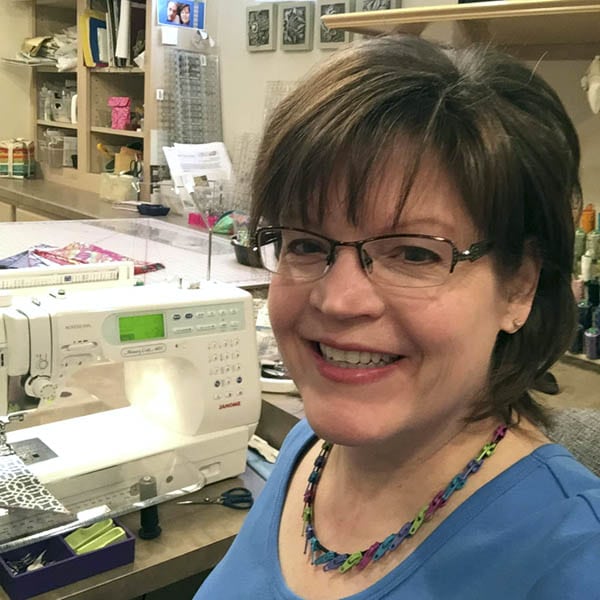 Sewing Room Equipment and Supplies
For more info about some of the equipment in my studio, check out my blog post for Must Have Sewing Room Equipment.
Sewing Room Tours and Sewing Organization
For more sewing room inspiration, follow my Sewing Room Tours, IKEA Sewing Room Ideas, Craft Room Organization, and Sewing Organization Ideas boards at Pinterest.
That's Pinterest-ing!
Join me on Pinterest here, remember to 'Follow' me there, and pin this post and pics to your Pinterest boards.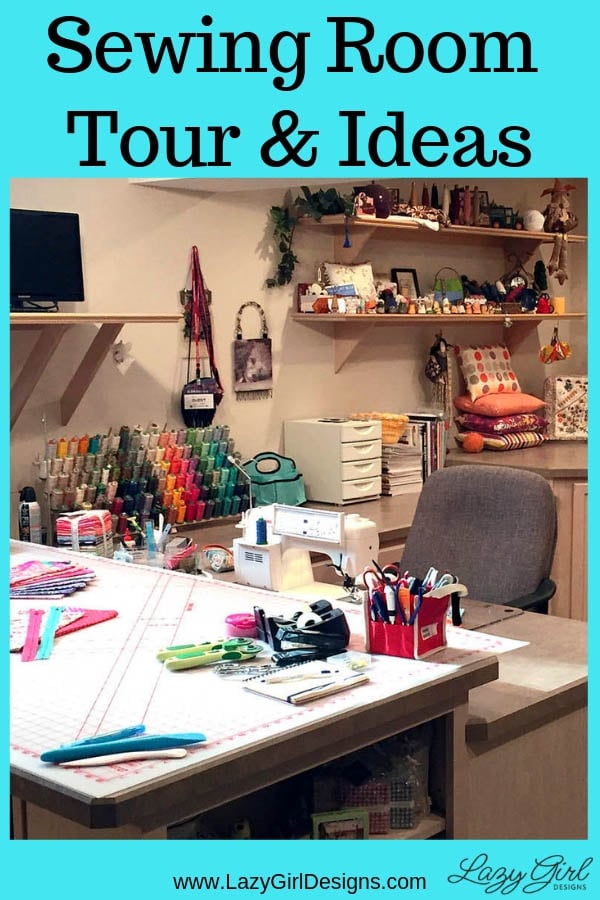 New to our blog? Subscribe to get emails so you don't miss a juicy morsel.
Like and share this post with your stitchy friends.
Join me in the Lazy Girl community on Facebook here: Facebook Lazy Girl
Enjoy!
Joan
Sew With Joan Online Classes | Joan's Sewing Group | Pinterest
Like and share this post with your stitchy friends.