New: Iron Shine Cleaning Pen
Lazies, Is there anything hotter than a clean iron? Ha! Let's get down and dirty today and talk about the dreaded task of cleaning your iron. Ugh, right? Sometimes the tools to fix a problem are just as bad as the problem itself – smelly, messy, hateful. Well, not anymore. Last week at Quilt Market was all about my next product with Clover – the Iron Shine Cleaning Pen. Look at this little cutie!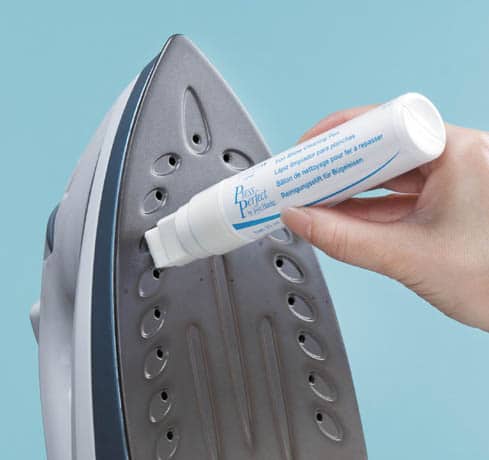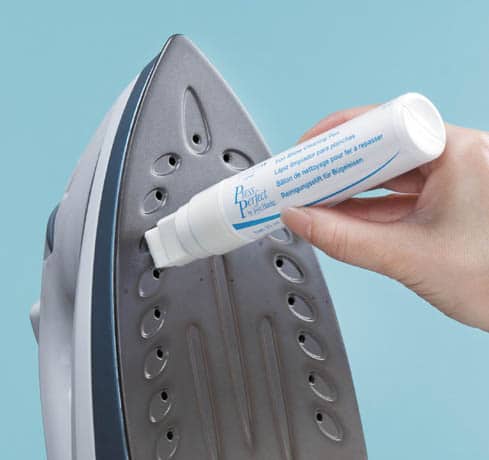 Iron Shine Cleaning Pen, Press Perfect by Joan Hawley for Clover Needlecraft item 7810, $16.95
From Hateful to Grateful
Here are my chief complaints in cleaning my iron in the past: I can't see what I'm doing, it's smelly and messy, marginal success, can't spot-clean, then I have to clean-up from the clean-up. Does this sound like you? Last week I heard all of this over and over again. I also heard about a lot of irons being thrown away due to dirt.
So how do you make the traditionally unpleasant task of cleaning the iron a better, more successful experience? Let me tell you, this is one of the great things about Clover. They don't just put out their version of the same old thing. They innovate. They solve problems. Our Iron Shine addresses all of these sore spots.
Highlights
The Iron Shine Cleaning Pen is innovative across the board. The pen-style applicator, scrubby tip and water-based cleaning fluid are a new approach to easily maintaining a clean iron with no mess or harsh fumes. The Iron Shine allows you to control the clean – see what you are doing, clean the whole iron or spot clean, safely work with the iron off or warm. Safe for metal or coated soleplates, good for multiple cleanings.
The Big Question – Does It Clean?
My friend Voni found this poor old iron at a garage sale. Here are the before and after pics. Pretty impressive! We have no idea what was on there, but it wasn't damaged or rusty, just really dirty. It took some scrubbing and a little time, but it's clean!
Looks like a laundry stain stick, right? Exactly!
Putting the cleaner in a stick form with a bevel edged felt tip is a huge improvement over other methods. Other cleaners have you work with the iron face down, applying pressure evenly to the whole soleplate and you can't see what you are doing or spot clean.
The Cleaning Fluid
The cleaning fluid is water-soluble with a fatty acid and no harsh smell. Shake the pen gently, then depress the nib once and allow the nib to fill with fluid.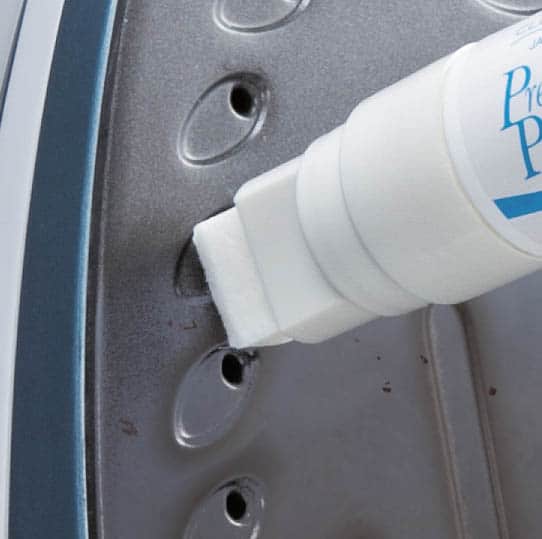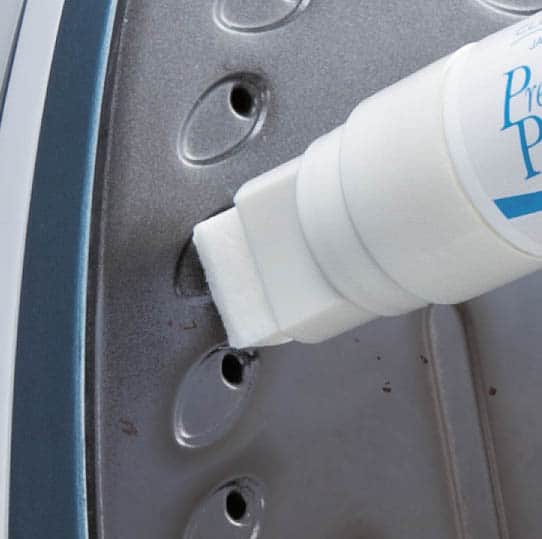 How To Use: Cold then Warm
General Cleaning: Start with the iron cold, unplugged, and for your safety make sure there is no steam left in the iron. The felt tip has beveled edges and a scrubby texture. Simply rub and scrub with the tip to apply the fluid and clean at the same time. Depress the tip to release more fluid as needed. Don't forget the steam holes and edges of the soleplate. Then wipe with a damp cloth.
Spot Clean Stubborn Areas: If there is any dirt left, turn the iron on to the lowest setting, usually called 'Min'. Warming the iron will soften the tough dirt and baked-on adhesives. Then go back and spot clean.
After Cleaning: Use steam to clear any solution/loose debris from the steam holes before first use after cleaning.
Cooking not Cleaning!
If you are unsure about your iron settings, here's a good rule of thumb. If you hear a sizzle when you touch the pen tip to the soleplate, the iron is too hot and you'll be cooking not cleaning! Turn the iron down, let it cool a bit then try again.
A too-hot iron will cook off the thin cleaning fluid before it has a chance to work. Ask me how I know! If this happens, the fluid will cook onto the felt tip. Simply scrape it off of the tip with your fingernail to get back to the scrubby texture.
Through all this cleaning, scrubbing and dirt, the tip may become discolored, or misshapen due to pressure or too much heat. If the tip still has its scrubby texture, it will still clean and won't redeposit dirt onto your iron.
Care and Maintenance
When needed and after each cleaning, wipe the tip on a soft cloth to remove dirt and any remaining or excess cleaning fluid. Put the cap on tightly and store with the pen tip up.

Why and When to Clean Your Iron
Whether you realize it or not, crud can build up on your iron. You've invested moolah in your iron, fabrics/clothes/etc, it make sense to keep your iron clean and in good working order. Be kind to your iron and clean it regularly.
Adhesive from fusibles is a common trauma that forces us to clean our irons. If you get fusible on your iron, immediately and safely wipe off what you can with a soft cloth. Note to self: keep a soft cloth (washcloth) at the ironing board. Let the iron cool completely, then clean with the Iron Shine. If adhesives are already baked on (show of hands, please), set your iron to the min setting, let the adhesive warm, then scrub away.
So, there it is. Welcome to the wonderful world of easily cleaning your iron.
Press Perfect
The Iron Shine Cleaning Pen is part of my Press Perfect line of products from Clover Needlecraft.
Where To Buy
The Iron Shine is just now shipping. Check with your local quilt shop or online. My video demo of the Iron Shine will be online soon. I'll post an update when it is available.
PS: Oh, I nearly forgot to mention. It cleaned the soleplate so well that I thought I'd try it on the iron sides and handle – yep, it cleaned those, too! It is a cleaner after all.
Enjoy!
Joan