Free Pattern: Yo Yo Cutie Pins are Pin-tastic!
Lazies, meet our Yo Yo Cutie Pins! Aren't they adorable!!! The second fabric, peeking through the gathered opening is a modern twist on the traditional yo-yo favorite. Feature a fabric, picture, button or more. Add a pin, ribbon, magnet to create a keepsake to wear, hang on the tree or fridge.
Claim your FREE pattern below!


Yo Yo Cutie Pins pattern (LGD132) from Lazy Girl Designs
Why These Cuties Are Special
One thing you'll notice about these yo-yos is how crisp and clean their lines are. It's almost like they've been starched, standing at attention. The secret is slipping a little of our Stiff Stuff interfacing inside the yo-yo to give it structure and substance. It's a perfect pairing.
Free-Range Yo-Yos
A single yo-yo is usually added to something – sewn onto, paired with, stuffed, stitched to more yo-yos, etc. The Stiff Stuff makes the yo-yo perfect to roam free on its own. I made a bunch of these and wore them at Quilt Market recently. Here I am at Quilt Market with the fabulous Eleanor Burns. I'm wearing the large size Yo Yo Cutie Pin.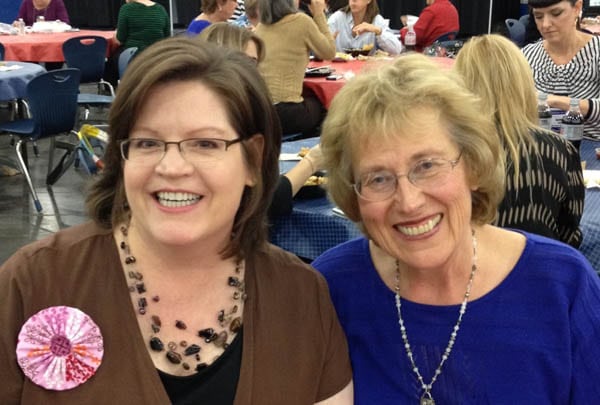 Two Sizes
Make Yo Yo Cutie Pins in large or small sizes with large or small openings. Below is the large size shown with a pin (I'm wearing it in the pic above, small opening) and the small size with a ribbon to make an ornament or hang tag. I made the small size in holiday fabrics as wreath pins for family and friends this month (pictures next week).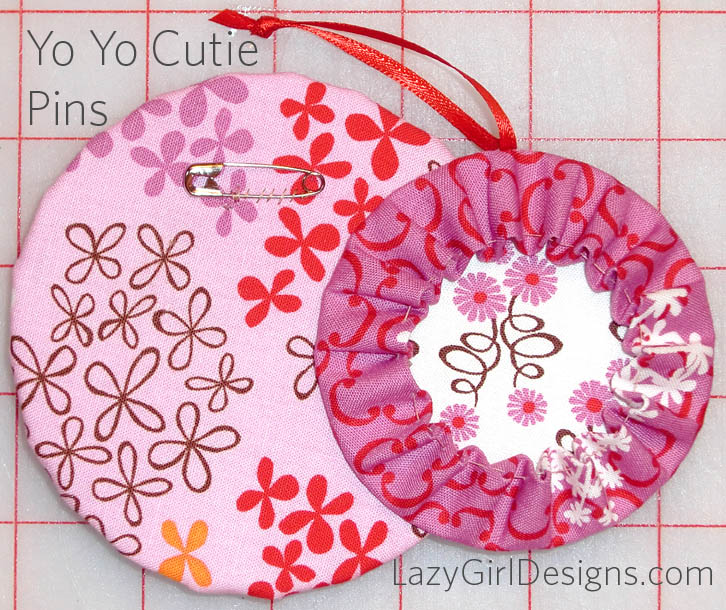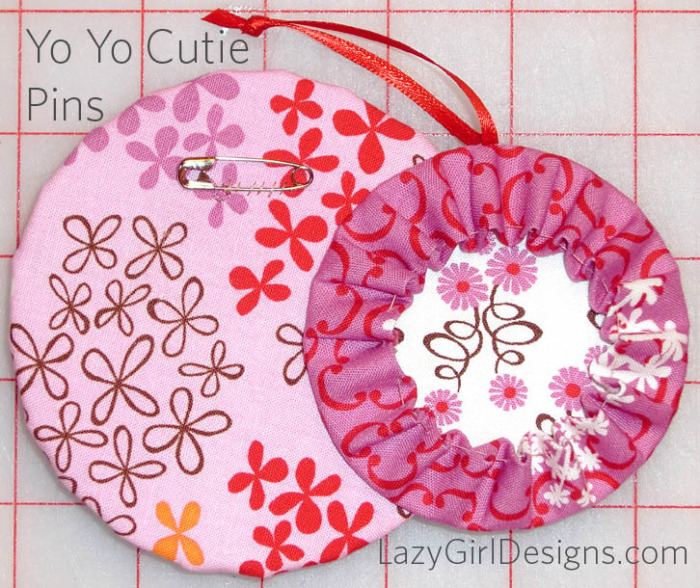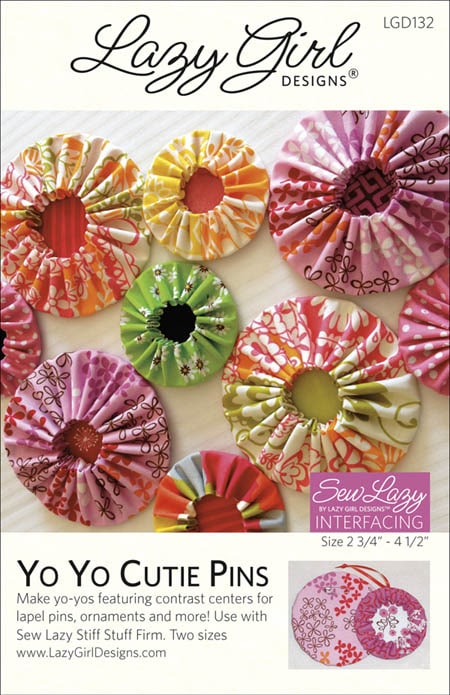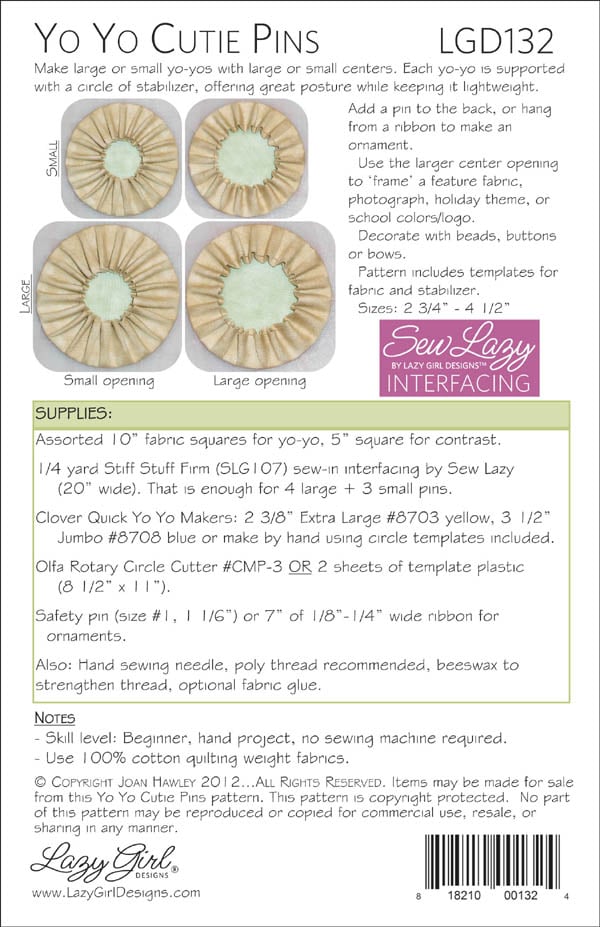 Supplies and Details
This is a scrounge-able project, make due with what you have on hand or try some of the tools shown below (check your local quilt shop or online).
Yo Yo Cutie Pins (LGD132) Get the free pattern below
Fabric: 10″ squares for yo-yo, 5″ squares for contrast center
Stiff Stuff: 1/4 yard Stiff Stuff Firm sew-in interfacing by Sew Lazy (SLG1071)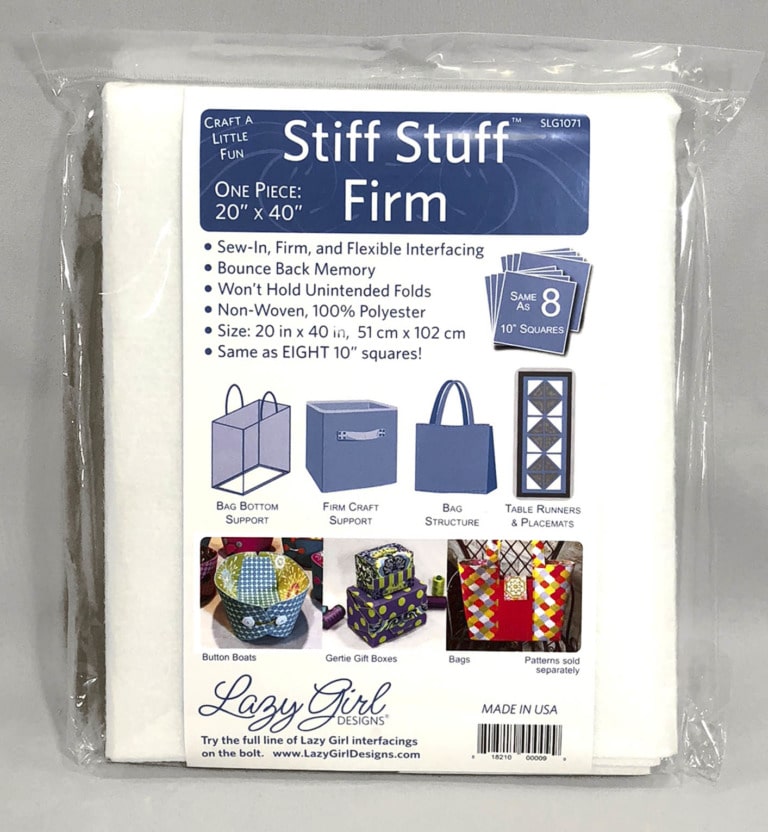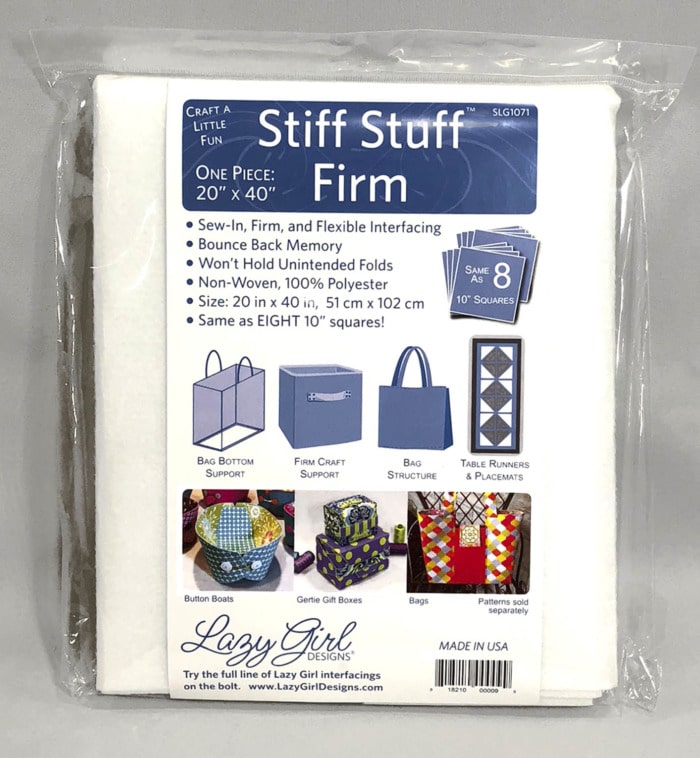 Safety Pins for pin option: size #1 (1 1/16″)
Ribbon for ornament option: 7″ of 1/8″ – 1/4″ wide ribbon
Tools for Making Yo Yos
Cut fabric circles and make yo-yos following the directions in the pattern, or use the Clover Quick Yo Yo Makers. The pattern uses the yellow extra large size and the blue jumbo size. Be sure to check out my Yo Yo Maker tutorial here.
Link Round Extra Large Yo-Yo Maker (yellow)
Link Round Jumbo Yo-Yo Maker (blue)
Tools for Cutting or Marking Circles
Use templates in the pattern to cut the size circles needed, or try this Olfa Circle Cutter tool.
If using the Olfa too, (I love this tool) be sure to watch their video demo online here: Rotary Circle Cutter
Link OLFA 1057028 CMP-3 Rotary Circle Cutter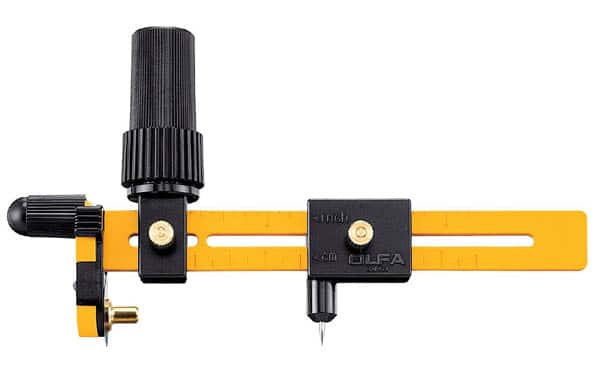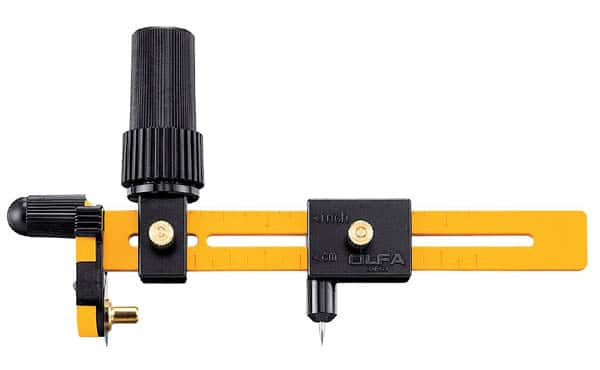 Note: This post contains Amazon affiliate links. I make a commission when you order items through those links.
Claim your FREE Yo Yo Cutie Pins pattern below!
New to our blog? Subscribe to get emails so you don't miss a juicy morsel.
Like and share this post with your stitchy friends.
Join me in the Lazy Girl community on Facebook here: Facebook Lazy Girl
Enjoy!
Joan
Facebook Lazy Girl
Pinterest Joan Hawley
Pinterest Lazy Girl Community
Instagram @JoanHawley
Twitter LazyGirlJoan
Download this Freebie
Enter your email address below to instantly download this freebie now!