Quick and Cute Zipper Pouches To Make From Fabric Leftovers
Use fabric scraps with this Bendy Bits Small zipper pouch tutorial.

Lazies, If you've been making Bendy Bags (LGD134) like I have, you have some leftover bits waiting for love. Since Bendy's release in February, Lazies have been posting (or emailing) how they are using these big triangles of fun. I've seen everything from a small basket to various zip bags and a small purse. The Bendy Bits is a bonus project based on the pattern, so the tutorial works off of the pattern information. Claim the free printable tutorial below.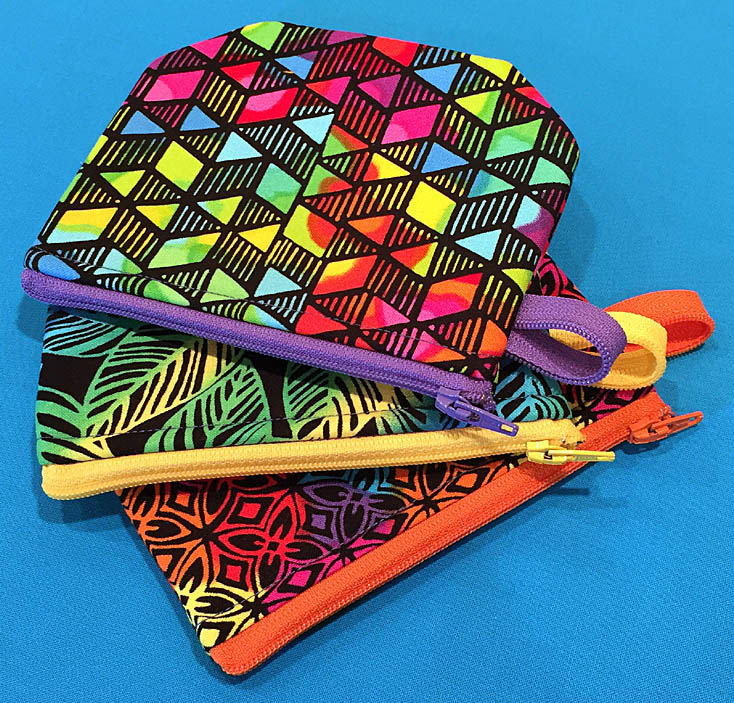 Bendy Bits, made using leftovers from Bendy Bags. Link for tutorial below.
Bendy Bag Pattern
The Bendy Bag is a small zip pouch with a funky shape due to the angled side seams. Get the pattern here.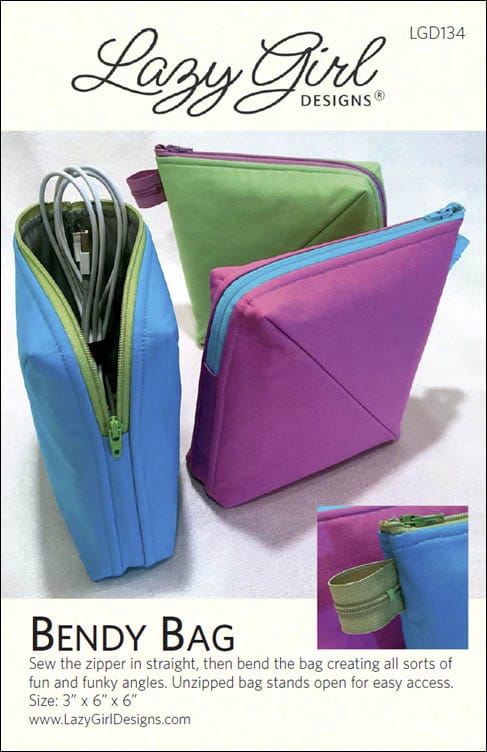 When making Bendy, we cut away a triangle from all the fabric and fleece layers. Here's my bin of Bendy bits. Beautiful and ready for something! Those are all the lining fabrics showing.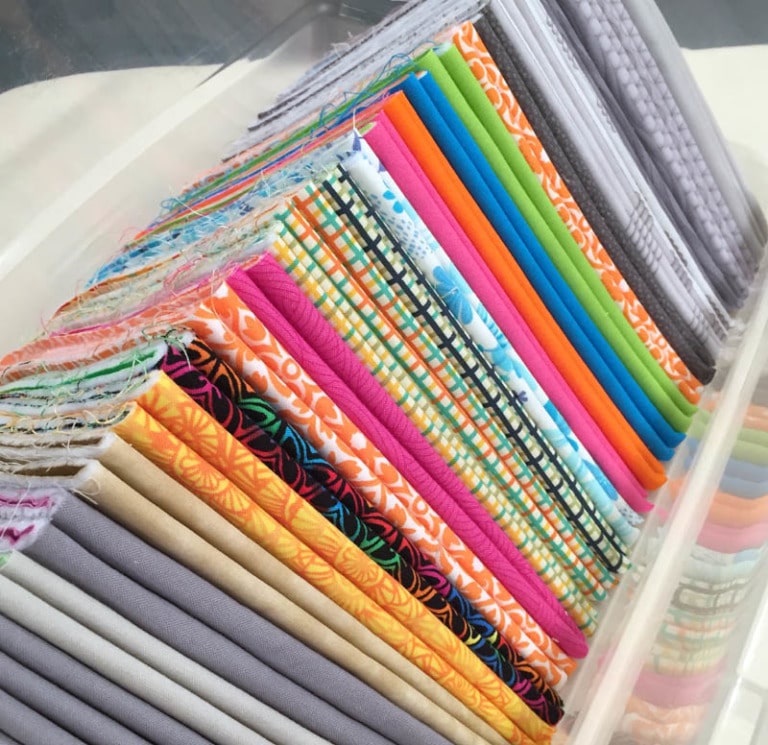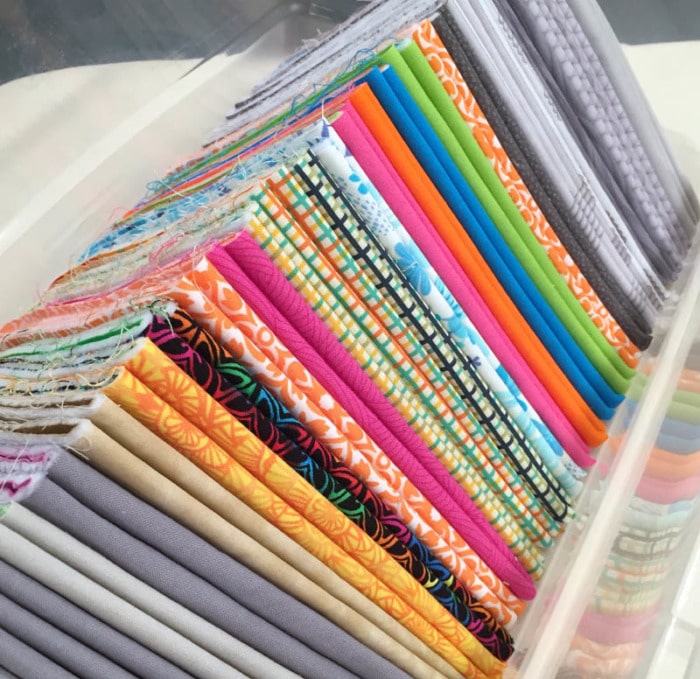 My big bin of Bendy bits goodness!
Woohoo!
My favorite idea is from Ann Redford who posted this pic below on my Lazy Girl Facebook page.
Isn't that leftover pouch adorable? When I saw this, I contacted Ann and asked if I could share her idea as a free tutorial. Ann gave her blessing to use the idea however I please. Thank you Ann!
Ann cleverly cut an oversized rectangle from the bits. Because of the triangle, the rectangle extends past the fabric at the corners.
It's fabulous because that lack of corner makes a sweet detail. It's perfect. And, as Ann notes, it fits nicely inside Bendy – creating a set!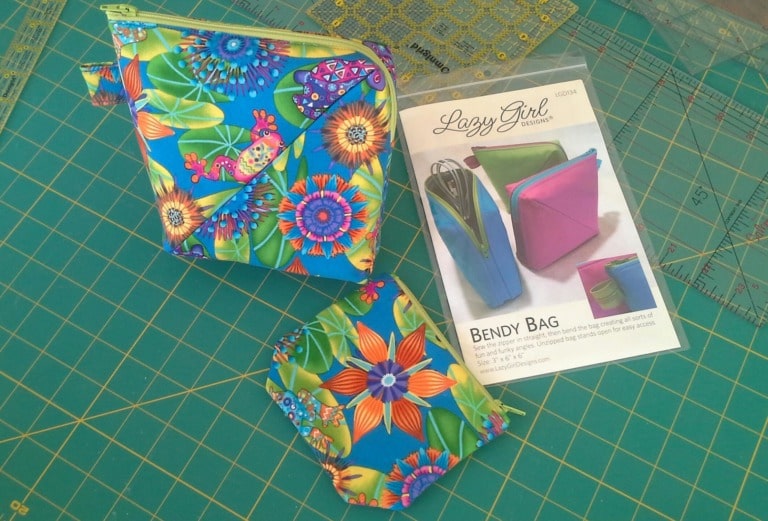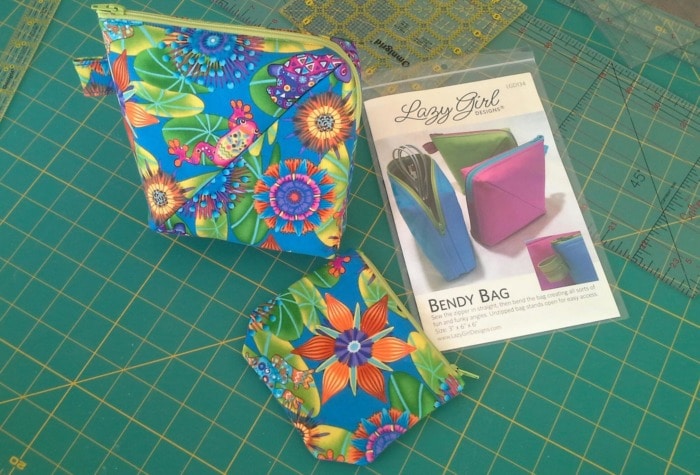 Here's Ann's beautiful Bendy and leftover pouch. Click the image to enlarge.
Ann encased the ends of her zipper in fabric before installing. You can see that better here on this gorgeous orange pouch she emailed me.
For my tutorial, I use the Bendy zip installation and skipped the Bendy zipper casing since it isn't needed. Both options will work nicely with this size bag. The tutorial is written to use Bendy's instructions.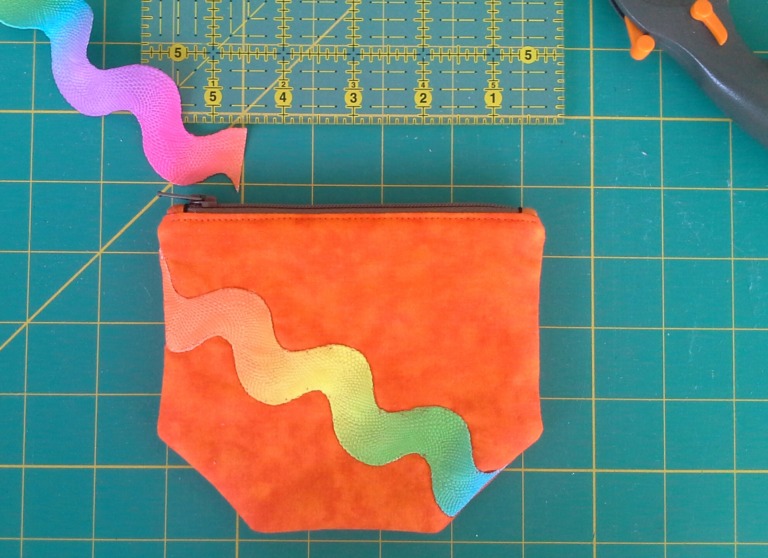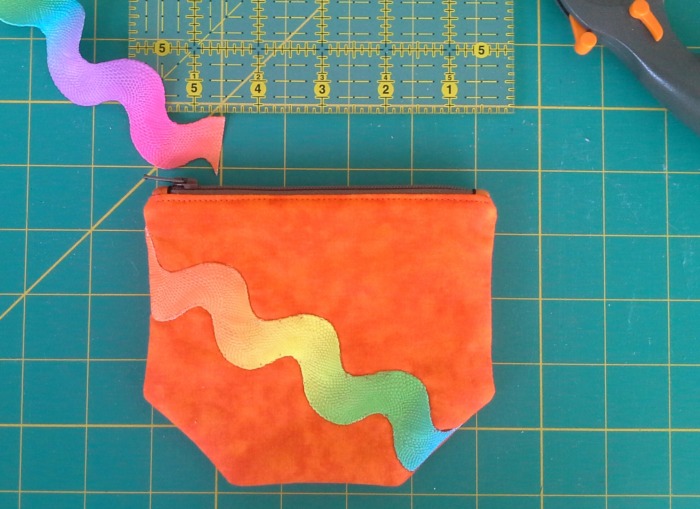 Experiment and play with embellishment ideas!
Bits of This and That
Embellishing as Ann did above is a fantastic idea. How many 'bits' of other supplies do we have hanging around. Put those bits together and make better bits.
Zip Grab Tab
Since Bendy Bits is a bit smaller in scale than the Bendy Bag, I opted for a more delicate zip grab tab, so this is new. Simply use one side of a zip and offset the ends in the seam.
For me, it's more of a decorative detail than functional. Bits is easy enough to just hold at the edge when zipping. Leaving the tab off might be a consideration if it could get in the way when stowing Bits in another bag.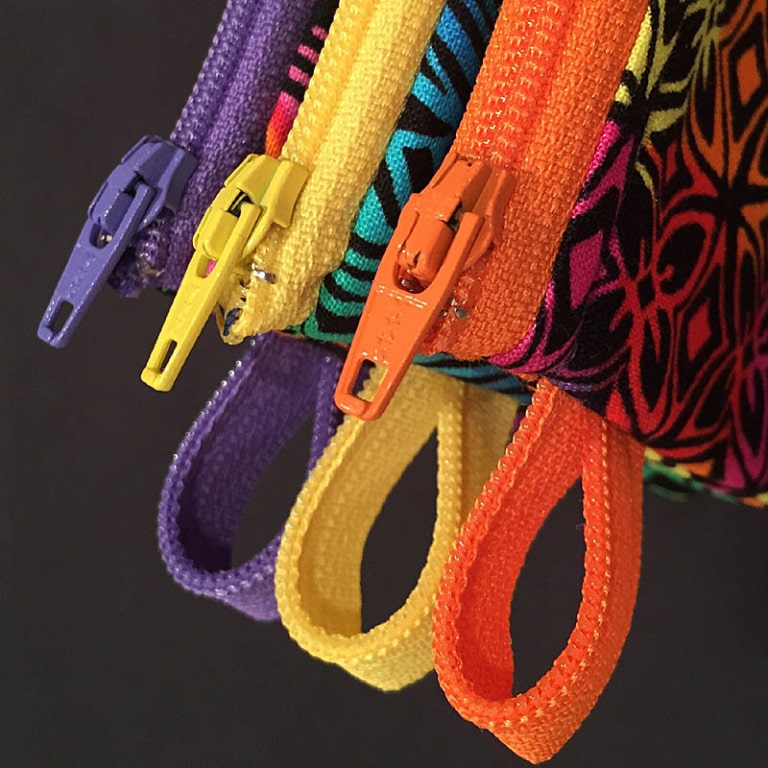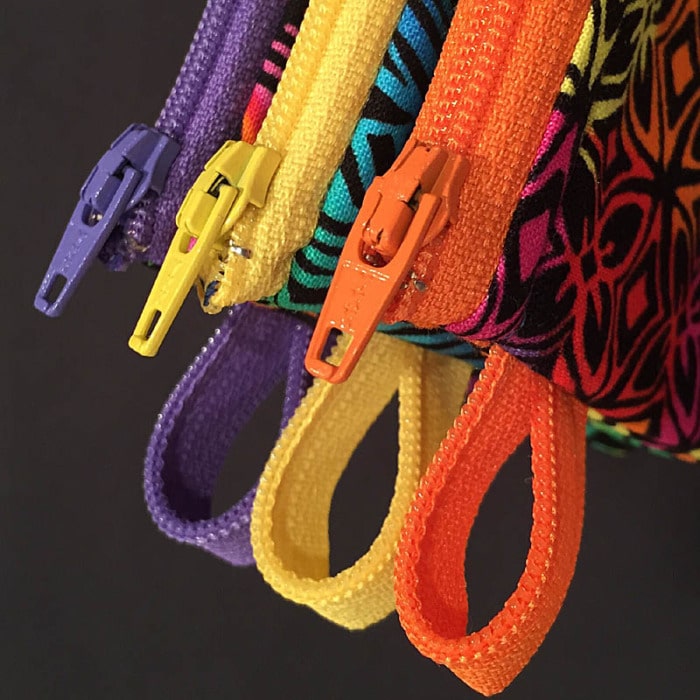 Beautiful juicy zipper sweetness!
Where is that Zipper Going?
Zippery goodness is happening at the end of the Bendy Bits zip. This is a new tip to tuck away for future use.
When turning the project right sides out upon completion, leave about 1″ of the zipper zipped. This gives you leverage to push out the zip end for this result. I stitch far enough away from the zip to allow some of the fabric tape to show. This little bit of fabric tape is our friend, allowing us room to push the zip out nicely.
Often times, this type of construction ends up with a divot and a missing corner, if you will. Turning the zip all the way out like this will take some coercion, but give it a try and be patient. I think the results are worth the effort. Look at that little beauty, it's sitting atop the bag like royalty!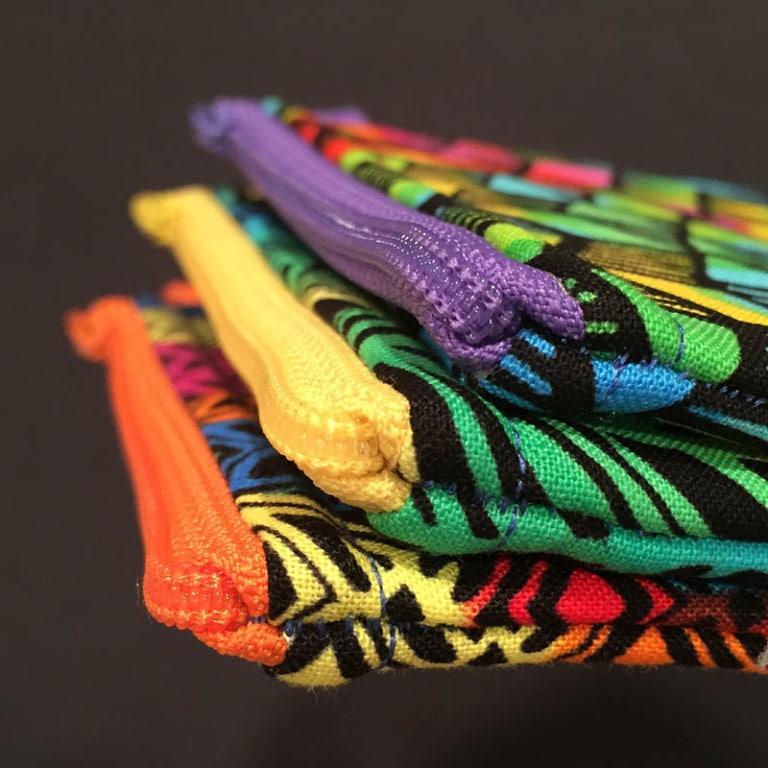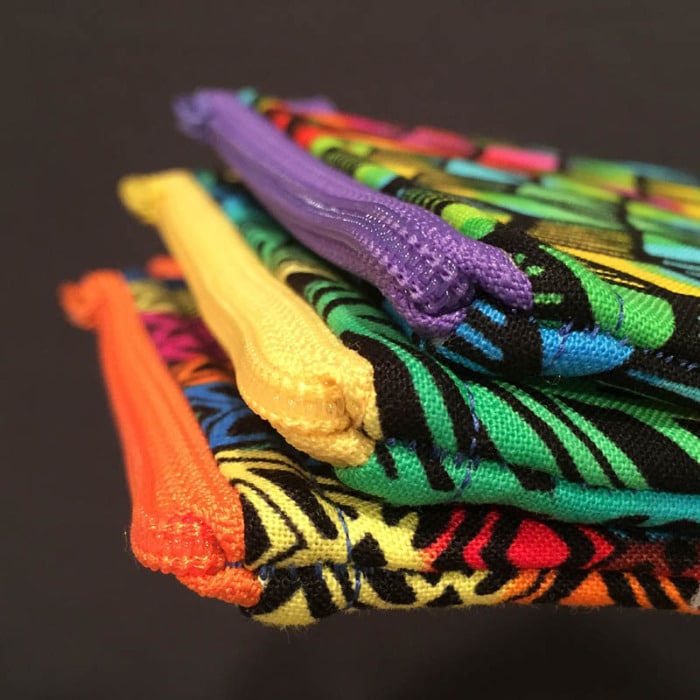 It looks like tracks of a roller coaster going somewhere scary!
Fabric Tip
In Bendy, we fuse the outside fabric to the fleece. In Bendy Bits, I swapped the lining fabric on one of these little cuties with the cover fabric. The project is so small that it doesn't doesn't matter which fabric the fleece is fused to.
Fabrics shown on my Bendy Bits in this post are all Orange Crush from Timeless Treasures. You might remember these fabrics from this post.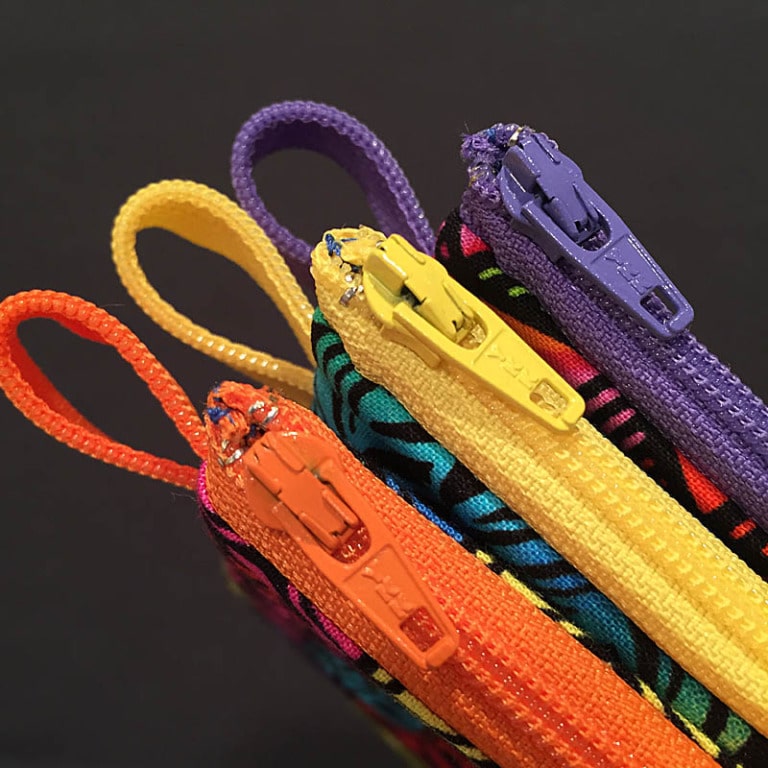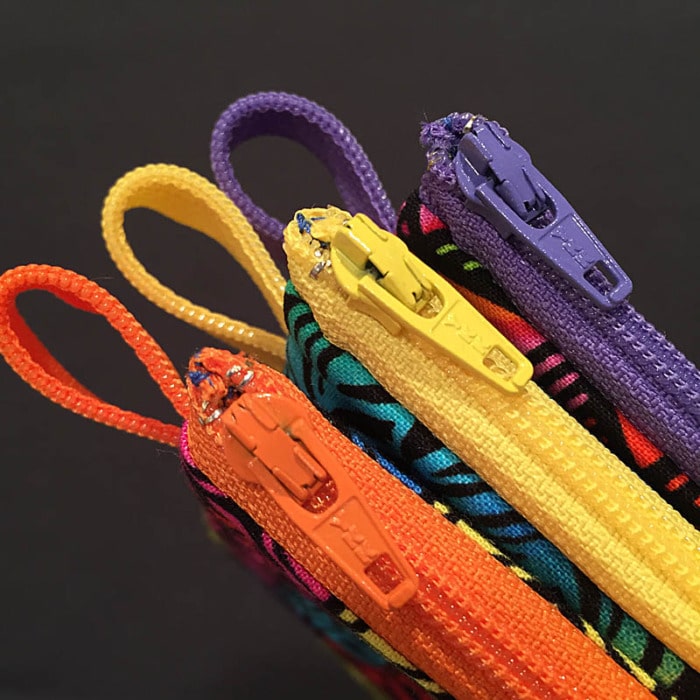 I think of zippers and fabric as my grown up box of crayons!
Zips, Baby!
All of the zippers shown are 14″ zips. Here are the zips I like. Zippers in Joan's Essentials.
Bendy Bits Bonus Project
This project assumes you own the Bendy Bag pattern and have made a Bendy.
The free printable tutorial below references the Bendy Bag pattern instructions.
Thank you for joining in on the fun of Bendy and sharing pics of your Bendy Bags and how you've used your leftover bits. Comment below with a kudos and thank you to Ann!
Enjoy!
Joan