Make Our 1 Yard, 1 Hour Free Tote Bag
Lazies, Today's 'With Love Tote' project is my year-end holiday gift to you. This free pattern (Grab the free download below) is a Thank You to the Lazies who have tried and like my designs. And an invitation to try my designs for those who have not.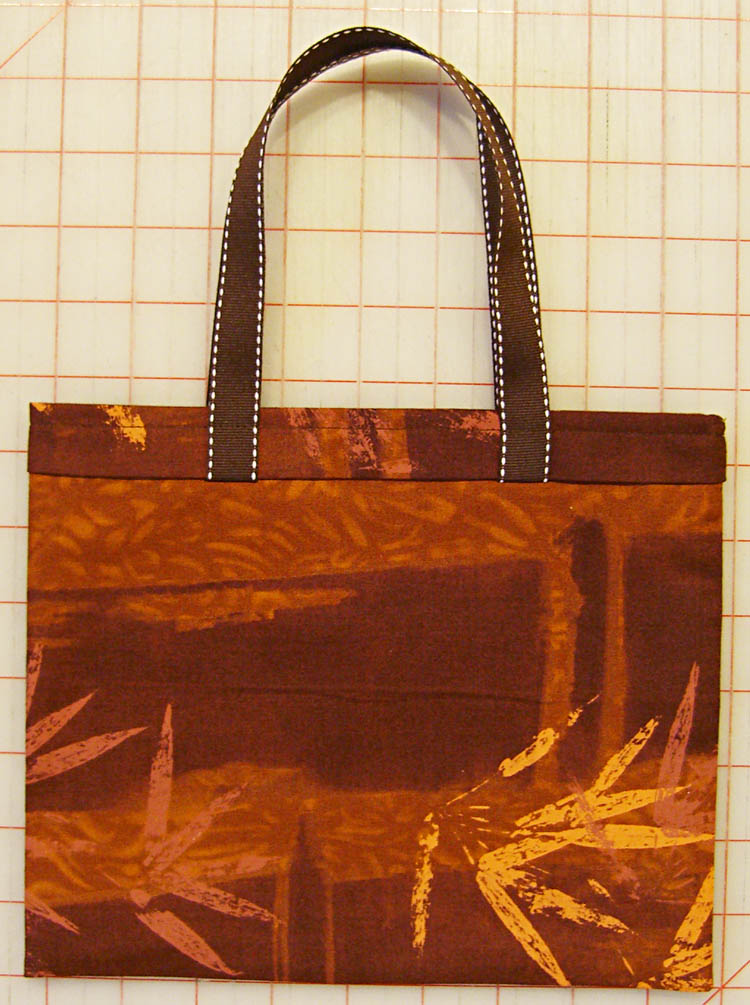 With Love Tote Bag
Getting Started
Make this quick and simple tote bag in about an hour from one yard of fabric. It's perfect for a gift bag or as you carry goodies with you on your holiday ventures. A lightweight fabric such as quilter's cotton is recommended.
The finished bag is approximately 16" deep by 19" wide with a cuff around the top edge of the bag and an optional Velcro closure.
Smaller Tote
Instructions for a smaller tote, 10″ wide x 11″ deep
Supplies
– 1 Yard of fabric (width of 40″ to 45")
– Optional – 1" Velcro (sew-in kind, or Fusion fusible Velcro work great)
Cutting
– Cut one strip 4" wide along one selvage edge for handles, re-cut to two at 4″ x 18″.
– Trim the other selvage.
– The remaining large rectangle of fabric is for the cover and lining of the bag.
Construction
– Use 1/4″ seam allowance.
Make Handles
Make handles from fabric or use grosgrain ribbon handles.
Fold 4″ strip in half, wrong sides together, press.
Fold long edges toward center fold, press.
Fold in half on original fold, press.
Cut in half to make two handles.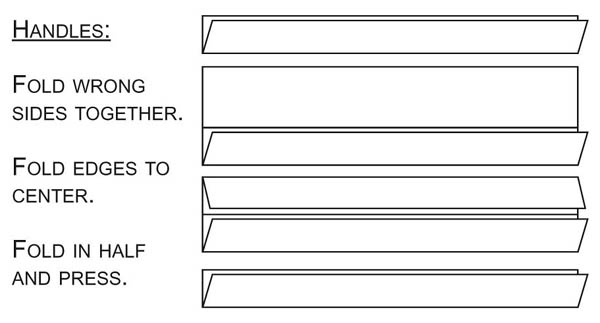 Fold 4″ strip in half, wrong sides together, press.
Fold long edges toward center fold, press.
Fold in half on original fold, press.
Cut in half to make two handles.
Make The Body Of The Bag
The inside lining and the outside cover of the bag are all one piece of fabric.
Fold fabric in half, right sides together.
Stitch along the three raw edges, leave a 5" opening to turn on long side, near one corner.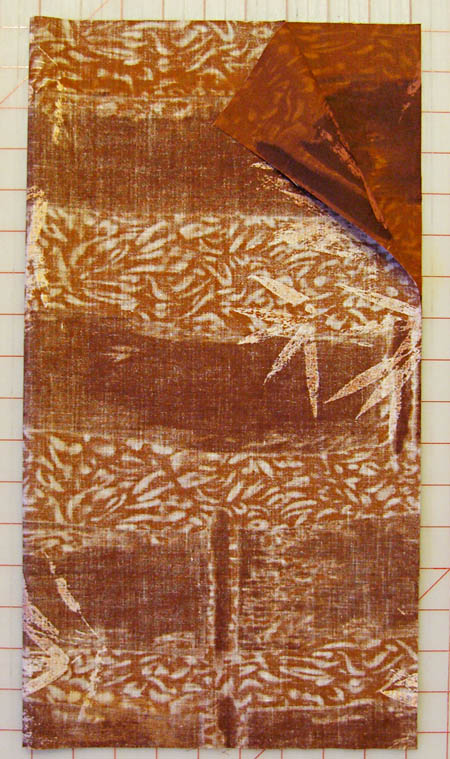 Turn right side out.
Tuck in seam allowance and stitch the opening closed.
Press.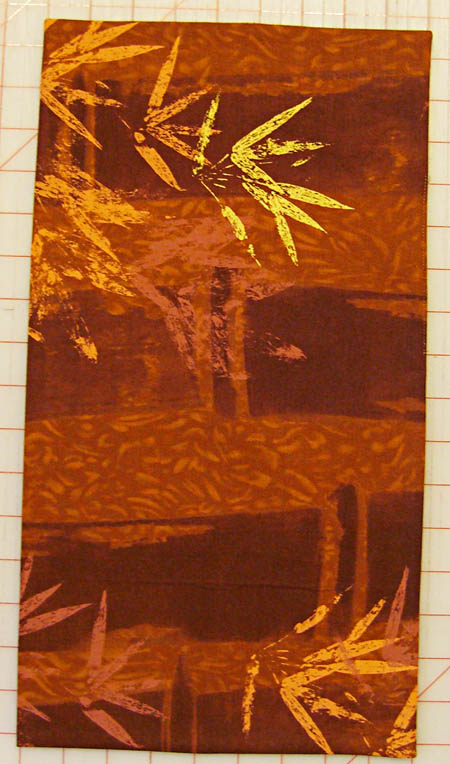 Finish The Bag
The half of the bag with the 5" opening is the lining, the other half is the cover.
Tuck the lining half of the bag into the cover half.
Push the lining corners into the cover corners.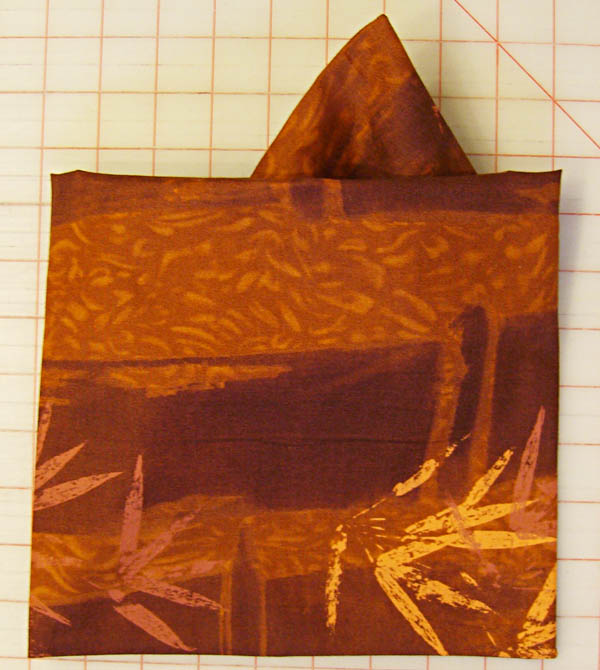 Take some time to adjust the layers so everything looks nice, then press.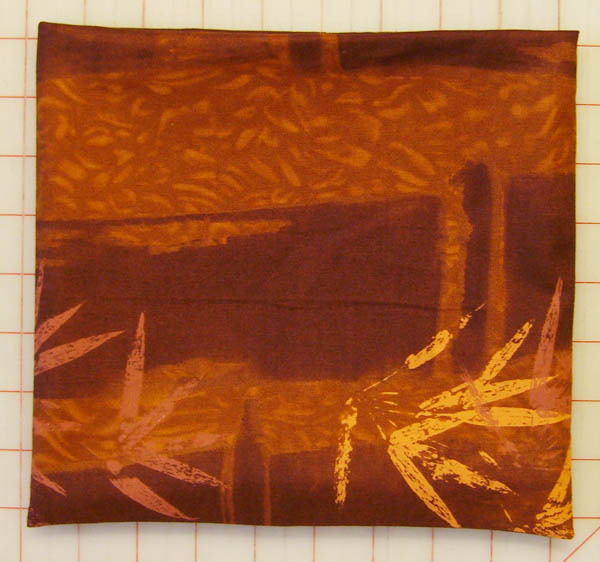 Optional Velcro Closure
Add Velcro to the top edge of the bag. Sew the Velcro in place 1 1/4" from the top edge of the bag on the inside of the bag, centered from the side edges. If using Fusion Velcro, fuse in place after bag is complete.
Make Cuff And Attach Handles
Fold over 1" of top edge of bag to make a cuff.
Center handle and place ends under the cuff.
Keep the ends of the handle 5″ to 6″ apart.
Stitch across handles, just below cuff.
Fold handle over cuff and pin.
Stitch around top edge of bag, through cuff and handles, 1/4" from top edge of bag.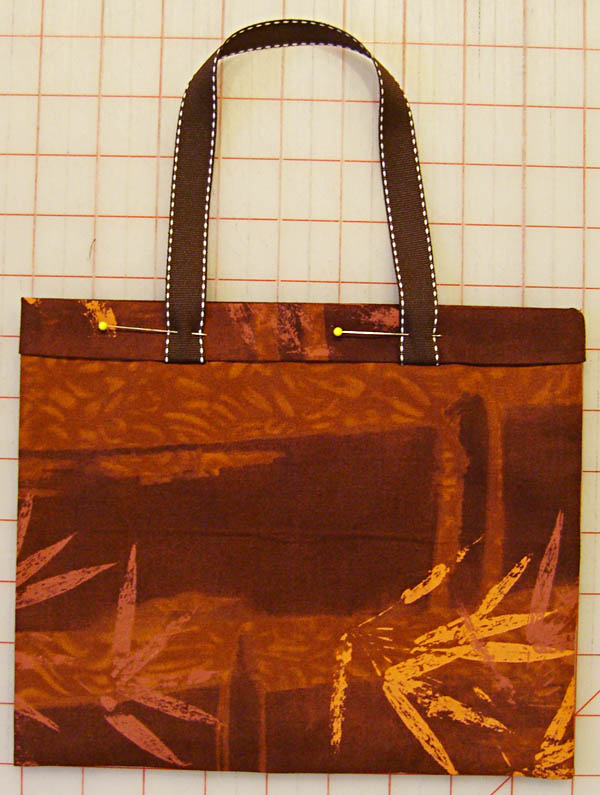 Final Notes
This bag folds up to about 6″ x 6″, probably a bit smaller than that, and it folds flat. So, I tucked one in my purse and took it shopping with me this past weekend and used it instead of the paper bags that stores use.
I loaded a bunch of stuff in there and it didn't hurt my hand like the paper bag handles do. It held up great and looked festive. It also wasn't bulky like the paper bags. I felt stealth and stylish as I wove my way through the masses at the mall.
Quick Gifts
Pick some beautiful fabrics and make a custom gift bag for friends. Attach a note with suggested uses – grocery, re-gifting, an extra bag for traveling, etc. I think I might make a few and put them in the trunk of my car, too.
Use Your Stash
This tote design is a great way to use up left over yardage. Or plan for next year and buy end-of-the-season discounted holiday fabrics this year.
Make the bag in different sizes by starting with a smaller or larger rectangle for the body. A fat quarter will yield a bag that is 9″ wide by 7″ deep and darned cute, too.
Enjoy!
Joan
Download this Freebie
Enter your email address below to instantly download this freebie now!