Embellish With Buttons by Cecile McPeak
Our Guest Blogger series continues today with Cecile McPeak of Just Another Button Company. Cecile shows us how to embellish with buttons and ribbons.

Thanks Joan and Lazy Girl for inviting me to talk to you!
As head Buttoneer here at Just Another Button Company (JABC), I'll share a little bit about our buttons. Then hop over to our JABC blog to enter our Giveaway!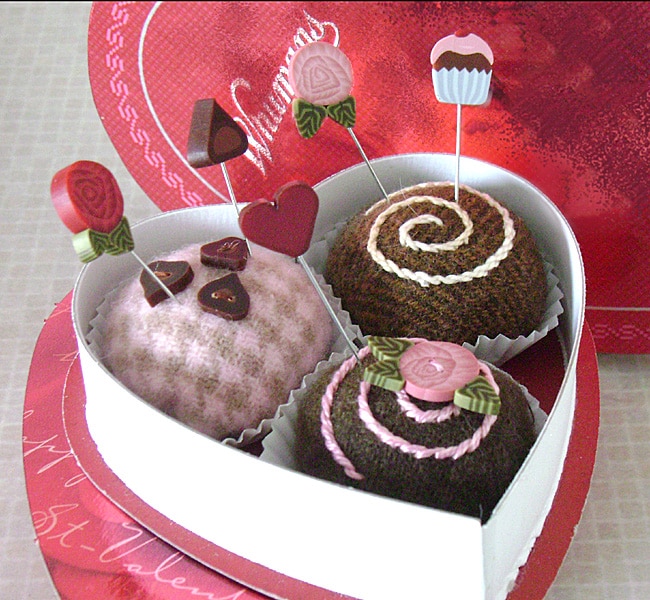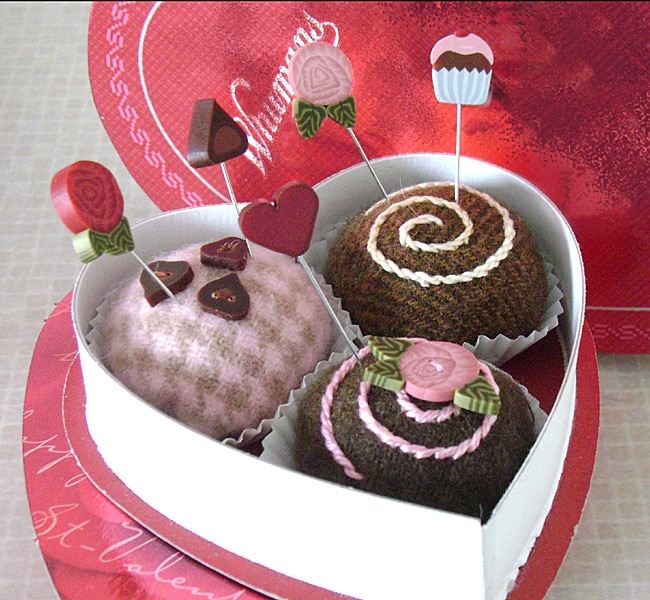 One of JABC's 15th anniversary pincushion kits.
At JABC, we live amidst buttons, thousands of them, tens of thousands. And we make more every day.
What Comes First?
To the proverbial question of what comes first, the chicken or the egg, our answer is both.
– Chickens: Sometimes projects come first and we design buttons to fit them.
– Eggs: Other times we make buttons with no project in mind.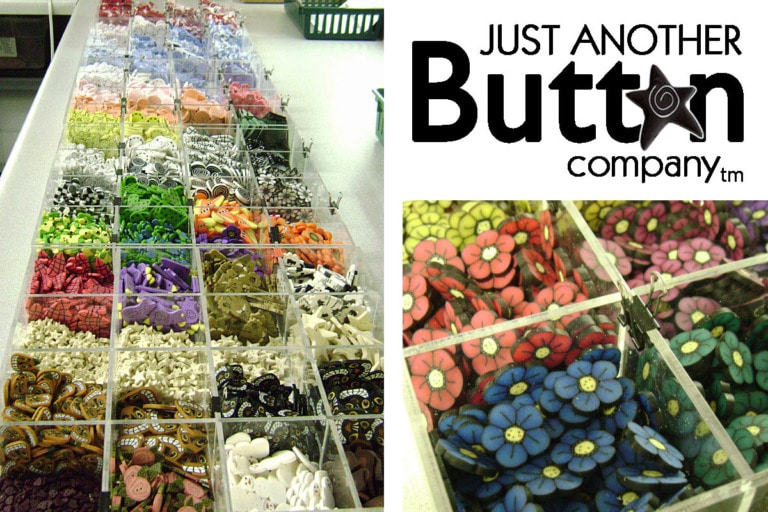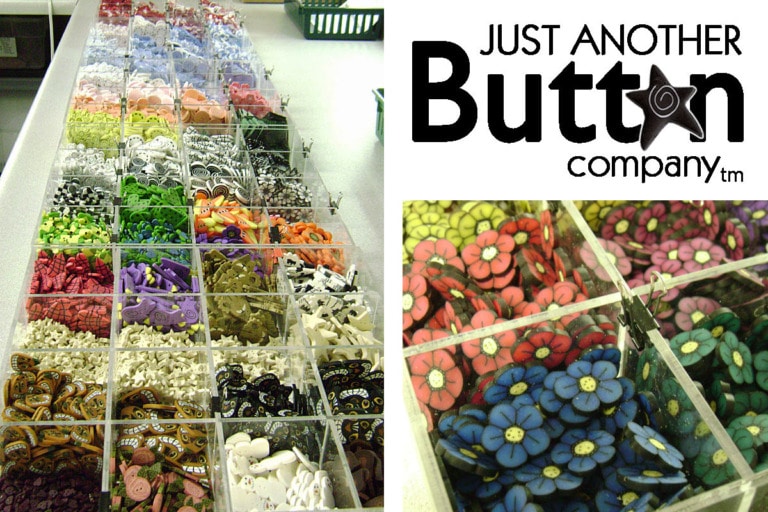 Lots and lots and lots of JABC buttons.
Chickens First
We do actually have buttons that look like chickens, but really what I mean is that sometimes the chicken comes first, and we are challenged to create a button to fit someone else's vision.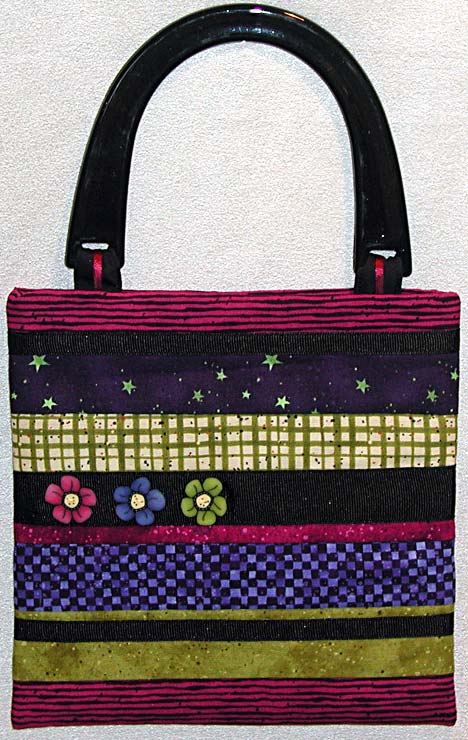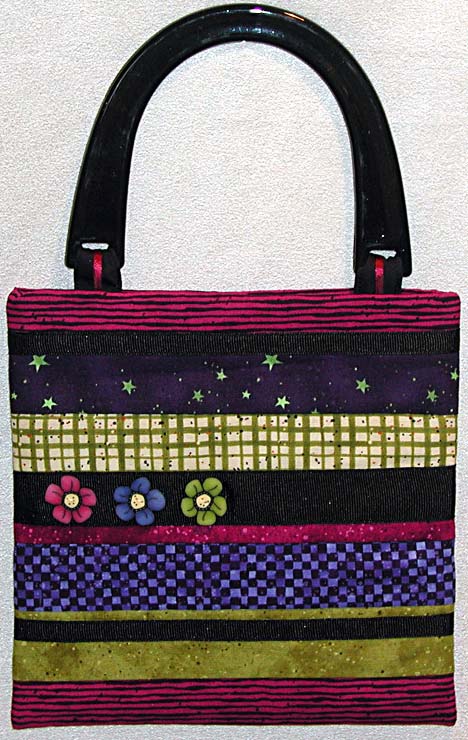 Joan's Inspiration
The JABC Crayon Box wildflowers were chicken buttons, created to embellish a Lazy Girl Katy bag. Joan invited us to create a bright and bold button for a Lazy Secret tutorial sheet. The result was this fun project of fabric strips and ribbons, and we made the wildflower button in 12 colors so Lazies everywhere could coordinate with their favorite fabrics.
Get the free embellishment tutorial sheet below.
Download this Freebie
Enter your email address below to instantly download this freebie now!
Introducing Pincushions
Now what? The egg came first, and we needed to suggest how to use it. In addition to drilling the standard two holes for button stitching, we drilled a single hole on the edge of some lemonade buttons, then glued in a stainless steel straight pin. Oooh, baby, we had a new way of using buttons as embellishment–pins!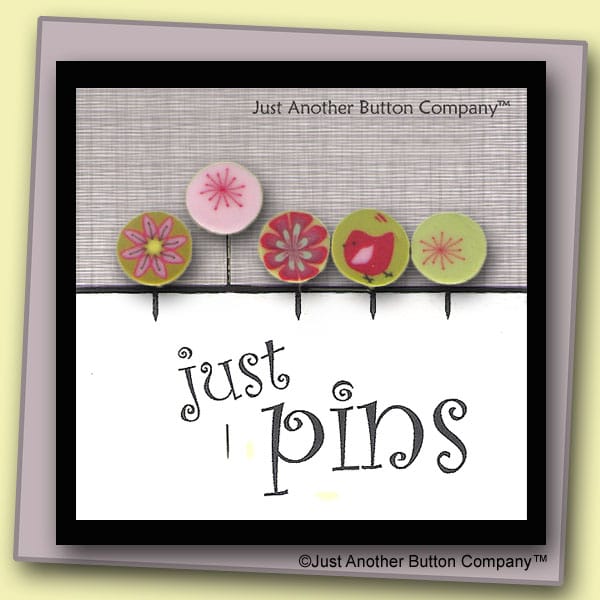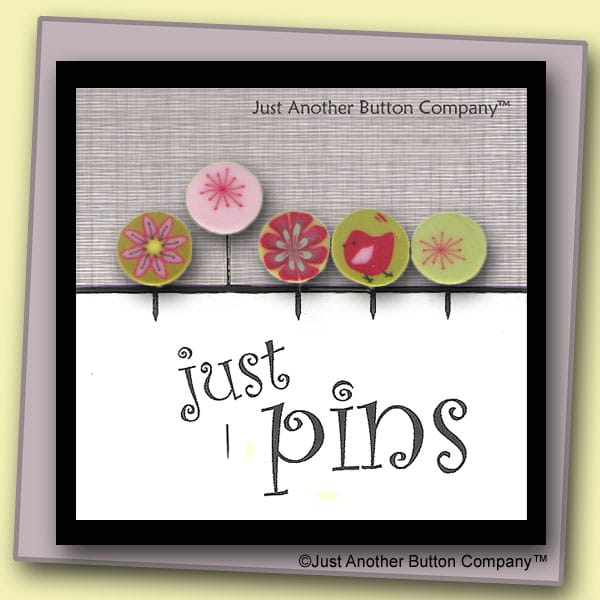 With a multitude of cross stitch charts, Button Backgrounds (crayon on muslin), and wool applique patterns on hand, this year we decided to focus on pincushions to promote egg buttons. To celebrate our 15th year of button making, in 2011 we are introducing 15 fun new pincushion kits using our buttons and pins to embellish felted wool. Five pincushion kits are released so far. Come celebrate with us as we reveal a new design each month!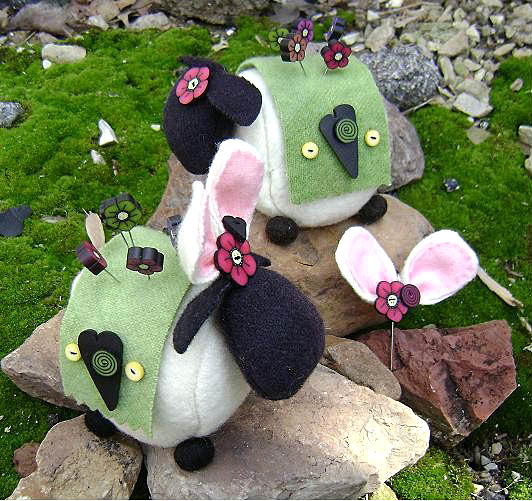 We hope you visit our website to see all our buttons, pins, needle threaders and pincushion kits. There are also lots of chicken and egg projects to show you, too!
Where To Buy
Purchase JABC products exclusively at independent quilt and needlework shops.
Join Us!
Follow our blog, The Daily Button, and visit us on Facebook.
Web: www.JustAnotherButtonCompany.com
Blog: www.justanotherbuttoncompany.blogspot.com
Facebook: www.facebook.com/pages/Just-Another-Button-Company/87377875926
Cecile McPeak
Just Another Button Company