New Pattern: Slicker Tote Coming Soon!
Lazies, Meet the Slicker Tote! I have to tell you this gorgeous basic tote is addictive. Just sayin'… I am so excited about this design. Choose a great print, a little of our Slicker Glossy Iron-on Vinyl and laminate your own fabric. I designed this tote specifically to invite you to try the Slicker vinyl and dip your toe in the laminate fabric pool.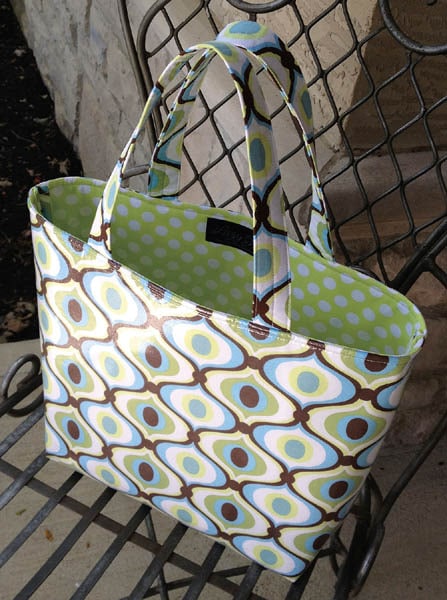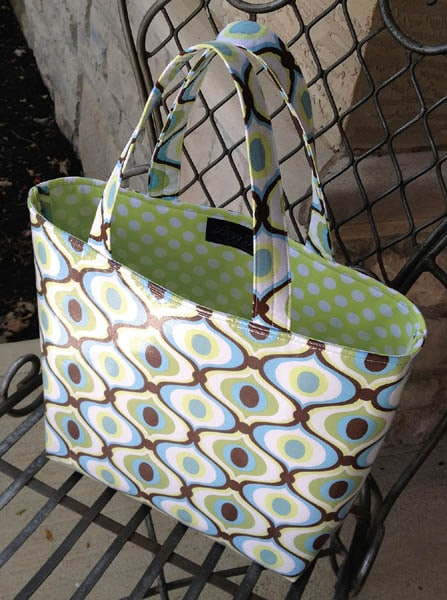 Slicker Tote LGD131
Size 11" x 4 1/4" x 11 1/2"
Slicker Tote Pattern – Expected by Nov 15th
This pattern is a little different, it's a new style pattern for us, formatted and styled like a project sheet. The price is right there with the whole theme at a fabulous $5 retail. That's right, a complete Lazy Girl pattern at that great price point. Awesome!
About the Project
The Slicker Tote is a simple project. You'll laminate the bag fabric using our Slicker Glossy Iron-On Vinyl. That's the only part of the project that's laminated. Slicker is very soft and thin, so your fabric will remain soft and flexible. It won't be like thicker laminated fabrics you might be familiar with. The handles are simple 'Wrap n Fold' technique with a  little twist. The handles are not laminated. No pockets, no Bag-E-Bottom.
Slicker Paper Backing
Slicker comes with a paper backing. You'll quickly grow to love and appreciate this paper backing. To use Slicker, simply pull the vinyl from the paper backing and place vinyl on the right side of the fabric you want to laminate. Then, use the paper backing between the vinyl and your warm iron, just like a pressing sheet, and fuse the vinyl to fabric. Any time the vinyl needs a little pressing or touch-up, the paper backing is your friend. Slicker can be pressed again and again after it's fused in place.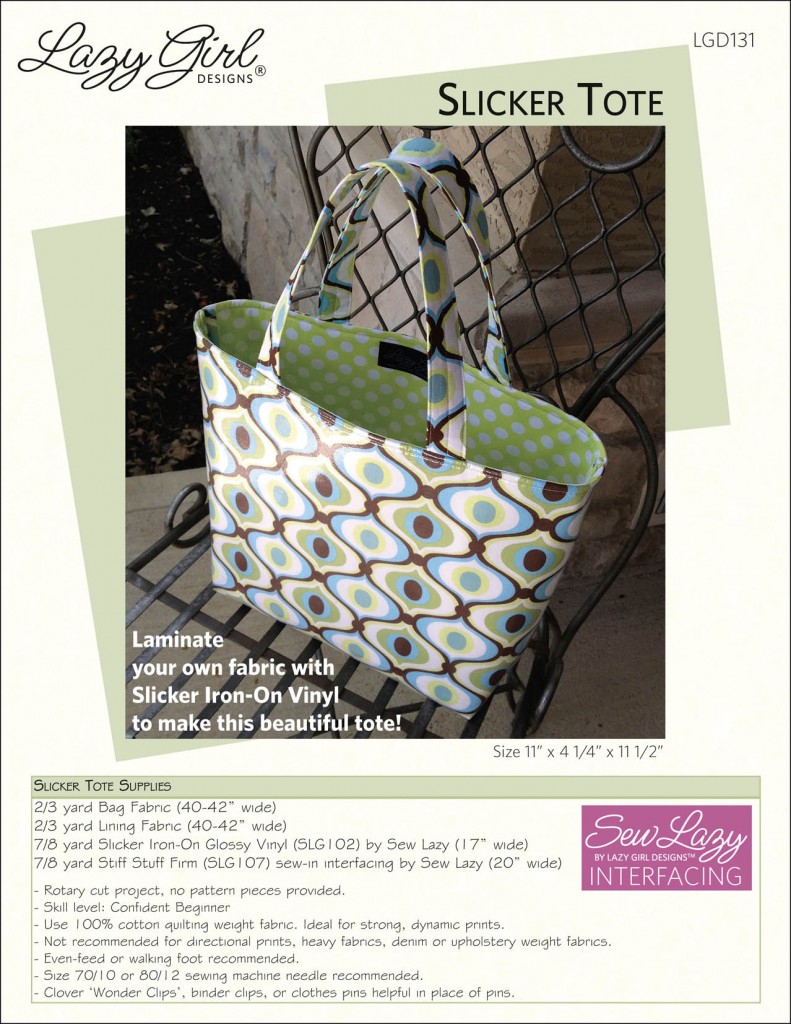 Click to enlarge Slicker Tote pattern cover.
What you'll learn in this project
I always include something new to learn or add to your sewing tool kit with each pattern. Here's what you'll learn in the Slicker Tote:
– Laminate your own fabric using Slicker Glossy Iron-On Vinyl
– Work with Stiff Stuff interfacing
– Work with laminates including using clips instead of pins
– Make 'wrap n fold' handles the Lazy Girl way
– Box the bottom of a bag
Notes
Walking or even feed foot recommended
Size 70/10 or 80/12 needed
Pre-wash bag fabric for good fused bond with Slicker
Do not touch warm iron directly to Slicker. Always use the Slicker paper backing as your pressing sheet between the vinyl and iron.
Clover Wonder Clips are great for this project. Keep pins or clips in the 1/4″ seam allowance.
No teflon presser foot needed
Skill Level: Confident Beginner
Yes, it's just what it sounds like. If you are a confident beginner, you have the confidence to try new ground. You have your beginner skills and knowledge on board and you're ready to conquer new baby-step horizons. If you can rotary cut, stitch a straight-ish line and have a successful project or two to your name, then Lazy Girl, you are ready for the Slicker Tote.
Here's Lazy Girl Regina Arlauckas' Slicker Tote.
I love the fabric she chose. Fun! Great job Regina!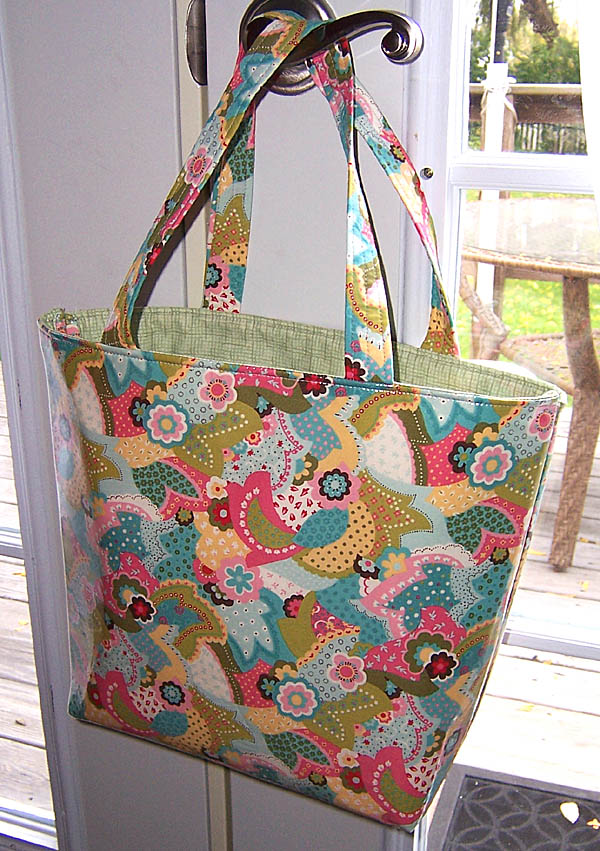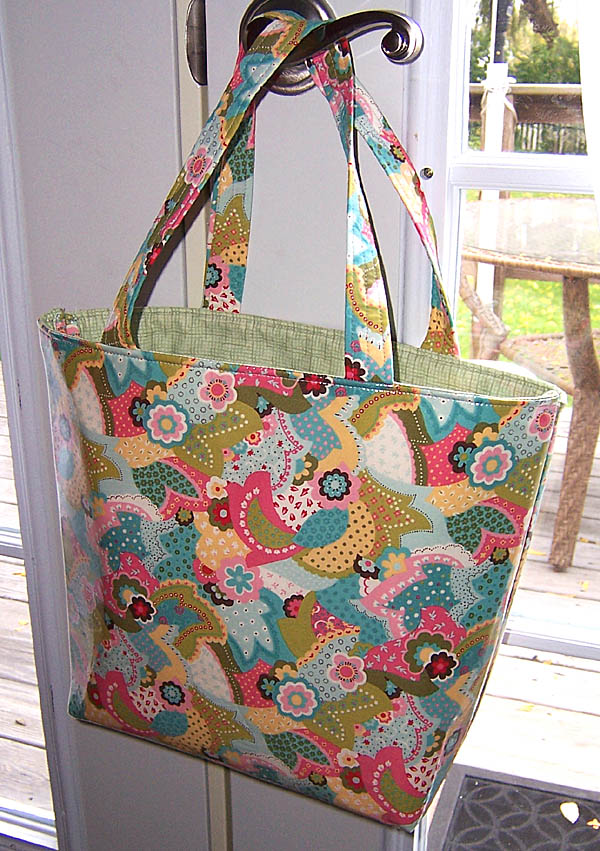 Below is a Slicker Tote made by Lazy Girl Carolyn Griffin.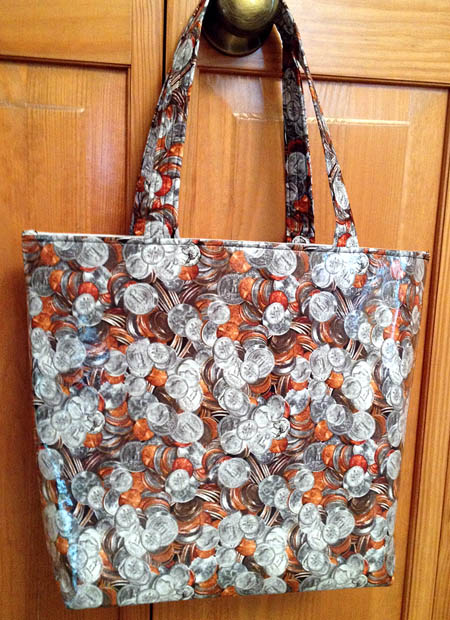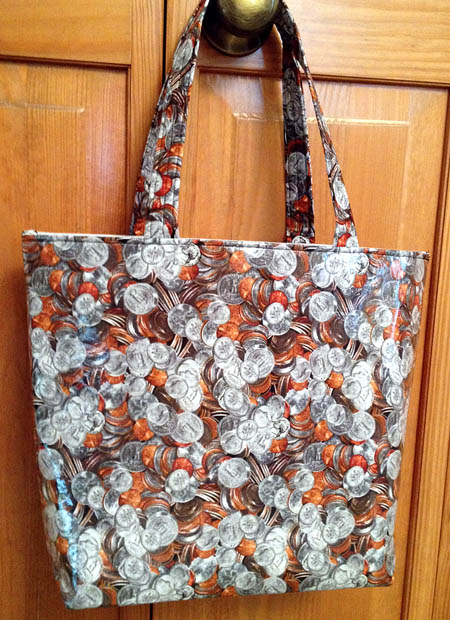 Below is a Slicker Tote made by Lazy Girl Susan Congdon.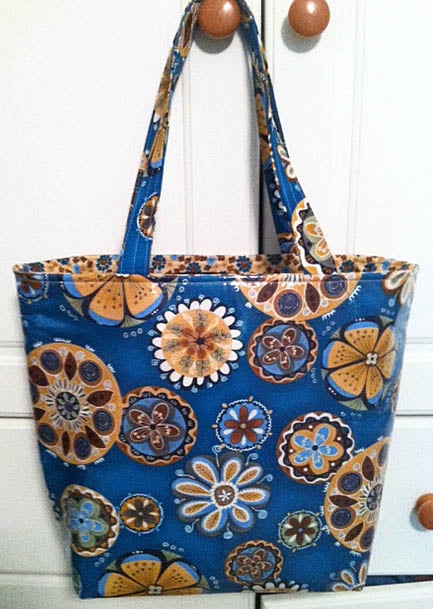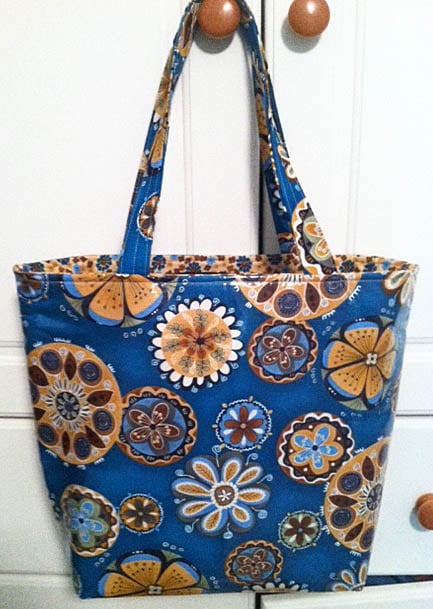 Below is Lazy Girl Lish Seem's Slicker Tote. Lish really caught the light reflecting off the Slicker!
Love how fabric with a black background looks with Slicker.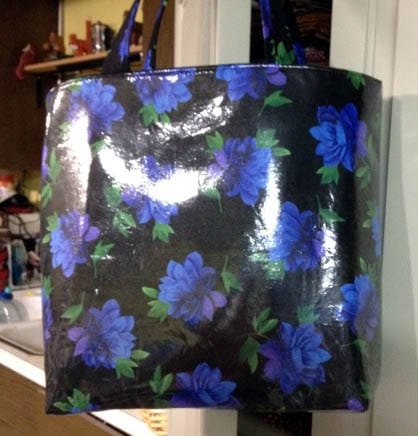 Slicker Tote Supplies
2/3 yd Bag fabric
2/3 yd Lining fabric
7/8 yd SLG102 Slicker Glossy Iron-On Vinyl
7/8 yd SLG107 Stiff Stuff Firm interfacing




Clover Wonder Clips 3155CV are recommended in place of pins for use during construction.

Shop Owners
The Slicker Tote is packaged to make it perfect for kits, classes and demos. A pack of patterns, a bolt each of Slicker and Stiff Stuff will make 10 projects. Clover Wonder Clips work nicely with this project. Order Sew Lazy Interfacing at Checker Distributors. Order patterns from me or your fav distributor.
– LGD131 Slicker Tote (10 pack)
– SLG102 Slicker Glossy Iron-On Vinyl 10 yd bolt
– SLG107 Stiff Stuff Firm 10 yd bolt
Where to Buy – Pre-Order Slicker Tote pattern (expected by Nov 15th)
Quilter's Warehouse Slicker Pattern
Sew Thankful Slicker Pattern
Sew Thankful Slicker Kit
What do you think? Are you ready to try Slicker and add this interesting resource to your sewing repertoire?
Enjoy!
Joan
Subscribe to our blog feed and join the Lazy Fun at Facebook