You'll Love this Easy to Make Summer Tote
Lazies, I have to tell you, this perfect summer tote is an easy essential you'll want to make. Whether you are headed to the beach, or just out and about and need to take a few things with you, this cute Slicker Tote stands up to the task. And it truly does stand up. I have a secret that adds structure to this bag sewing project that makes this tote stand at attention for easy to use on the go. And best of all, if you plan to take her to the beach, you can laminate your own fabric.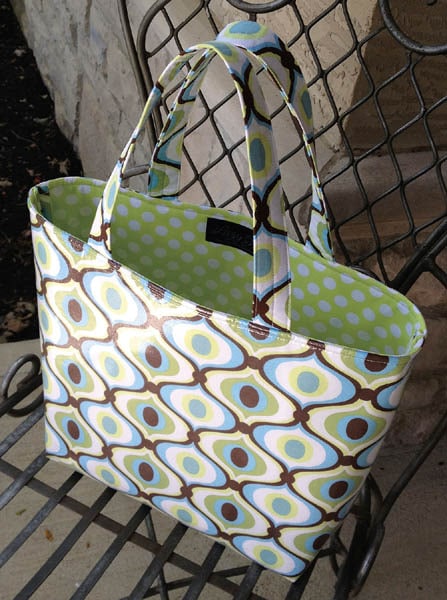 Buy Now: Slicker Tote LGD131
Size 11" x 4 1/4" x 11 1/2"
About this Easy Tote Project
The Slicker Tote is a simple project. Laminate the bag fabric using our Slicker Glossy Iron-On Vinyl. That's the only part of the project that's laminated. Slicker is very soft and thin, so your fabric will remain soft and flexible. It won't be like thicker laminated fabrics you might be familiar with. The handles are simple 'Wrap n Fold' technique with a little twist. The handles are not laminated. No pockets, no Bag-E-Bottom.
Slicker Paper Backing
Slicker comes with a paper backing. You'll quickly grow to love and appreciate this paper backing. To use Slicker, simply pull the vinyl from the paper backing and place vinyl on the right side of the fabric you want to laminate. Then, use the paper backing between the vinyl and your warm iron, just like a pressing sheet, and fuse the vinyl to fabric.
Any time the vinyl needs a little pressing or touch-up, the paper backing is your friend. Slicker can be pressed again and again after it's fused in place.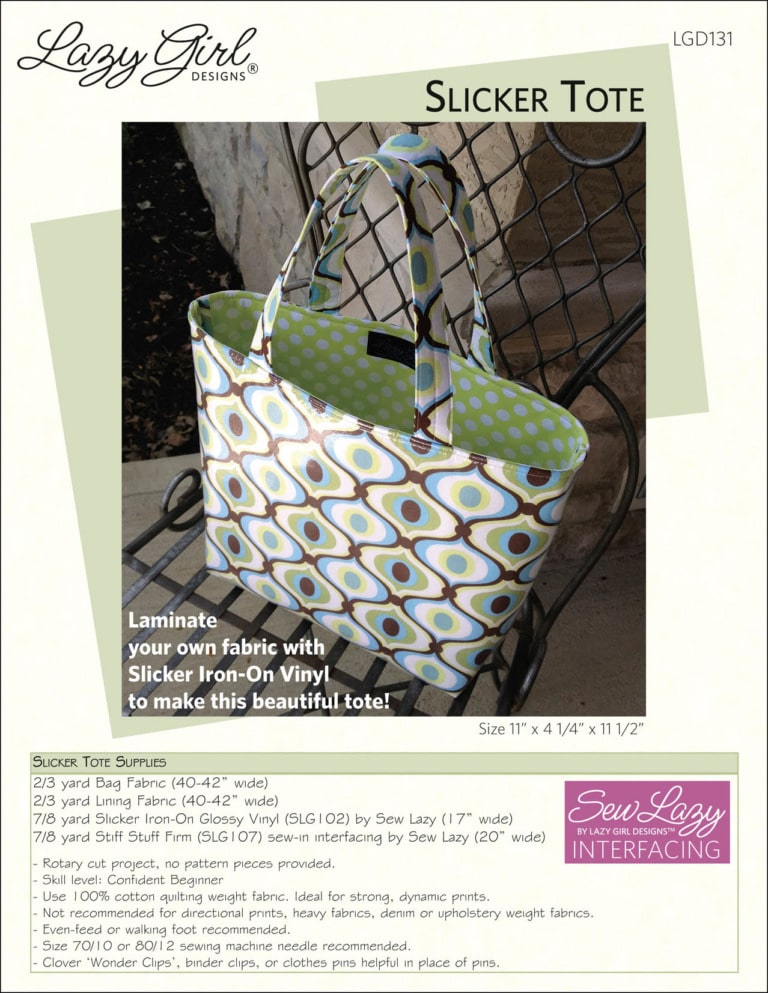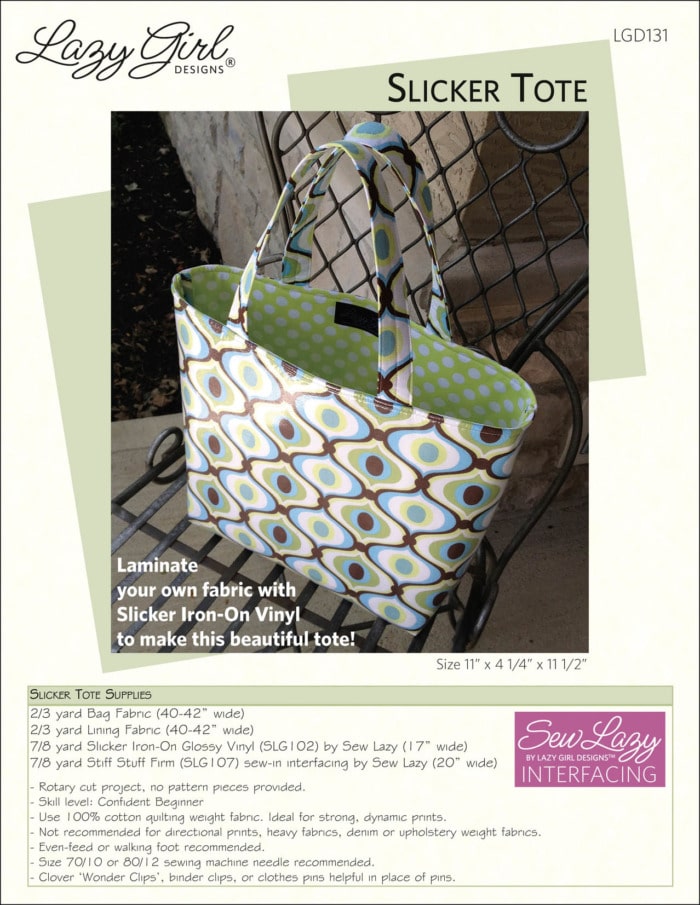 Click for details about the Slicker Tote pattern.
Secret Structure
Can you see the structure of these bags? They have what I call stand-up-i-tude. The Slicker Tote uses Stiff Stuff Firm sew-in interfacing for the body and handles. This 'secret weapon' gives amazing structural support without taking over. Some interfacing products are too strong and take on a life – and shape – of their own. Stiff Stuff does what you ask it to.
Here's Lazy Girl Regina Arlauckas' Slicker Tote.
I love the fabric she chose. Fun! Great job Regina!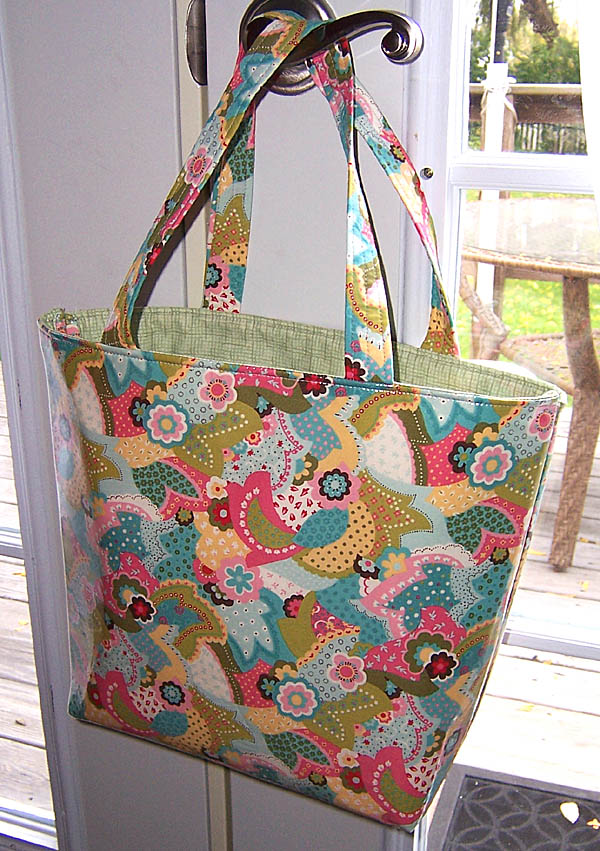 Below is a Slicker Tote made by Lazy Girl Carolyn Griffin.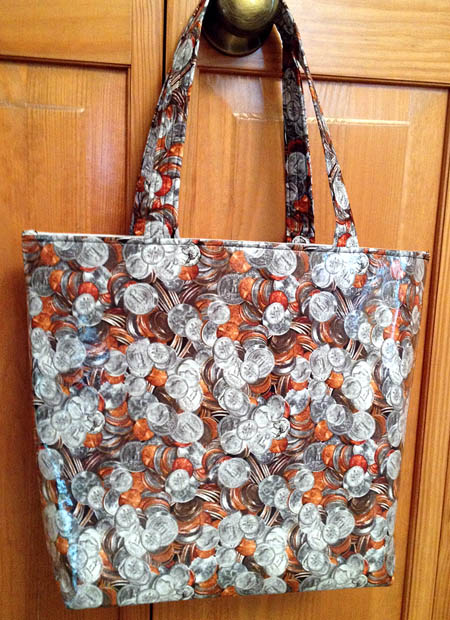 Skill Level: Confident Beginner
Yes, it's just what it sounds like. If you are a confident beginner, you have the confidence to try new ground. You have your beginner skills and knowledge on board and you're ready to conquer new baby-step horizons. If you can rotary cut, stitch a straight-ish line and have a successful project or two to your name, then Lazy Girl, you are ready for the Slicker Tote.
Below is a Slicker Tote made by Lazy Girl Susan Congdon.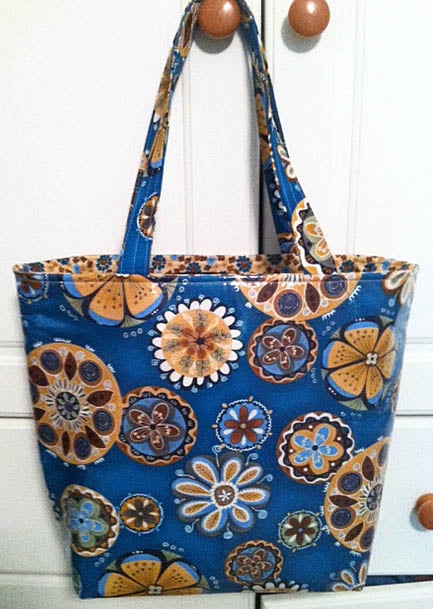 Below is Lazy Girl Lish Seem's Slicker Tote. Lish really caught the light reflecting off the Slicker!
Love how fabric with a black background looks with Slicker.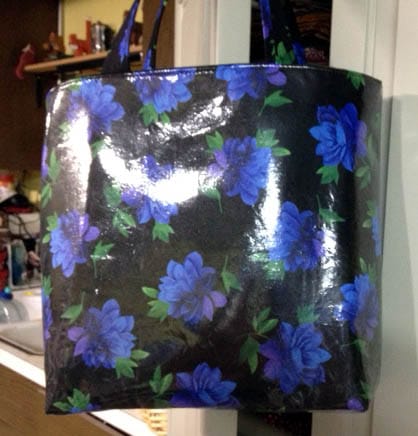 Note: This post contains affiliate links. I may make a commission if you buy through my links.
Slicker Tote Supplies
2/3 yd Bag fabric
2/3 yd Lining fabric
7/8 yd SLG102 Slicker Glossy Iron-On Vinyl
7/8 yd SLG107 Stiff Stuff Firm interfacing


Order Slicker Iron-On Vinyl


Order Stiff Stuff
Sewing clips are recommended in place of pins for use during construction. Pins can puncture the laminate and leave holes after the bag is done. Clips are a good option when working with laminates.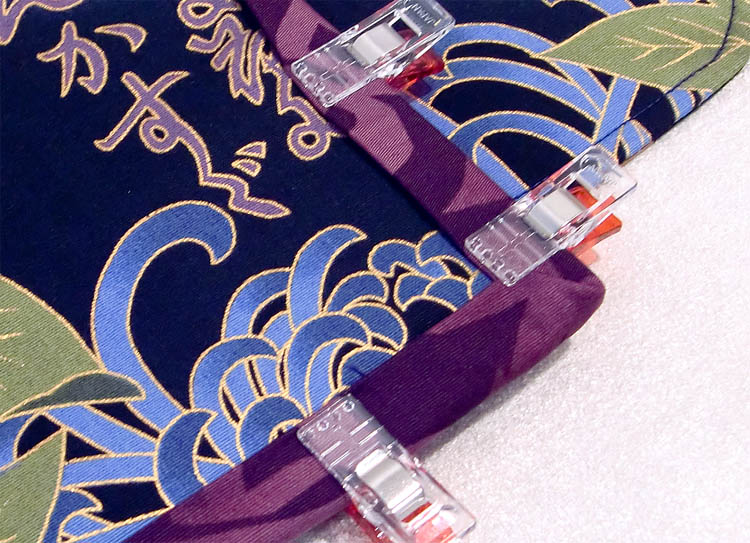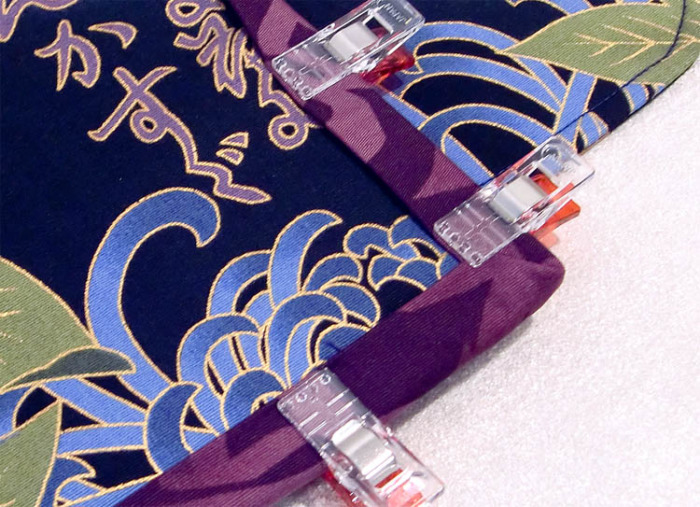 What's In This Project
I always include a new skill or technique to add to your sewing tool kit with each pattern:
– Laminate your own fabric using Slicker Glossy Iron-On Vinyl
– Work with Stiff Stuff interfacing
– Work with laminates including using clips instead of pins
– Make 'wrap n fold' handles the Lazy Girl way
– Box the bottom of a bag
Construction and Project Notes
Walking or even feed foot recommended
Size 70/10 or 80/12 needed
Pre-wash bag fabric for good fused bond with Slicker
Do not touch warm iron directly to Slicker. Always use the Slicker paper backing as your pressing sheet between the vinyl and iron.
Sewing clips are great for this project. Keep pins or clips in the 1/4″ seam allowance.
No teflon presser foot needed
Subscribe to receive emails for my blog and newsletters about new patterns and project ideas.
Enjoy!
Joan
Joan's Sewing Group | Pinterest
Like and share this post with your stitchy friends.