Giveaway: Runaround Bag Pattern and Dreamy Fusible Fleece
Lazies, The Runaround Bag (LGD111) is one of our most-loved and easiest bags. Two fat quarters, a smidge of fleece, a zipper and you're done before you know it. Well, it's time to give this baby a new look, so let me introduce you to the new cover for the Runaround Bag.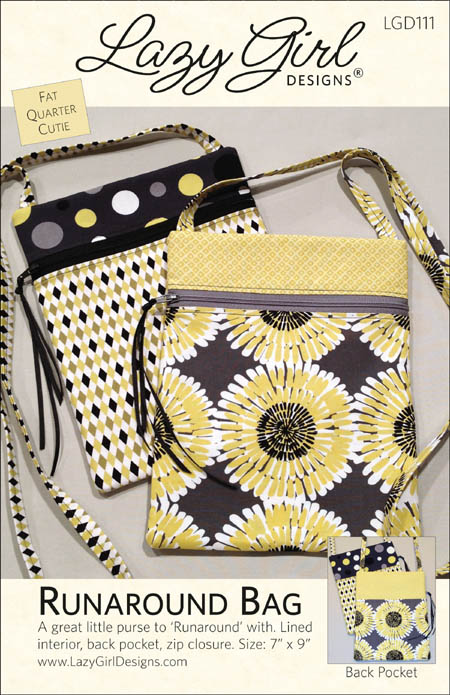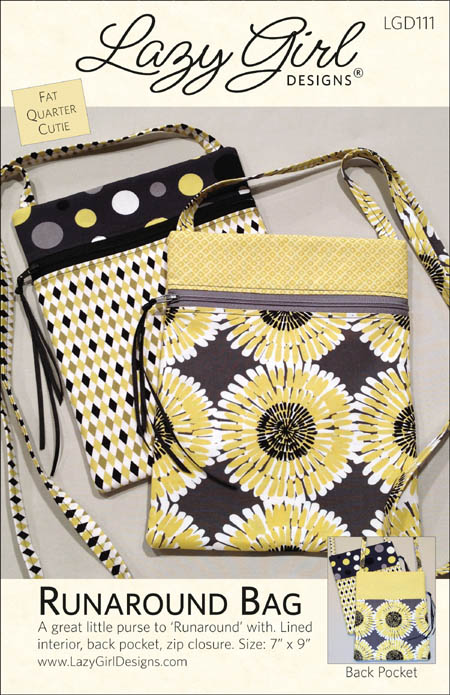 This citron yellow, black, white and gray color combination gets me every time.
These gorgeous and fun fabrics are by Michael Miller.
***Giveaway is closed, Oct 12, 2012***
Runaround Bag Features
What's so great about the Runaround Bag? It's quick, easy and all function. It's a wonderful little bag, about the size of your outstretched hand (7″ x 9″), perfect to sling over your shoulder or wear cross-body when you need to travel light.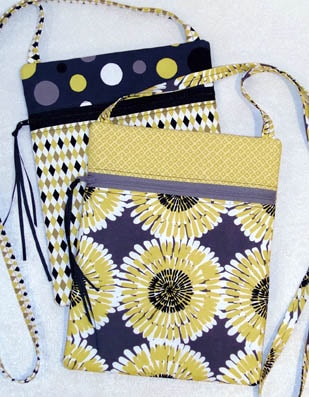 Front view of the Runaround Bag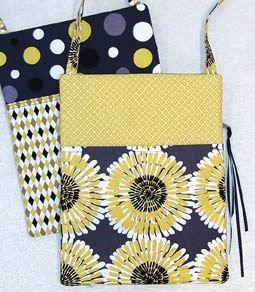 A simple pocket completes the back.
Dreamy Fusible Fleece
I used our Dreamy Fusible Fleece in these bags. The Runaround was written for use with sew-in fleece or batting. It's easy enough to substitute fusible fleece in Step 4 of the pattern. Simply layer the lining fabric, fleece and back fabric piece together as described in Assembly, then press with a hot steam iron to fuse the fleece in place. Dreamy is fusible on one side only. In this project, it doesn't matter if it is fused to the lining or the backing fabric. As when working with any fusible, be careful around the edges so as not to get fusible on the sole plate of your iron, or ironing board and using an applique pressing sheet for a pressing cloth is a good idea, too.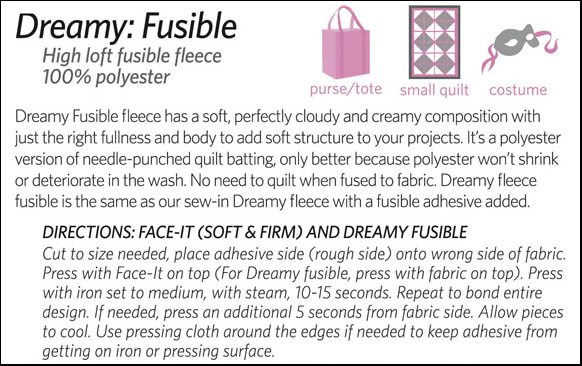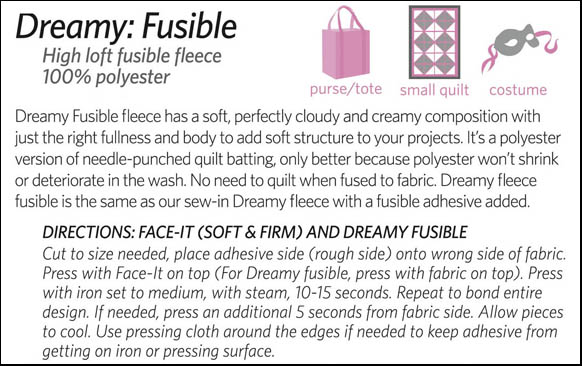 Click image to enlarge
Dreamy's Loft/Thickness
For years I had been working with and recommending Pellon's fusible fleece #987F for my bag designs, so let me compare the two. Compared to Pellon, our Dreamy Fusible Fleece is a little thicker, has a more smooth surface and is comparable in the structure it brings to your project. Dreamy has a lighter layer of adhesive so fabric isn't over-fused, creating cellulite or dimpling.


Click image to enlarge
About the Fusible
Dreamy Fusible Fleece has a light layer of adhesive on one side. Dreamy comes 45″ wide, folded then rolled on the bolt. The fusible is on the folded to the inside. This is an easy trick to remember where the fusible is – folding it to the inside protects the adhesive layer. I mention all of this because it truly is a light layer and once you get your Dreamy out and you're working with it, you might have some trouble knowing which side has the adhesive. The adhesive side is slightly rougher to the touch and every so slightly shinier. When in doubt, cut a small scrap, place it between two larger pieces of fabric and press – which ever side fuses to the fleece is the fusible side. If needed, make a mark or a note on your fleece to help keep track of the fusible side.
Zipper Nirvana
The way the zipper goes in on the Runaround is outstanding and outstandingly simple. Put your zipper fears aside and give it a try. I can highly recommend the fabulous zips from Atkinson Designs for this project. They're longer than you need, but the zip gets cut down anyway, so indulge in Atkinson's wonderful color assortment and have some fun.
Choosing a Zipper Color
I've done a blog post about choosing a zipper color for your project, and it features the Runaround Bag. Hop over and take a look. 'Choosing a Zipper is a Design Decision'
Giveaway – One winner will receive:
– Runaround Bag pattern
– 1/3 yd Dreamy Fusible Fleece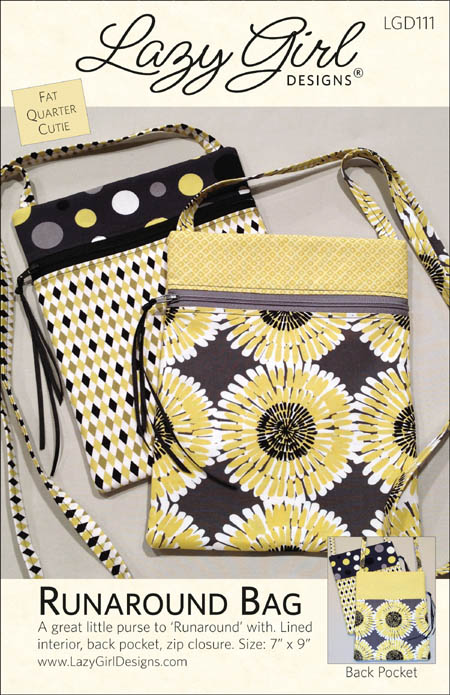 How To Enter
– Enter by posting a comment below. Tell me what you think of Dreamy Fusible Fleece or the Runaround Bag
– One comment per person.
– Be sure you type your email address correctly so I can contact you.
– I'll pick 1 winner using the random number generator.
– Enter by Friday October 12, 2012, 10 pm Eastern time.
– I'll contact the winner via email.
If you're new here, subscribe to our blog feed for more Lazy inspiration.
Join the Lazy Fun at Facebook
Other great Runaround Bag blog posts
The Joy of Sewing Can Be Found in Small Projects
Easy to Install Zipper With Runaround Bag
Thanks for joining in on the fun of the Runaround Bag and Sew Lazy Interfacings. Remember, comment below to enter the giveaway, click 'like', share this post, and tell your friends.
Enjoy!
Joan