Cleavage as Inspiration: The Story of our Candice Bag
Lazies, Sometimes inspiration can be right under your nose…literally. In the movies and on TV, we're led to believe that the safest place to tuck something from time to time is down our shirt. So what better inspiration for a safe purse pocket than the age old wisdom of cleavage.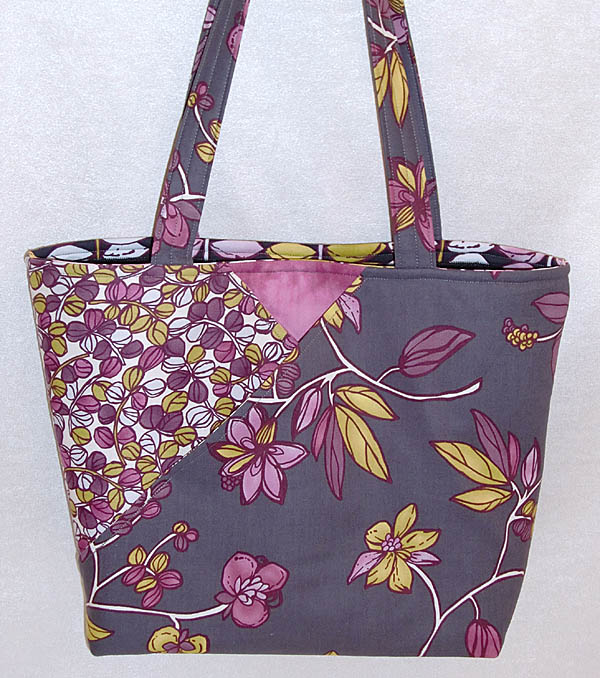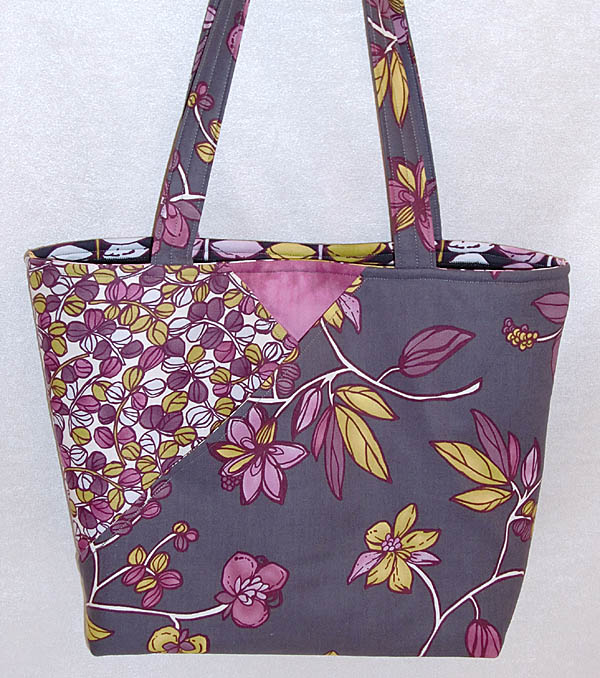 The inspiration for the Candice bag was a favorite blouse with a surplice front, where left and right sides overlap to create a 'V' neck with just the right amount of puffiness and cleavage. Meet Carmen, the prototype for our Candice bag.
This is not a new design and is not a pattern. It's simply a mock-up that led me to Candice.
The floral with the white background is one pocket. The floral with the gray is another pocket. So, we have two front, overlapping pockets, with angled entries, creating a visual centerpiece at the 'neckline'.
Front Pockets
Let's take a look at the function. The gray fabric is a lined panel, stitched in place just below my hand. That makes a pocket approximately 4″ deep for the width of the bag.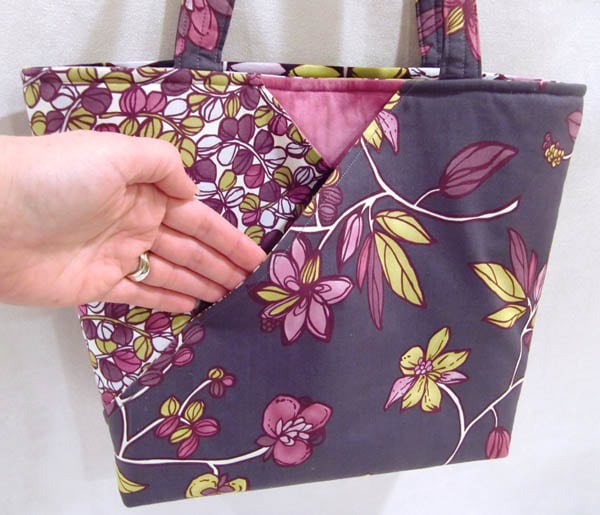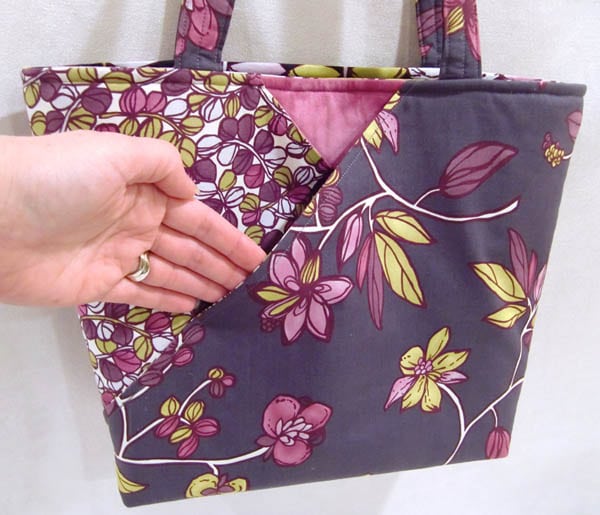 Next up, the second panel is also a pocket. The pinky-purple triangle area you see is the actual front of the bag, which also offered an opportunity for a contrast fabric to highlight the pocket cleavage. In my mock-up, I had planned the cleavage to be wider, being open for the whole width between the handles at the top edge of the bag for easier access. However, I ran into a logistical/design issue. Moving the pocket panels apart for a bigger 'V' means the gray pocket comes close to hitting the front bottom corner of the bag and that's a look I didn't like.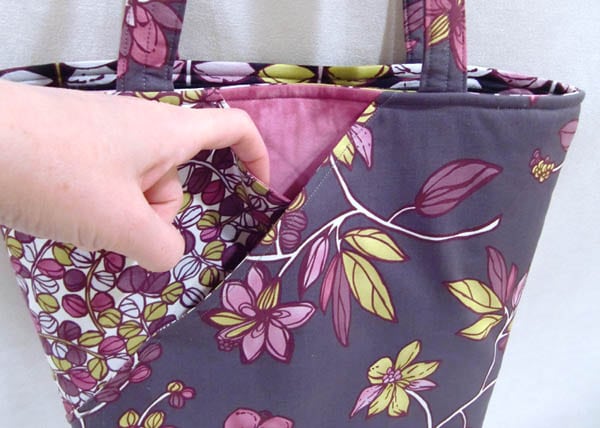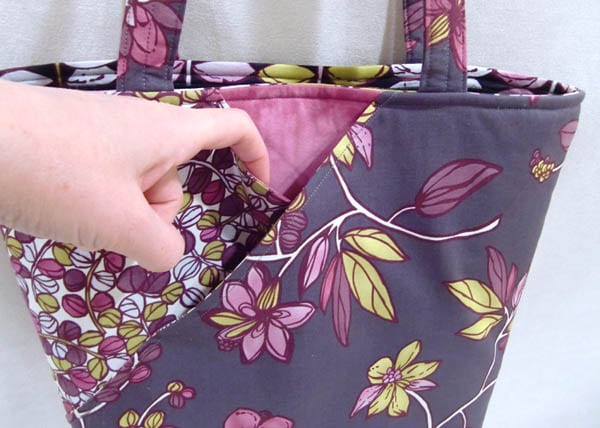 Aside from all of that, the pockets did work. I envisioned this design being a purse on steroids. I wanted it to accommodate stuff for errands like coupons, mail, the checkbook. I wanted safety and style. And I was darned intrigued by trying to translate blouse cleavage into a clever purse. The story continues…
Inside Pockets
I wanted more pockets with more variety of sizes for the lining. Here I added two layers of pockets to the left lining and one to the right. I hoped it would be the business wall of the bag. Envelopes, checkbook, notepad. Pens, phone, etc. And one big pocket for my iPad or other tablet.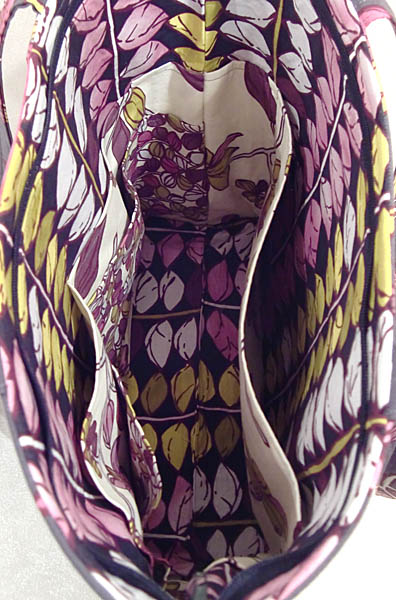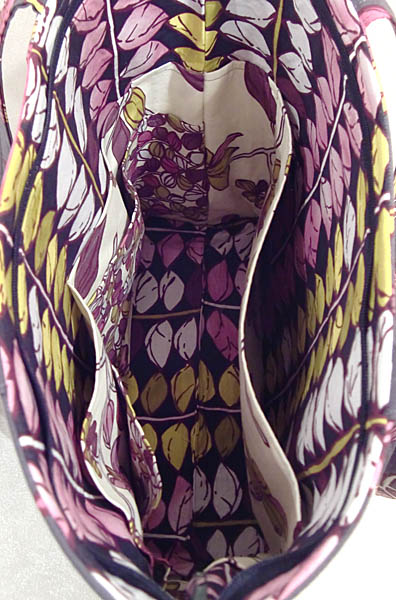 Here's a better view of the wall with double pockets.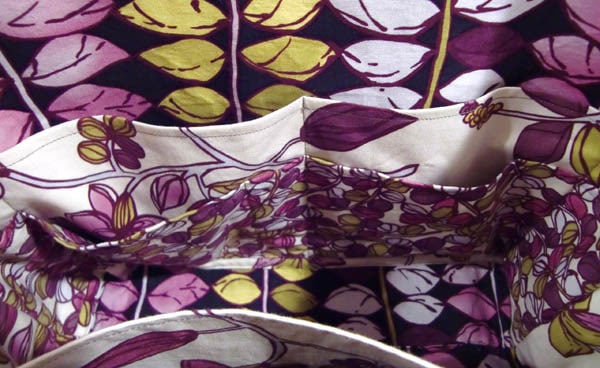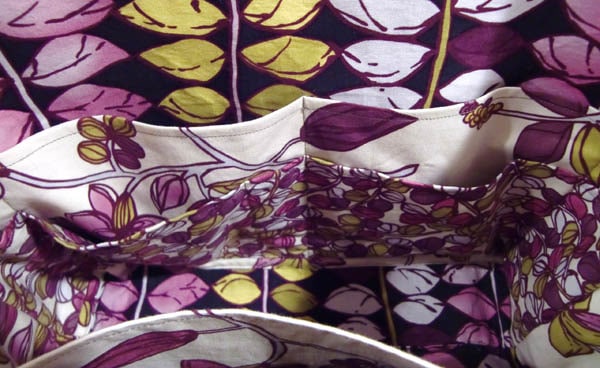 Testing the Design
Well, I finished Carmen and it was time for testing. I loaded her up and we went for a test. She held everything. She functioned. She was complete. But I didn't like her. I really didn't like her. Margo preceded her, so she had a high bar to pass. Quite simply, Carmen did not pass my test for being a fabulous bag. It went so badly that we didn't speak for some time.
I made this Carmen prototype in September 2010. Our test drive was so bad that we weren't on speaking terms for nearly a year. I shelved her until the following August when we started to revisit the cleavage and double wall of pockets. Carmen became Candice and we uncovered one of her shoulders for a more flattering and functional pocket design. I love the front pocket – more about that in a future post. We said goodbye to the notion that a double wall of pockets was twice as good as a single. I added metal rings to the handles – 'earrings' as they relate to shoulder and neckline as we've been discussing.
I created the 'fat pockets' design to accommodate a tablet or e-reader. And suddenly, Candice was singing to me and I knew she was done. Below is the first Candice and I asked my sweet friend Karen to test drive her for me. Karen gave Candice rave reviews and I don't believe I've seen the bag since.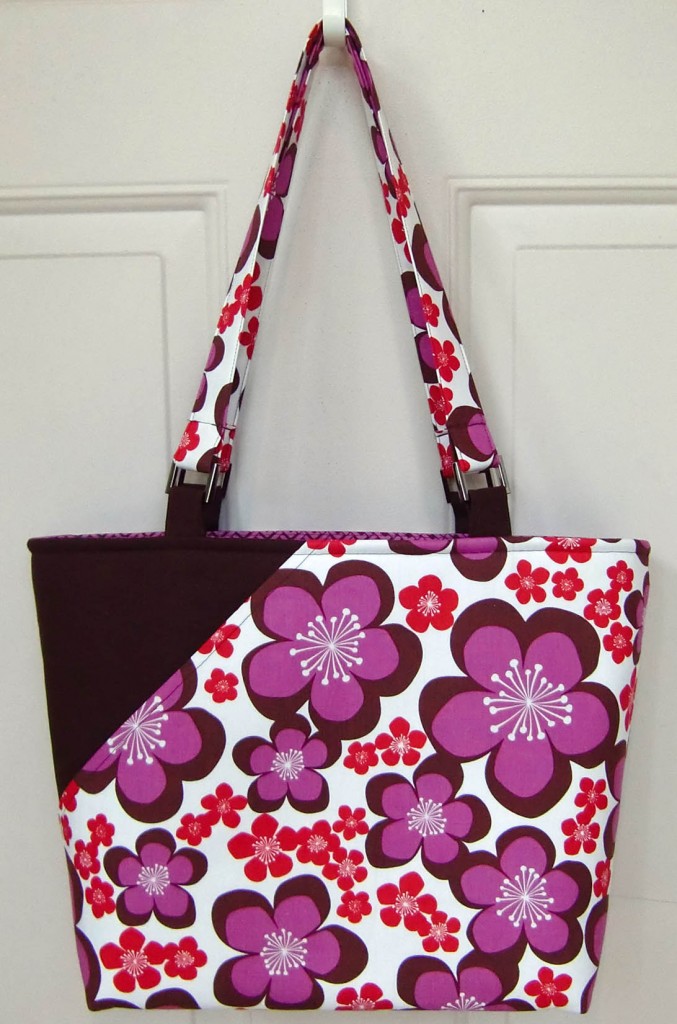 Meet Candice
Hop over to this blog post to get to know Candice better. Coming Soon: Meet Candice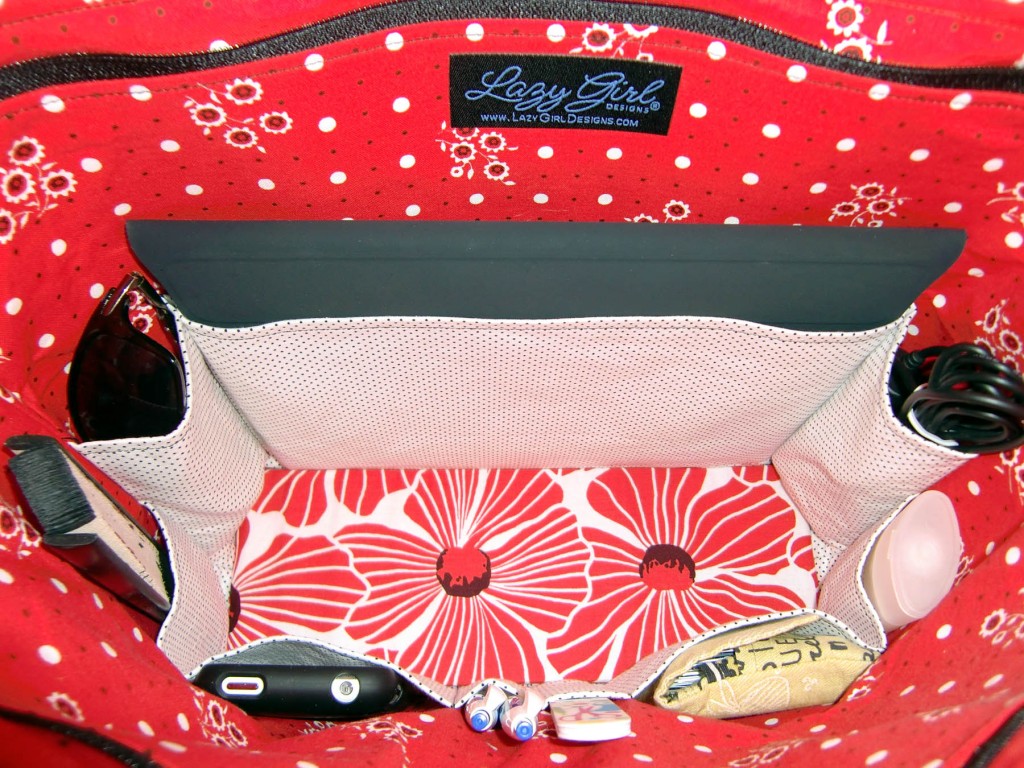 Extra – Use our sew-in bag bottom tutorial to add a bag support to Candice.
Sometimes a design sings to me right away and we are best friends from the very start. Other times, like with Candice, the love needs to grow.
Enjoy!
Joan