Understanding a Design Opportunity on Your Next Bag
Lazies, Let's talk about the design behind using rings on the handles of your next bag. Any place on your bag where different fabrics come together is a design opportunity. Make the most of it. On our latest design, Candice, I used one fabric above the rings and a different fabric below.


For Candice, use the same accent fabric from behind the front slant pocket to attach the rings for the handles. This fabric placement is a very mindful and intentional part of the design. The rings are a showpiece for the bag. Call attention to it. Or why do it at all?
Using black below the rings and red above forces my eye to stop at the point where they come together and think about what I am seeing. I am calling attention to the design. The rings are the opportunity to do so very stylishly.
Below, I've done a mock-up of the same Candice bag from the cover and I've Photoshopped the red/white fabric in place of the black below the rings. It looks nice. You can still see the rings. But visually, your eye is going to want to jump right over the rings from one fabric piece to the other, as though the rings weren't even there.


Take a look at the two photos. The top has the black below the rings, the bottom has red/white. For me, the rings nearly disappear in the bottom photo.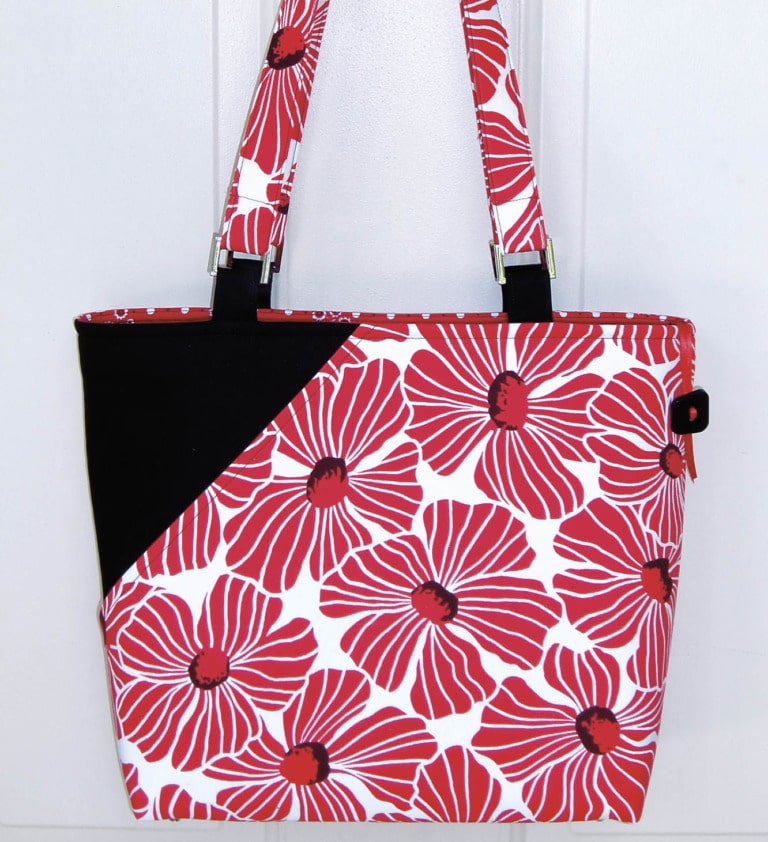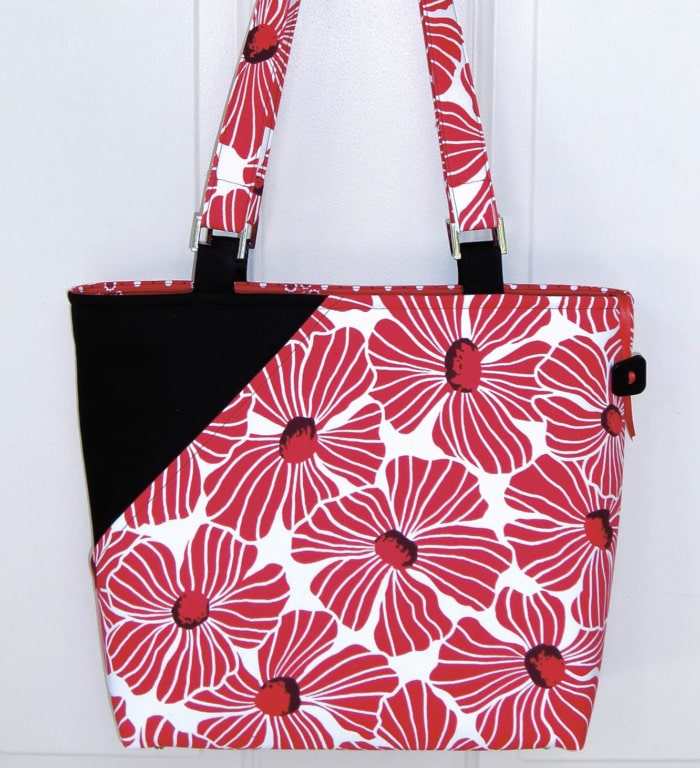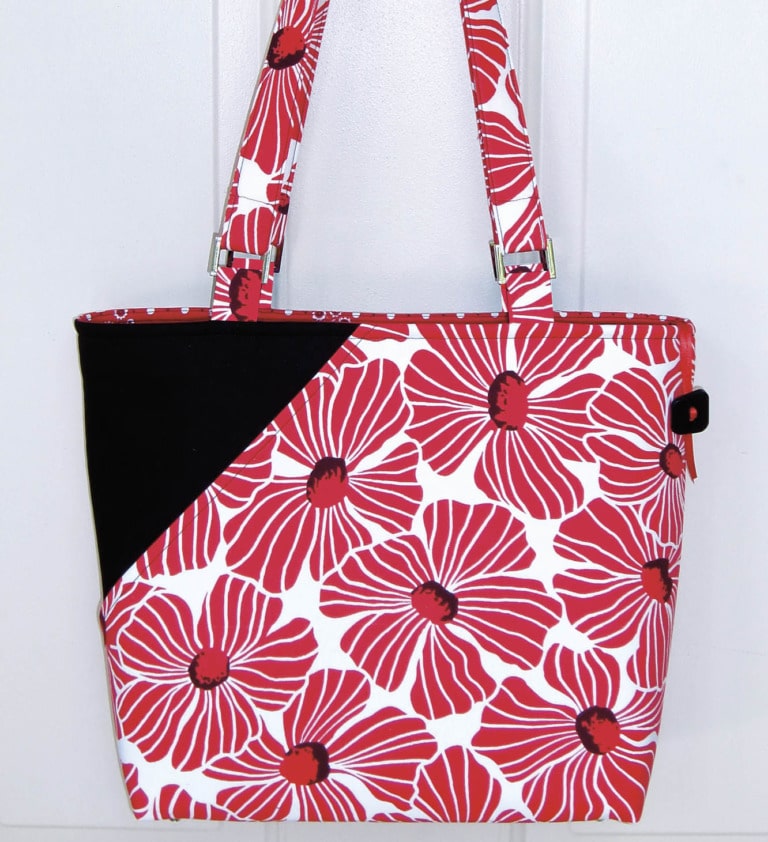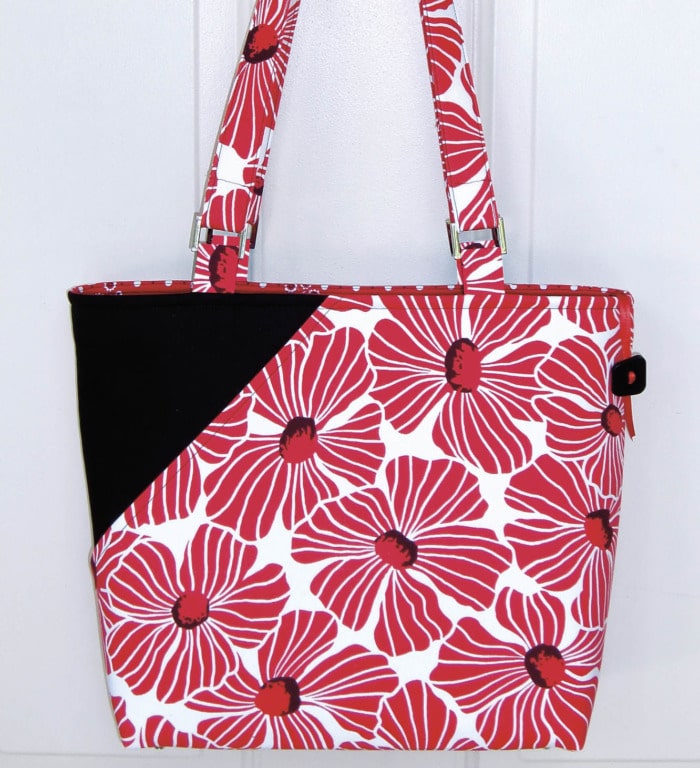 If you choose not to use rings, you can still create the design element of where the two fabrics come together simply by piecing your handle fabric at the ends.
To piece handles for Candice:
Cut 2″ lengths for each end of the handle.
Cut the rest of the handle at 24.5″.
Sew the three pieces together using a .25″ seam allowance for a 27″ handle with 1.5″ accent fabrics on each end.
Ring Options
Now, let's talk about those rings. I have totally been groovin on the Clover rectangular rings. I must say, when I first saw them I thought they were really big. I thought they might overpower my designs. Then, I worked them into a prototype and some kind of weird sewing mojo magic happened. They were absolutely the right size and scale. Ah, a new learning curve for me.
I'm frankly quite conservative with my boldness. It's true. So I surprised myself when I saw these cuties in place on my bag and all was right with the world. I used the 1″ size rings for the 1″ wide handles in Candice.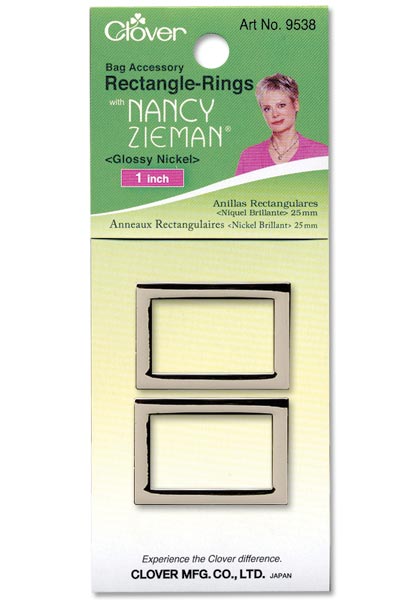 A set of rectangular rings like these will work well, too.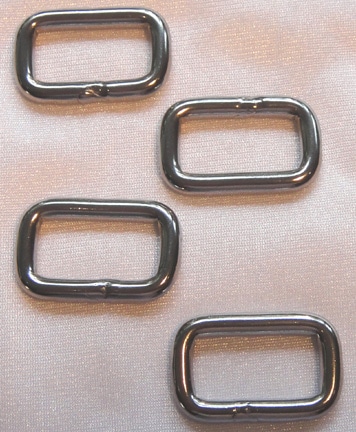 For more info about rings, see our post: Choosing and Using D Rings
Enjoy!
Joan
Sew With Joan Online Classes | Joan's Sewing Group | Pinterest
Like and share this post with your stitchy friends