Two Gotta-Have Sewing Notions
Lazies, Let me tell you about two gotta-have notions to put on your holiday gift list: my favorite pair of scissors and a light for your sewing machine.
Item: 'Bendable Bright Light'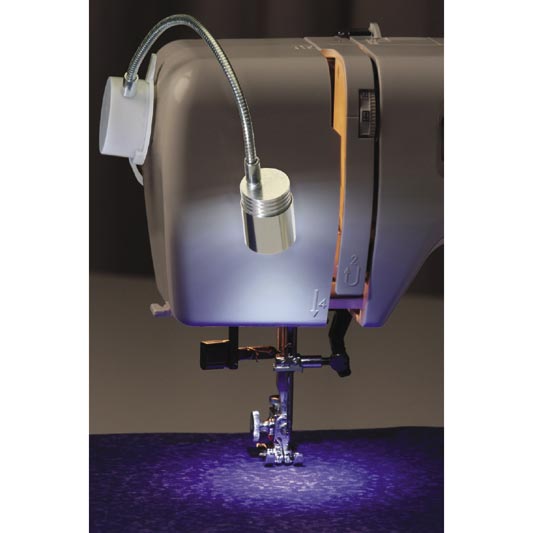 Bendable Bright Light from Dream World Inc.
I had a chance to try the 'Bendable Bright Light' recently at a quilt retreat and I love it. Oh my goodness, it is so much better at shining where I need it than the other light accessory I bought years ago.
Why I Love It
Not only does this little gem illuminate the presser foot area like I have a headlamp on my forehead, I can bend the light toward me and shine where I'm seam ripping when needed. Good stuff.
Details
No item numbers listed at their site
Suggested Retail: $49.95
Extra mounting set: $9.95
This light is attached to the side of your sewing machine, held in place by an adhesive-backed mounting bracket. To attach, put the light in the mounting bracket first, then find the perfect location, peel and stick.
It comes with clips to hold the electrical cord in place along the backside of your machine. No battery, no light bulb to replace. Buy an additional mounting kit if you want to use the light at different machines – I know you have more than one machine!
Item: 'Ultimate Scissors EX-170'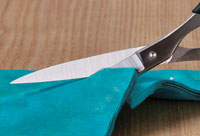 Ultimate Scissors EX-170 from Clover Needlecraft Inc.
Appropriately named, Clover Needlecraft's 'Ultimate Scissors' cut better than any scissors I've ever used. Big endorsement, I know, but true. I have more scissors than I know – these are the ones I covet.
Why I Love Them
In addition to their great cutting, they are lightweight and feel like holding nothing in my hand. I've had these scissors for about a year and I once again appreciated how wonderful they are while working like a fool at a weekend-long quilt retreat.
Details
Scissors size: 6 3/4″
Clover item #4933
Suggested Retail: $39.00
There are a number of sizes available but this 6 3/4″ size is perfect for many of my needs. These are a nice medium sized scissor that combine the sharp tip of a small pair but offer a bit more length and therefore more utility. It's nice to have a size between large cutting shears and small thread snips.
When To Use Them
These scissors are lightweight and are not meant for heavy-duty cutting chores. They are ideal for just about everything else. They are small enough to conveniently take along with a project, yet not so small they get buried or lost amongst your supplies.
Need a different size? I've tried all of the other scissors in Clover's 'Ultimate' line, and they are all fabulous.
Have you tried either of these items?  What do you think?
Enjoy!
Joan
Images from Dream World Inc. and Clover Needlecraft Inc.
Leave a Lazy Comment
17 Responses to "Two Gotta-Have Sewing Notions"
Trackbacks/Pingbacks