The New Key Fob Hardware Colors and a Giveaway!
Lazies, It's a photo finish – ha! – actually, it's a photo of finishes. I'm excited to introduce two new finishes, or colors, for our key fob hardware. Have you fallen in love with our Fobio key fob pattern? It's super quick, unique, fun and functional. I use a Fobio for my key ring and one with Becca for a wristlet. Now we have more options to coordinate our hardware with your projects.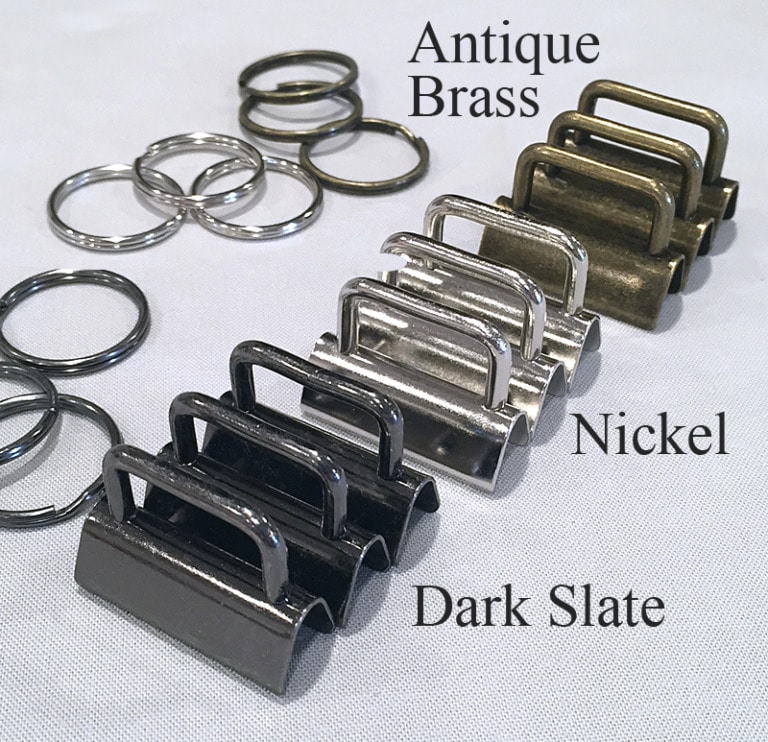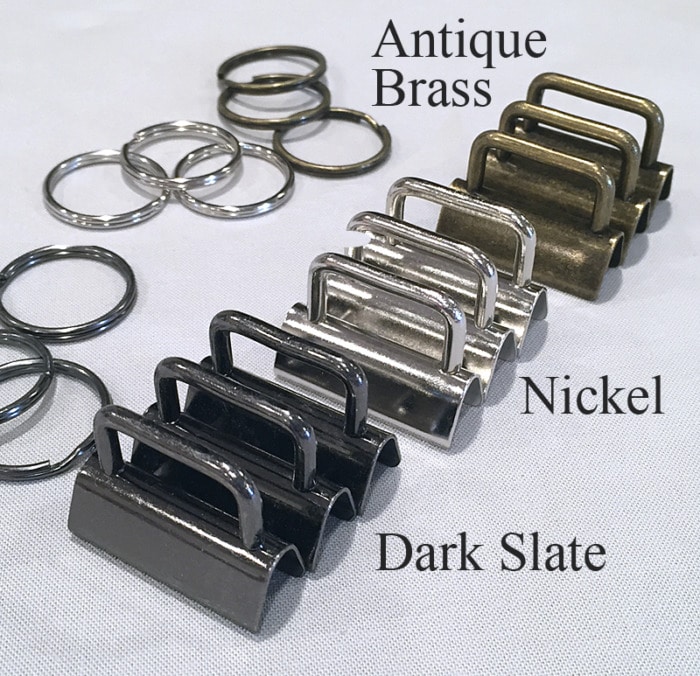 Who knew hardware could be so beautiful!
Scrumptious!
Here are the new finishes in action. This gorgeous line of fabric is Bee Creative by Deb Strain for Moda – yum! The collection has rich buttery yellow tones that look great with the Antique Brass. The white fabric looks lovely with our original Nickel. And the Dark Slate anchors everything and happens to coordinate with dark zipper pulls, too. All three finishes work with this fabric. It's purely personal preference which look you want.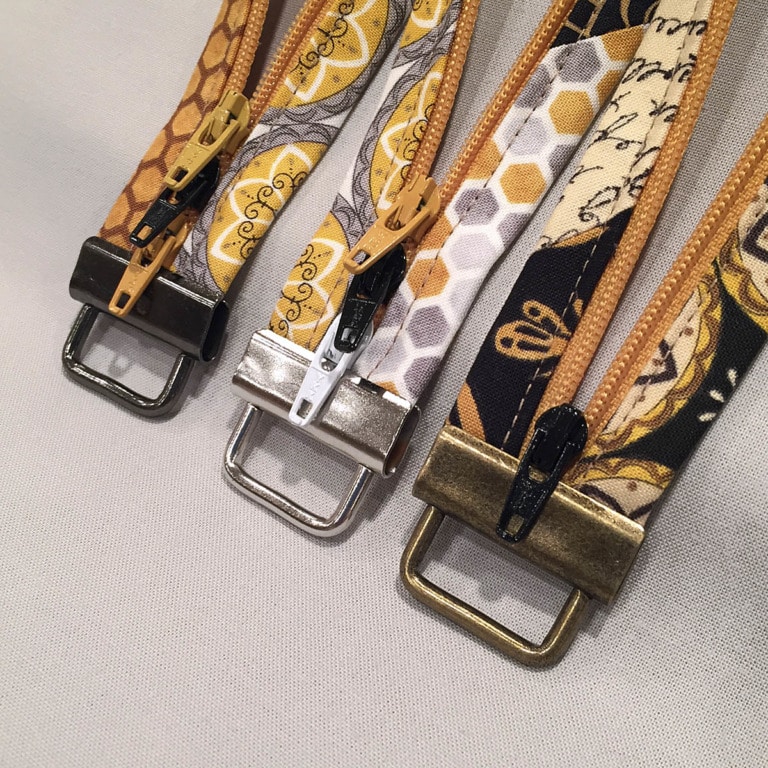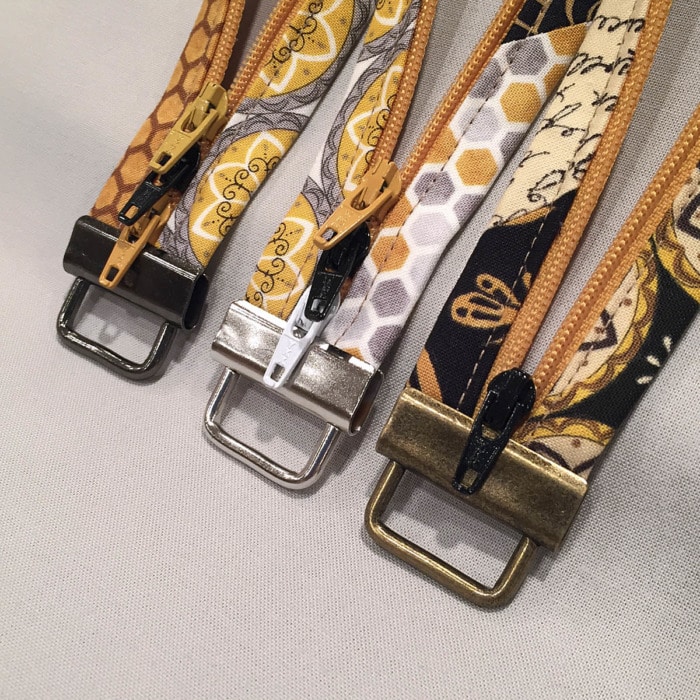 All three finishes look great. Pick the one that's best for your overall look.
Project Coordination
Now we have more options to match our Fobio or other key fob projects to brass or metal zippered projects, magnetic snaps, buckles and 'D' rings and more. The nickle finish coordinates with silver toned hardware.
Dark Slate works well with bright and earth tone fabrics. Coordinates with popular purse hardware in black, black nickel or gunmetal finish
Antique brass looks great with warm toned fabrics and is a popular finish. Ours works well with notions by other brands as well as bronze and antique bronze finishes.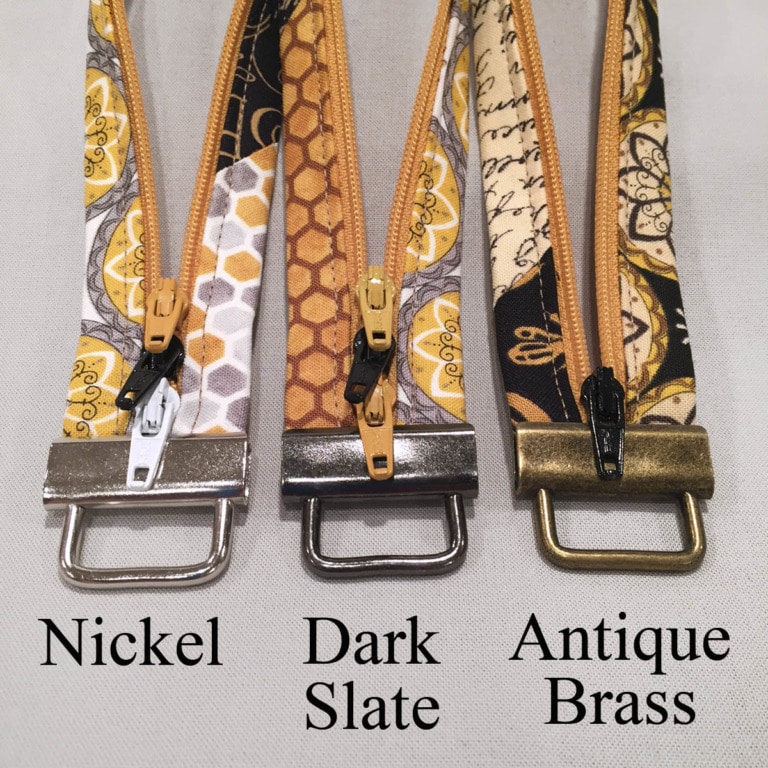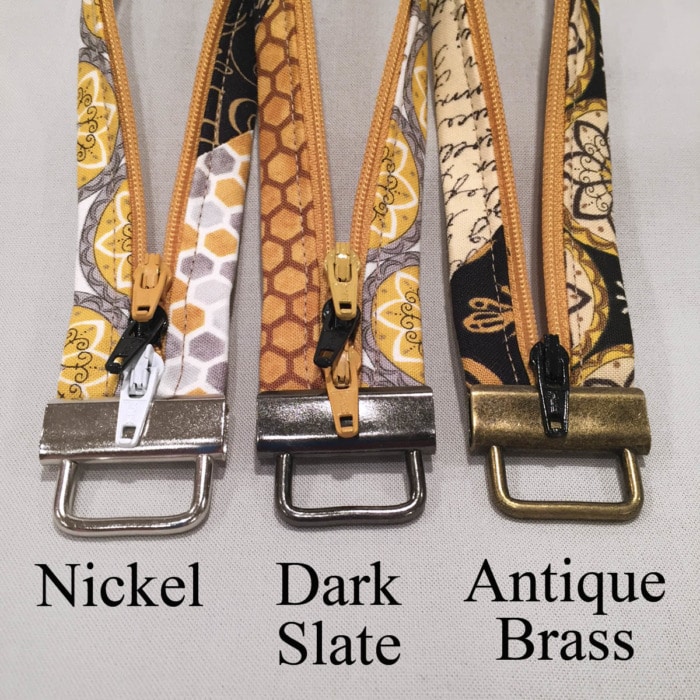 Look at those beauties!
Fobio Love!
Here's our Fobio shown with the original Nickel finish hardware. The Fobio paper pattern LGD137 is packaged with two sets of the nickel finish key fob hardware. Don't forget the bonus project for another style key fob at the end of the Fobio pattern! Now you can make both styles of key fobs with beautiful hardware options.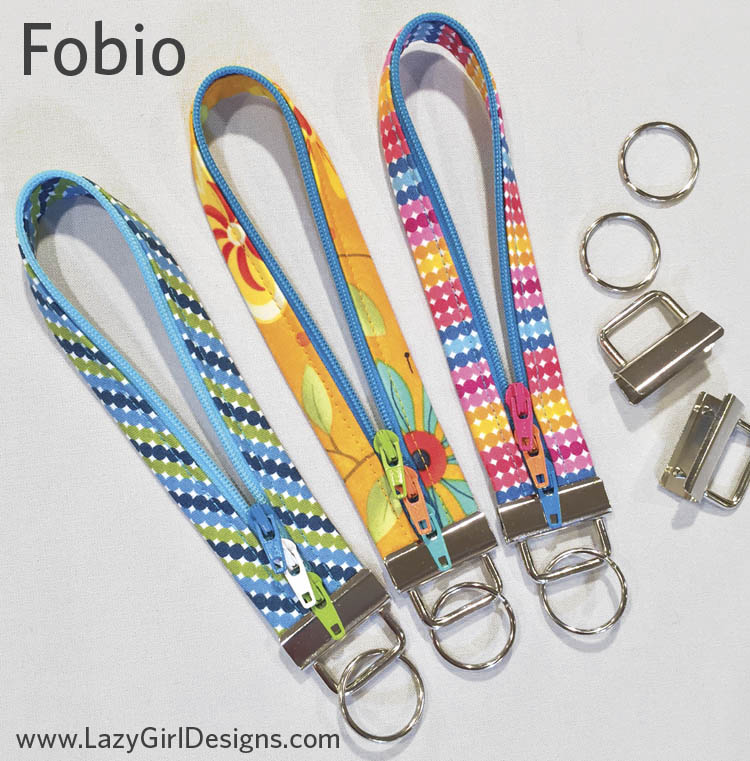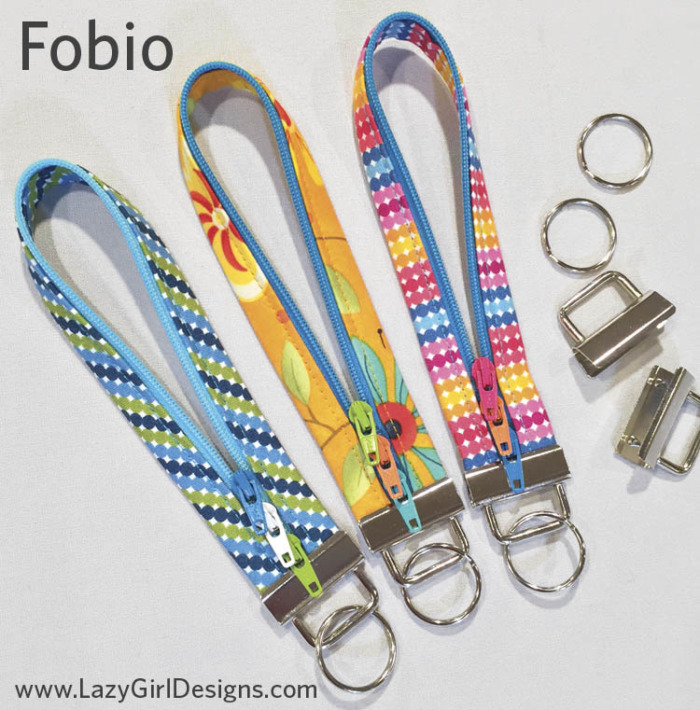 I love the Fobio key fob! LGD137
Choose a zipper with contrast and some fun zipper pull colors.
Product Details
The new colors are available in packs of 4 sets: 4 clamps and 4 split rings; the same as our Nickel finish LGD711.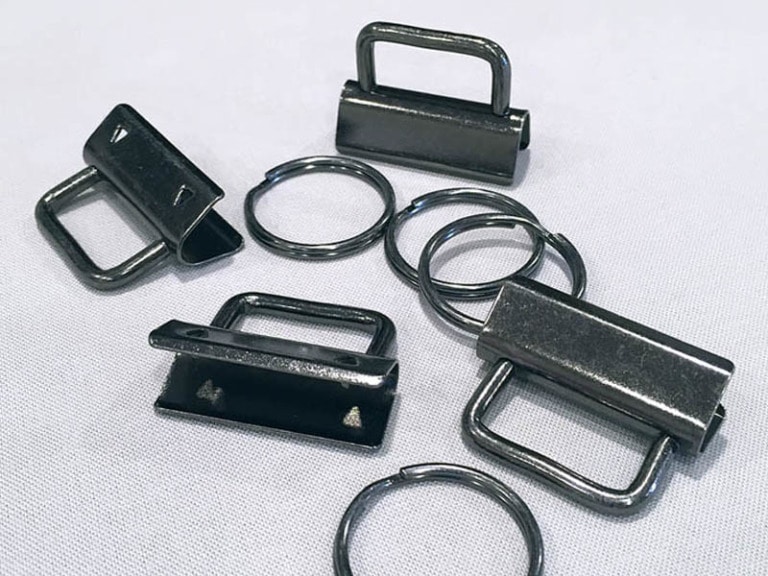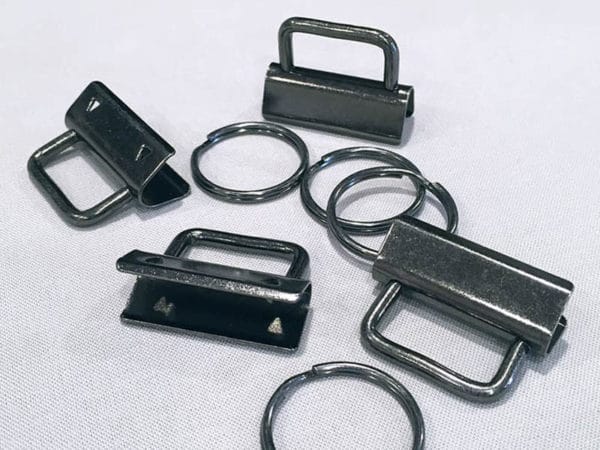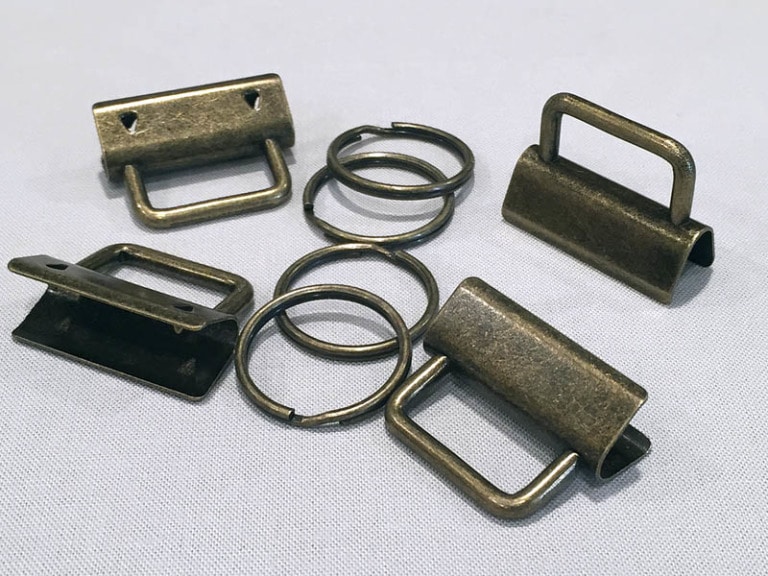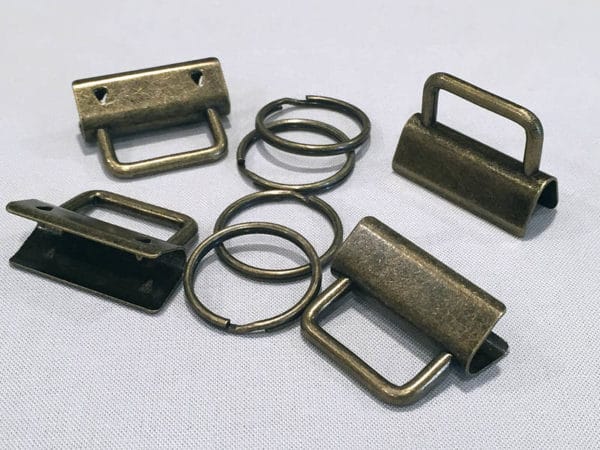 Dark Slate LGD714; Antique Brass LGD715.
How To Attach
Key fob hardware is so easy to attach to your project and the Fobio pattern includes directions. The 'clamp' really is just that – it clamps onto the end of your project. It just needs to be closed, or squeezed, by hand or with pliers. I do offer a specialty pair of Key Fob Pliers LGD713 which are perfect for closing the clamps evenly and without scratching the metal.
Giveaway
Three winners (one for each finish: Nickel, Dark Slate, and Antique Brass) will be selected to receive one pack of key fob hardware from Lazy Girl Designs.
Enter To Win
– Enter by using Rafflecopter below.
– Three winners will be chosen.
– Giveaway ends Tuesday July 26, 2016.
– I'll contact the winners via email.
Thanks for joining in on the fun!
Gotta Have!
Get the nickel finish hardware here.
The new colors are available now and shipping to stores. Check your local quilt shop or online retailer.
Please like and share this post with your stitchy friends. Join the Lazy Girl community on Facebook here: Facebook Lazy Girl
Enjoy!
Joan
Pinterest Joan Hawley
Instagram @JoanHawley
Facebook Lazy Girl
Twitter LazyGirlJoan
Save
Save
Save
Save
Save
Save
Save
Save
Save
Save
Save
Save
Save
Save
Save
Save
Save
Save
Save
Save
Save
Save
Save
Save
Save
Save
Save
Save