Joan's Toolbox: 2 Great Seam Rippers Under $5
Lazies, During the development of my latest design Candice, I was reminded how much I love my seam rippers. I hate when I realize the stitches I just made need to come out. It's a little crushing. It feels like a set-back and a time-waster. Well, to make the job as easy as can be, I have two favorite rippers in my toolbox. Each has their own function and specialty. Yes, different rippers for different needs. And at less than $5 each, consider adding them to your toolbox or as gifts for your quilty friends.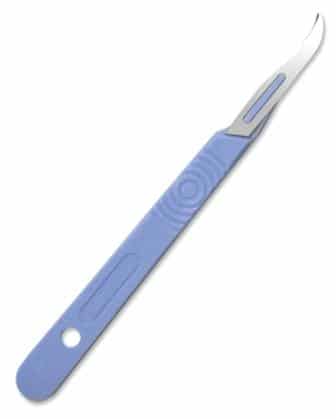 Clover Seam Ripper, item 482W and Havel's Seam Ripper, item 18933
Clover Seam Ripper – My All Time Favorite
What sets this Clover seam ripper apart from other similar designs is the quality and the handle design/features. The handle includes a little band of rubber grip ridges (black part of the white handle) which gives me really good control. The handle is rounded, rather than flat, allowing me to easily roll it between my fingers as I maneuver the pointed tip between stitches. The tool is very secure in my hand and gives me great control.
The ripper is sharp with a nice point for getting in under stitches. It has a ball point for safely getting in between fabric without ripping the fabric. It's another fine product from Clover. It is well-thought-out, easy to maneuver, and it works. The pointed end will work as an awl in a pinch for certain jobs – that's a nice benefit.
Havel's Seam Ripper – Big Jobs, Tight Stitches
Sometimes I have different ripping needs which call for another approach. I'm talking big jobs, or tight spaces. If I've backstitched and can't easily get the point of the Clover ripper into a tightly stitched seam to get things started, I call my Havel's seam ripper into action.
Simply touch the stitches with the blade to cut. You do not need to maneuver the tip of this tool under the stitch to get started. The long, flat, sharp, curved, scalpel-like tip of the blade is great for working in tight spaces.
Once you have a few stitches cut and the seam is opened a bit, simply hold the fabrics apart causing tension at the next stitch, and cut a few stitches or more at a time with the blade.
Now please, puh-lease, be careful when using either of these tools, but especially the Havel's or any other scalpel based design. Dude, it is a razor blade. Sit down when using this blade. No dog or cat nearby, please. Keep the lid nearby and put it on every time you set the ripper down. Every time!
The upside to the scalpel styled rippers – they are really good at ripping. Needs very little force or pressure to cut. You can rip bigger jobs quickly. I tried a Candice pocket with heavy interfacing and it was horrible. Off it came! In seconds.
The downside to the scalpel styled rippers – they are really good at ripping. You can easily cut your fabric when you don't mean to. Practice using one on something that doesn't matter.
Both of these items work well on the quilter's weight cottons that I work with. I don't work with fine/delicate fabrics, so I don't have a recommendation for you there.
Now, about all those little broken stitches hanging on for dear life in the used-to-be-seam. Use scotch tape to remove these buggers quickly and cleanly.
Havel's Seam Ripper (affiliate link)
Item 18933
Clover Seam Ripper (affiliate link)
Item 482W
Enjoy!
Joan