A Special Anniversary – Our Free Hospital Gown Pattern Is Two Years Old Today
Lazies, I can hardly believe that today is the second anniversary for our free hospital gown pattern. This pattern is downloaded about 1,000 times a month from my website here.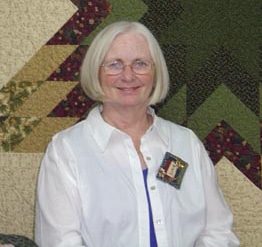 So on this anniversary, please indulge me while I share the story of Susie (pictured here), Rita, Carolyn and how this pattern came about.
My friend Carolyn has a habit of volunteering me for things. We all have friends like that, don't we? I don't usually protest because I know if something is important to my friends, then it's important for me to listen.
Carolyn called one day and said, 'Rita at Creations SewClever quilt shop is getting requests for her hospital gown pattern but there's no pattern. Why don't you make one?' I didn't know Rita, but I said 'sure' and called right away. I didn't even think about it. Carolyn knows I'm as pliable as conditioned polymer clay.
Rita created the pattern to make gowns for her friend Susie Stiving. Susie tells the story better than I can, so…
Here's Susie:
'The hospital gown design was born of a loving friendship with Rita Fishel. She owns the quilt store Creations SewClever in Chillicothe, Ohio and I had the pleasure to work for her part time. It was a joy to work with a best friend, and beautiful family of friends surrounded by wonderful fabrics.
In December 2005 I was diagnosed with leukemia, and my world seemed to become smaller as my battle was to be a long one. As the odds seemed to mount against me, Rita became more inspired.
She pulled fabrics off the shelves that she thought would speak to my soul, designed a simple hospital gown pattern with Velcro closures, stitched them up, and brought them to me at the hospital like bouquets of flowers.
The gowns became quite a conversation piece as the doctors and nurses complimented me on the cheerful colors and themes. They also like the convenience of the Velcro openings when doing procedures. I loved wearing them and they certainly made me smile.'
– Susie
Read the rest of Susie's story, and get the pattern here: Susie's Story and Hospital Gown pattern
One of my favorite memories of this project was that first phone call to Rita. She referred to the inner workings of a computer as 'gremlins' and said if I can get those gremlins to do what I hoped – more power to me. I have to say, I like Rita right away.
So, I met with the gremlins and we created a bare-bones click-n-print pattern with the pattern pieces and instructions included. Be sure to read the printing instructions at the website.
If you prefer, Rita will mail a printed copy to you. That information is located at my website with the pattern.
Oddly enough, I don't have a photograph of a gown made from the pattern. Or, I should say it's not my photograph to share. But, you can see a finished gown and read a review of the hospital gown pattern here on the Pattern Review website.
The gown pattern has been profiled a couple of time in Sew News Magazine – a big 'Thank You' to Janet Klaer and all of the Lazies at Sew News for sharing this project with their readers.
Variations – Turn the gown around, use the the back as the front, add a belt, leave off the Velcro and buttons to make a simple cotton robe for your mammogram visit. Crop the pattern at the waist and lengthen the sleeves for a bed jacket.
I hear stories from people who have used the pattern and tell me how it has touched their lives or the lives of their loved ones. I invite you to share your story with us here or email me privately.
We are working on a gown pattern in children's sizes. It should be available in the next few weeks. I'll post another announcement when it's ready.
So, this is a happy anniversary for me. Susie is doing great. I met her about a year after the pattern was completed. She is truly one of the loveliest people I have ever been fortunate to know and now call a friend.
Leave a Lazy Comment
8 Responses to "A Special Anniversary – Our Free Hospital Gown Pattern Is Two Years Old Today"