Free Sewing Tutorial: Easy Fabric Gift Wrapping Garland
Lazies, Here are two quick and easy projects you can still make in time for the holidays: fabric ball ornament and easy fabric garland or ribbon. Both are made by fusing layers of fabric together to make what I call 'quilters canvas' – great body, double-sided and won't fray on the cut edges. Fabulous!
Claim the FREE printable tutorial below!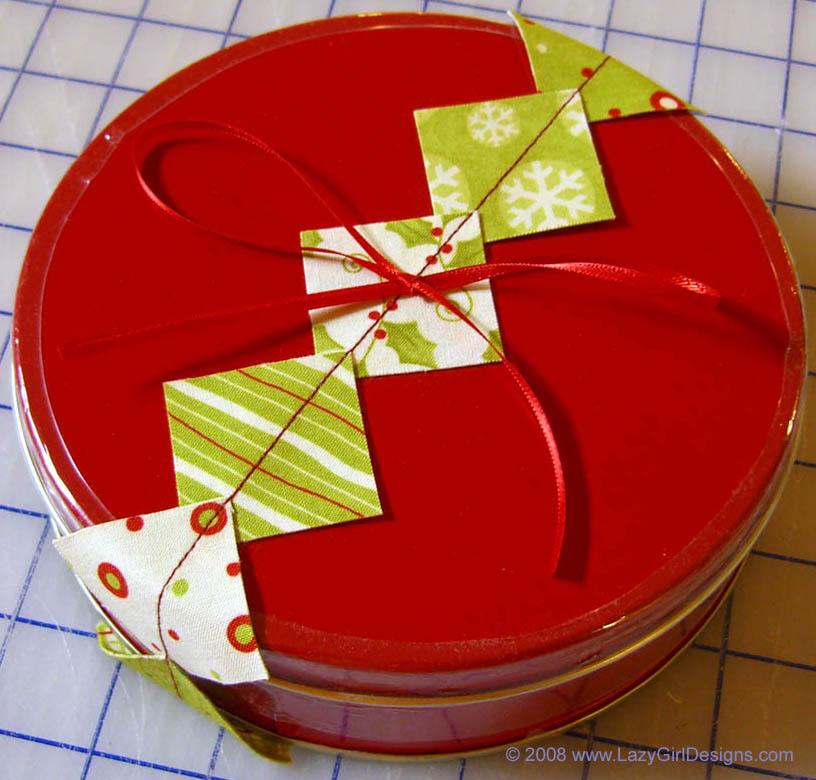 Garland can be used as ribbon, too.
Easy Fabric Garland or Ribbon
Now, this just can't get much easier or more efficient. Ten 10″ squares, fused in pairs, cut into 1 1/2″ squares, makes 25 feet of garland! I ordered some tins of my favorite mini-brownies as gifts this year with plans to decorate using fabric garland. I used the rest to decorate around a door frame.
How-To
– Ten 10″ squares of fabric, or use scraps. Shown: 'Merry & Bright' Moda layer cake (10″ squares).
– Five squares of fusible web a bit smaller than the fabric, or use scraps. I used Steam-A-Seam 2, any fusible web is great.
– Center the fusible between two pieces of fabric, wrong sides together, and fuse.
– Repeat for all fabric/fusible.
– Trim edge, then cut six 1 1/2″ strips.
– Re-cut strips to 1 1/2″ squares.
– Stitch together, on point, overlapping 1/2″ of the ends.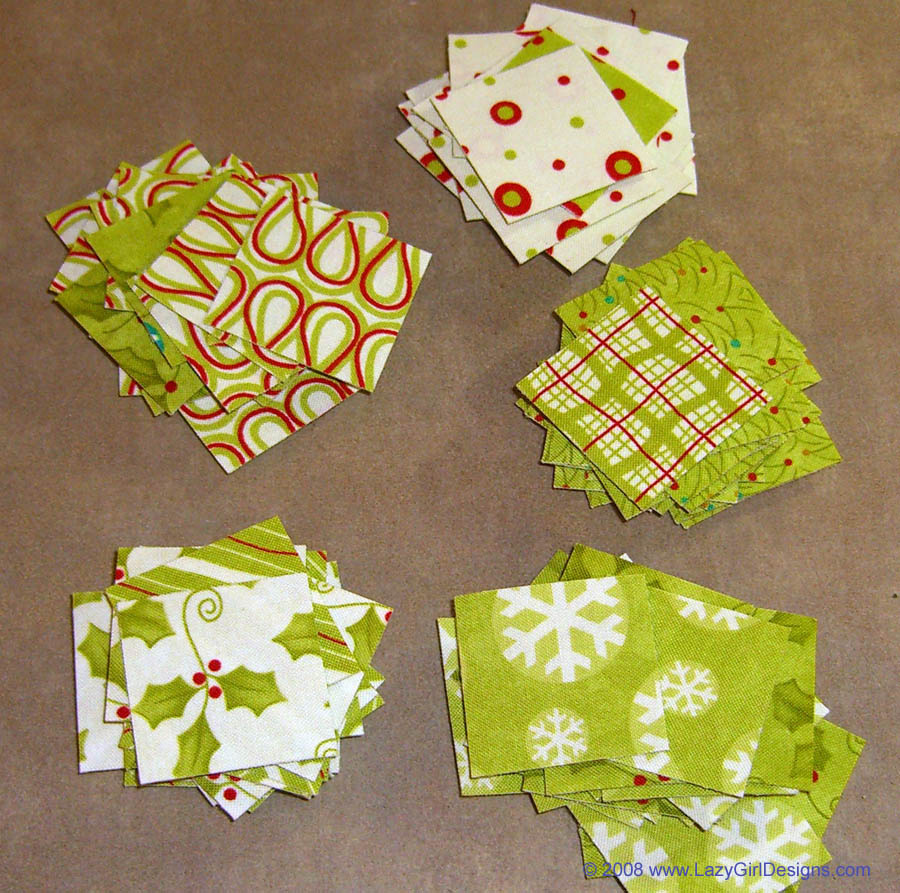 Little stacks of garland-to-be.


Stitch on point and overlap ends of squares.
The squares are double sided and won't fray on the edges so they are ready to go! Seven squares make approximately 1′ of garland. Make the length needed and use around a tree, wreath, door frame, banister or anywhere you would use traditional garland.
For ribbon, I used a bit of fabric glue to tack the garland to the top of the tin and overlap the loose ends underneath and tack with glue. Use scotch tape (pins, paperclips) to hold ribbon in place until glue dries. Use a touch of glue to attach the red bow on top, too.
Claim the FREE printable tutorial below!
Enjoy!
Joan