See How Easy It Is To Make and Embellish Our Gracie Handbag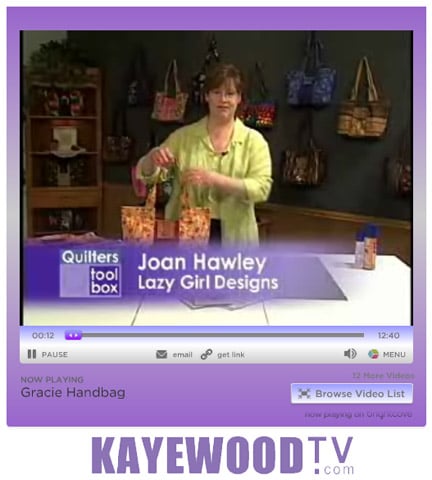 Lazies, I'm so excited to tell you that you can now watch me demonstrate our Gracie Handbag design at http://www.kayewoodtv.com/.
Click on the image to tune in.
The Gracie Handbag is one of our easiest designs and it's a great first project if you'd like to try your hand at making a bag.
This feature is one that I taped a couple for the pilot series 'Quilters ToolBox'. It's a nice overview of Gracie and then we share some details and embellishment ideas.
In this episode, the wall behind me is decorated with bags made by customers of QuiltTrends Quilt Shop in Columbus, OH. Here are pictures of some of the bags seen in the background of the episode. Click on each bag to enlarge.
Tune in if you get a chance.
Check our blog on Wednesday for more details about our upcoming party!