The Secret Stories Told By Signal Quilts and the Underground Railroad
Lazies, Rita Fishel, owner of Creations SewClever quilt shop in Chillicothe, Ohio, a local history buff, was interviewed recently about the pre-Civil War quilt's openly debated oral history. Click the image below to watch the 'Signal Quilts' video.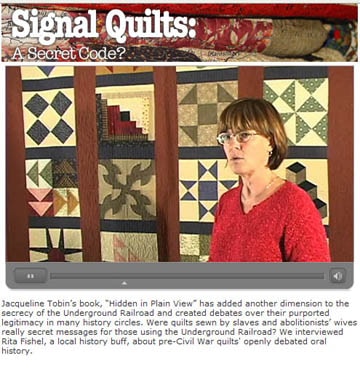 Jacqueline Tobin's book, "Hidden in Plain View"
has added another dimension to the secrecy of the Underground Railroad and created debates over their purported legitimacy in many history circles. Were quilts sewn by slaves and abolitionists' wives really secret messages for those using the Underground Railroad? My friend Rita Fishel tells us a bit about signal quilts and the Underground Railroad.
Image courtesy of http://www.aroundrr.com/