Amy Barickman: Ready for Spring with Vintage Notions
Our Guest Blogger series continues today with Amy Barickman of Indygo Junction.
As I write this, winter is holding on for dear life in my home city of Kansas City (it was just 70 degrees and now there's a 1/2 inch of snow). I have decided, however, that I am going to ignore the short term chill and officially pronounce that Spring is Here. So, since it's Spring, I'd like to share with you three of my favorite flower projects to get every Lazy Girl in a Spring mood.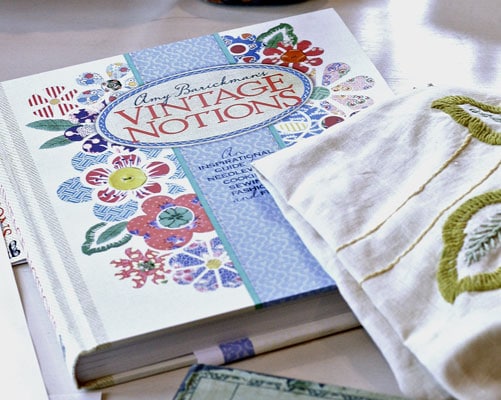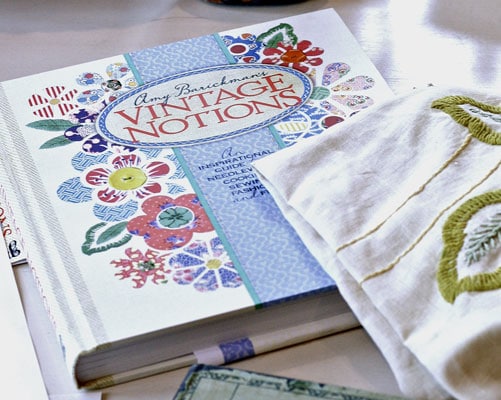 Amy Barickman's Vintage Notions book.
Vintage Fabric Flower
The first project is a Fabric Flower "magic pattern" from my latest book, Vintage Notions.
Vintage Notions takes much of its inspiration from the newsletter produced by the Woman's Institute of Scranton, PA. This remarkable school taught dressmaking via correspondence courses and newsletters to over 300,000 women in the 1920s and '30s. A popular feature was always the "Magic Pattern." These clever and timeless patterns were so simple to make, they seemed like "magic."
The "magic" continued when a student realized no paper patterns were required, as cutting your pieces was based solely on diagrams and measurements. In the April section of the book, we feature the Fabric Flower Magic Pattern. It is one of those accessories that, once you've made one, you'll be making others in different sizes and colors.


As you can see in the pictures above, I'm quite fond of the ones I've made.
Magic Pattern for the Fabric Flower
When you start this project, here are three simple reminders (from the Magic Pattern Notes found in the back of Vintage Notions):
1. Use a circle pattern/template to draw the circle.
2. Cut the fabric circles using a rotary circle cutter.
3. To wear it, use a purchased pin-back stitched to the flower back.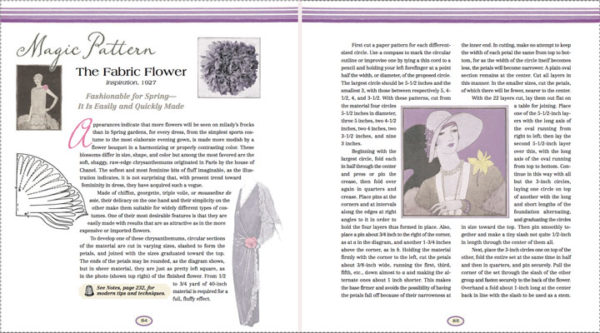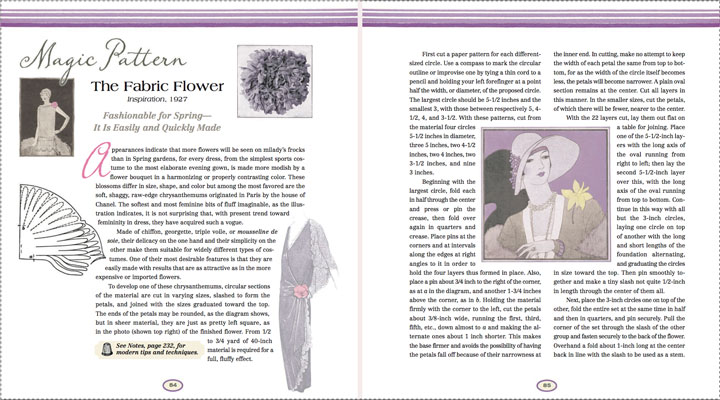 (Click on the image above to download the PDF of these instructions.)
Keep in mind Vintage Notions offers a "magic pattern" for each month of the year. From aprons to a summer purse– timeless styles that are ever so practical.
Flowers, Flowers, Flowers!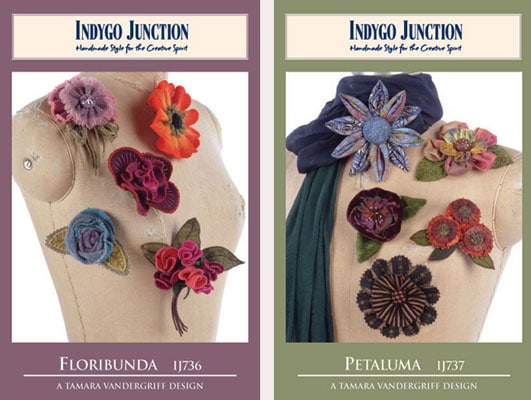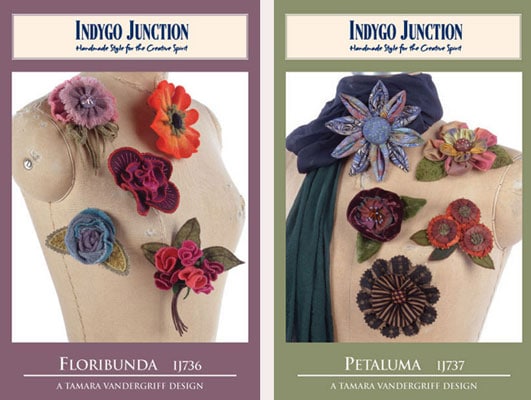 At Indygo Junction, we love flowers. Two of our projects that are beautiful and extremely easy to make are Floribunda and Petaluma, each one containing five floral brooch designs inspired by vintage corsages and hat trimmings.
Flowers and Zippers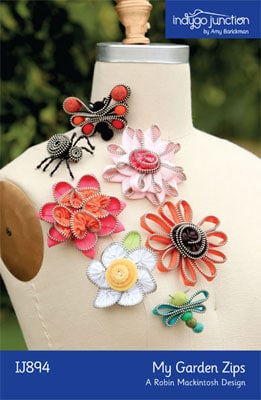 Finally, I'd like to share one of our newer patterns that's inspired by the popular trend of using zippers in accessories. My Garden Zips uses recycled zippers – or new Zipper Accents yardage – to create a garden of attractive flower brooches.
Video Demo
To get you started, I've posted a video on YouTube that shows you how to make a zipper rosette.
Special Offer
To help get you into the Spring flower mode, I'd like to present you with the following offers. First, for every Lazy Girl, I'd like you to have 20% off of my book, Vintage Notions. This offer is good through April 30, 2011 at our website only. When you check out, simply use the code LG20VN.
Giveaway
As well, I'd like to give one lucky Lazy Girl a copy of Vintage Notions book along with each of the three patterns mentioned in this post. To win, simply comment on this post by 9 pm US Eastern time this Thursday April 7, 2011. We'll randomly pick a winner from those who comment and announce the winner the following Monday.
Well, that's all for now. I'd like to thank Joan for this opportunity to guest blog as I've been such a fan of Lazy Girl for so long.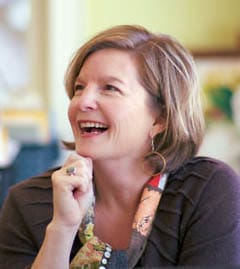 ~ Amy

Amy is launching a redesigned Indygo Junction website and blog this Spring.
Keep up with Amy:
www.indygojunction.com
www.amybarickman.com
Amy's blog:
https://amybarickman.com/blog/
Facebook:
http://www.facebook.com/amybarickmanstudio
http://www.facebook.com/indygojunction