Get Professional Results With a Simple Purse Pattern and Great Materials
Lazies, Deepika Prakash, the owner of the website Pattern Review, shares her beautiful Mod Bag with us today in the next entry for our 'Show Us Your Lazy!' project feature. The Mod Bag is one of the patterns in our new Bold Bags book through Leisure Arts.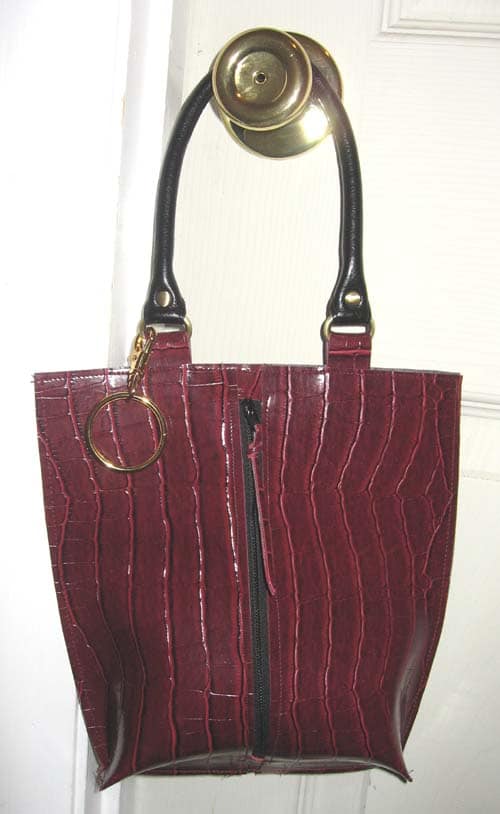 Here's Deepika:
I love this bag. I am definitely going to make it again for friends and family. It's such a cute gift. The moc croc sheets are perfect for busy sewers. I plan to buy more. This bag is also perfect for those who fear zippers. The installation of the zipper is very quick and yields professional results.
The instructions are fabulous! This book is perfect for a beginner! Most of the bags in this book are unlined and are very quick to make. Highly recommend it! I love that the pattern is so quick to make. And it looks adorable.
The faux leather sheets are amazing. They were great to sew on too. It's my kind of project. I love these sheets because there is no need to line the bag and they are really beefy so the bag has body without any interfacing.
  – Lazy Girl Deepika Prakash
Thanks Deepika! Your bag is fabulous. I love your color combination. 
For you Lazy Girls who have come to love our innovative methods for installing a zipper – I am excited to tell you we have come up with a new method that is used in two of the projects in this book.
You can keep up with Deepika and her 80,000+ sewing enthusiasts at her website. Read Deepika's project review in total here. 
Image courtesy of Deepika Prakash.
[tags]mock crock, purse pattern[/tags]