Share the Fun of Your Next Bag Project and Take a Class
Our Guest Blogger series continues today with Susan Congdon, the Bag Lady of Aiken Quilt Shoppe in Aiken, SC.
Are you the kind of Lazy Girl who makes your bag projects at home, by yourself? Have you thought of sharing your sewing time with other Lazies? Taking a class at your local quilt shop is a nice change of pace. Taking a class for a sewing project isn't just about getting help or guidance with your creation. You'll meet other Lazies, see the project made in a variety of fabrics, have a little 'me' time, and you never know what tip or trick you might pick up.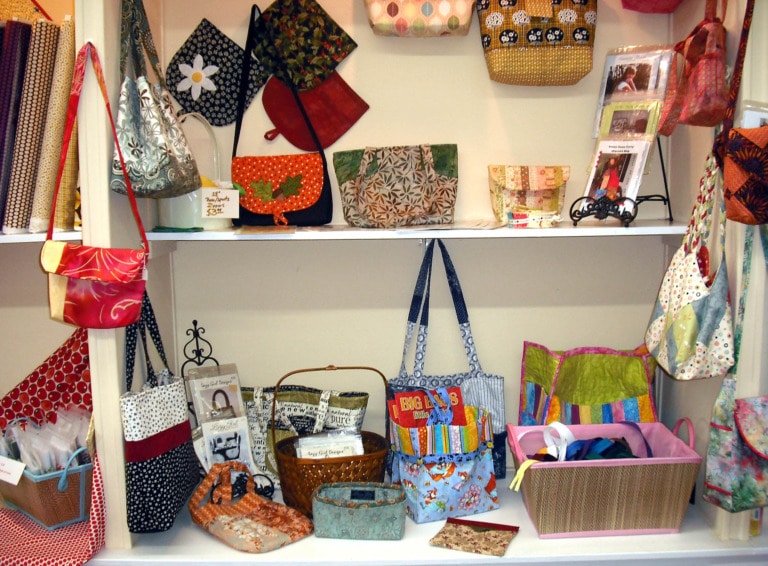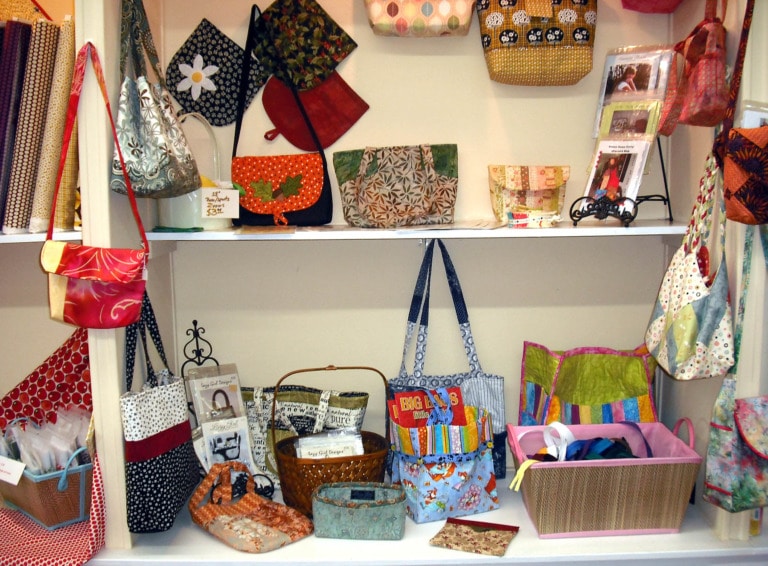 Aiken Quilt Shop 'Bag Lady' display. Click image to enlarge.
Thank you Joan for asking me to write a post on your blog. I have been sewing since I was a little girl and have always enjoyed sharing my projects with others. My greatest joy has always been in teaching, and after retiring from many years as a preschool teacher, I now teach sewing and quilting classes to both children and adults.
At my local quilt shop I am "The Bag Lady". I love making bags and made most of the sample bags hanging in the shop. In addition, I teach at least one bag class each month which have been some of our most popular classes.
So what is the appeal of making bags? First of all, it is almost instant gratification. At the end of the class most of the students have completely finished their bag. They like being able to walk out with a completed project.
Second, it is a great opportunity to showcase wonderful fabrics and try new color combinations without a big investment in time or money. In a class situation, students (and teachers) also delight in seeing the same pattern sewn up in various fabrics. It's always amazing to see how different a pattern can look based simply on fabric choices.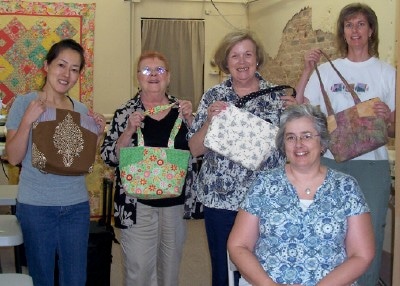 Lovely Lazies with their completed Margo Handbags, with Susan, front right.
Third, it's economical. Let's face it, cotton prices are only going up and making a quilt is becoming a big investment. A bag can be made with minimal yardage and cost much less than a designer bag that looks like everybody else's designer bag.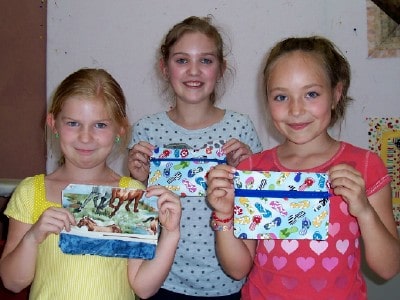 Bag classes are a great way to introduce young Lazies to bags.
What makes a successful class? From a teacher's standpoint, I like to provide an appealing sample as well as a clear and concise supply list. My classes are limited in size mainly due to the size of the shop's classroom. However, the smaller class size allows me to give individualized attention as needed.
I've been know to wield more than one seam ripper for students!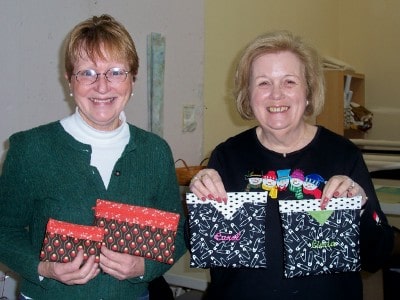 There's nothing like a completed project…or two!
But I've also been a student and know that the best classes are the ones that I have come to prepared. In many cases, prior preparation can be done so as to maximize sewing and instructional time in class. If the cutting instructions are straight forward, I prefer students cut their fabrics before class. Then I can begin the class showing them any new techniques and they can start sewing as soon as they are set up.
Be ready to learn new ways of doing something. I still remember way back in junior high home ec class, when I didn't listen to the teacher because I already knew how to apply facings to my dress.
Imagine my embarrassment when I discovered that I had very carefully sewn them to the outside instead of the inside! You may think you already know how to put in a zipper or make handles, but perhaps the teacher has a better or easier way. Be open to new ideas.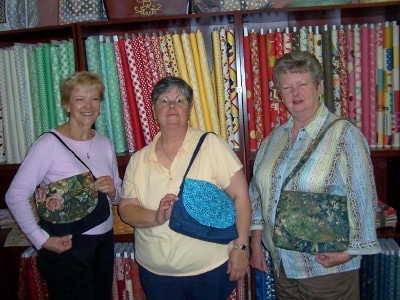 Show and tell after a bag class.
Finally, remember that this is supposed to be fun! There will always be the speedy student who finishes before everyone else, but it's not a race so don't feel bad that you're two steps behind them!
Take your time, enjoy the company of others and proudly show off your brand new bag when you're done!
– Susan
Find Susan at the Aiken Quilt Shoppe in Aiken, SC.
We've previously featured Susan and sister Regina on our blog in our Long Distance Lazies posts.