Combine Lazy Girl and Low-Sew For A Purse Pretty Enough To Eat (Out Of)
Lazies, Cheryl Weiderspahn of Homestead Specialties is back to share a special project with us. Today, Cheryl shows us how to use her technique of re-purposing table linens (as featured in her book 'Low-Sew Boutique') with my Chloe Handbag pattern (LGD120) to produce a low-sew Lazy bag.
Cheryl started with this simple table setting: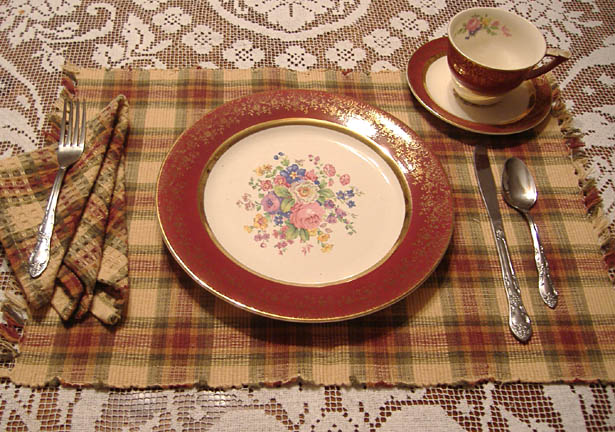 And made this beautiful low-sew Chloe Handbag: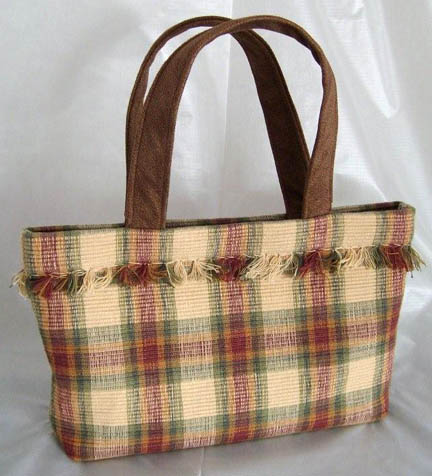 Here's Cheryl to tell us about this project:
I have found a kindred spirit in Joan. We joke about being sisters separated at birth. But honestly, as two professionals in the same industry, we have found much common ground. After all, by industry standards in other fields, we should be competing with each other, not joining hands.
It is in this spirit that I introduce you to a Chloe Handbag (Lazy Girl's Chloe shown here in green) made from a place mat and dishcloth as in my 'Low Sew Boutique Book'.
The perfect compliment, just like coffee and chocolate! I chose Chloe because a placemat was within an inch of the size of the outside of the bag.
I adapted the top edge to fold over to make a fringed cuff (the fringed edge of the placemat). The matching dishcloth was used as the fabric for the pockets inside.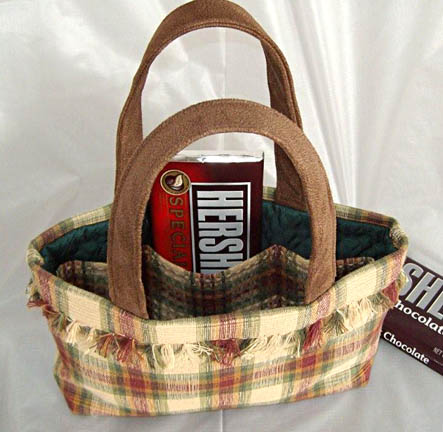 Dishcloth pockets are perfect for keeping your chocolate handy.
The handles are Ultra Suede. And I personally think she is the perfect size. If I go shop for a purse (which is rare) this is the size I look for.
I hope you've had some Lazy fun, perhaps expanded your repertoire and will think 'Low-Sew' the next time you want to sew a purse! Consider taking my Low-Sew Boutique Challenge and put this technique to work. May you find purse potential everywhere you look!
– Cheryl Weiderspahn, www.HomesteadSpecialties.com
Thanks Cheryl! I think Cheryl's low-sew approach is so smart and is a good technique to try with your favorite purse sewing patterns or tote bag patterns and think outside the bag!
Enjoy!
Joan
[tags]placemat purse, Cheryl Weiderspahn, Lazy Girl Designs[/tags]