Sweet Keepers DIY Valentine Gift Free Sewing Tutorial
Lazies, What could be sweeter than sweets-filled soft DIY Valentine gifts? These little heart pockets are quick, tasty and full of love. Perfect for gifting.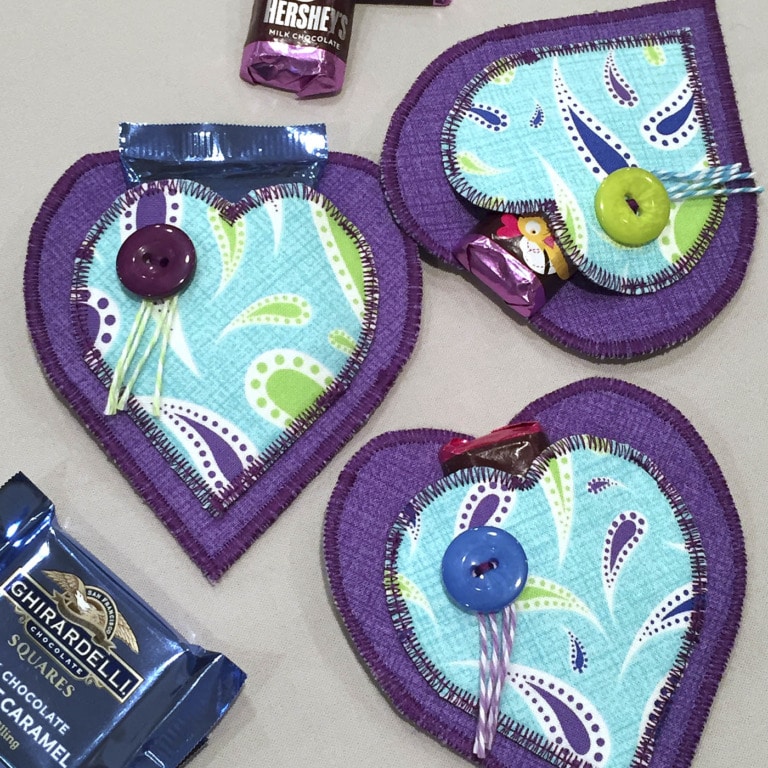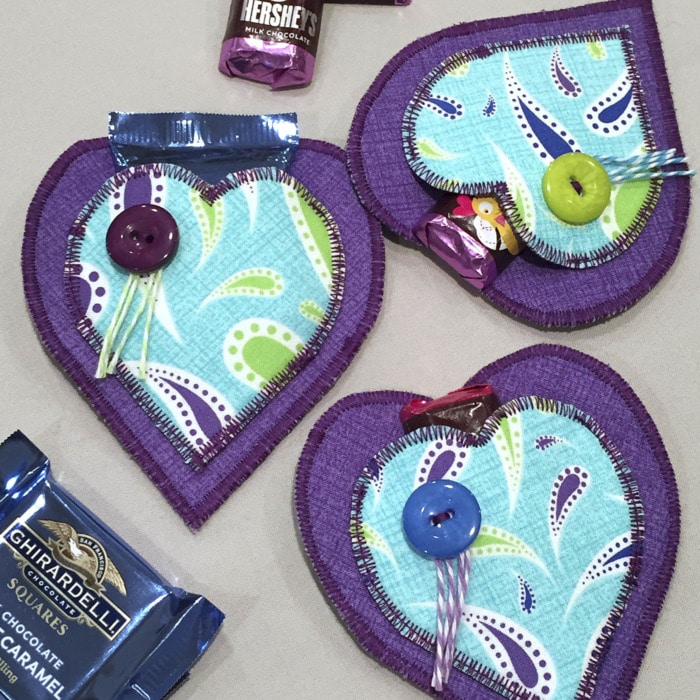 Note: This post contains affiliate links. I may earn a commission if you order through those links with no additional cost to you.
Supplies: Makes three Sweet Keepers DIY Valentines
I used pre-cut 10″ squares of fabric, or cut fabric from your fabric stash.
– Two 10″ squares of coordinating fabric, 'Rainy Day' by Me and My Sister for Moda Fabrics
– 5/8″ Buttons, 'Green Glow' JABC8 Button-Up Snack Pack from Just Another Button company
– Baker's Twine 10″ length for each heart (yarn or floss work, too!)
– Frixion Erasable Markers or other marking tools
– Coordinating thread, shown is Aurifil 40wt color #2545
– Sweet Keeper pattern with Templates, download the Sweet Keepers pattern (valued at $9.95) for free at the bottom of this page.
Be sure to see our follow-up post with more Sweet Keeper tips here.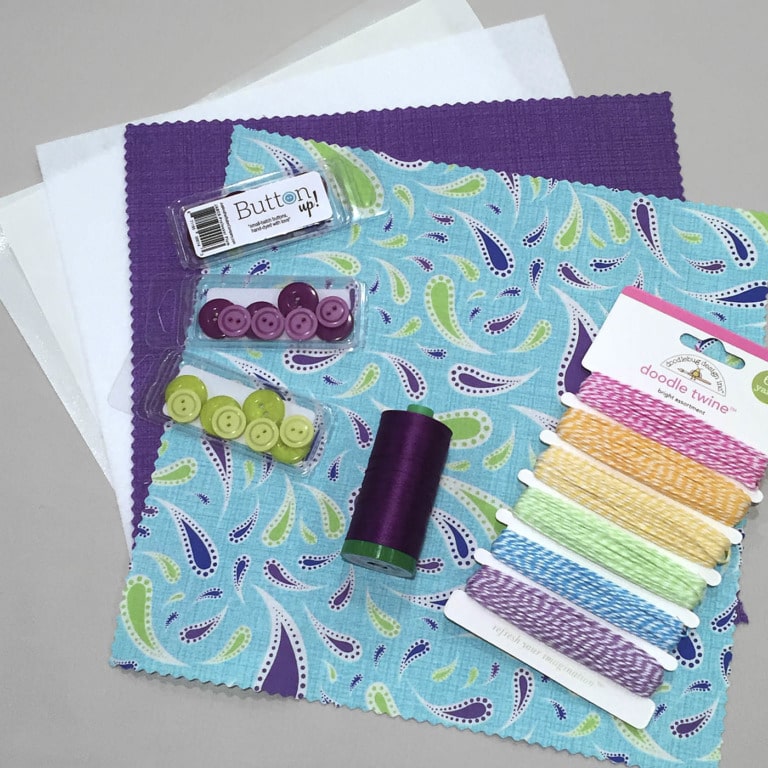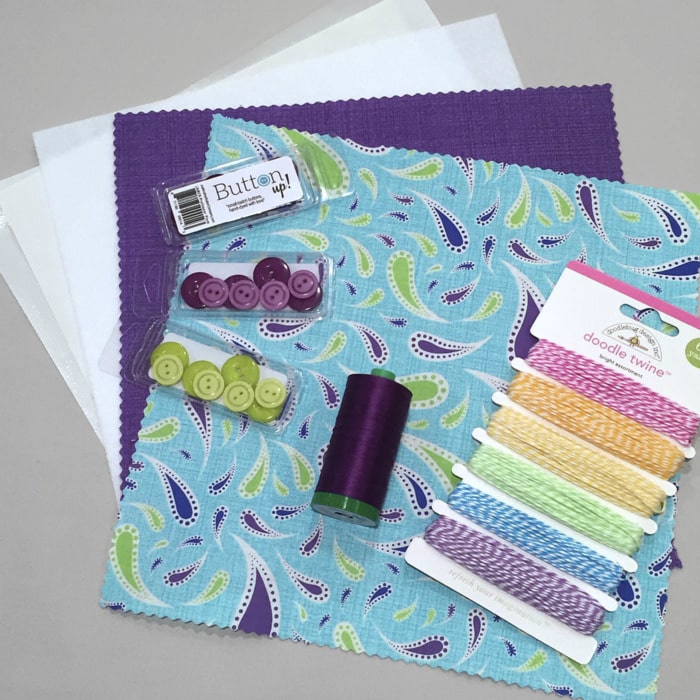 Interfacing Inside the Hearts
– Stiff Stuff 10″ squares, item SLG107SQ, four 10″ squares
– Fuse-Bond Lite lightweight iron-on adhesive web SLG1011, 17″ x 1.25yds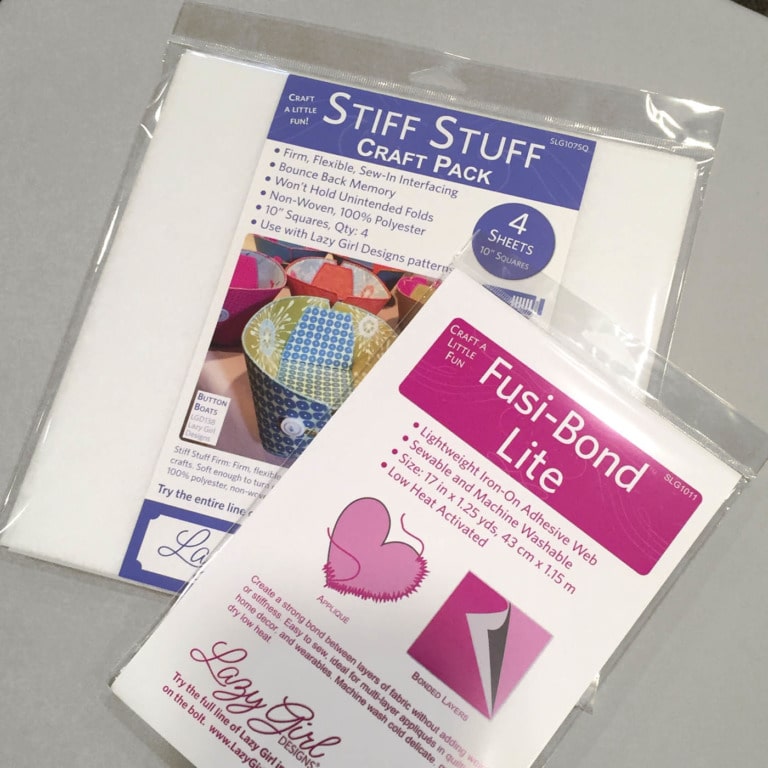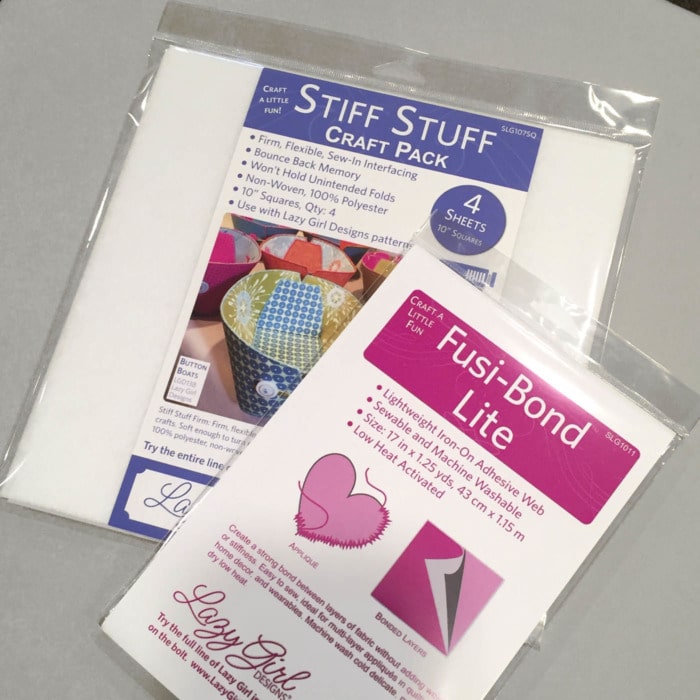 Tutorial: Let's Get Started!
1. Print the pattern with templates (link at end of this post).
Optional – laminate your templates using my Slicker tutorial.
2. Cut and press Fusi-Bond Lite to the back of each fabric square.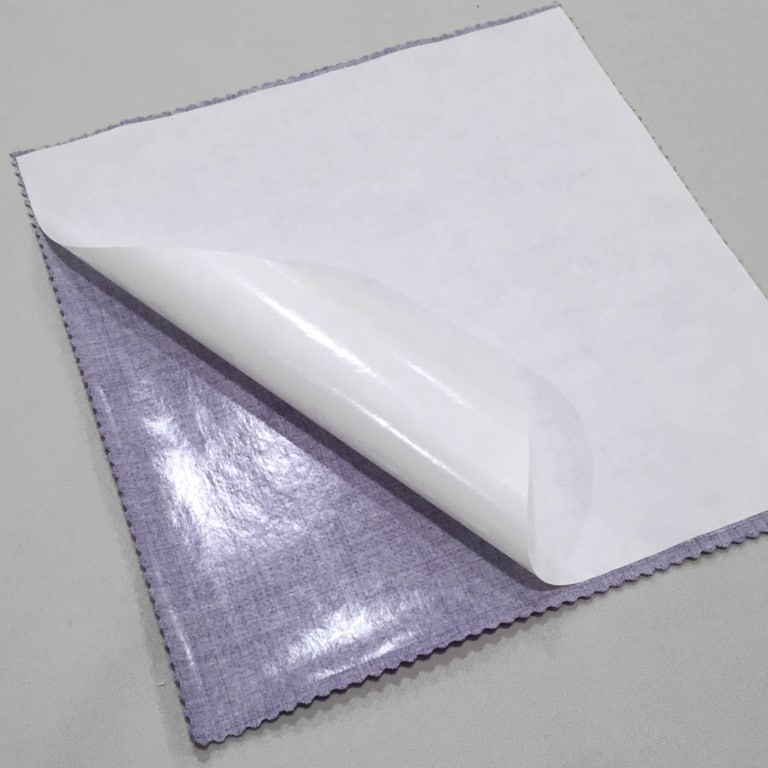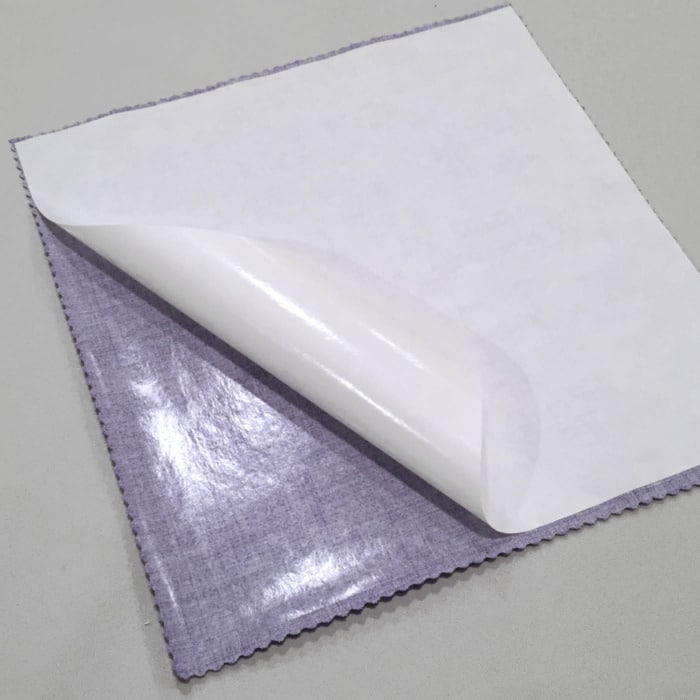 3. Peel paper backing then fuse fabrics to both sides of one Stiff Stuff square to make a beautiful 'sandwich'. Yum!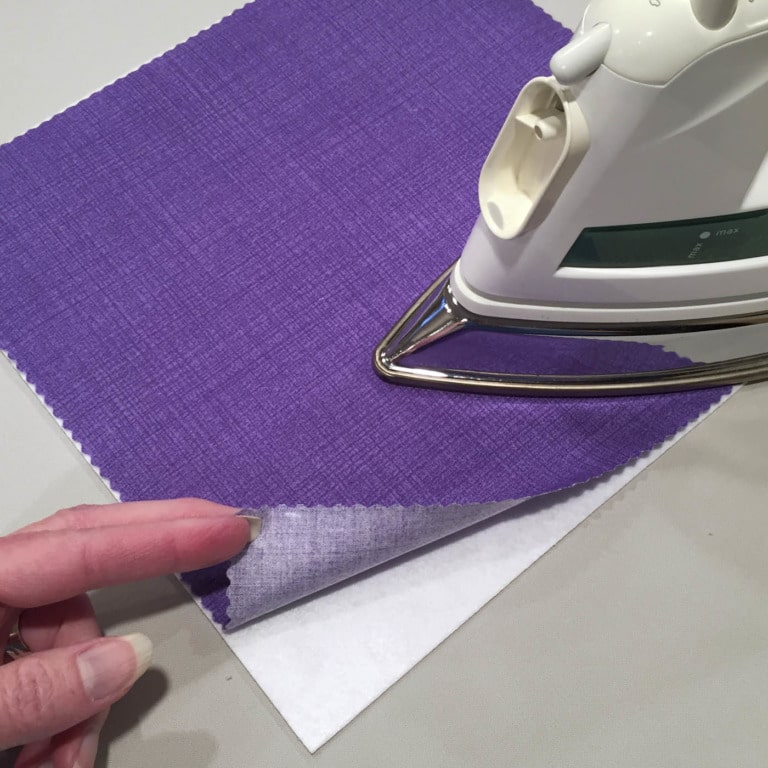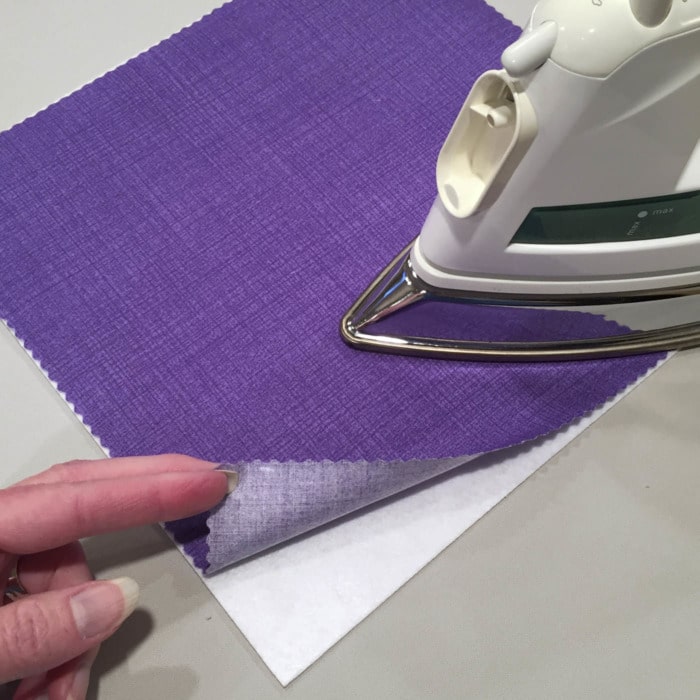 4. Trace and cut three each of the Large and Medium Hearts.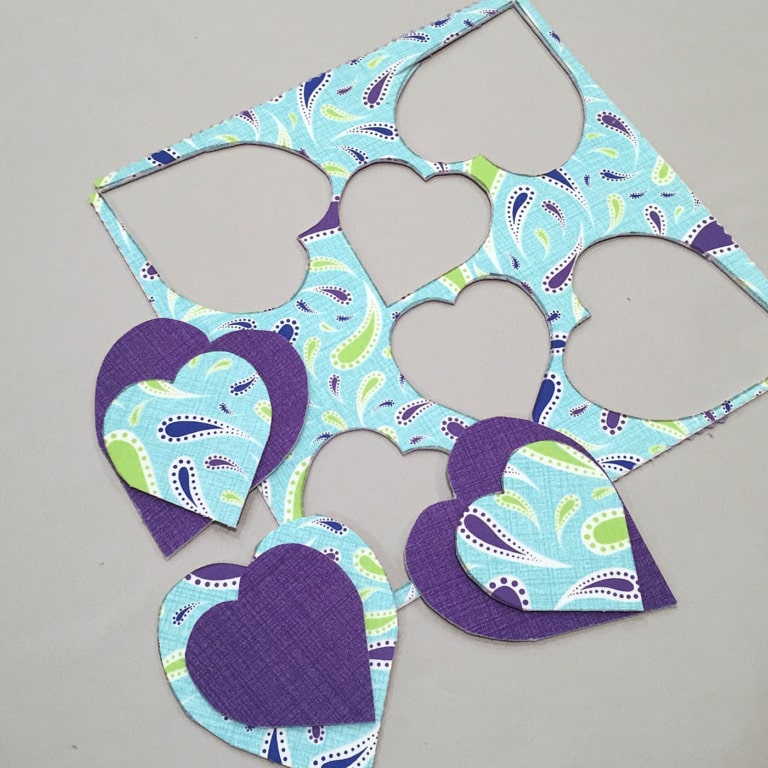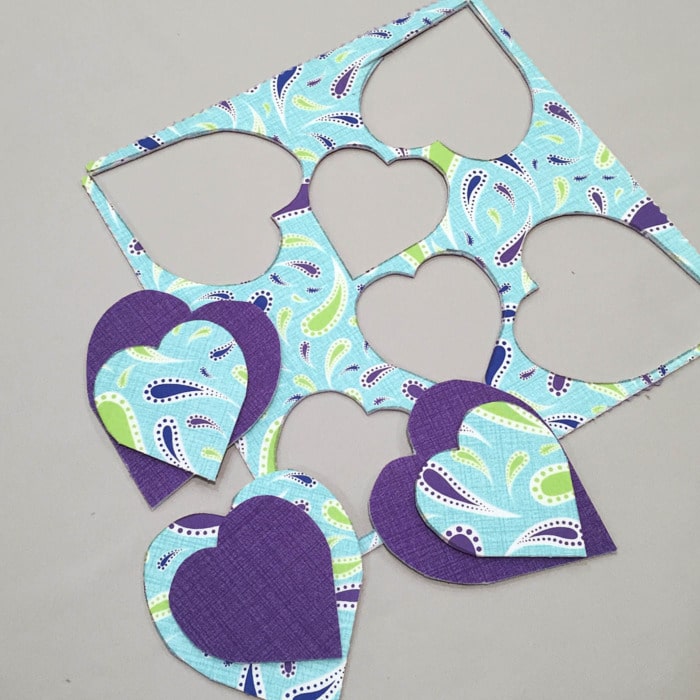 5. Zigzag around all edges of each heart in a coordinating thread. My BERNINA 740 is zooming along the edge beautifully!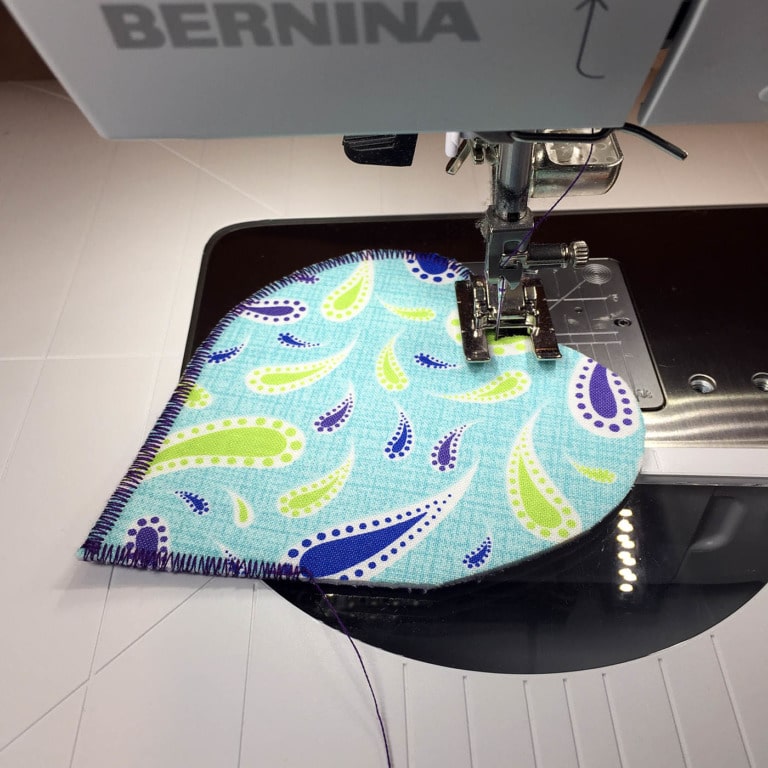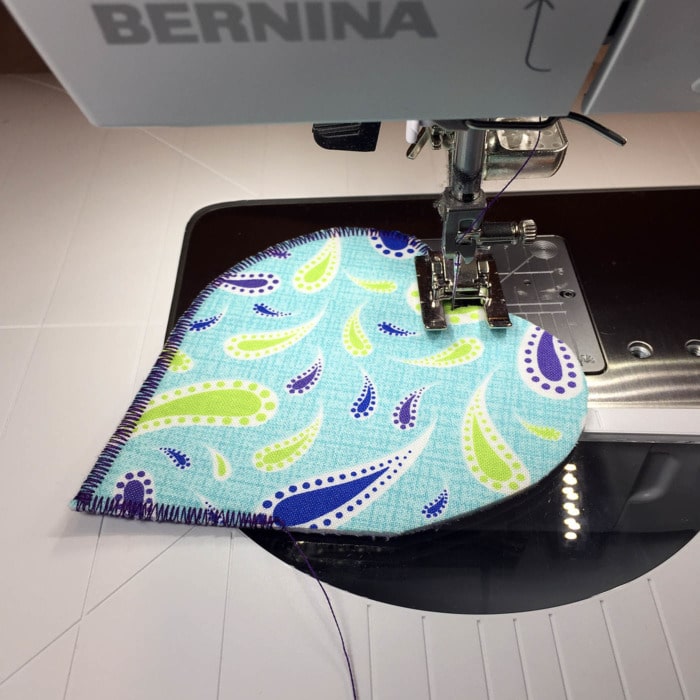 6. Stitch button to each Medium Heart. Make sure to keep button 1/2″ from the edges. Purple thread on a green heart – be still my heart (yes, I went there). This is BERNINA foot 20D.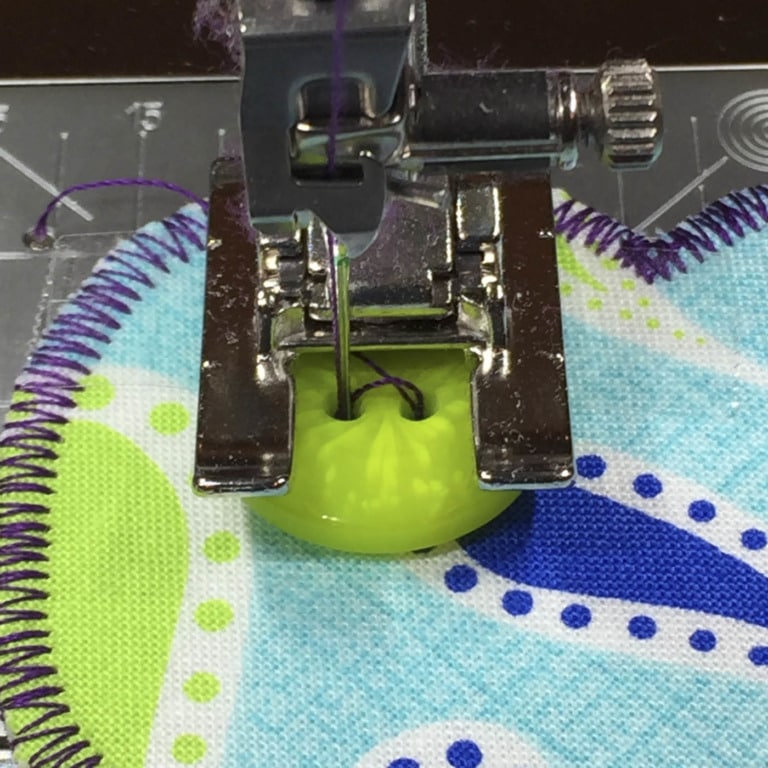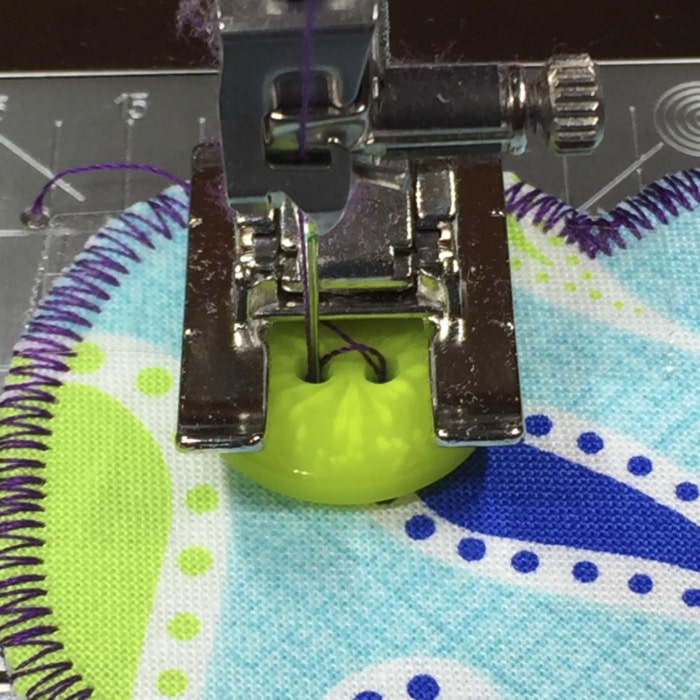 7. Stack Medium Heart on top of Large Heart.
Hold with sewing clips.
Place pins to mark where to start/stop stitching (see Medium Heart template).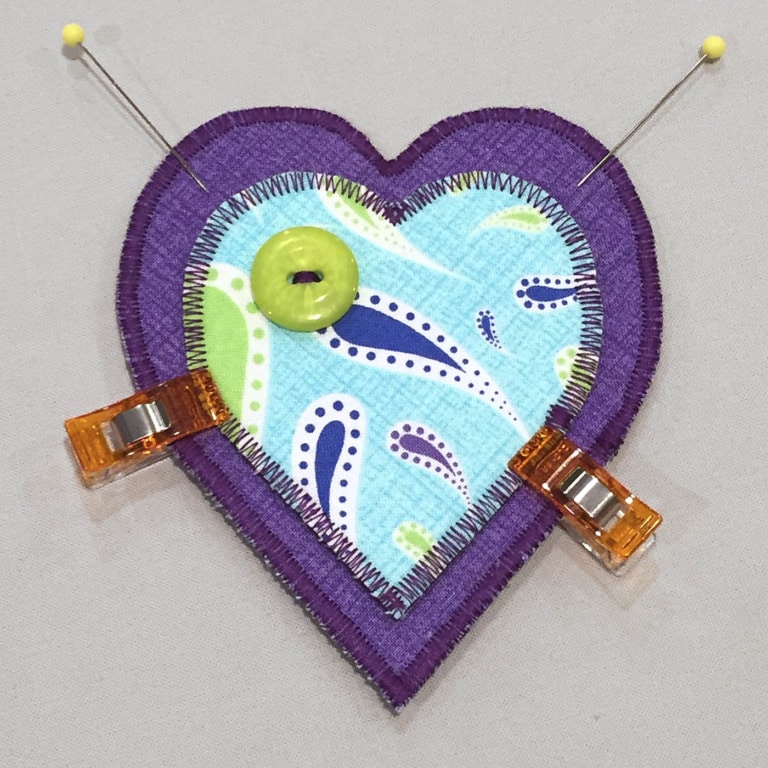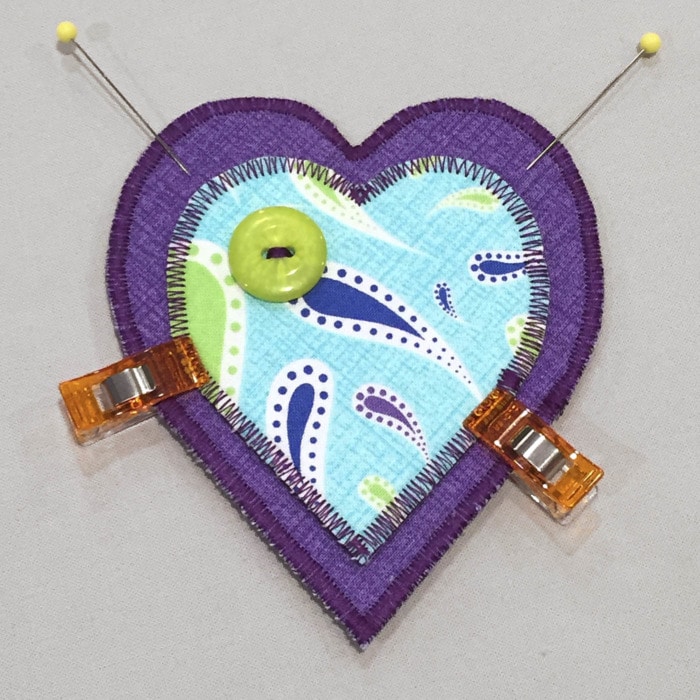 8. Straight stitch on the Medium Heart, on top of the zigzag, through all layers from pin to pin.
If your presser foot doesn't have room next to the button, move your needle position to the left or switch to a narrower foot to accommodate.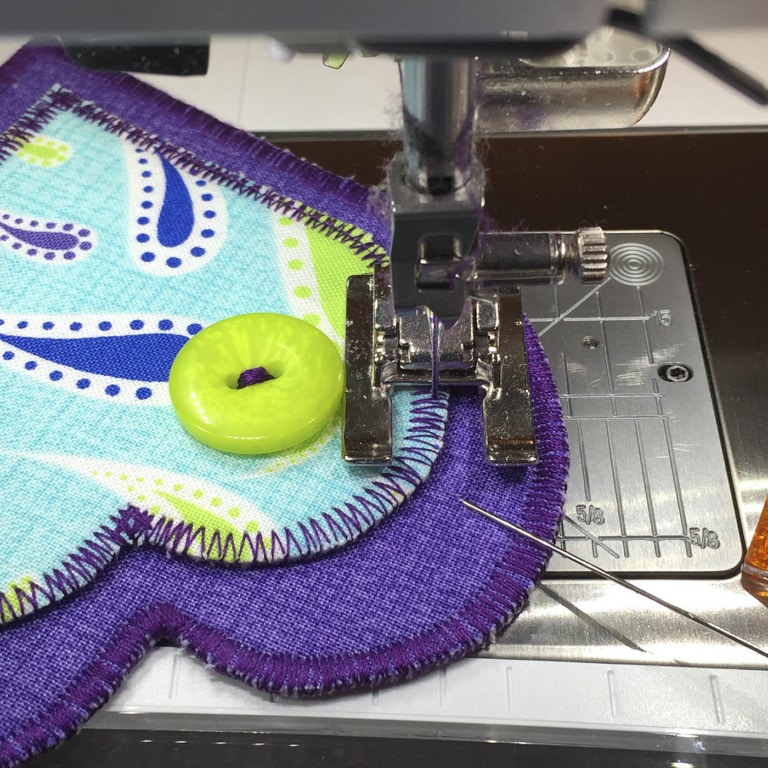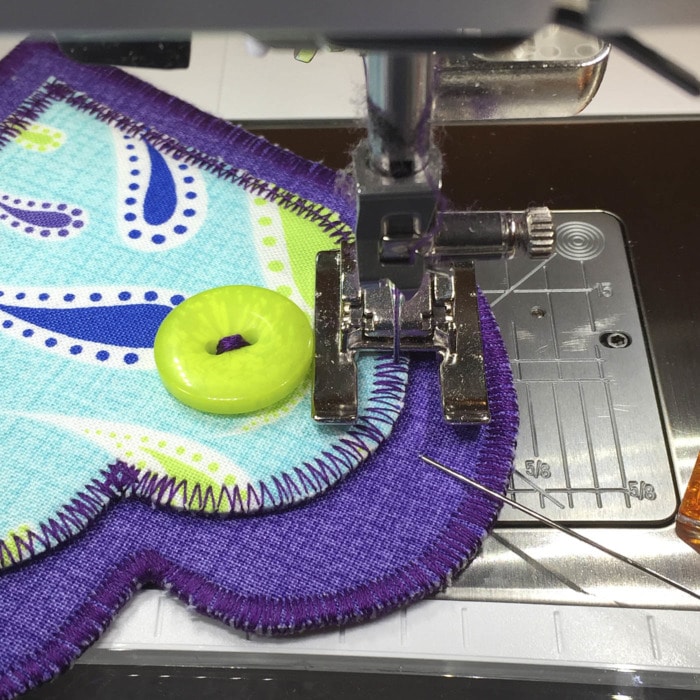 9. Fold 10″ length of baker's twine in half and place behind the button (see green twine), tie in a knot (purple twine), trim ends (blue twine).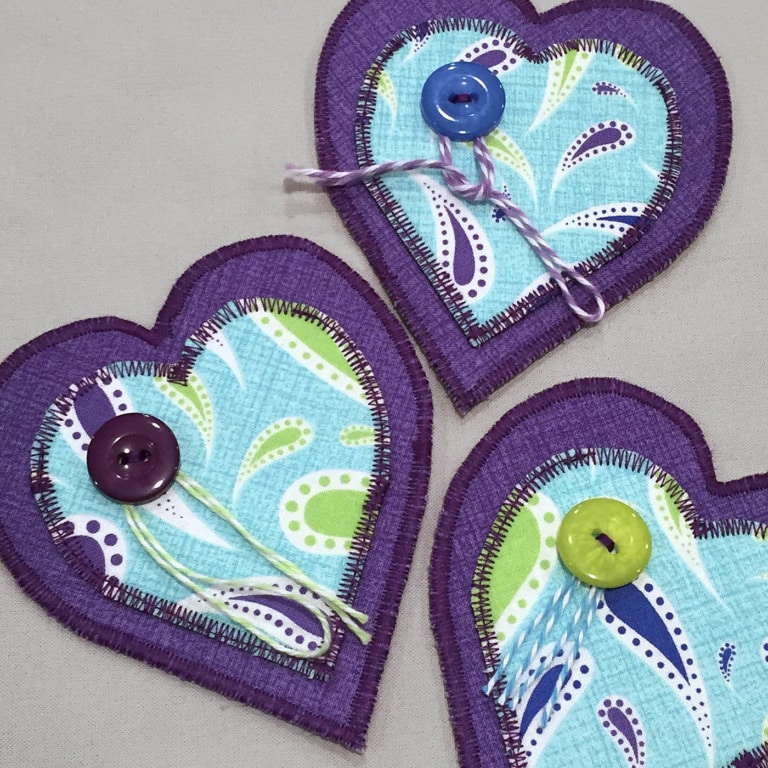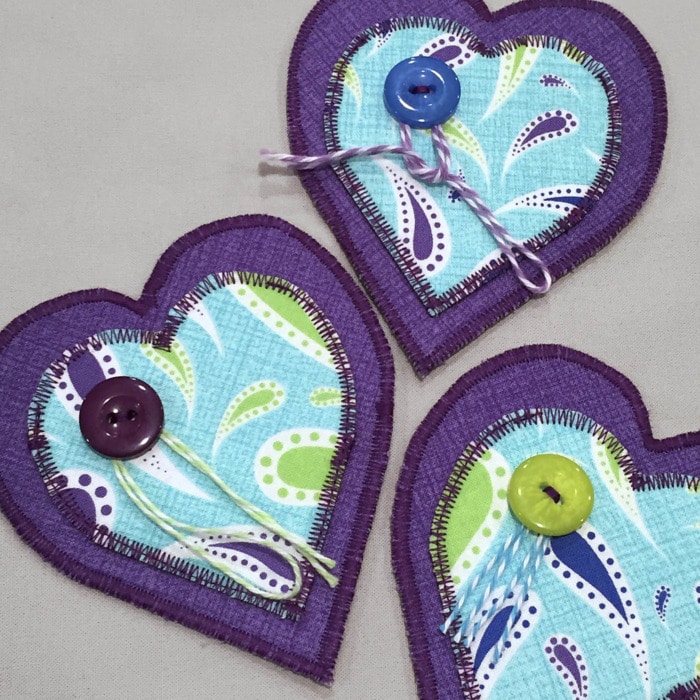 Done! Fill each heart with candy or a love note. Perfect for Hershey's miniatures or Ghirardelli chocolate squares.
More Fun With Similar Projects
If you like this project, try our Button Boats, Hang On, and other Stiff Stuff craft patterns.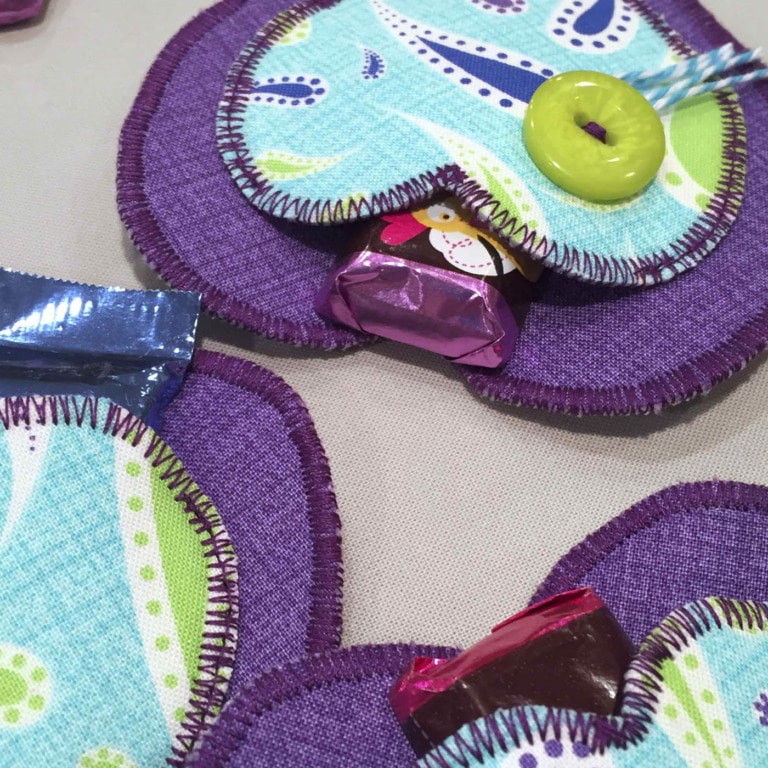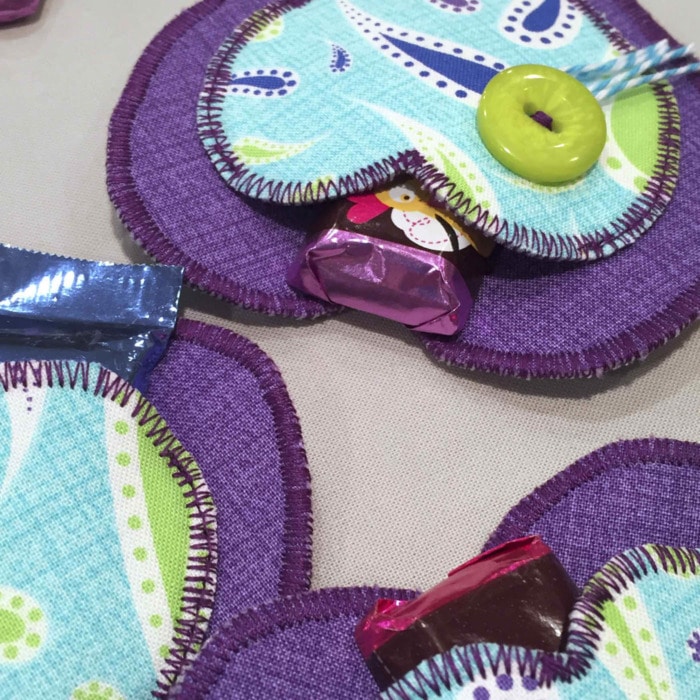 Make a few or a slew, then fill with treasures and gift to friends!
For more projects follow our Stiff Stuff board at Pinterest.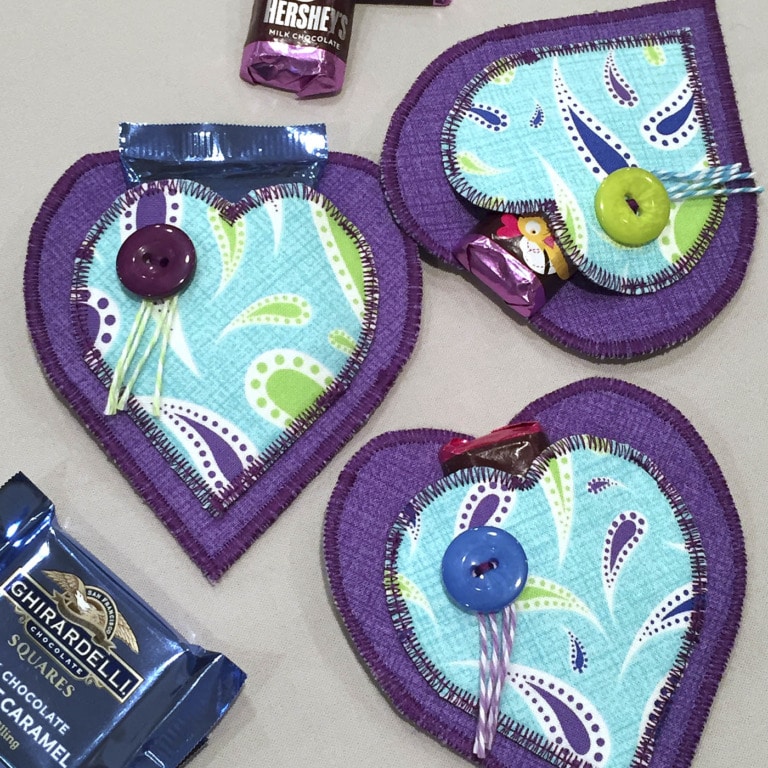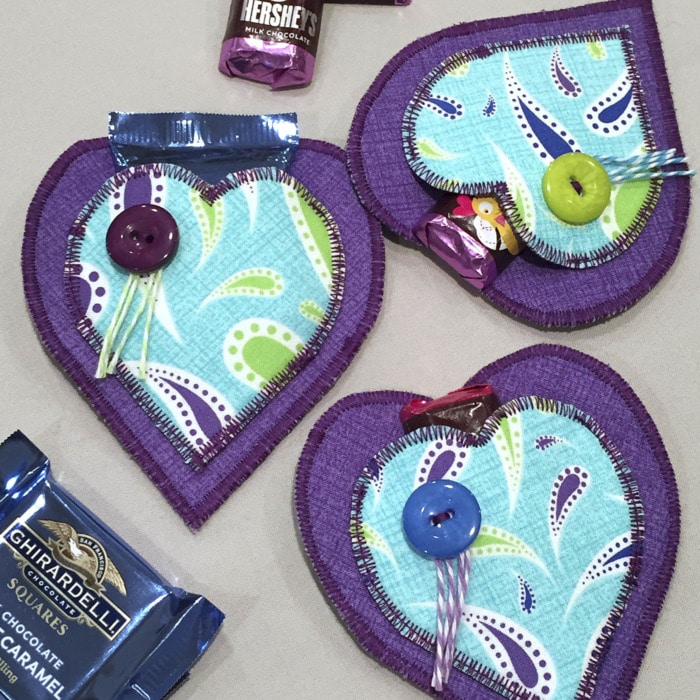 Claim your FREE printable pattern (valued at $9.95) below!
Update: Limited quantity of kits available here.
To mail your sweet valentine, place an index card or other sturdy paper on top (covering the button) inside the mailing envelope. If sending chocolate, consider putting the Sweet Keeper in a plastic zip bag first. Be sure to use the correct postage for an item of this thickness.
More Tips
Be sure to see our follow-up post with more Sweet Keeper tips here.
That's Pinterest-ing!
Join me on Pinterest here, remember to 'Follow' me there, and pin this post and pics to your Pinterest boards.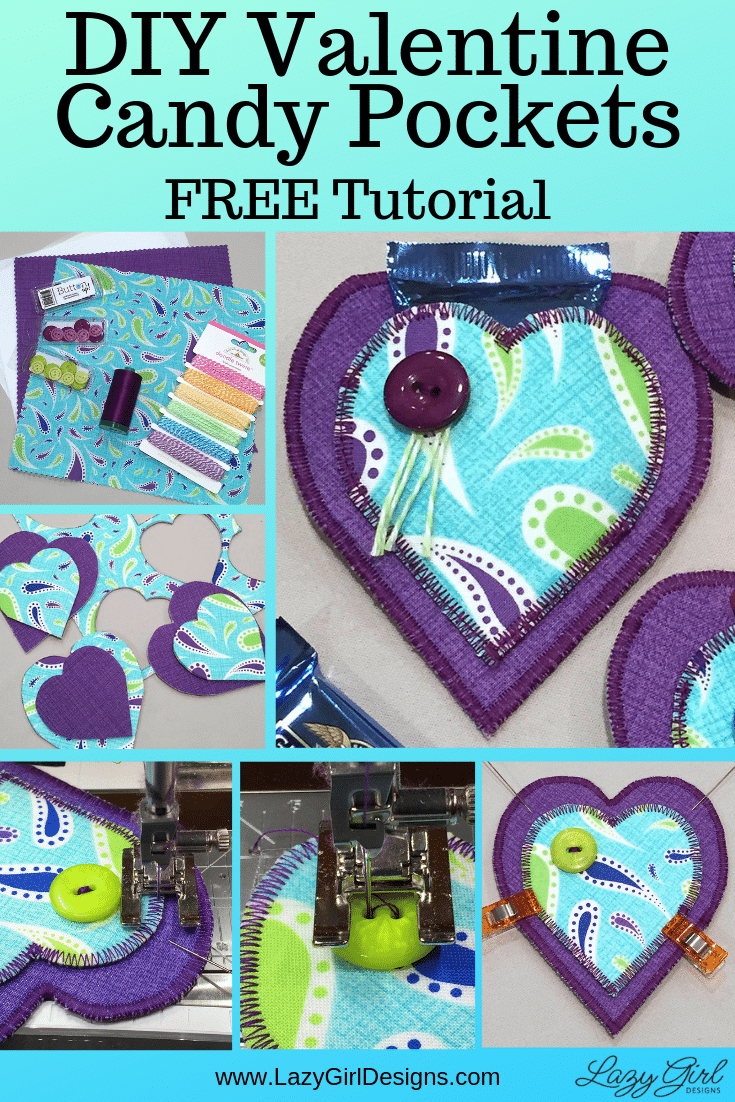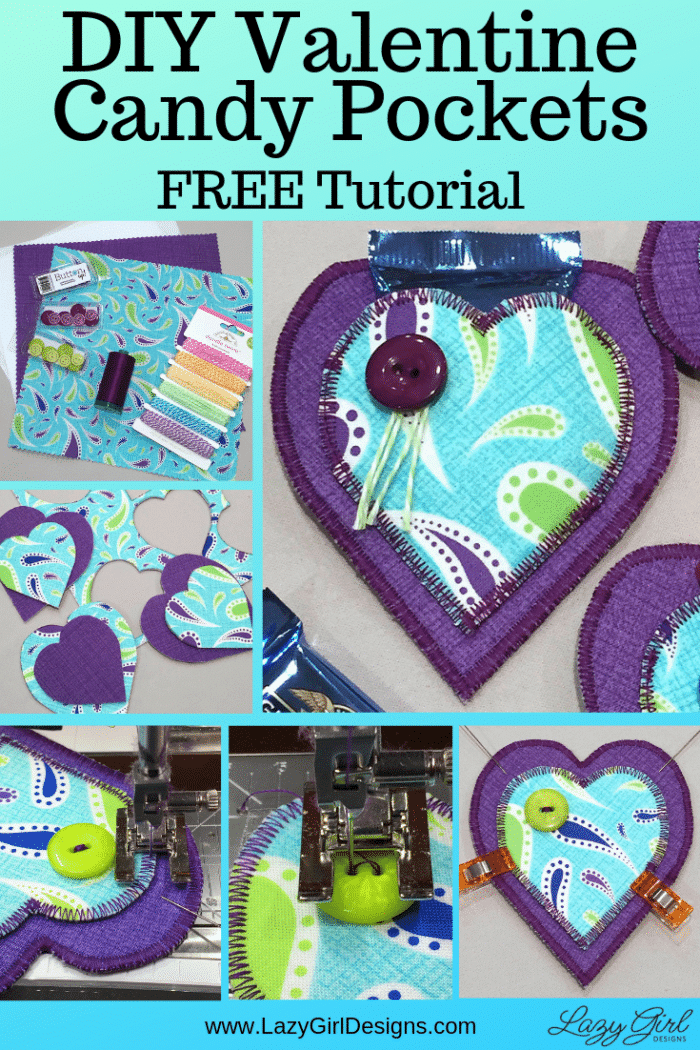 Like and share this post with your stitchy friends. Join the Lazy Girl community on Facebook here: Facebook Lazy Girl
Happy Valentine's Day!
Enjoy!
Joan
Download Your Free Pattern
Enter your email address below to instantly download this free pattern (valued at $9.95) now!