Cheat Your Way to a Mock Felted Handbag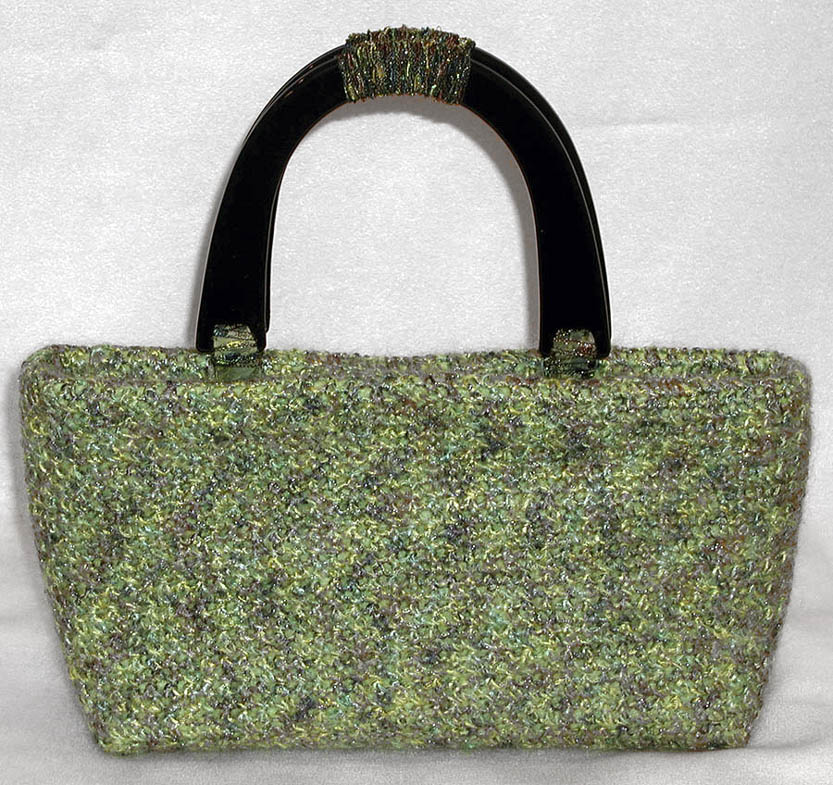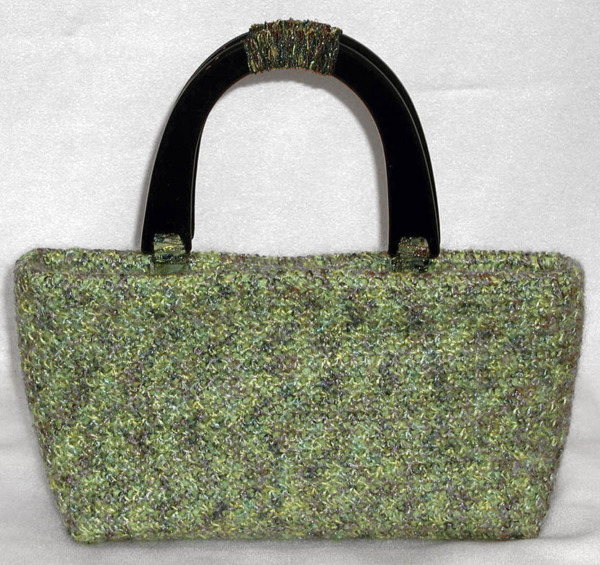 Mock felted Chloe Handbag, Lazy Girl Designs #LGD120
Lazies, One of my all-time favorite creations is this gorgeous mock-felted Chloe Handbag. Not only do I love the limey greens and earthy undertones of this delicately furry yarn, but the whole thing is also a big fat cheat. And I love a good cheat that bypasses convention. And today, I'm going to tell you how I did it. Be sure to download the FREE printable tutorial (a $9.95 value) later in this post.
Here we are at the end of what I think of as 'yarn' season. For me, crochet is a cold-weather craft because a project usually rests on me as I crochet, creating warmth that's better suited for winter than summer.
At the end of yarn season, I have leftovers, scraps, extras that were purchased as just-in-case or overages. What to do with all this yarny goodness? Mix crafts with small projects and build your embellishment stash.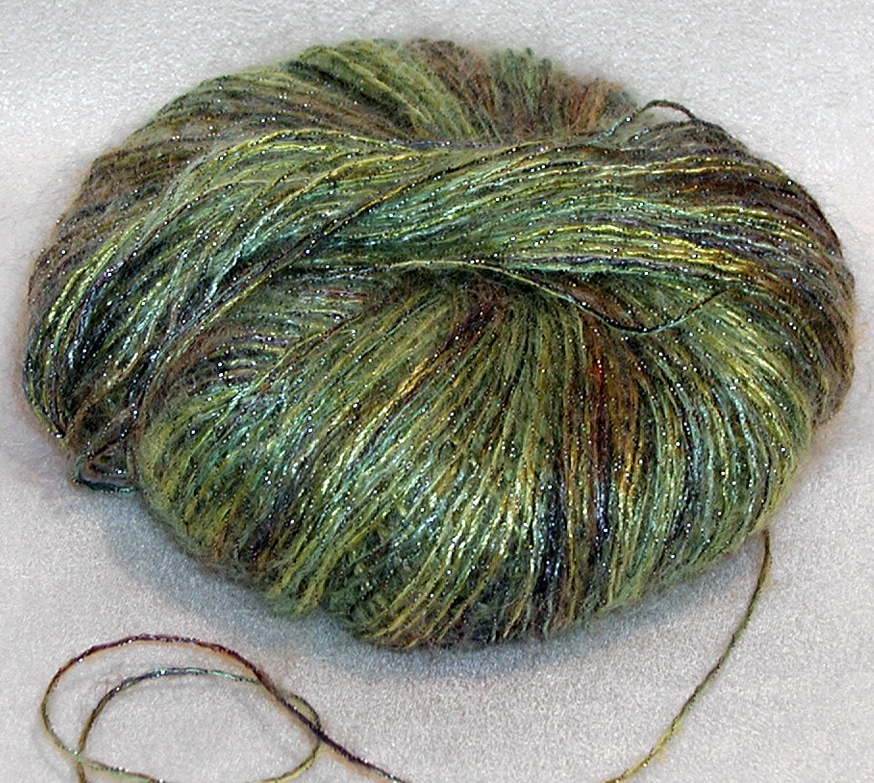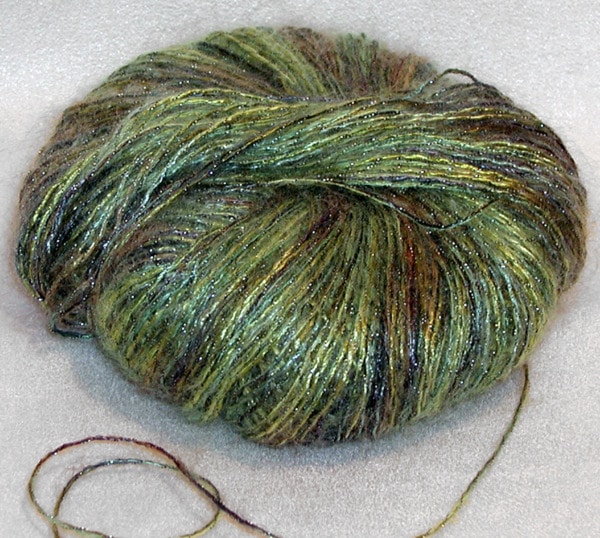 Yummy mohair yarn begging to become something.
I love the look of felted bags but, honestly, the whole 'make it big then shrink it' concept leaves me feeling like there is some magic formula or expertise I must have in order to do it right. I'm sure it's easy, but it intimidates me. So, here is my quick and easy Lazy Girl way to make a yarn covered bag without knowing anything about felting.
How To Make a Mock Felted Handbag
To make a Lazy 'felted' bag, follow these simple steps to combine crocheting or knitting along with sewing to make what appears to be a purse constructed of yarn.
1) Find a fabric bag style or design you want to make. Simple is better in order to showcase the yarn. This sample uses our Chloe Handbag pattern. The cover is one rectangular piece that wraps from the front of the bag, across the bottom and back up the other side.
Buy our Chloe Handbag pattern here.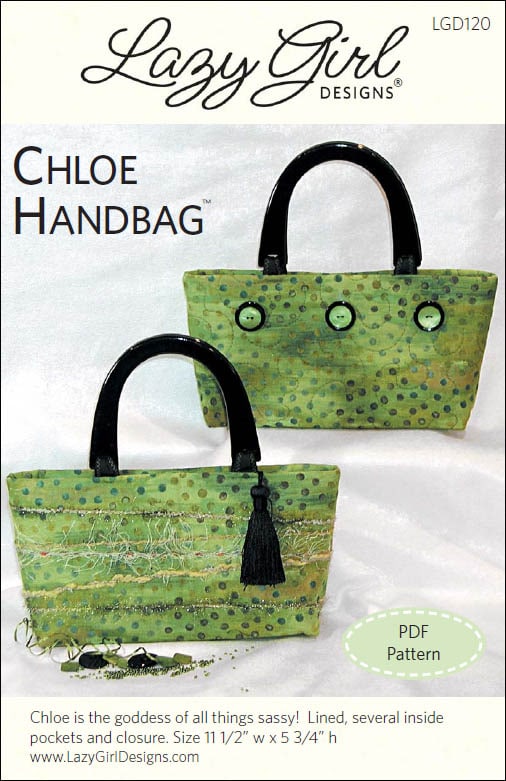 Lazy Girl Designs Chloe Handbag #LGD120
2) Get some yummy yarn. Look at those colors! And the specks of gold, oh my! Thin or lightweight yarn is ideal for this technique.
3) Crochet or knit the yarn into a rectangle a bit bigger than the cover of the purse. It doesn't have to be accurate along the edges so don't worry if you drop or add stitches.
4) Use a piece of our Fusi-Bond Lite fusible web to fuse the yarn rectangle to the cover fabric. Then cut the pattern piece from the yarn/fabric creation and treat it as one piece of material and assemble the bag from there. You may want to stay stitch along the edges where the yarn is cut to secure the loose fibers while completing the project.
5) Easily add details with a second yarn that coordinates with your first yummy yarn. Here we've wrapped the handle tabs and the center top of the handles (handles by Clover, item #6324) for a bit of flair and interest.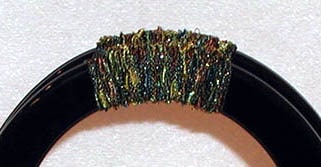 Use a second yard to create unique handle detail.
Use Coordinating Fabric Under the Yarn
I used a 'Fossil Fern' fabric from Benartex in green that closely matched the yarn. Since it's a light-colored fabric, the 'film' of the fusible goes undetected and merely lightens the green a bit. This would look quite different on a black piece of fabric.
This is a technique that could be used for so many things. In this bag sample, the yarn was made stable and sturdy by building up behind it with the fusible and fabric. There is no need for you to crochet perfectly, the edges of the rectangle will be sewn into the seam allowances, or cut off. As long as the rows look straight from side to side when fusing, it looks good. And that's what we're going for here.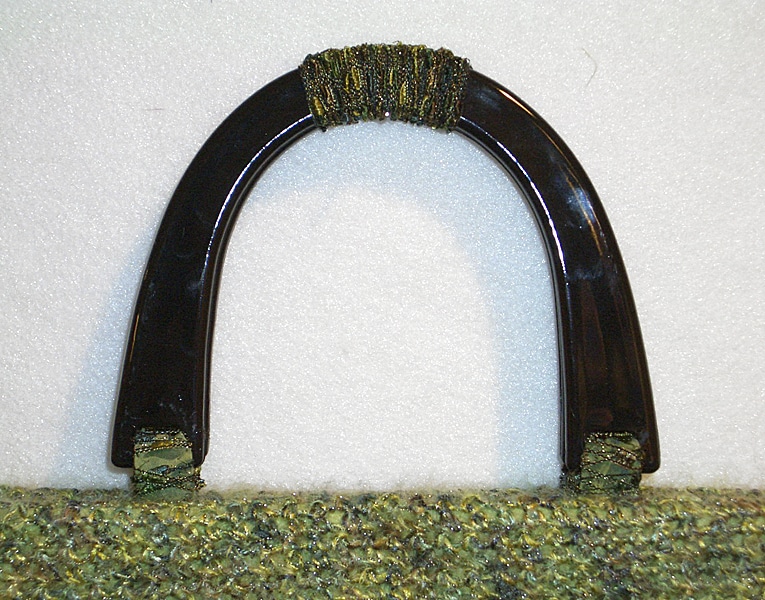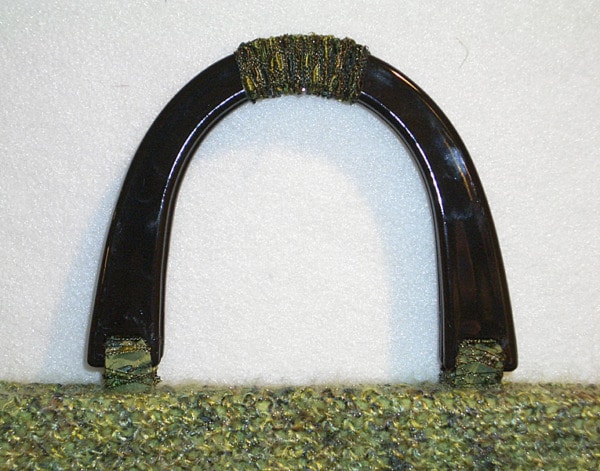 A little yarn goes a long way, wrapped around these fabric handle tabs.
Our goal is the illusion of perfection in the absence of actual perfection. Perfection is highly overrated and too darned hard to achieve in my Lazy Girl world.
Build an Embellishment Stash
Finally, every time I buy yarn, I cut off a yard or two to build a stash of beautiful fibers. I like the same color families and design elements in yarn, fabric, buttons, etc. I tend to buy things that go together. Start building your stash so you'll always have that perfect bling on hand for every project.
Claim the FREE printable tutorial (a $9.95 value) below!
Enjoy!
Joan
Download this Freebie
Enter your email address below to instantly download this freebie now!