Video Tutorial: The Easy Way to Sew a Button On by Machine
Lazies, Sew, with the arrival of our four new Stiff Stuff Crafts patterns, let me share my tips to sew a button on by machine. I can already tell you that this is not in the category of 'best practices'. This is what works for me. Read on, watch the video tutorial, then enter the giveaway for some Button Boats goodness of your own.
In case you missed it, this is my new Button Boats design, LGD138. She is dressed in yummy Patrick Lose Fabrics from his Land & Sea Building Blocks, or 10″ squares.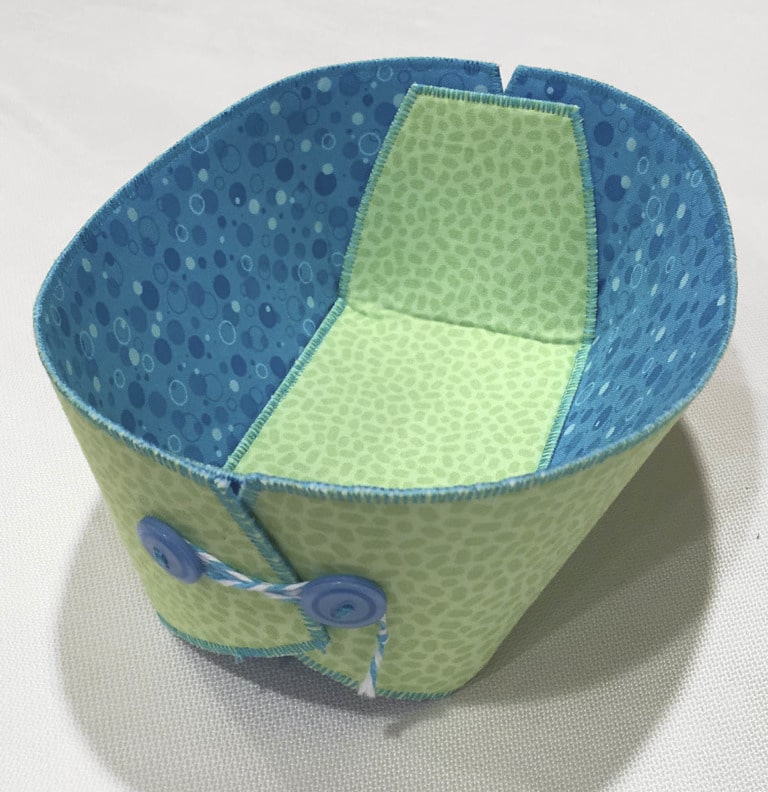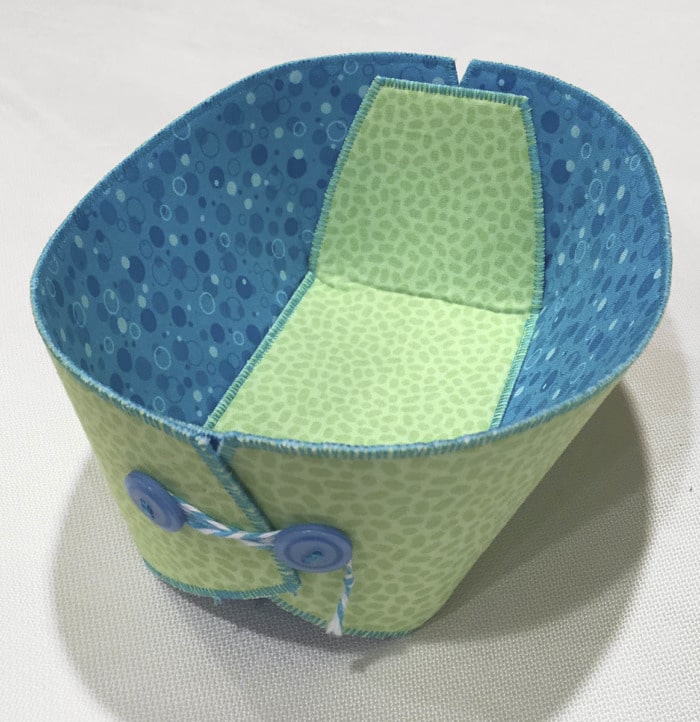 Button Boats LGD138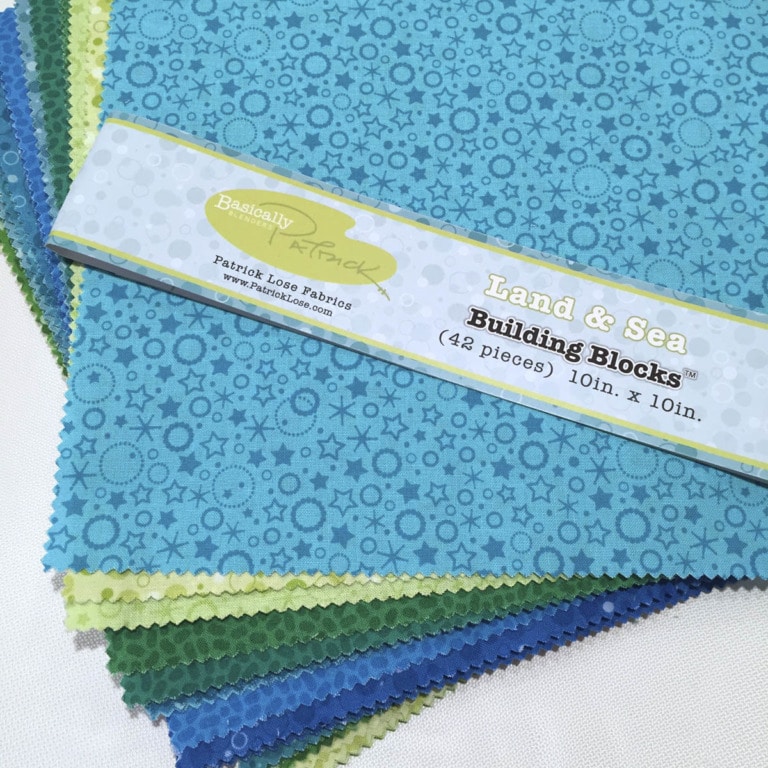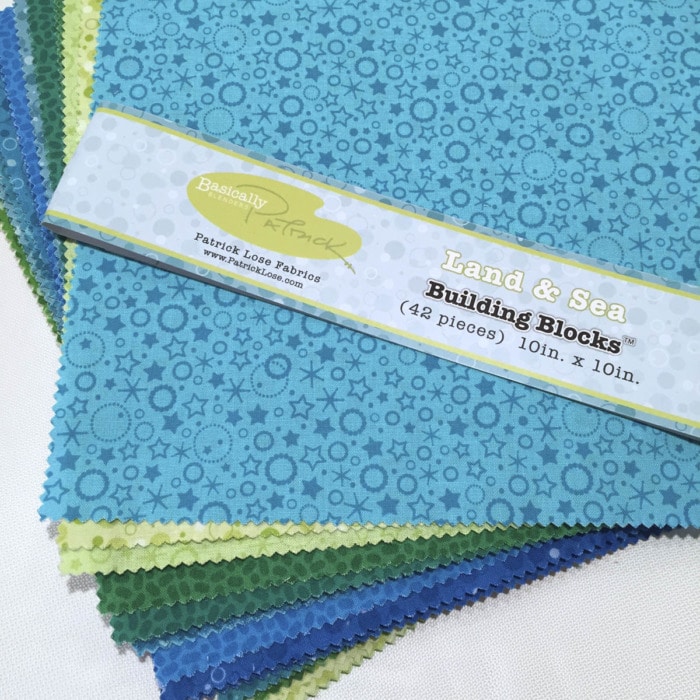 Gorgeous 'Land & Sea' Building Blocks by Patrick Lose Fabrics
How to Audition Buttons and Fabric
Here's how I audition fabrics and buttons for the Button Boats. Fold one square into thirds and center it on top of the other square. This helps me visualize the fabric proportions. I also put the buttons in there to see how they look as well.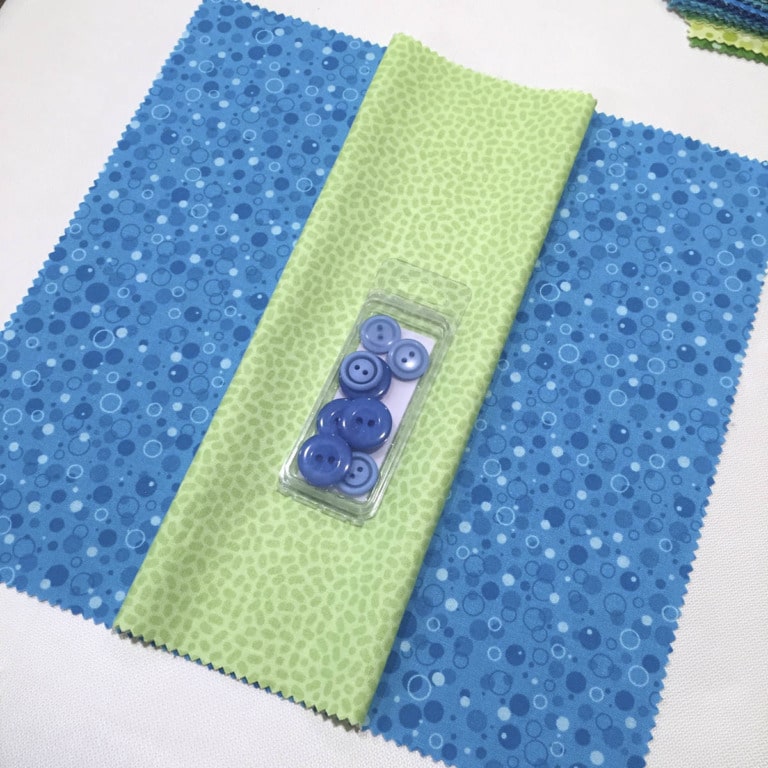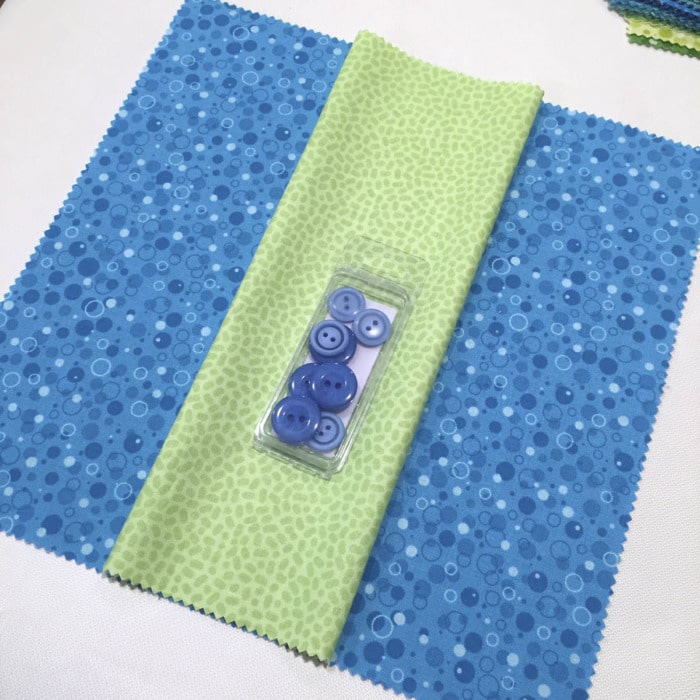 Fold one fabric in thirds, stack, drool.
New Button Product Line Now Available
Here is the new line of Button Up! Snack Packs from Just Another Button Company JABC. They have 20 amazing colors (with more on the way!) in packs eight buttons in two styles, in two sizes (four 5/8″ and four 3/4″). Look for them at your local quilt shop.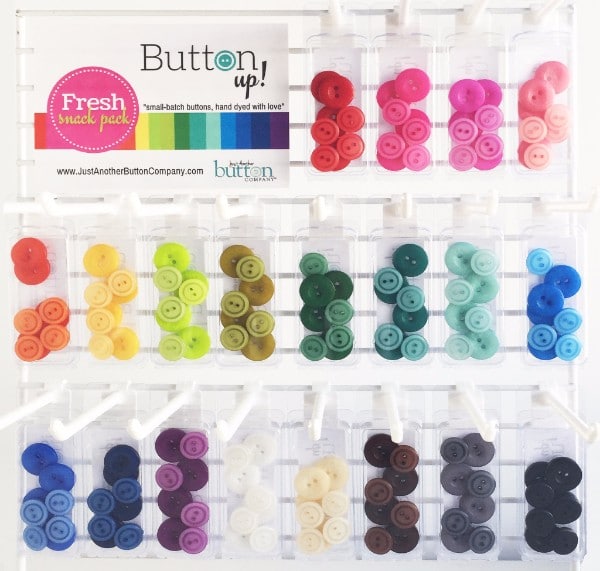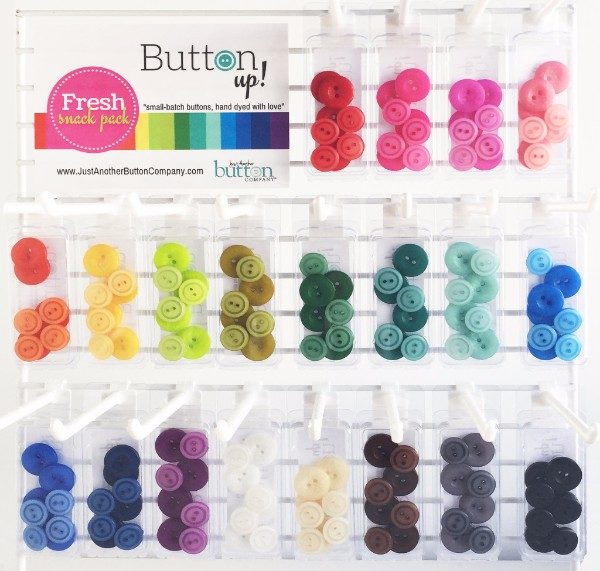 Look at these amazing colors!
The Button Up! line also includes all of the yummy colors in Smoothie packs (JABC25+color) of 25 rounds in matte finish, and Party Packs (JABC55+color) of 55+ assorted sizes, shapes and finishes.
How To Choose a Button Color

Jumping ahead, here I have my supplies cut and stitched to make our Button Boat. If you have lots of button options, lay them all out and see who looks best. You'll need four buttons per boat.
My first choice is second from the top end, Blue Skies JABC812. Notice there are two pretty sides to each button. They can be attached with the shiny or matte side showing.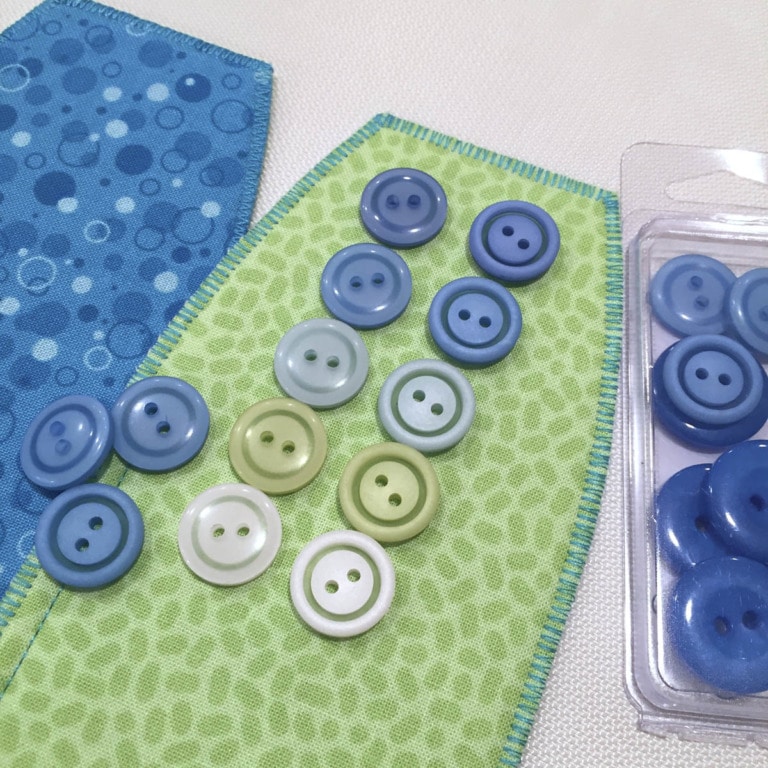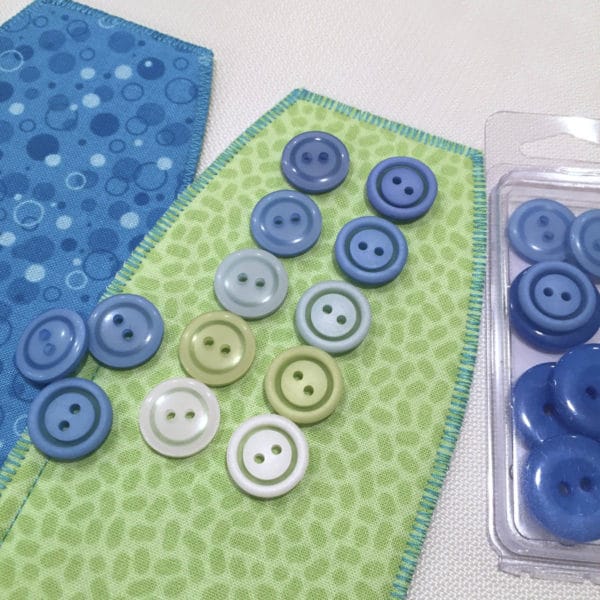 You can't go wrong with any of these!
Sewing Tip: A Big Fat Cheat
I use a little bit of desk tape, such as Scotch brand, to hold my buttons in place for stitching. It lets me see exactly where to place a button.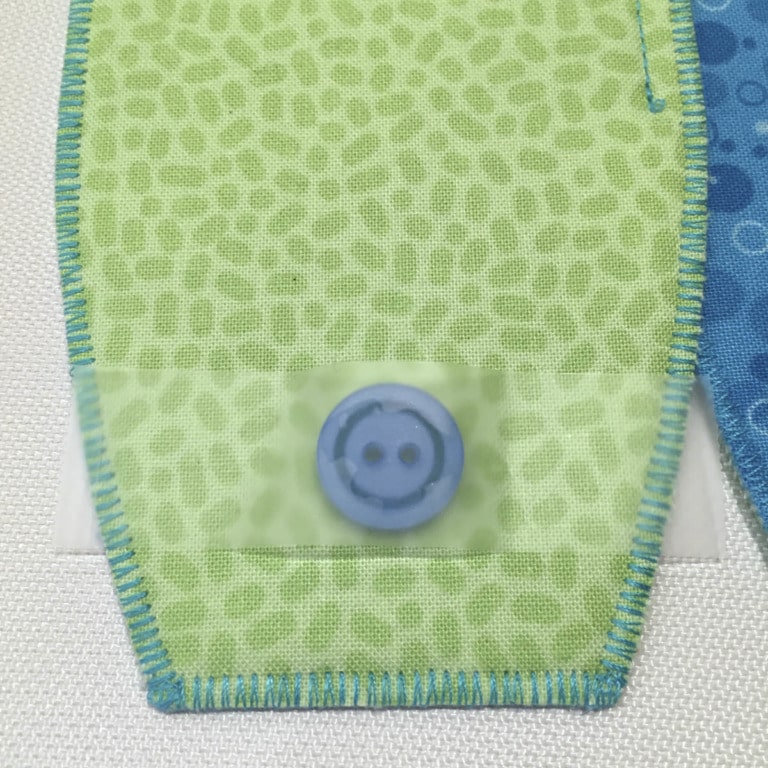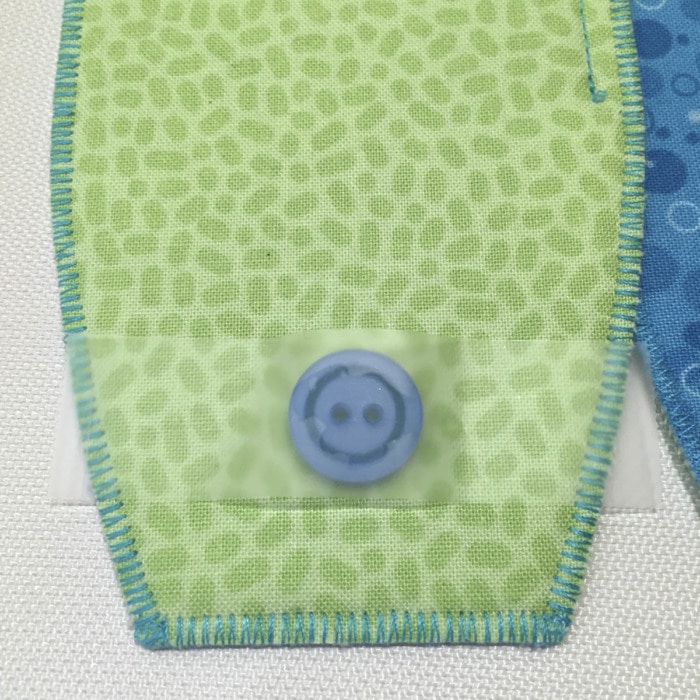 Desk tape is a handy tool in the studio.
Video Tutorial: Sew a Button On By Machine
I sew buttons on by machine when possible.
Lower your feed dogs. Use a zigzag stitch set to the width you need, but set the length at zero. You want the needle to go side to side, but you do not want the project or the button to move.
Time Saver and a Tape Tip
Locate and tape all of the buttons in place. Then get stitching. I don't snip the thread between buttons. I simply stitch one button, move to the next button and so on until I'm done. Then I go back and snip all the threads at once.
After stitching, carefully remove the tape starting from both ends and pull toward the middle. The stitching will puncture the tape, making it likely to rip. Slowly pull the tape toward the center to remove.
Giveaway (Update – the giveaway has ended)
Three winners will receive one Button Boats kit containing:
– Button Boats pattern Lazy Girl Designs
– Two 10″ fabric squares from Land & Sea from Patrick Lose Fabrics
– One Button Up! Snack Pack of buttons from JABC
– Stiff Stuff 10″ square Lazy Girl Interfacing
– 1 yd Fusi-Bond Lite Lazy Girl Interfacing
– Coordinating baker's twine for ties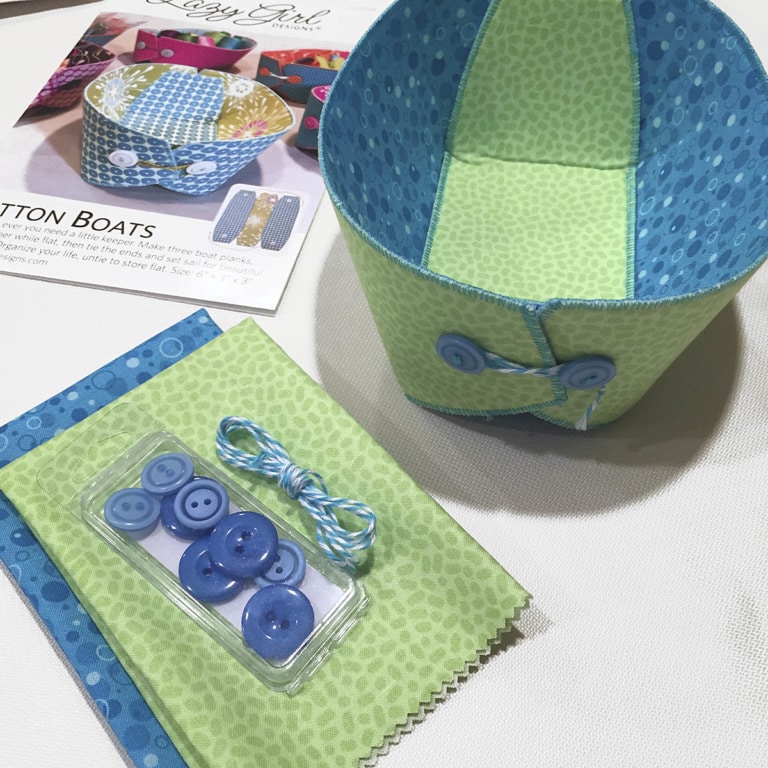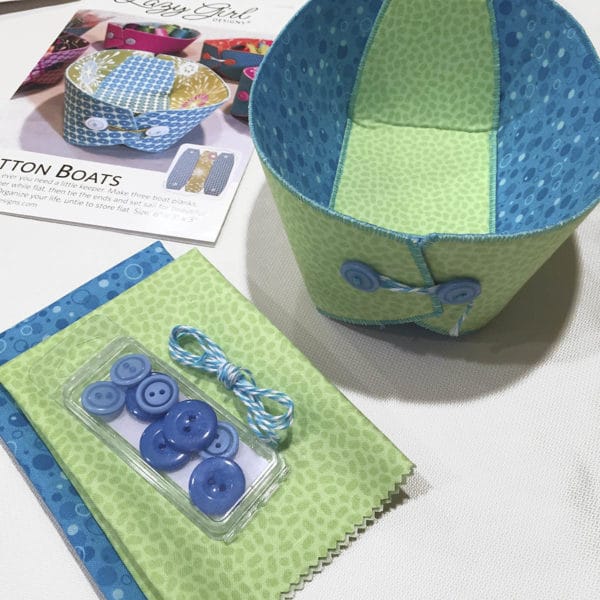 Enter To Win
– Enter by using Rafflecopter below.
– Three winners will be chosen.
– Giveaway ends Tuesday November 22, 2016.
– I'll contact the winners via email.
Thanks for joining in on the fun!
a Rafflecopter giveaway

Thank you to Just Another Button Company for sponsoring this giveaway.
Remember to Comment: Tell me how you'll use your Button Boats

Pin This Post
Pin this image to your Pinterest board to save this idea. Follow me on Pinterest here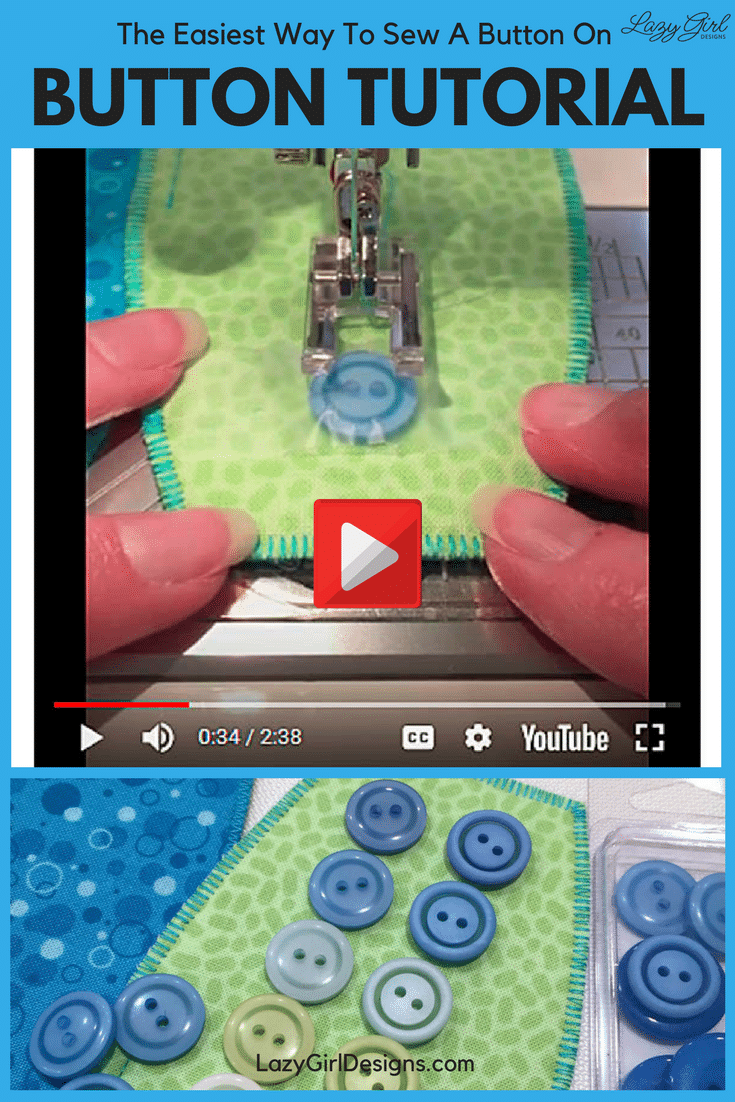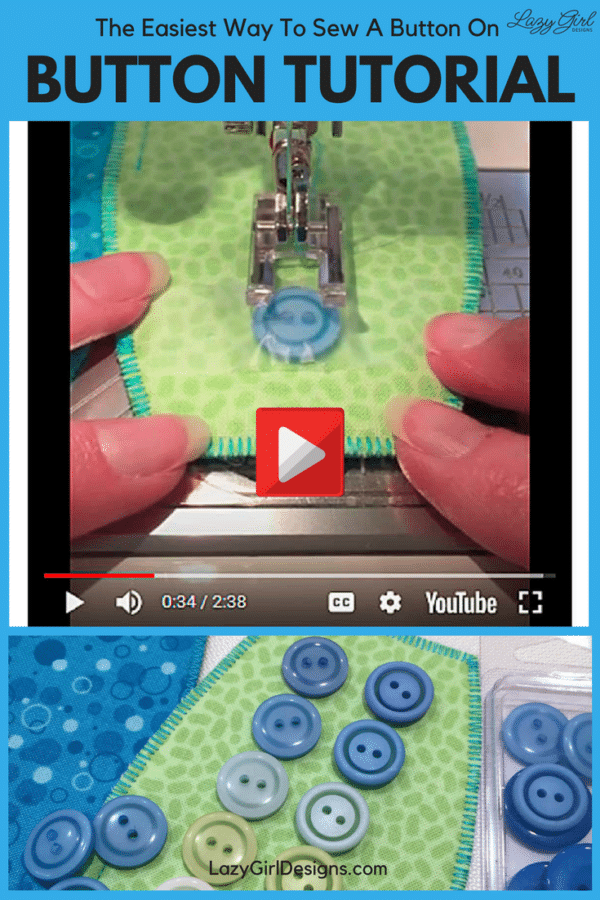 Subscribe to receive emails for my blog and newsletters about new patterns and project ideas.
Enjoy!
Joan
Facebook Lazy Girl
Pinterest Joan Hawley
Pinterest Lazy Girl Community
Instagram @JoanHawley
Twitter LazyGirlJoan
Like and share this post with your stitchy friends.
Save
Save
Save
Save
Save
Save
Save
Save