NEW: Meet Stiff Stuff Craft Patterns!
Lazies, Join me for a whole new type of stitchy fun with my four new patterns and pre-cut squares of Stiff Stuff! Think of this as fabric construction paper. We are going to fuse a little, cut a little, stitch a little and done! Meet the new Stiff Stuff Crafts. All four of these designs use the same recipe, working with 10″ squares, to create a 'sandwich'. Cut shapes, stitch the edges, then finish. These new Lazy Girls are quick, easy, and addictive. Perfect for year-end crafting, stitching and gifting.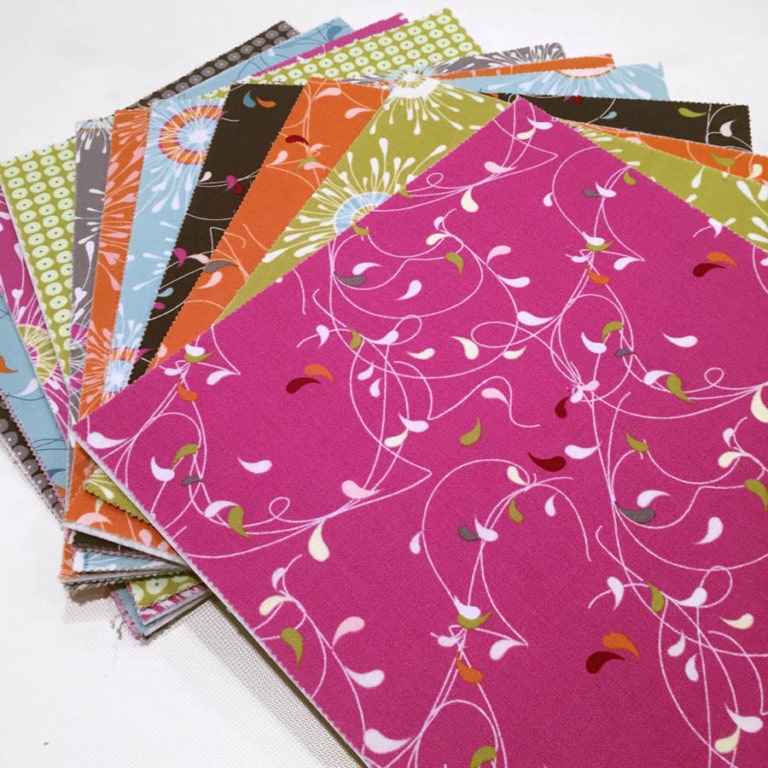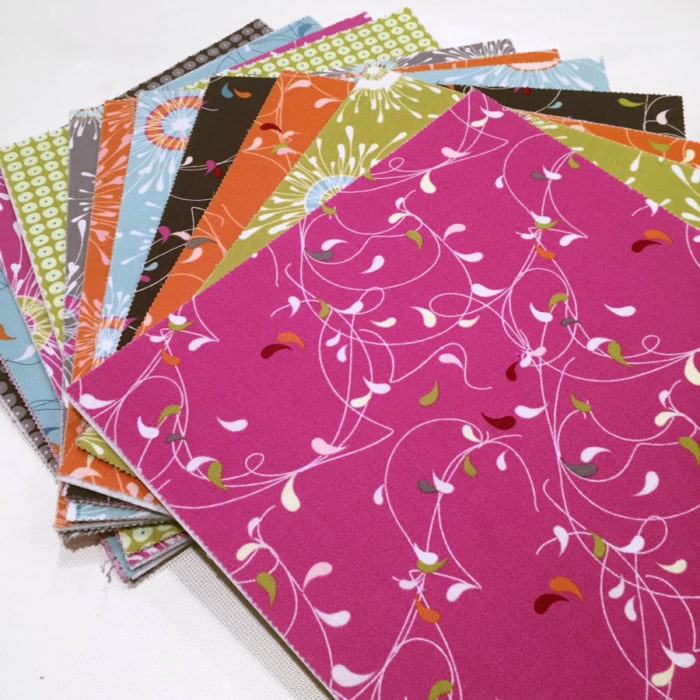 Transform your layer cake square to 'fabric construction paper'
then cut, stitch and finish! Fabric is 'Flow' from Moda.
Ground Rules
– Each pattern uses one 10″ 'sandwich' composed of fabric, Fusi-Bond Lite and Stiff Stuff.
– One sandwich makes one project – sweet!
– Layer cake friendly!
– Patterns available soon! Early November-ish, truly.
Button Boats, LGD138
Oh my goodness, I love this design. Cut and stitch three planks, tie ends together and set sail for stitchy fun. Organize your life, then untie to store flat.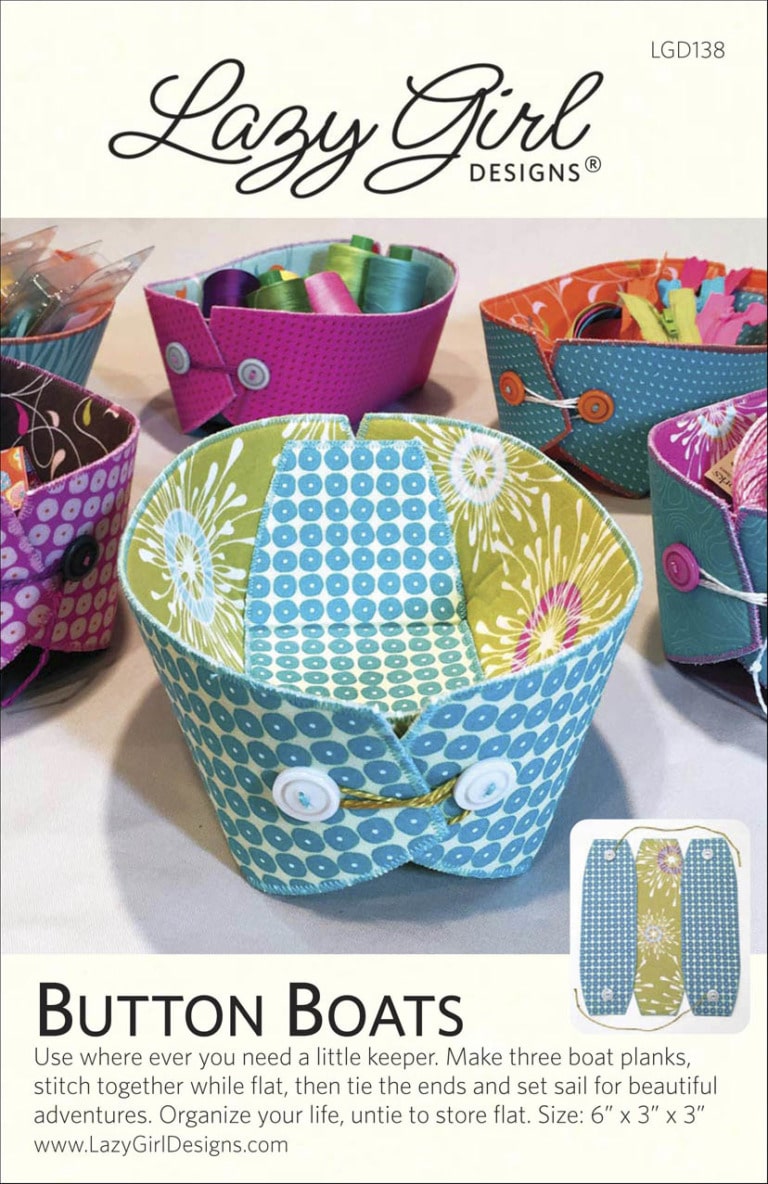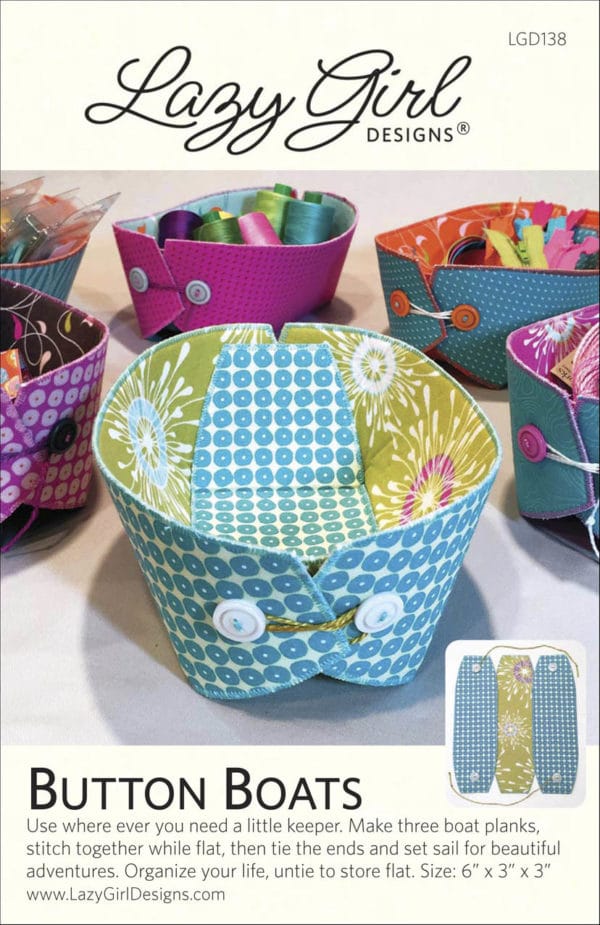 Button Boats pattern (LGD138, retail $10) size 6″ x 3″ x 3″
Prezzies, LGD139
A sweet, delicate and simple wrap for little-ish things. Wrap a treasure in beauty for gifting, or hold small things in a beautiful way. For gifting, the recipient can gift again. Wrap a handwritten note with a small gift. More personal than a box for jewelry. Pack delicate items for travel or in your purse. I adore the simple elegance of this fabric wrap.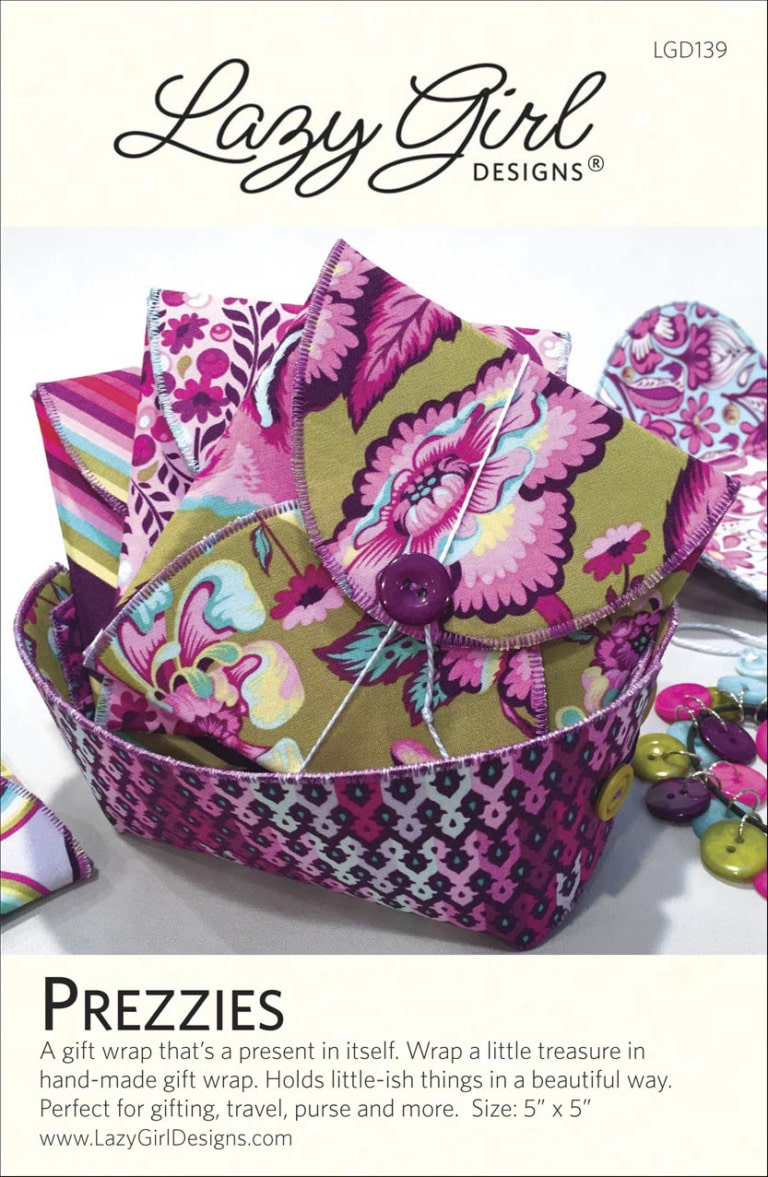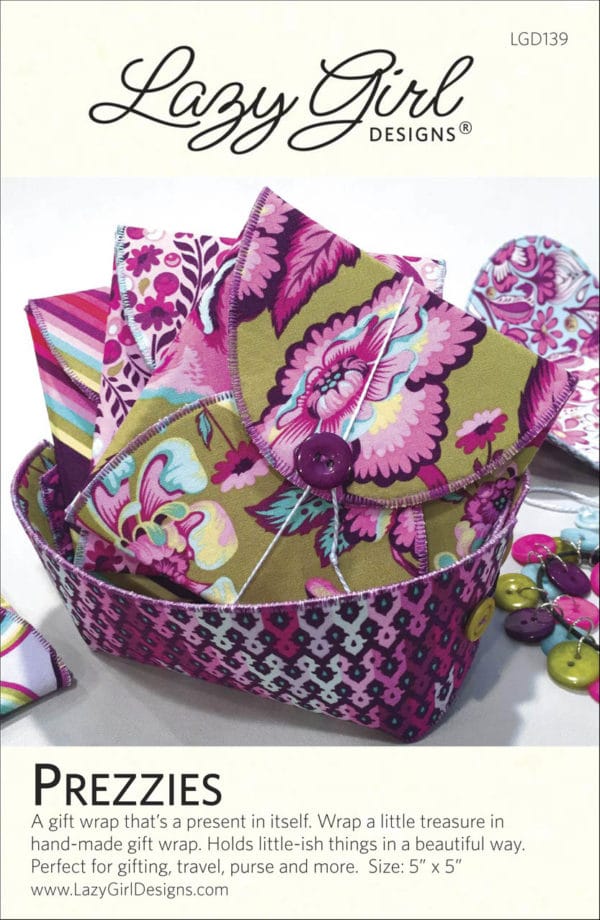 Prezzies pattern (LGD139, retail $10) size 5″ x 5″
Tray Chic, LGD140
Get ready to fall in love with these elegant, simple, stylish trays in three shapes. I already have these all over my studio, holding supplies while I work. Perfect valets for your goodies: keys, phone, eye glasses, etc. Don't tell the Hexi or Square trays, but the Circle is my fav.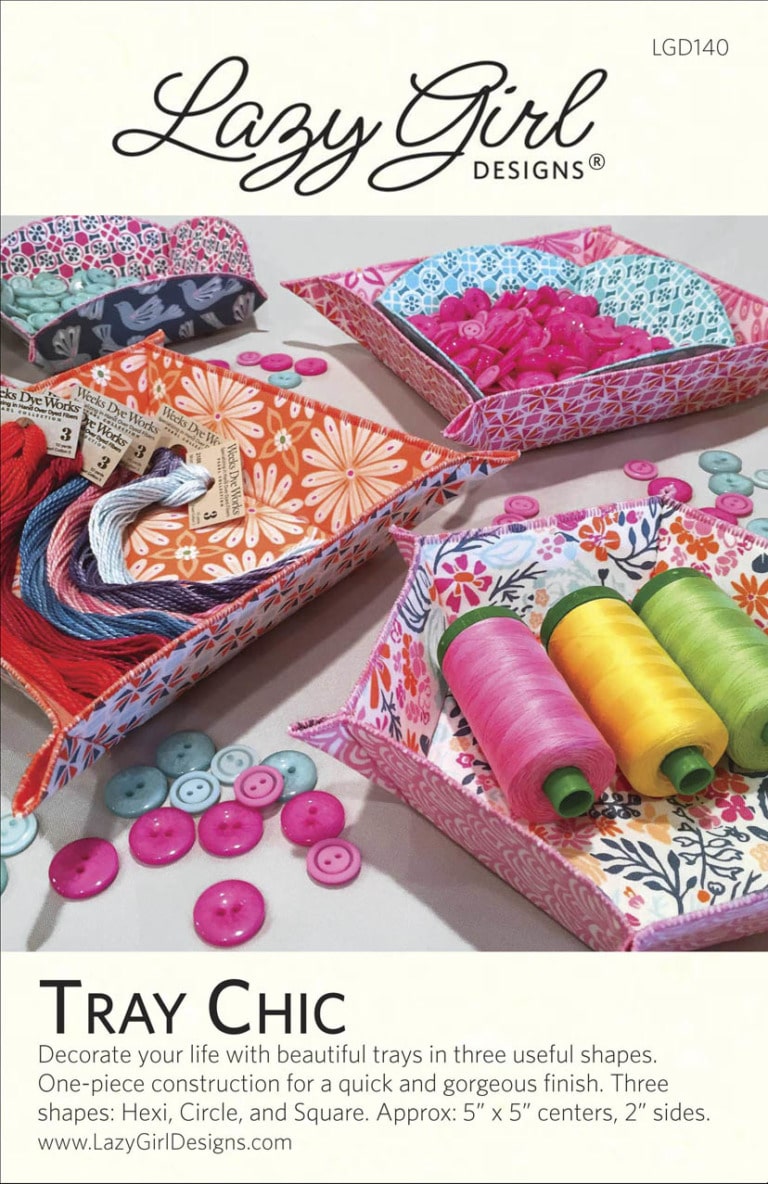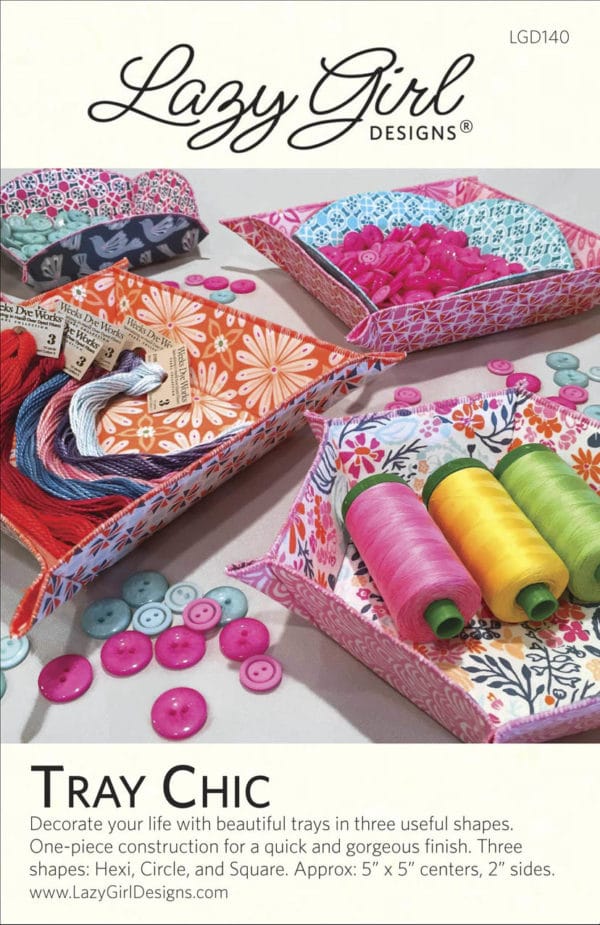 Tray Chic pattern (LGD140, retail $10) centers 5″ x 5, sides 2″
Gifty Card Holders, LGD141
Easily personalize or wrap a gift card with these two sweet styles. The Keeper style wraps closed like a little envelope. The Tag style looks great tied to a package or as a tree ornament. They are my new essentials in gift card giving!
One 10″ sandwich makes two Keeper style or four Tag style holders. Love!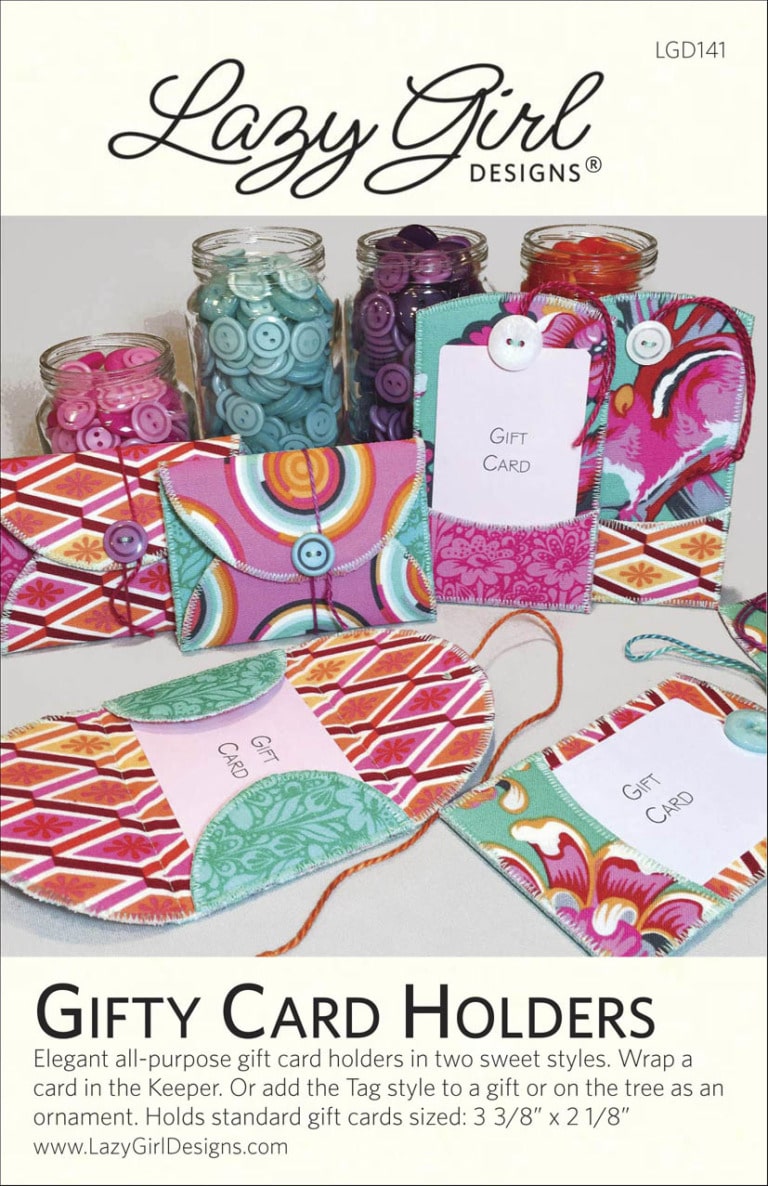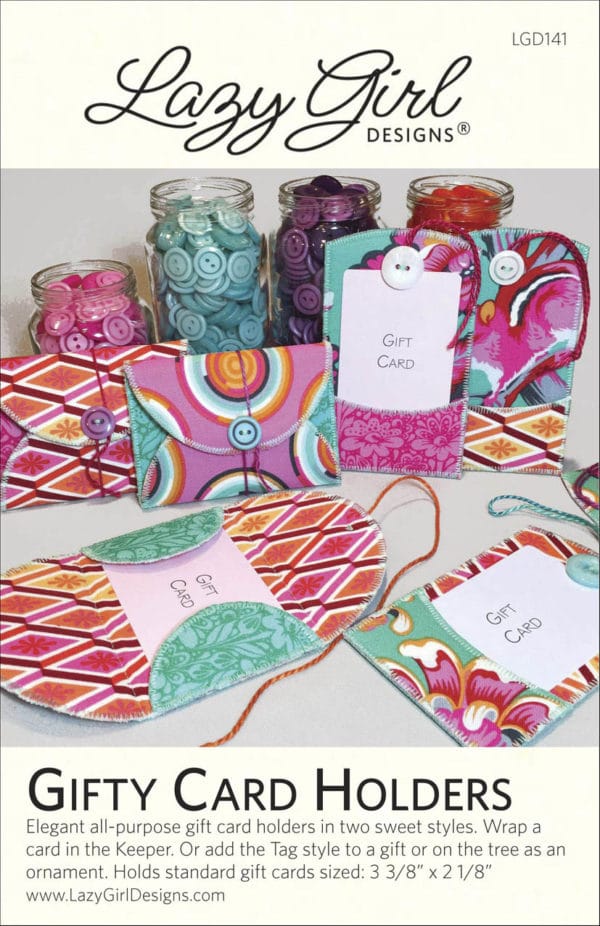 Gifty Card Holders pattern (LGD141, retail $10)
holds standard gift cards size 3 3/8″ 2 1/8″
New Stiff Stuff Squares, SLG107SQ
The unique properties of Stiff Stuff from my Sew Lazy line bring these designs to life. Stiff Stuff is like the perfect hybrid between stiff/crunchy/thick interfacings and foam. Stiff Stuff has structure, but is forgiving, lightweight and thin.
They are ready to go for any of the new patterns. Each pack includes four 10″ squares. That's enough to try all four new patterns.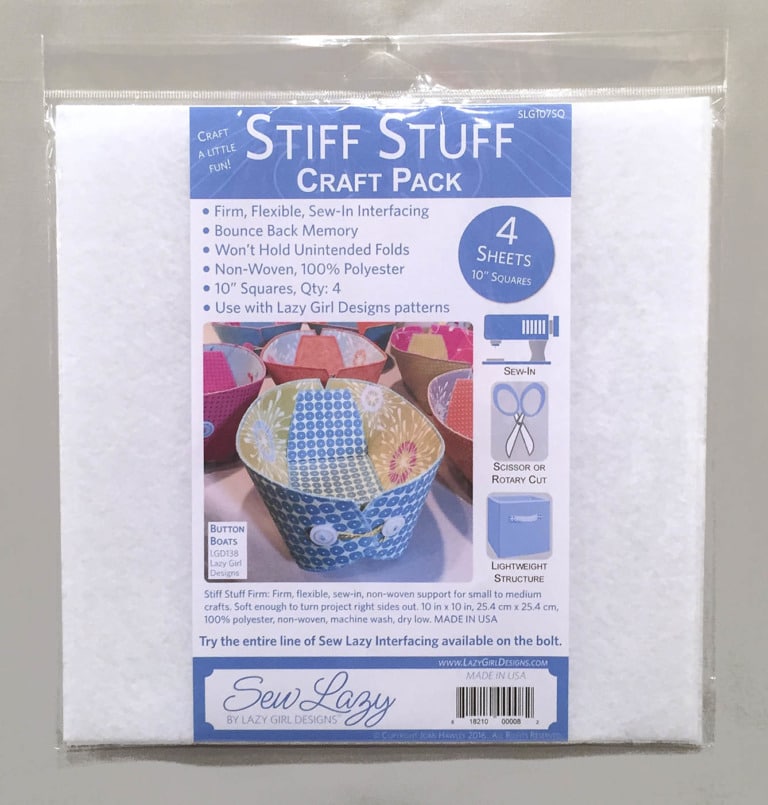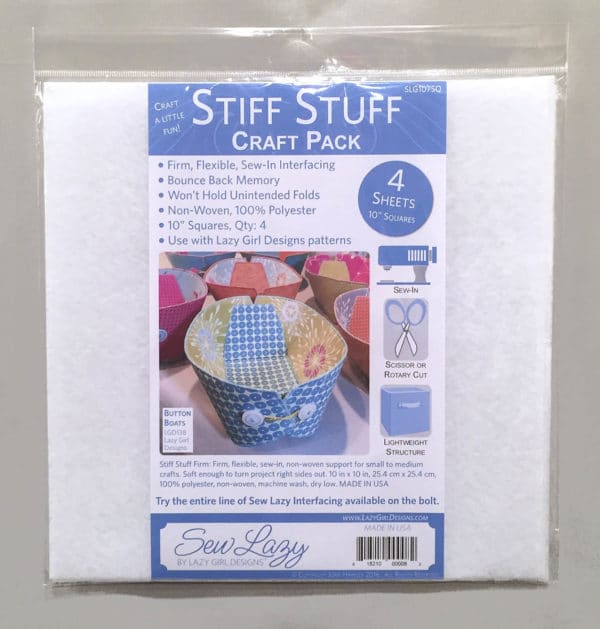 Pre-cut packs of Stiff Stuff 10″ squares item SLG107SQ, retail $8.
Fusi-Bond Lite
You are also going to need some of my Fusi-Bond Lite SLG101 adhesive web to tie everything together. Fusi provides an amazing bond with the feel of 'cush', like a gel insole between your fabric and Stiff Stuff. It's quite interesting and nice.
Button Up!
Get ready for a whole new line of amazing buttons from Just Another Button Company! These Snack Packs of gorgeousness are small-batch, hand-dyed buttons, in 35 custom colors to fit today's fabric and crafting trends. One Snack Pack will make all of our new Girls. Oh my goodness! I want them all! More about these beauties in an upcoming post.
Click the image to check them out at JABC's website. All colors are also available in two other packaged sizes: Smoothies, round buttons with a matte finish are perfect for primitives; Party Packs are loaded with different shapes, sizes and finishes for more fun. Join in the buttony fun on Facebook here: Button Up!



Button Up! Snack Packs from Just Another Button Company, JABC8+color number.
Floss, Ribbon or Yarn
The new Girls use a combo of buttons and ties for closures. I love the hand-dyed pearl cotton embroidery floss from Weeks Dye Works shown on the pattern covers. I use size #3 which comes in 10yd skeins of scrumptious colors. Click the image to enlarge.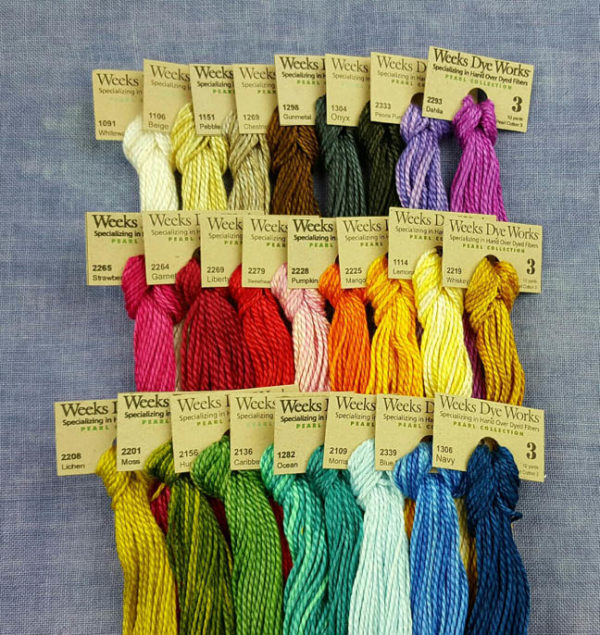 Pearl cotton embroidery floss from Weeks Dye Works
Slicker Templates
Each pattern uses templates. Check out my handy tutorial for laminating your own paper templates.
Tutorial: Slicker Templates
More!
I'll share more about each new Girl, buttons, notions/tools and more in future posts. There are lots of fun details to dive into. Stay Tuned!
Shop Owners
All items are stocked by the big distributors. Order direct through me or from them. Contact Just Another Button Company for info about all of this goodness.
Talk To Me
What do you think? Are you read for some crafty, fusi, stitchy fun?
New to our blog? Subscribe to get emails so you don't miss a juicy morsel.
Like and share this post with your stitchy friends.
Join me in the Lazy Girl community on Facebook here: Facebook Lazy Girl
Enjoy!
Joan
Join Joan's Sewing Group
Pinterest Joan Hawley
Instagram @JoanHawley
Twitter LazyGirlJoan
Save
Save
Save
Save
Save
Save
Save
Save
Save
Save
Save
Save
Save
Save
Save
Save
Save
Save
Save
Save
Save
Save
Save
Save