Essential Marking Tools for Stiff Stuff Crafts Part 1



Lazies, Let me go over all the tools and supplies I use when making our new Girls: Button Boats, Prezzies, Tray Chic, and Gifty Card Holders. These crafty projects are quick and simple and use just a few goodies. There might be an item or two new to you, or something to consider as you build your tool supplies.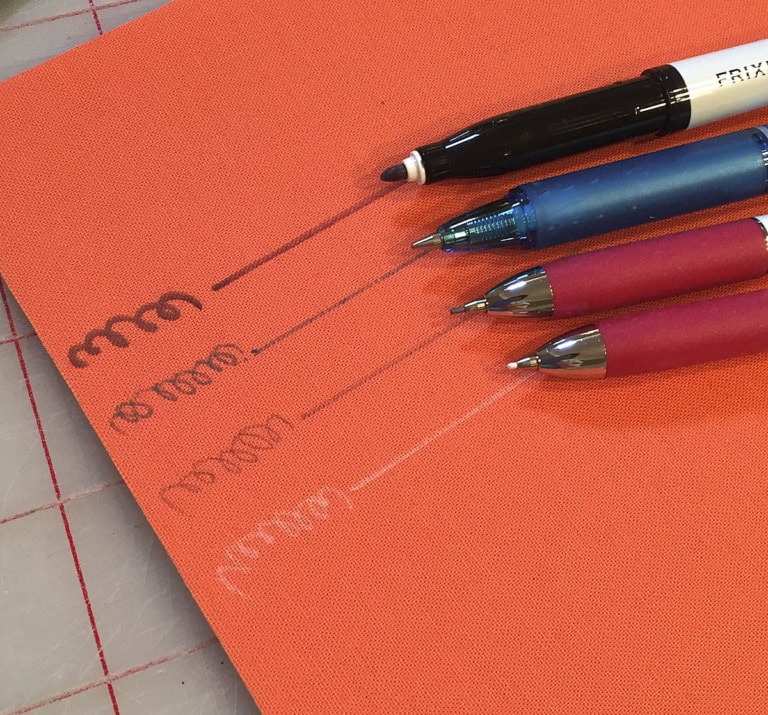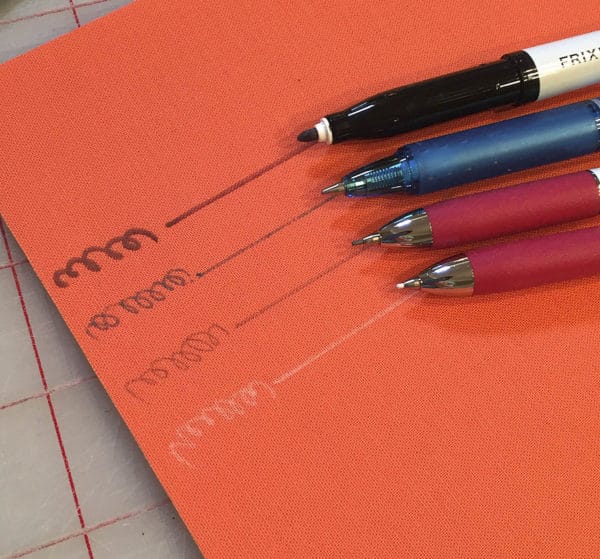 All of these items are truly basics for me. They are functional, practical and can be used time and again for many projects going forward. In this post, I cover marking tools. In the next post, we'll cover everything else.
Stiff Stuff Craft Patterns
Here are the new patterns, all based on 10″ squares. All four use the same basic construction and supplies. Here's a link if you missed their announcement.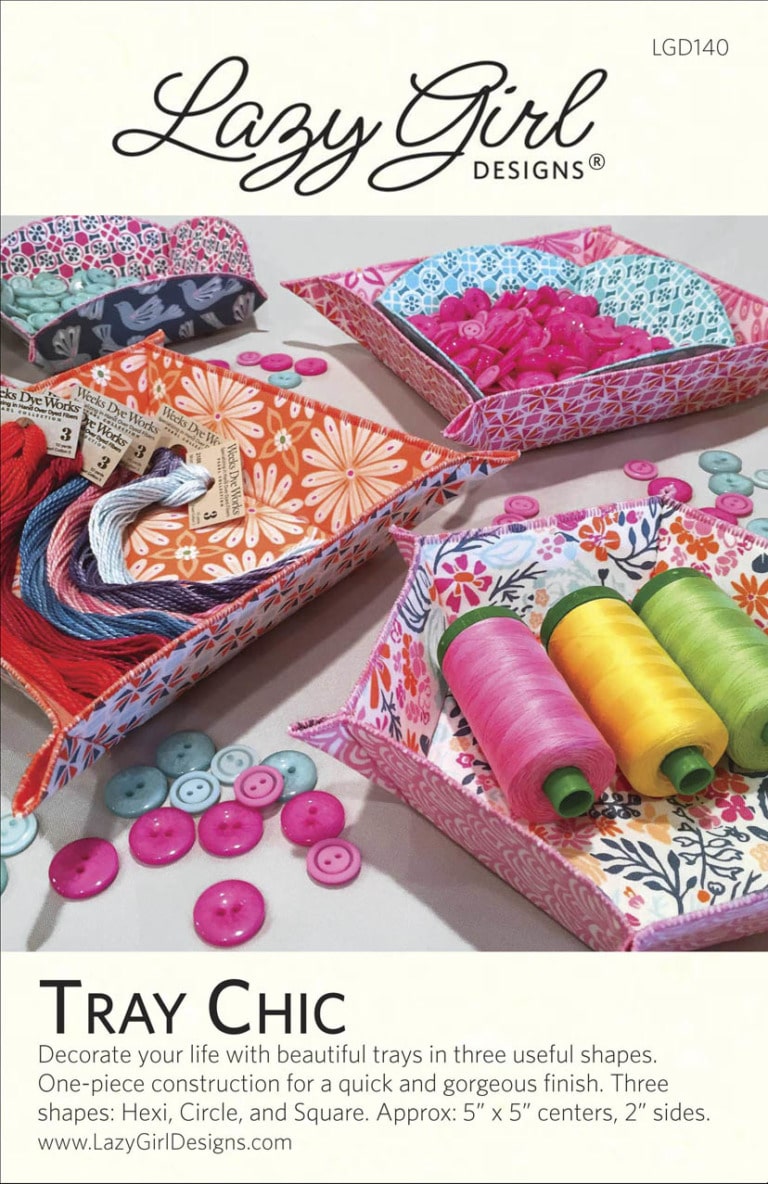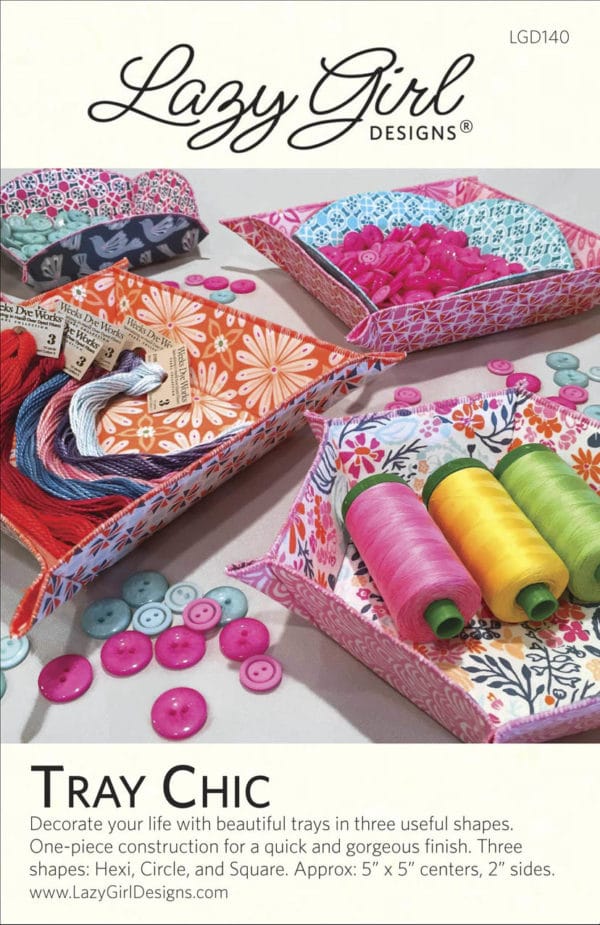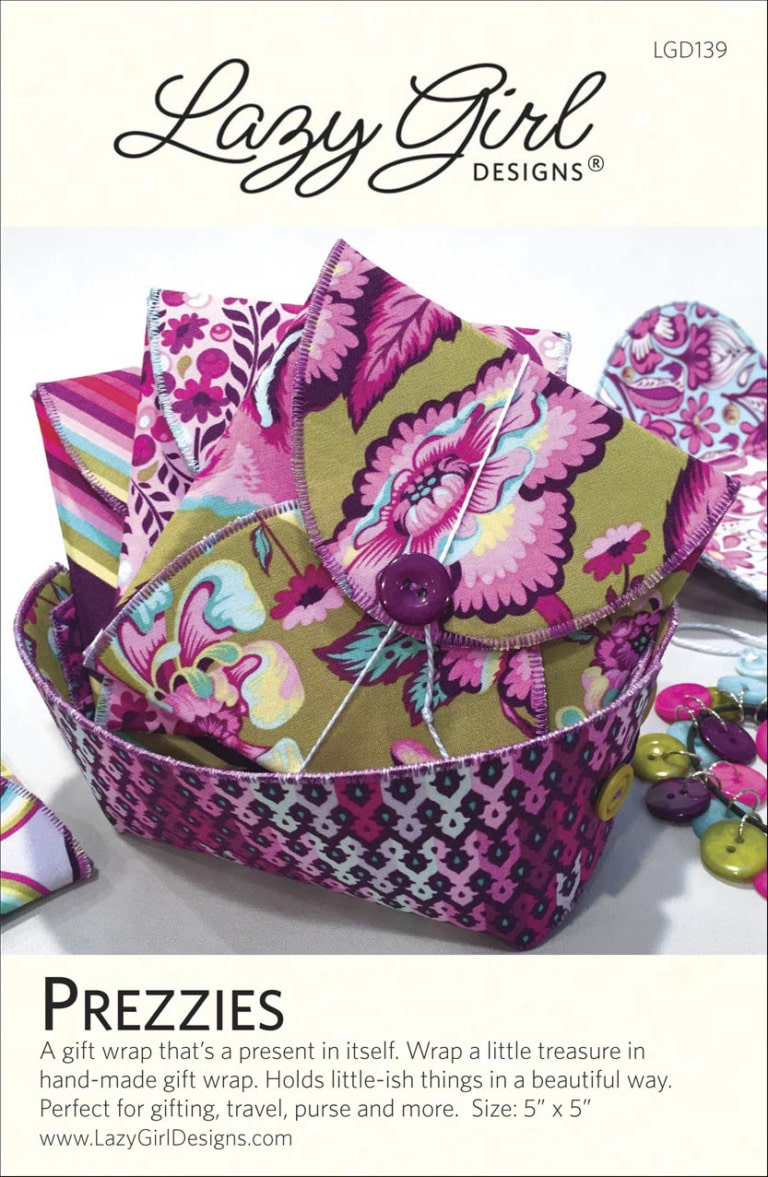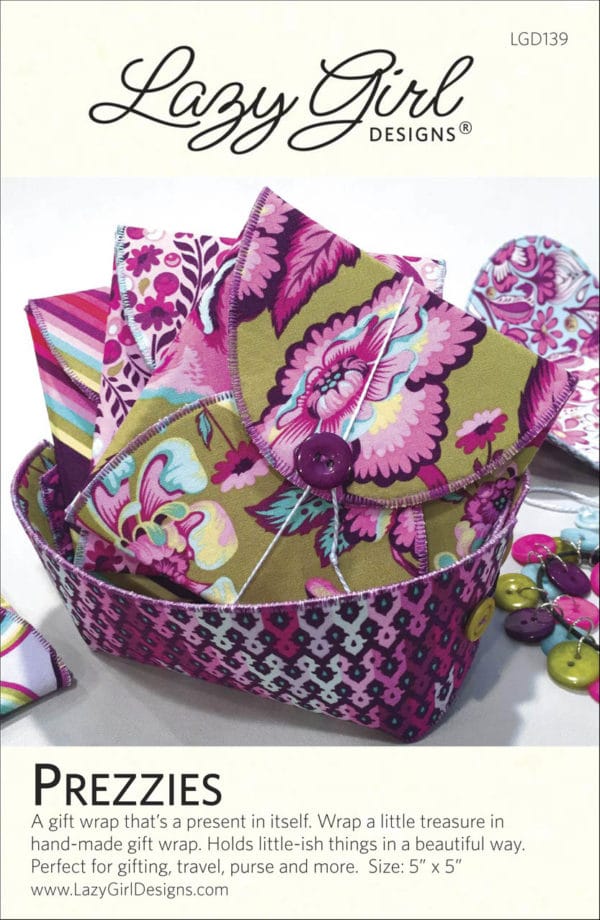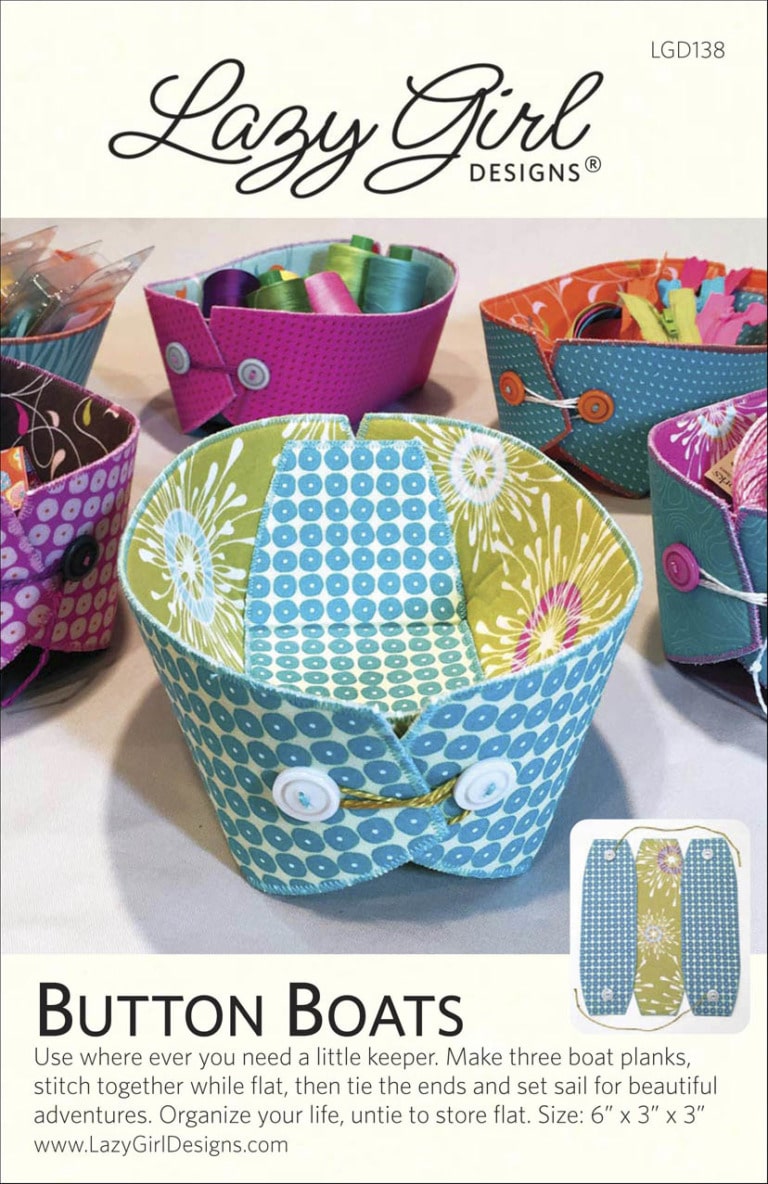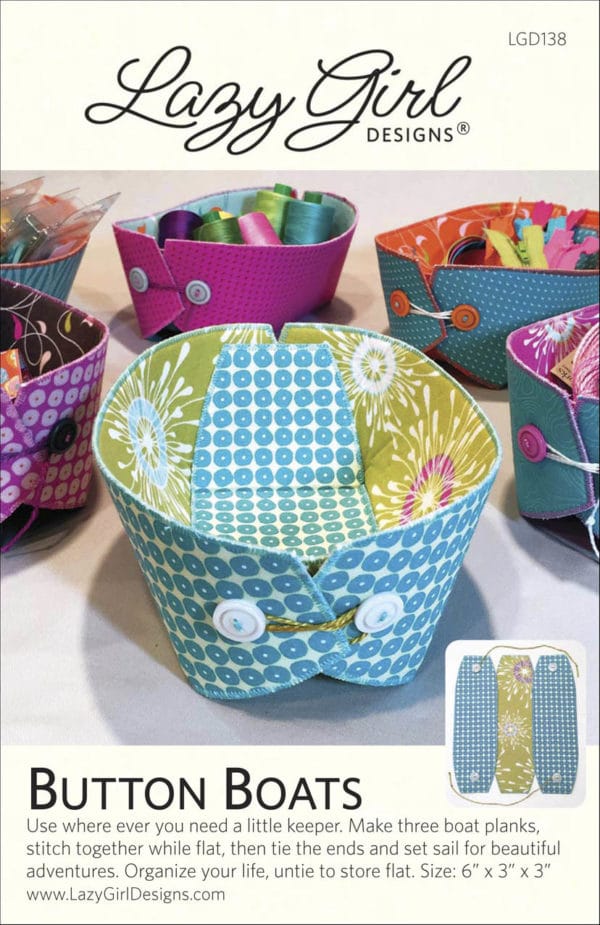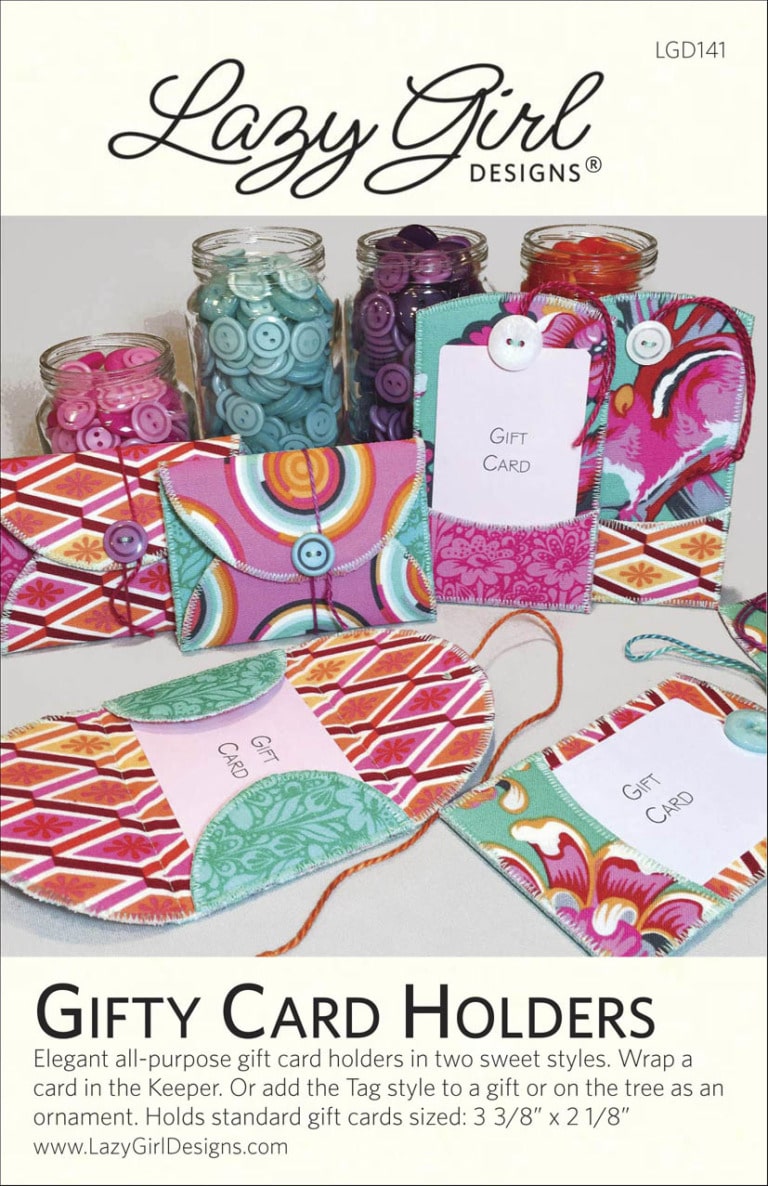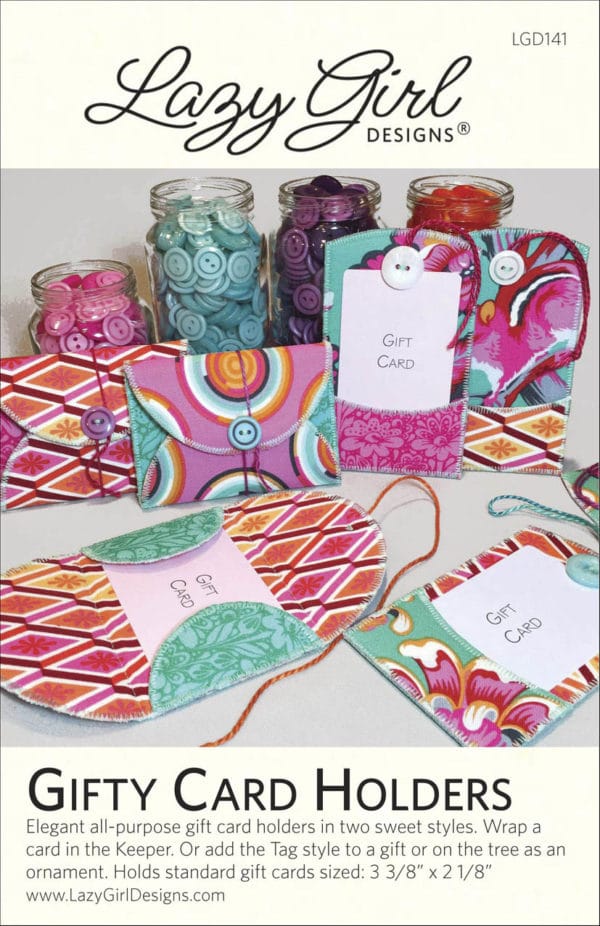 Marking Tools
All of the projects involve marking for stitching or cutting lines. I needed some new marking options when I developed these projects, so I headed off to my local quilt shop and asked friends for recommendations. I have been using four different tools for marking. I choose between them based on fabric.
Frixion Pens or Markers.
Yes, I know the limitations of the Frixion products. They are fine for these projects.
How they work and their limitations: Frixion pens/markers have a chemical in their ink that allows them to 'disappear' with friction. Friction creates heat. Heat from an iron will make the line disappear, too.
So, make your mark, then use the eraser (generating friction) or press/steam with an iron and the ink will 'disappear'. Be mindful that the chemicals/inks are still there. They could reappear when exposed to cold. They could leave a 'ghost' mark. Like with any other marking tool – test first. Here's an overview with more info.
The Frixion markers were recommended to me by my friend Meg Dunton – thanks Meg! The pens have a 'pen' tip. The markers have a slightly more substantial marker nib and they make a more substantial line. Find the pens at local quilt shops. I found the markers online.
Frixion Marker Love
I love the marker for tracing around the templates. The marker nib easily glides along the template edge. All of the tools in this post work for tracing around templates, but the marker is my fav for this specific task.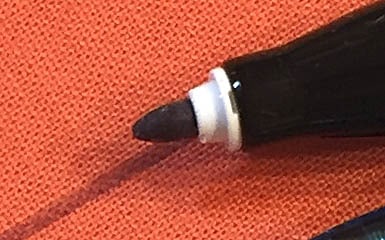 The marker makes a big fat line, compared to most traditional marking tools. For these projects, cut outside, on, or inside the line – doesn't matter, just be consistent. If you cut inside the line, you'll be cutting it off and none of it will show on your finished project.
Frixion Pen Smitten
The pen didn't immediately mark on the fabric, but as I drew the line, the ink did start to flow, then I had to back track to mark the beginning of the line. I find it helpful to make a mark on a scrap to get the ink flowing, then it's ready to go for marking on your project.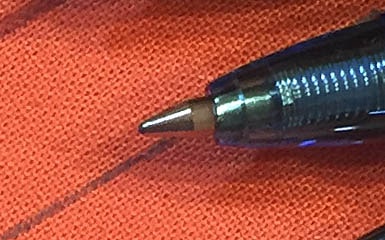 Regardless, for both the pen and marker – I could SEE the line. Yes, easily visible under and through the presser foot – which is when I need to see the line for start/stop points for stitching.
Pens and markers come with an eraser on the end, or buy the stand-alone eraser. I use my iron to heat/steam the lines to remove. If you start marking and need to erase a little bit, use the eraser. The iron will remove everything it touches.
Frixion Pens
Frixion Markers
Frixion Erasers
Bohin Mechanical Pencil with Chalk
At the recommendation of my local quilt shop (Thanks Sue at QuiltTrends in Columbus, OH), I tried both the white and gray chalks. The mechanical pencil comes with white chalk, buy the gray chalk refill, too, and swap the chalk color as needed. Or, if you find a bargain, buy two pencils and the gray refill so you can keep one filled with white and one with gray.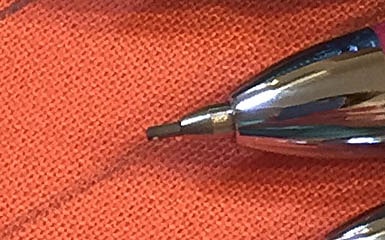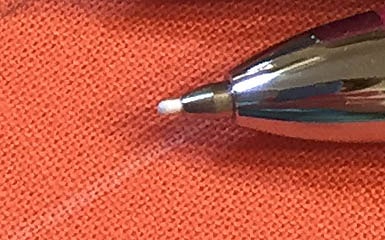 These chalks are ceramic-based and the chalk sits on the fabric, making them easy to erase/remove. The pencil comes with an eraser and you can buy the stand-alone eraser, too. The product says the marks are water soluble and can be washed out. I have not tested that.
I love this marking tool. Love.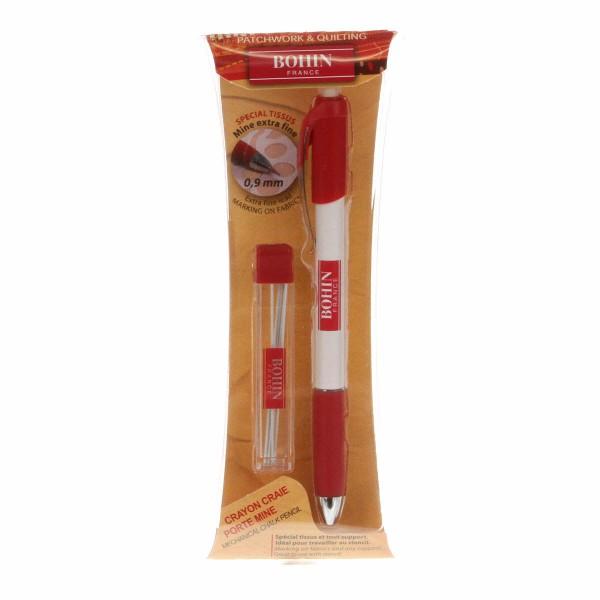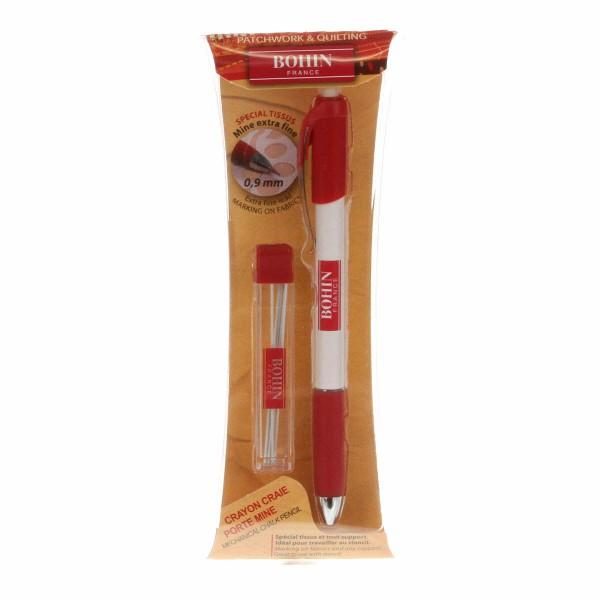 I use both the white and the gray chalk. I've found them to erase sufficiently well. The extra eraser is a good idea. I didn't see refills for the small eraser attached to the pencil.
In the past, I've had a devil of a time removing chalk marks from my projects. Knowing they are hard to remove, I used to make marks as light as possible but still visible – what a headache. This mechanical pencil is a step up.



Testing
Here are my tests, in order: Frixion Marker, Frixion Pen, Gray Chalk, White Chalk
I tested on a piece of fabric that will show the marks very, very well. I would not make marks this strong/thick/dark/intense on a light colored plain fabric. This is only a test.
– The first pic shows both a curly and straight line for each, as well as the nib/tip size.
– The second pic shows a bit of each line removed.
– All tools worked well for straight/non-straight markings. (Some tools are designed for straight lines.)
– Both Frixion lines were removed with heat. The chalk lines were erased.
– Now, don't jump to the conclusion that the chalk line is still too visible. Click to enlarge the second image. Keep in mind that our mind's eye wants to complete the line for us.
– Enough of the chalk is removed for my satisfaction for these projects.
The Frixion tools make a substantial line. The chalk lines are more fine. My tired old eyes appreciate a substantial line that's easy to see. My crafty soul appreciates lines I know I can remove.
Bottom Line (Marking Tool Pun!)
– I love the Frixion markers and pens for working with medium (not dark or light) colored fabrics.
– The markers and pens are really quick, easy and handy for marking placement lines that will be covered or nearly covered.
– The marker makes a line too thick for a stitching line, in my opinion. A fine line is a better option.
– Both the chalk colors are fantastic for working on dark fabrics, or for use where I need a fine line.
– I find that I use the markers and pens most for the Stiff Stuff Crafts.
– The chalk tools are high quality, easy to use, and an improvement over what I'm used to.
I'll cover all the rest of the tools and supplies I use for these projects in my next post.
Talk To Me
What do you think? Are you ready to try some new marking tools?
Please like and share this post with your stitchy friends. Join the Lazy Girl community on Facebook here: Facebook Lazy Girl
Enjoy!
Joan
Note: This post contains affiliate links. I make a commission when you order items through those links.
Instagram @JoanHawley
Facebook Lazy Girl
Pinterest Joan Hawley
Twitter LazyGirlJoan


Save
Save
Save
Save
Save
Save
Save
Save
Save
Save
Save
Save
Save
Save
Save
Save
Save
Save
Save
Save
Save
Save
Save
Save