Recommended Supplies For Maggie Pattern
Lazies, Big new – Maggie has arrived and we've already started shipping. Woohoo!
Next up, I have some product information and recommendations for use with our new Maggie pattern introduced last week. Maggie is a bit of a scavenger project, great for using up left overs from other projects and purchases. Remember, you can print a nice version of our blog posts by clicking on the 'Print This Lazy Post' below my name at the end. Print this post and tuck it inside your Maggie pattern bag to keep this info handy.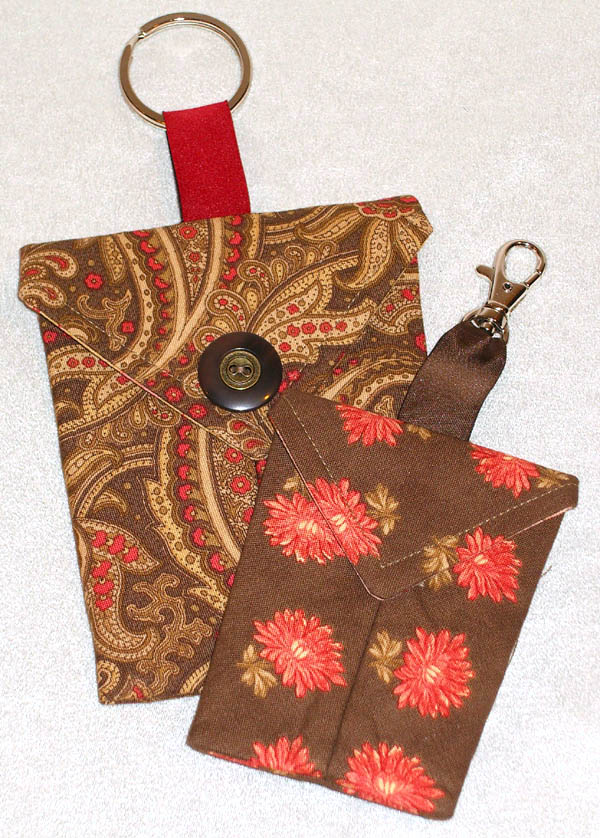 Large and small Maggie shown with optional purse hardware and Handy Tabs.
Ribbon (optional):
Handy Tabs (Lazy Girl Designs), Item # 701-710 (ten colors available), pack of 4 tabs.
Grosgrain ribbon – any color, 1/4″ – 1″ wide is a good size range.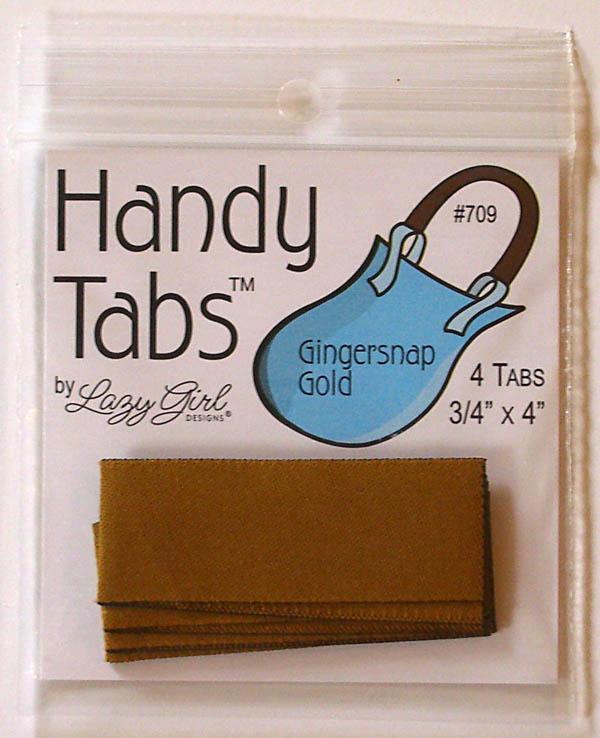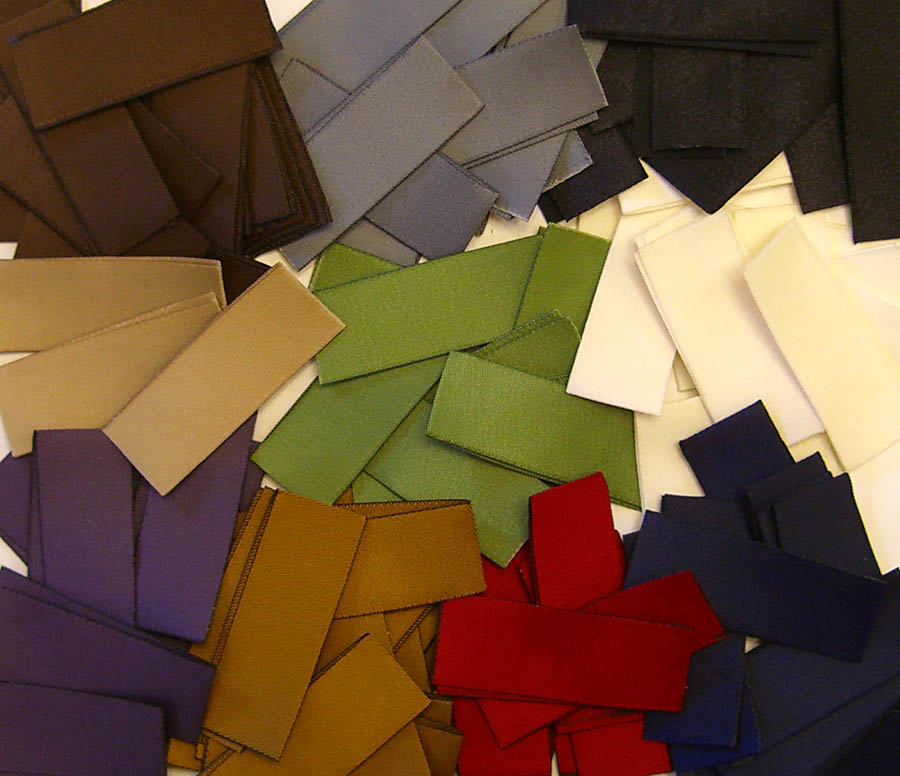 You can add a hanging option to Maggie if you want to – it's completely optional and depends on how you plan to use her. A short ribbon and a clip are nice to hang Maggie from your purse handle. A longer ribbon might be nice for a wrist strap. And with a long ribbon and a clip, you can feed the clip through a belt loop and clip it to the ribbon creating a loop. Our Handy Tabs are finished on all edges and ready to sew into place.
Purse Hardware (optional):
Hooks (1/2″), Rings and Chains- Silver (pack of 2 ea), Leisure Arts #28401.
Hooks (1/2″), Rings and Chains – Gold (pack of 2 ea), Leisure Arts #28400.
Brass 1″ Swivel Clasps, Leisure Arts #28343.
Silver 1″ Swivel Clasps, Leisure Arts #28342.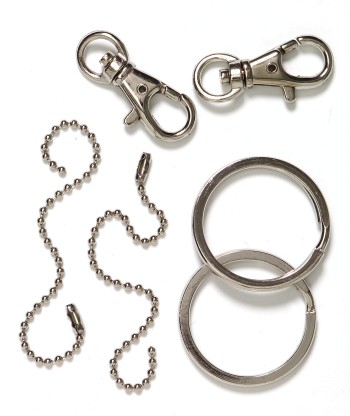 I love the first set of hardware listed above. At around $3 for the six pieces, it's a good buy. Comes in either silver or gold. Match it to your purse hardware if possible. Those little swivel clasps are 1/2″. Perfect for either size Maggie.
Clips and other purse hardware are embellishments. Just like a small button might be too small for a project, a small clip might be too small. The 1″ size is great for coordinating Maggie with a larger project like a Miranda Day Bag.
Fusible Interfacings:
Pellon #809 – Decor Bond Heavy Fusible.
Pellon #SF101 Stacey Shape Flex (white, black).
Bosal #334 – Fusible All Purpose Non Woven.
The small Maggie is made using interfacing. I've tried all of the ones listed above and they are all super on our new Girl. New to me recently is the Stacey Shape Flex from Pellon. Shape flex is a thin and lightweight woven product. When fused in place it adds almost no thickness to the project, but it does add support and shape. The result is similar to spray starch. The 'flex' part of its name must be because the end product is still flexible and pliable. It feels very nice in the hand. Give it a try and see what you think.
The other two, Decor Bond and Bosal's All Purpose, add a stiffness that I like quite a bit. Remember those old rubber coin holder thingies that opened when you pinched the sides toward the middle and a slit opened revealing your coins? You can do the same thing with small Maggie when you use these stiffer interfacings. Open Maggie, pinch it together just below the flap at the side seams and Miss Maggie opens wide.
Battings:
Pellon #987F – Pellon Fusible Fleece.
Bosal #325 – Fusible Batting.
I like to work with fusible battings for many of my projects. These two are staples for me. For a non-fusible, keep it thin so it doesn't add much bulk to the project. You can quilt Maggie, but she's so small that you do not need to.
Velcro
Fusion fusible Velcro
Sew-in Velcro
Velcro makes a fusible Velcro which works quite well with most fabrics. More about Fusion Velcro in my blog post here. For sew-in Velcro, you'll be able to use your machine to stitch one half to the flap. But, because Maggie is so small, you will not be able to use your machine to sew the other half in place and will have to stitch that by hand. Thus, I highly recommend giving the fusible Fusion Velcro a try.
Template Sheet Plastic
Item# 50 – Inglis Publications
Yep, the dreaded 'T' word – template! Maggie has an unusual figure and a template is the best chance for accuracy and ease of construction. Make it once and use it forever. And, if you have a Layer Cake handy, use the 10″ square of card stock to make a sturdy template.
You'll need to make one 'T' (ack!) for each of the two Maggie sizes. The Maggie pattern is printed with permission to copy the templates for your personal use if you choose. If you do, copy it onto heavy weight paper if possible for a more sturdy template.
Pattern Cover Fabrics:
'Cherish Nature' by Deb Strain for Moda.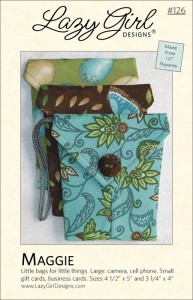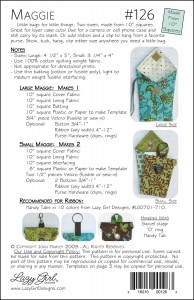 Click to enlarge the pattern back.
Enjoy!
Joan