Perfect Party Favors for Tween's Celebration
Lazies, Barb Albury of Rockledge, FL had the wonderful idea to use our Maggie design (LGD126) to make these party favors for her daughter's birthday sleepover. Each scrumptious green bag is monogrammed for the party girls and filled with little girl fun, right down to the polka dot lining. Perfect party favors, indeed. Great job Barb!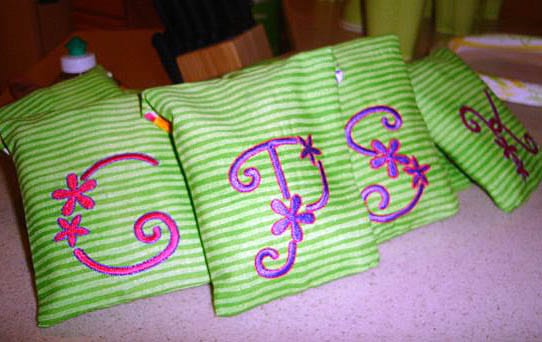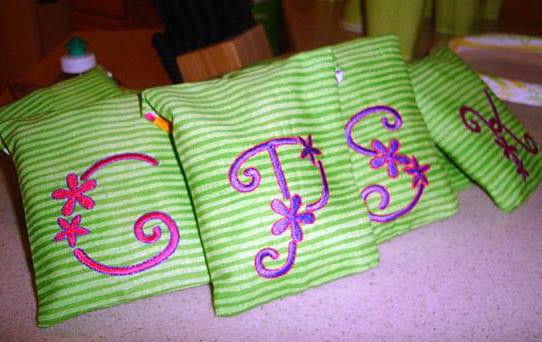 Party favors all lined up and waiting for the fun to begin.
Here's Barb
These cuties (they are, aren't they?) were made as goodie bags for my daughter Julz's 11th birthday sleepover. She is used to me making Lazy Girl purses for her and for her friends for their birthdays so when she saw the Maggie I made to keep my camera in, she asked me to make some for the party.
I used a Funky Flower alphabet but I honestly don't remember where I purchased it. I thought the green fabric was just grown up enough and the polka dots inside gave it some fun. One half yard of the green fabric made 12 Maggies!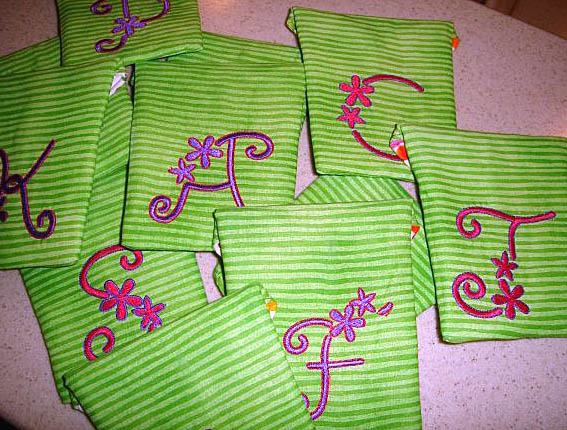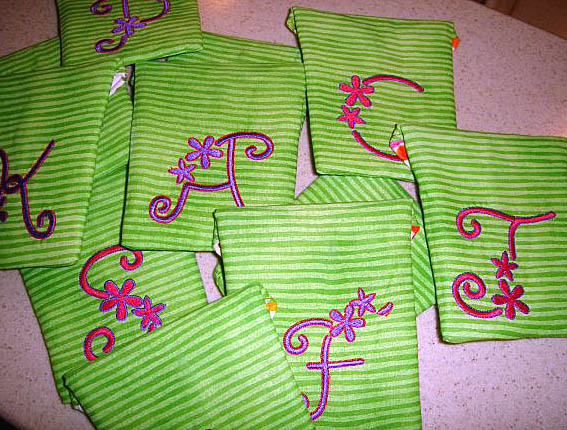 Each one is cuter than the next!
Perfect for tween's birthday
What I put into the goodie bags were candies, lollipops and such. Had I thought about it earlier, I would have done "overnight" stuff like mini deodorant, toothpaste, toothbrush, lip gloss, body wash, etc. Perfect for tween's birthday when they've outgrown the kiddie stuff but still like party bags.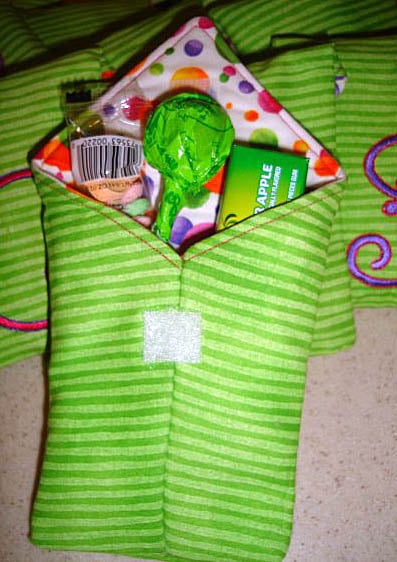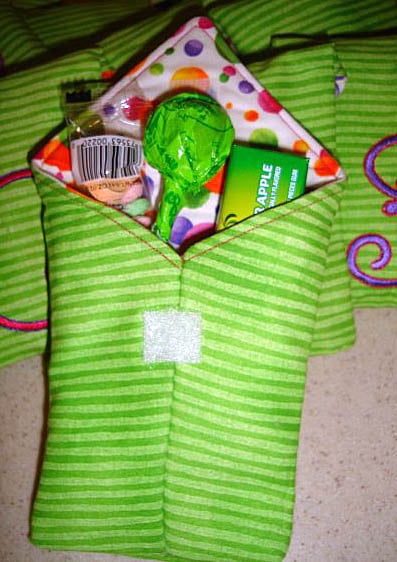 Perfect for all sorts of favors.
In any case, they were a huge hit. Girls love having their initials on something and this way "most" of them knew who's was who's. We had three "S's" but they sorted it all out. I'll definitely be doing these again for gifts of all sorts.
Thanks for the wonderful project. As you know, I've been a fan for many years and have had the honor of sending your bags to use as props and getting to teach your bags at quilting classes. I look forward to many more years and great designs from you.
Thanks Barb! You can follow along with Barb's creative pursuits at her blog 'So How Was Your Day' here.

Maggie pattern, LGD126.
Do you have an upcoming event? Make Maggies for:
Wedding table favors
Teacher gifts
Mother's Day
Easter egg hunt
Enjoy!
Joan