New: 'Claire Handbag' Pattern from Lazy Girl Designs
Lazies, I am terribly excited to introduce you to our new Girl the 'Claire Handbag'. Claire will be here in June and I'll keep you posted. There's a link to more pics at the end of this post.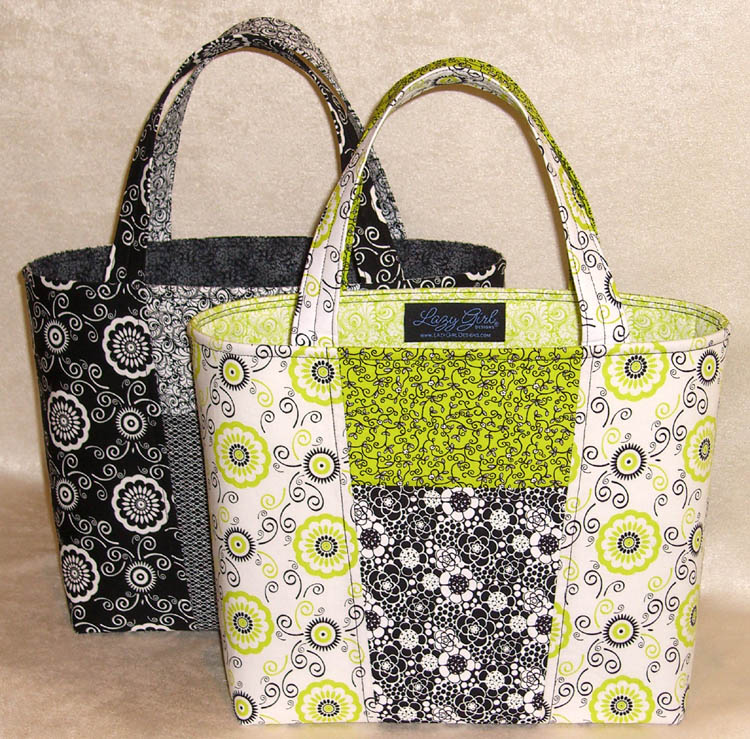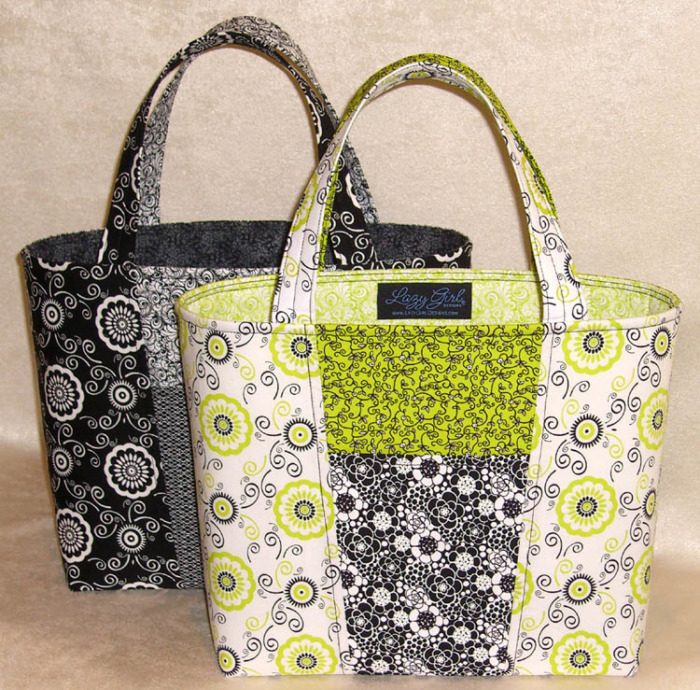 Claire Handbag shown in an upcoming fabric line 'Belle Fleur' by Karen Combs from Avlyn.
The Wow Factor
The angled inset at the center of the bag is just cool, cool, cool. And easy, too. It offers the opportunity for an extra deep outside pocket, perfect for keys, phone or other small items. And goodness, there's a pocket on the other side, too. Nice!
The angled silhouette of the center panel mimics the overall shape of the bag. Claire is perfect for featuring a combination of strong prints and different scale designs. We'll talk more about choosing fabrics in a future blog post.
Fabric Fun
The front and back of the bag have reverse fabric placements. Two main fabrics create three panels on each side of the bag. One side is white/green/white, the other is green/white/green. Pockets are the same fabric on both sides, located atop the center panel.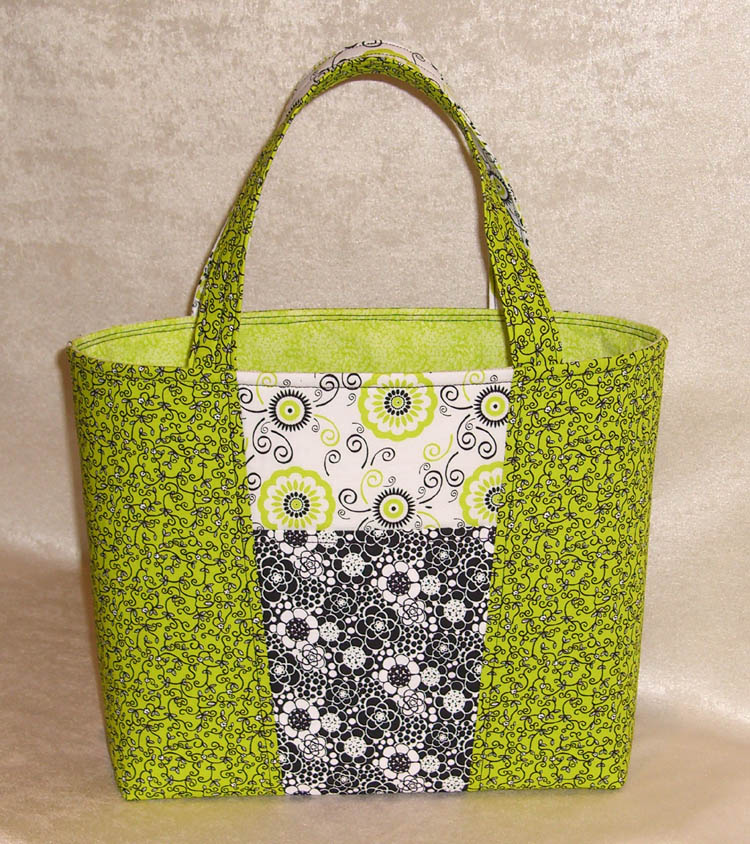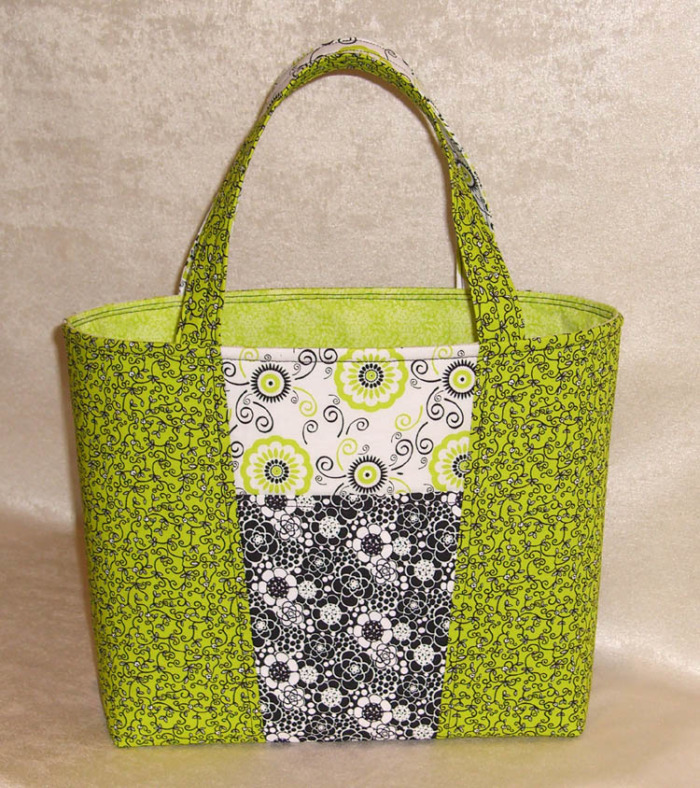 Here is the other side of the bag.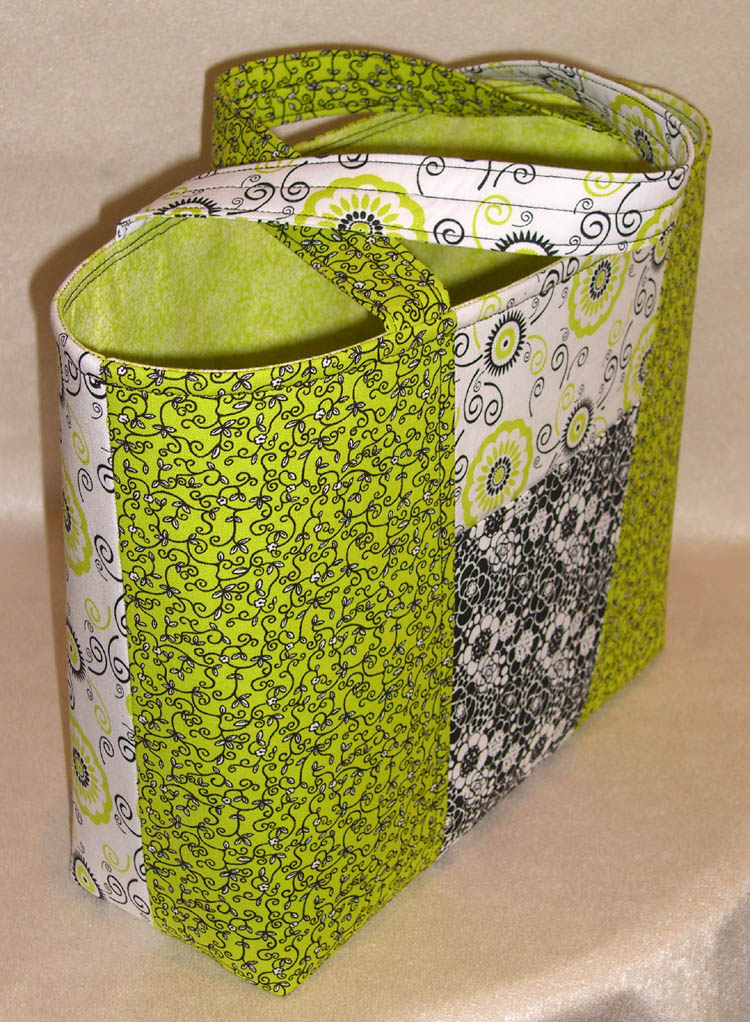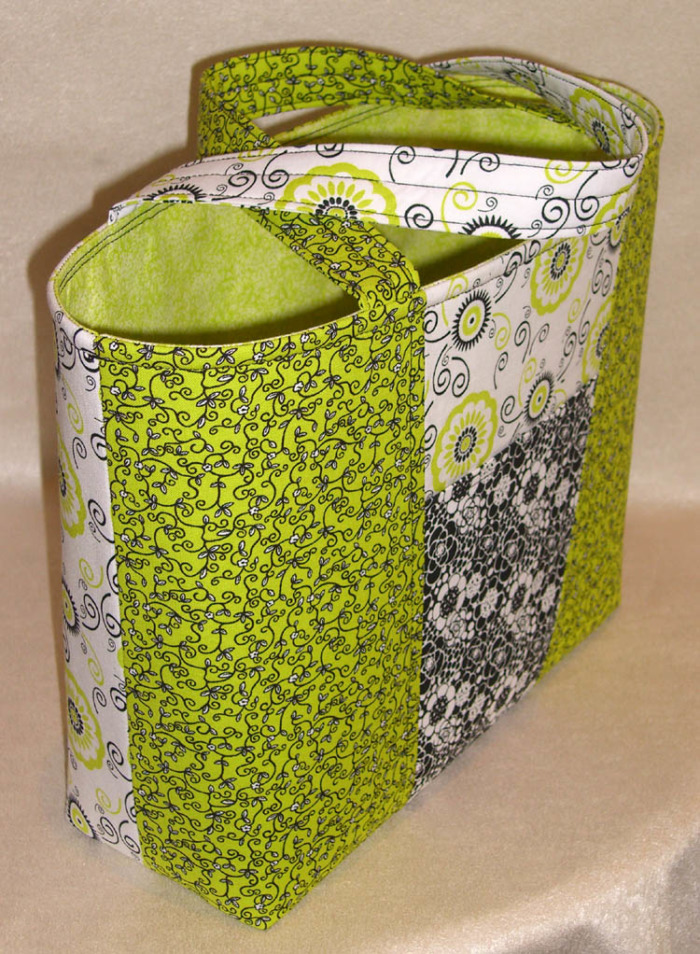 I love how the fabrics meet at the side seams.
It's a Purse, Basket, Project Tote
Claire offers an interesting mix of uses. As she is, I think of her not only as ideal for a purse, but perfect for a project tote. Especially knitting or other handwork with the way she sits open and at attention. And I can't shake the feeling that she is a spring basket, too, ready to accompany me on a walk through the park.
I have to tell you – I adore this design. It's sweet, simple yet not plain, functional with a hint of sass. I look forward to discovering how she fits into my stable of purses, bags, totes and more.
Two New Lazy Sewing Tricks
Claire stands up nice and tall with one layer of batting for the cover and one layer of interfacing for the lining. A new Lazy construction trick helps her stand tall and open.
The short handles are my preference. Due to another special Lazy construction trick, the handles behave nicely, resting across the top of the bag neatly and at the ready.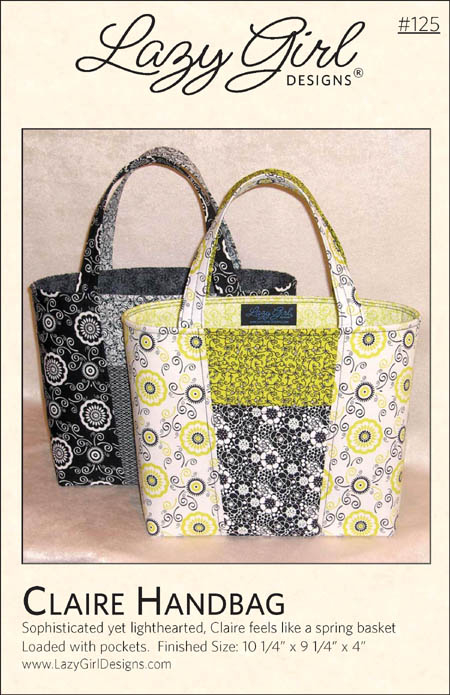 Claire pattern cover.
Claire Details
Size: 10 1/4″ wide at the bottom and 9 1/4″ tall by 4″ deep.
She uses our Bag-E-Bottom size F, same as Mini Mi.
Fabric: 7 fat quarters, 3 for the outside 4 for the inside.
Loaded with inside pockets.
Two outside pockets, one on each side.
Handles in two lengths: short and medium.
Lazies, Just some eye candy to share today. More pics of the Claire Handbag samples headed to Quilt Market this week in Pittsburgh. I'll be at the show on Friday, booth-free, or free-range as I call it, walking the floor. See you there! Notes on interfacing/batting at the end of this post.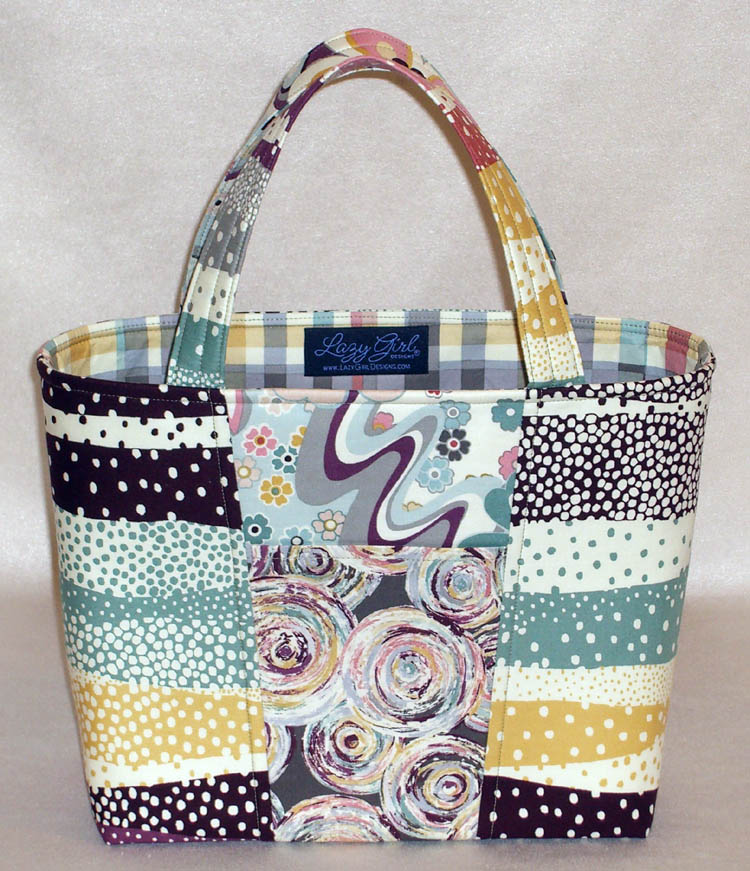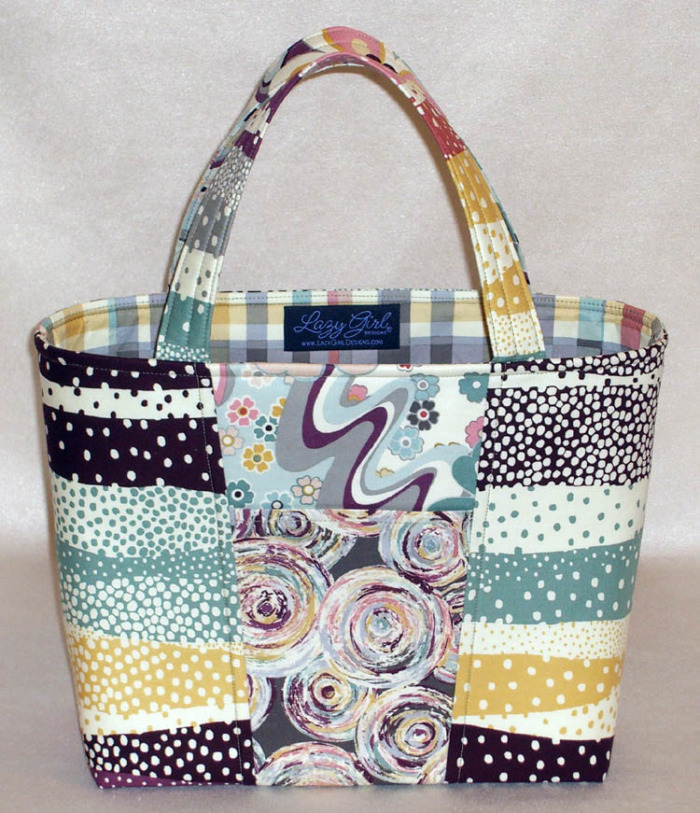 'Porcelina' by Marcus Fabrics
Where to see Claire at Quilt Market
Check with the following booths to see our beauties: Avlyn, Maywood, Marcus, Blank and Checker Distributors. And hopefully Moda/United Notions if their yardage arrives today (I hope, I hope!).
'Porcelina' by Marcus Fabrics
Shown above and below, this is a fun and whimsical graphic line full of different scale prints. I love how all the fabrics come together from the side view shown below. And the handles stand up nice and pretty all on their own. Fabulous!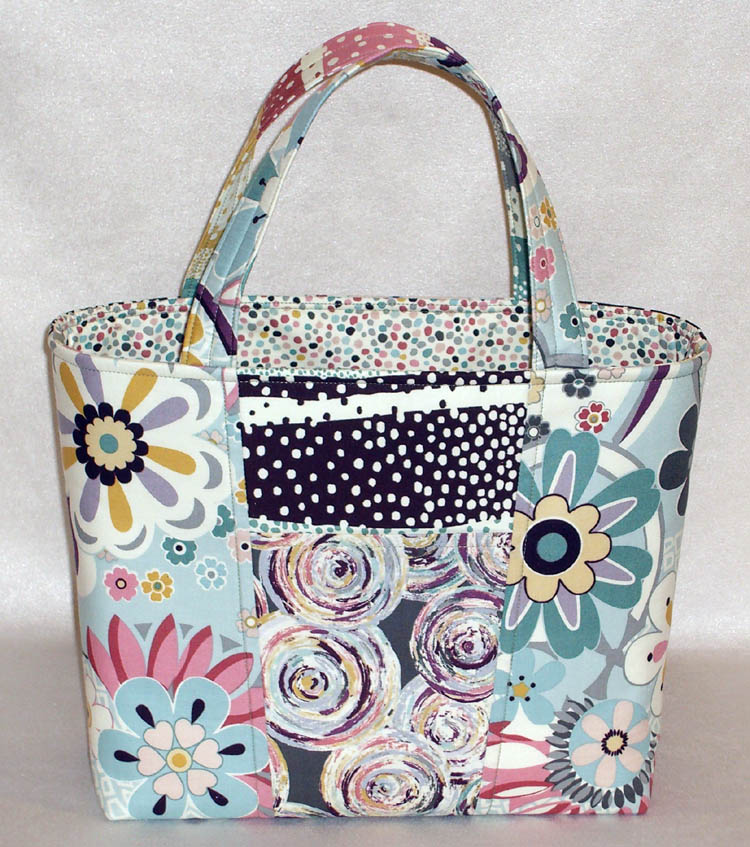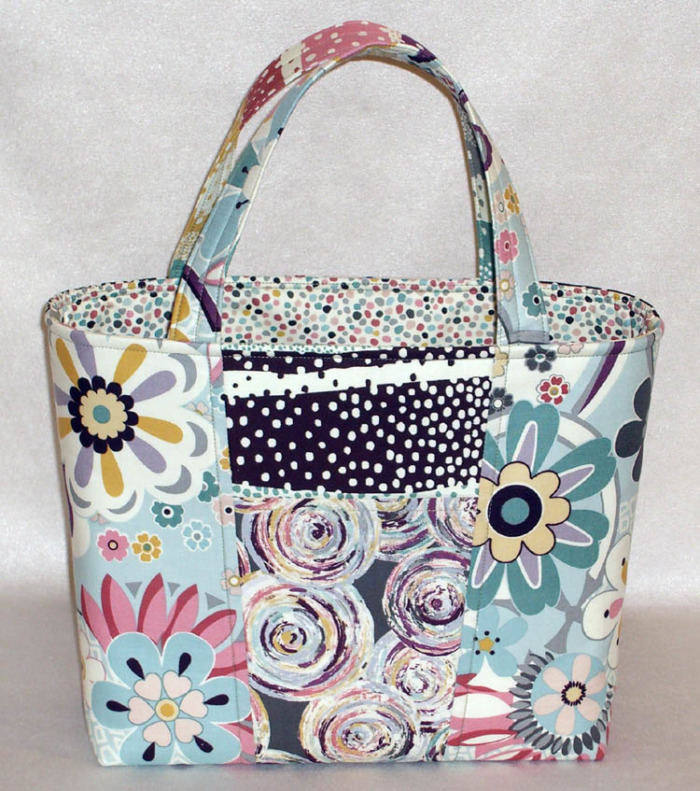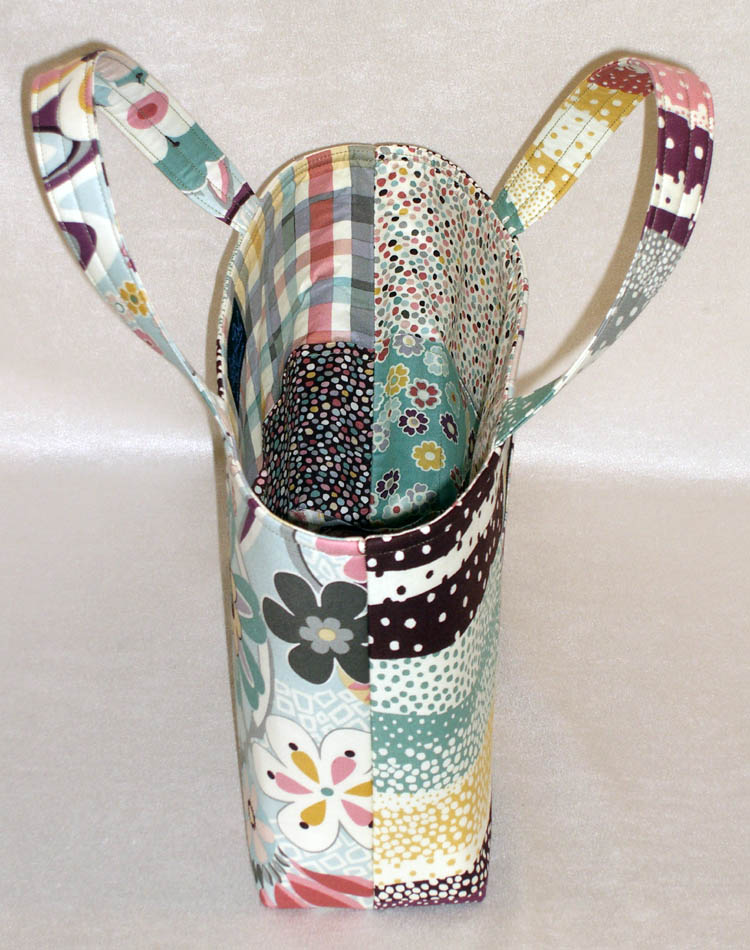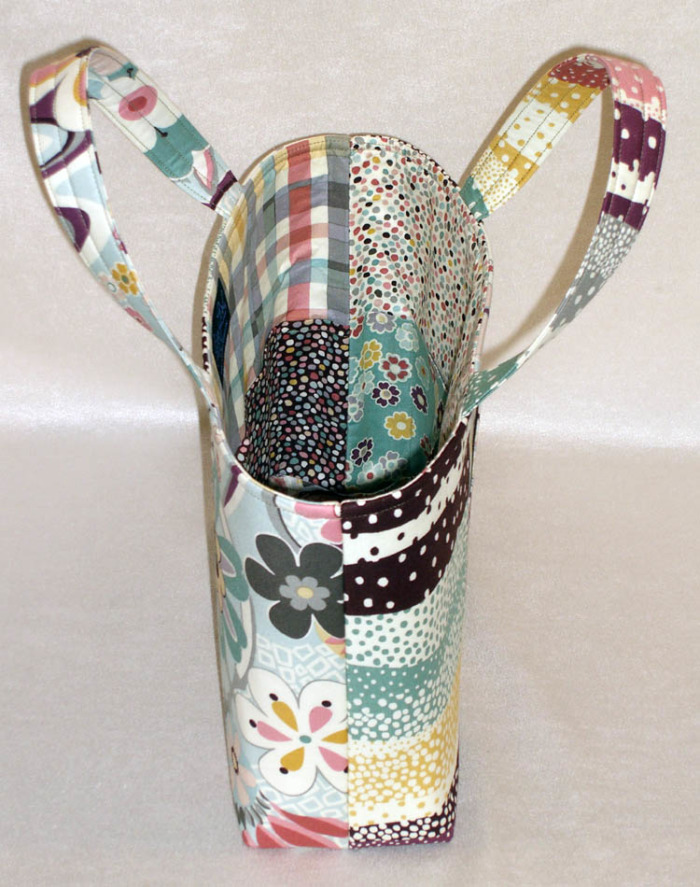 'Paisley' by Maywood Studio fabrics
This is Paisley in the black colorway. Also available in green, red and blue with taupe. I love this line. It screams out to be made into bags. It's sophisticated and light in tone despite its roots in black. Nice.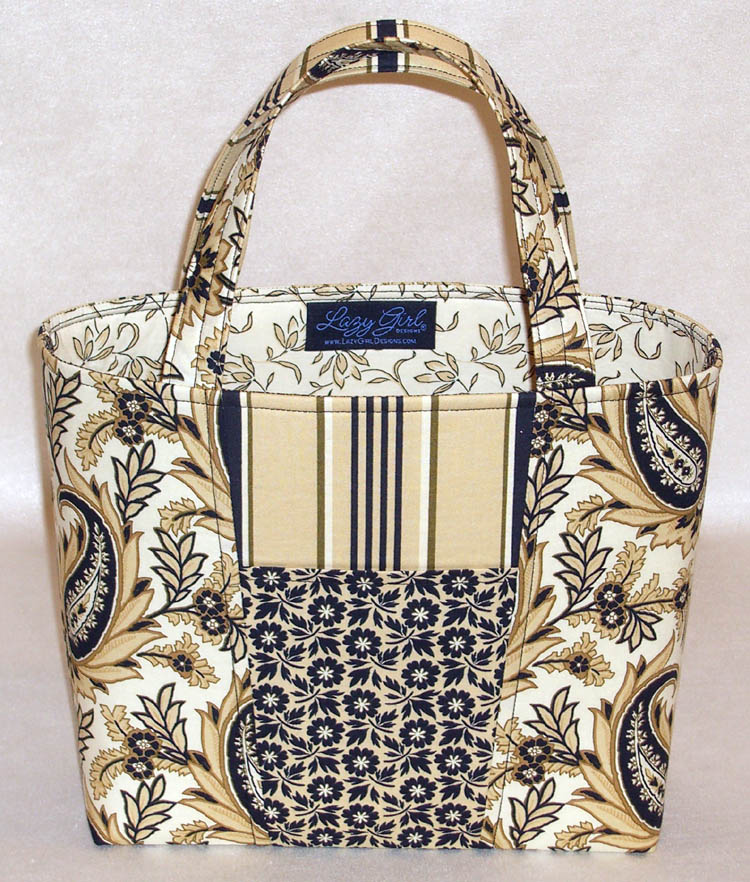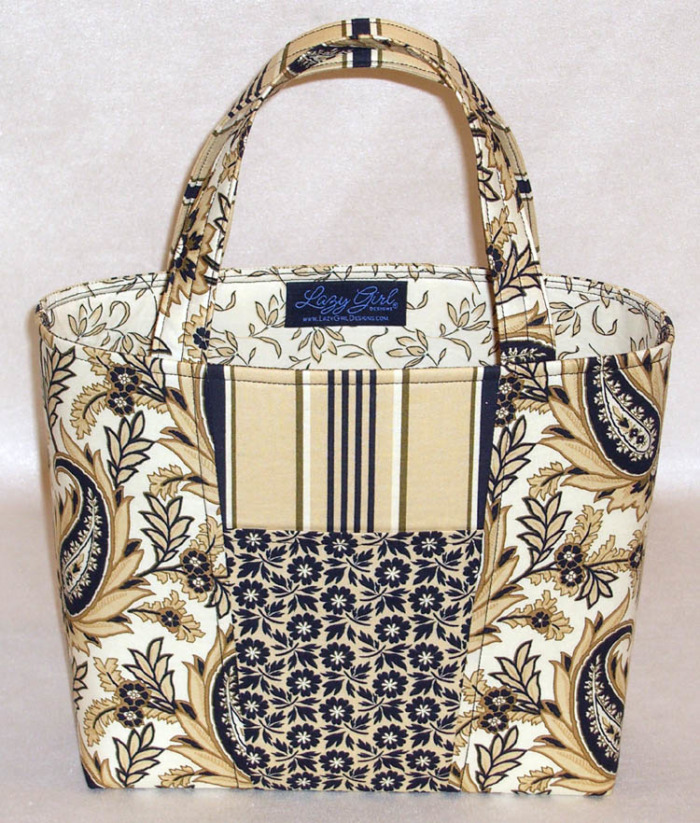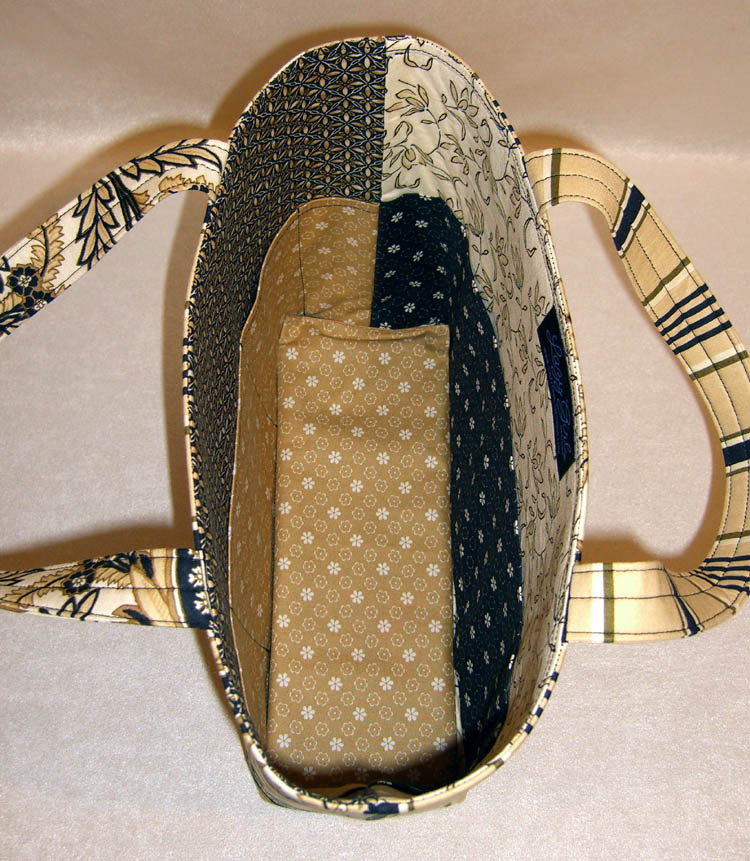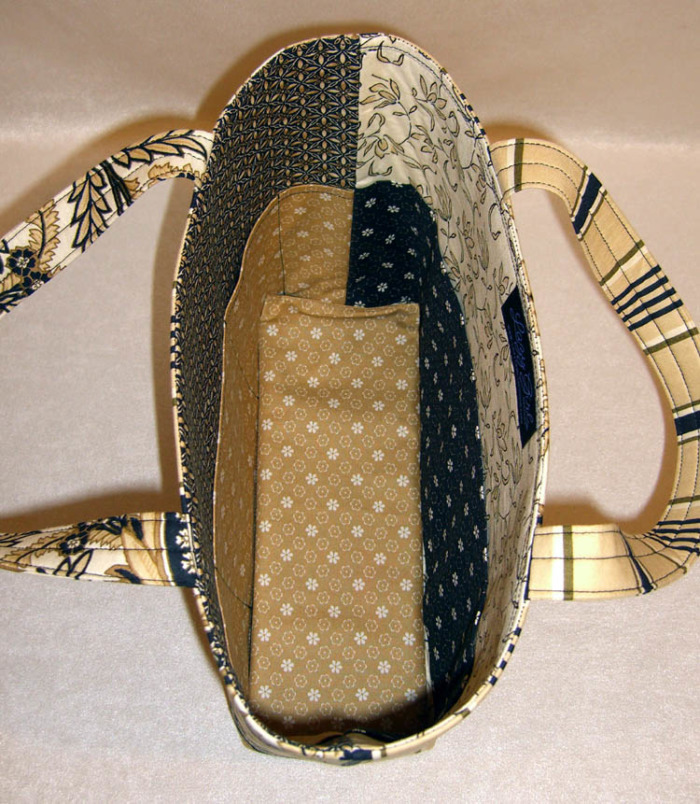 'Metro Goes Au Naturel' by Marcus Fabrics
This is a wonderful line of brown, black, cream and gray. Aside from simply being gorgeous, adding the gray in there with the tried and true black/brown/cream gives this well-anchored and classic styling a modern and pleasant twist. And the angled stripe is printed at that angle – fun stuff. Two samples!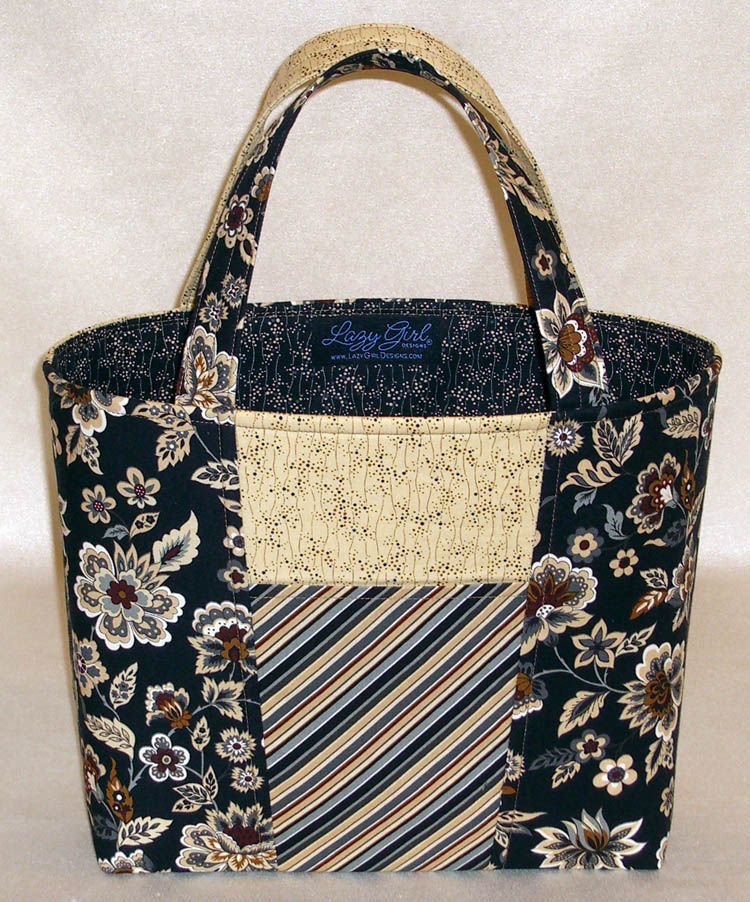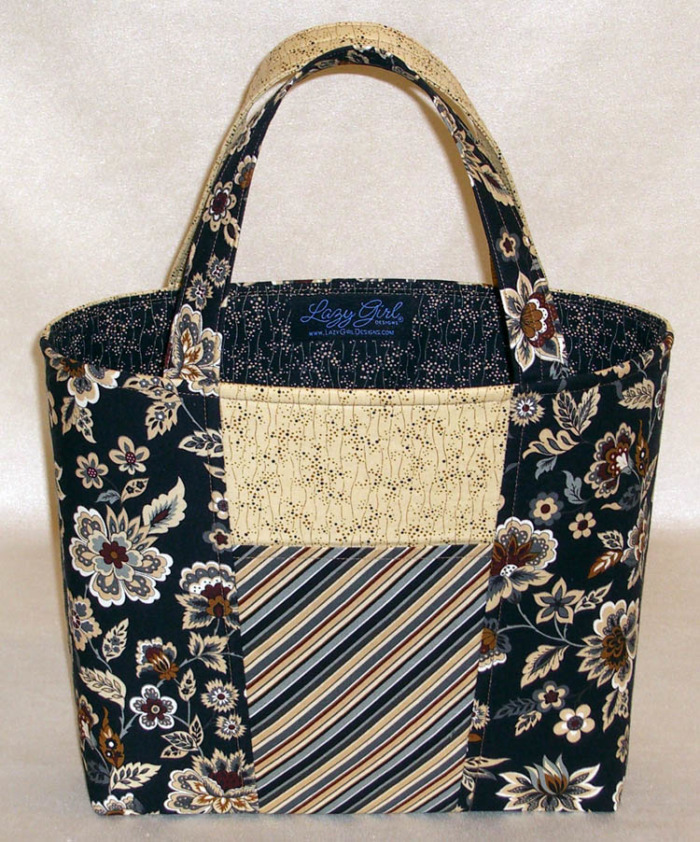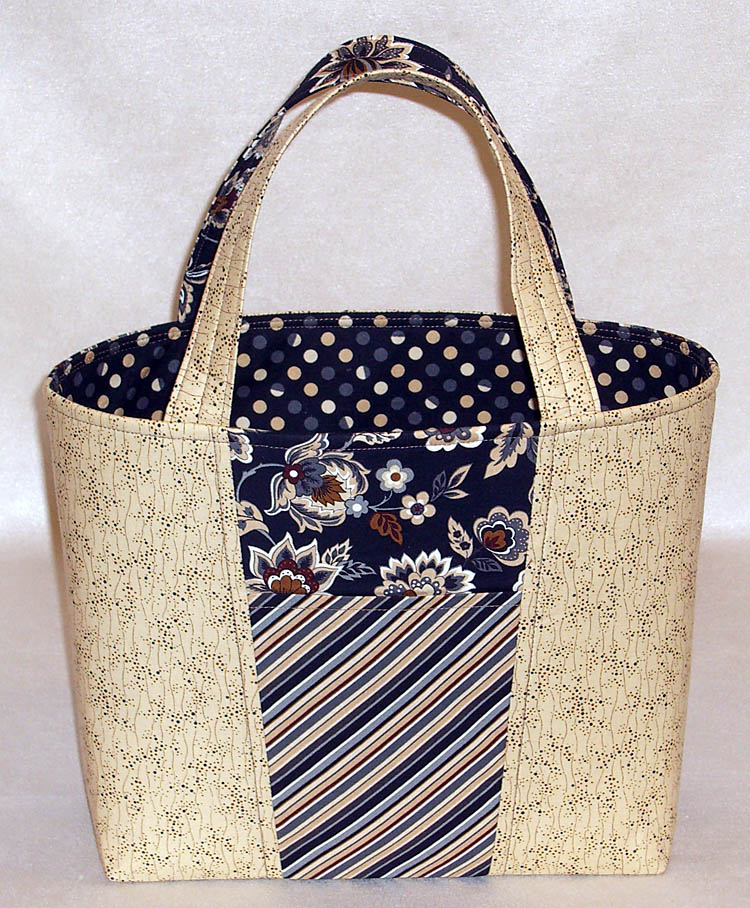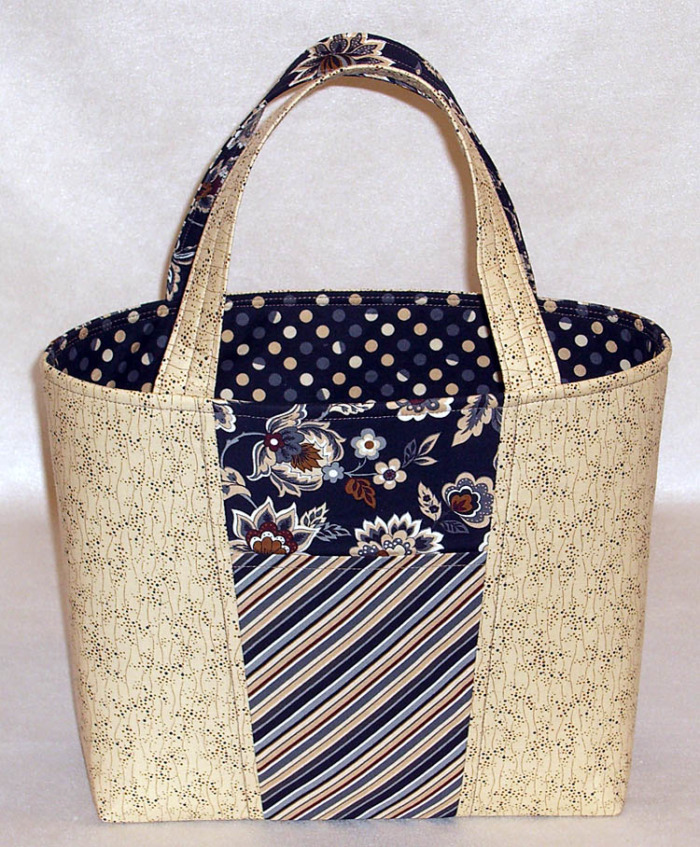 Get the Claire Handbag pattern here.
Subscribe to receive emails for my blog and newsletters about new patterns and project ideas.
Enjoy!
Joan
Joan's Sewing Group | Pinterest | Instagram | Twitter
Like and share this post with your stitchy friends.