The Party Going On Inside Claire
Lazies, Claire's lining and pockets are an opportunity to have a little fun. Choosing the inside fabrics is like putting on a snappy outfit and then adding a beautiful scarf at your neckline for a finishing touch – it brings oh so much to the party. So let's look at a few examples of the party going on inside Claire. Note: there is a link at the end of today's post for the back of the Claire pattern.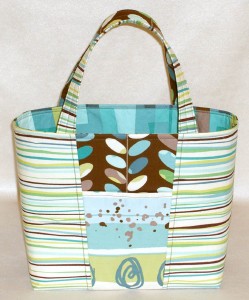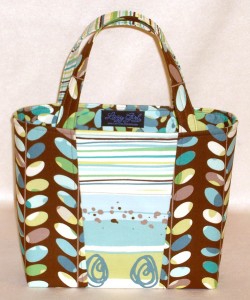 Natural Effects from Marcus Fabrics.
Above are the front/back views of another scrumptious Claire. Below is the inside view. I used a plaid and a random dot for the lining and two identical prints in different colorways for the pockets. Claire uses 7 fat quarters of fabric. Three for the outside, four for the inside. You'll need two fat quarters for the lining pieces and two for the pockets. Choose one fat quarter for each part of the inside of the bag.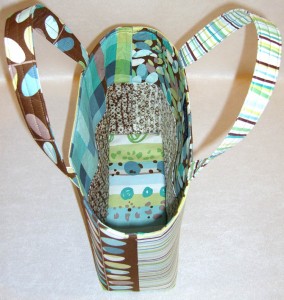 Natural Effects from Marcus Fabrics.
A New Approach
For the most part, I've been working with fat quarter collections to make all of the fabulous Claire's I've been sharing lately. After making so many, I developed a routine for picking fabrics (along with a healthy addiction to our new Claire).
Often times I had more than seven fabrics to choose from and once I only had four. I started by picking the three outside fabrics as we discussed last week. I made the covers, then decided on the lining and pocket fabrics. I laid out the rest of the coordinating fabrics and I placed the covers on each one, looking for the most interesting combination. Since they were all coordinates, they all went together, so I threw caution and planning to the wind and decided from the collections as I went.
Every View is a Visual Delight
Take a look at the examples below. Some of these are Claire's that we've showed before, but let's look at them and focus on the lining/pockets this time.
Light lining, dark pockets. 7 different fabrics
Lining: both light backgrounds
Pockets: both med/dark backgrounds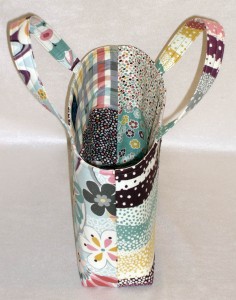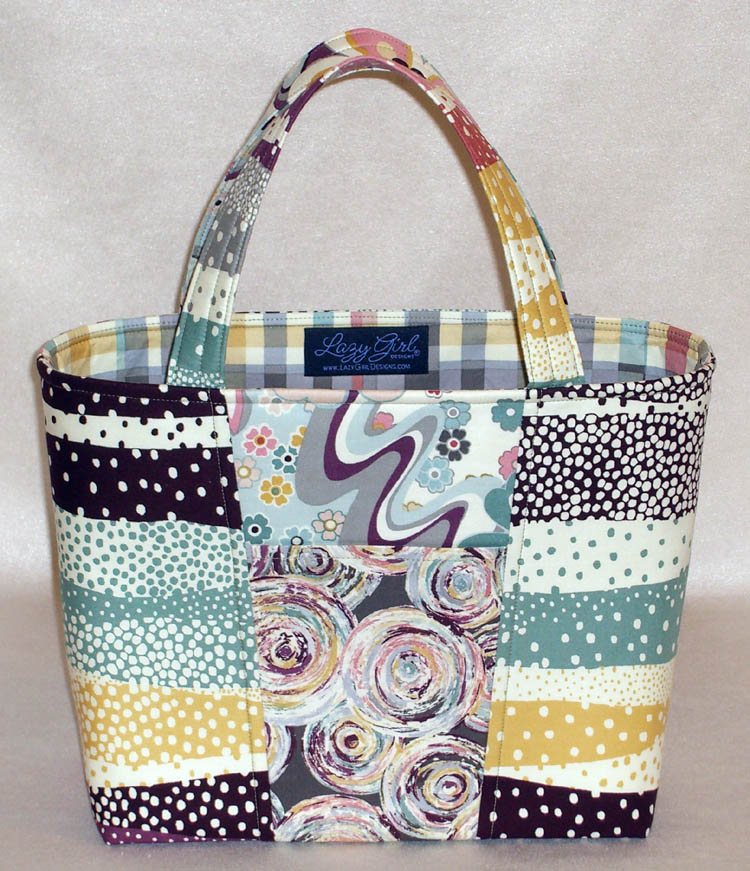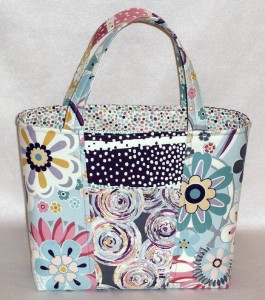 Porcelina from Marcus Fabrics.
Above, we chose three striking prints for the cover. But look at that snazzy lining, peeking out from below the rim of Miss Claire, suggestively telling us something just as fun is going on inside. We paired a plaid with these fabulous linear prints. And that little dot reminds me of sprinkles on top of my ice cream.
One fabric for lining. 4 fabrics total.
Lining: one fabric (two fat quarters or 1/2 yard)
Pockets: two fabrics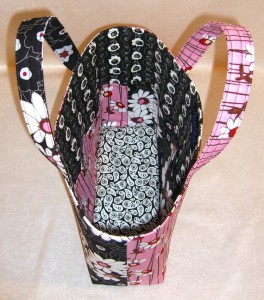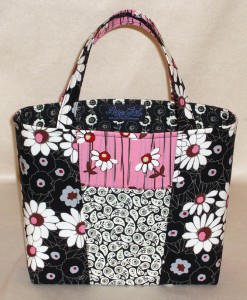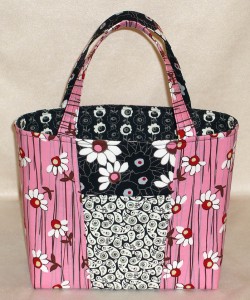 Spring Fever by Hoodie's Colleciton for Blank.
I only had four fabrics total to choose from. I used the same three cover fabrics on the inside of the bag for the pockets and the sleeve for the Bag-E-Bottom size F. The fourth fabric worked out beautifully for both lining pieces.
Reverse combination. 7 fabrics total.
Lining: one dark, one light.
Pockets: one light, one dark.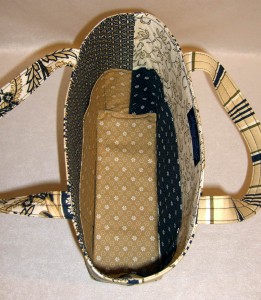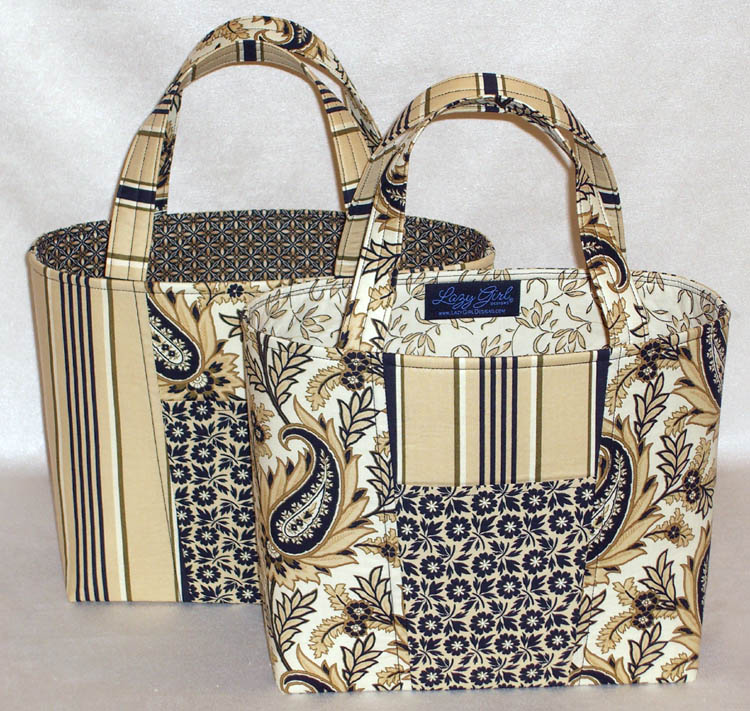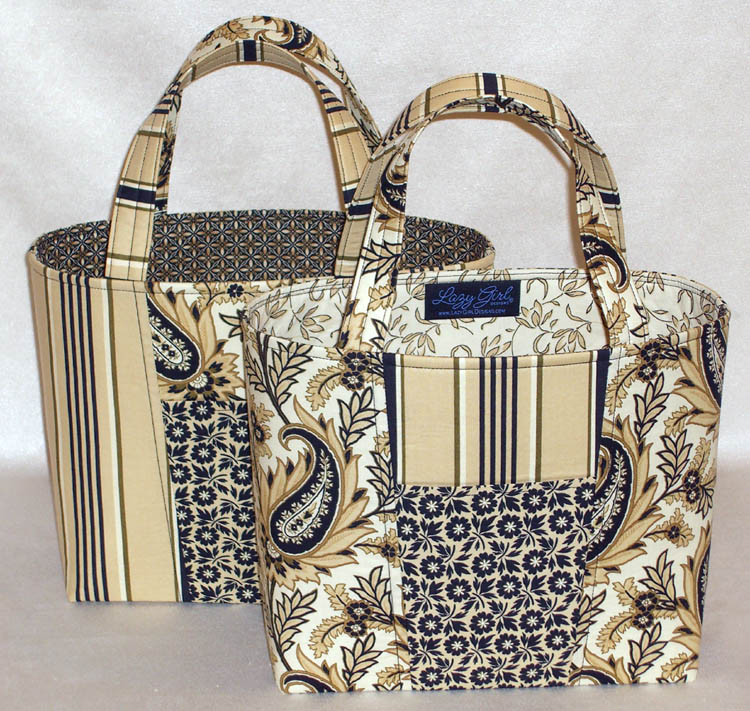 Paisley by Maywood Studio
Matchy-poo. The linings and pockets coordinate with each other. 7 fabrics total.
Lining: a light and medium green
Pockets: two black/whites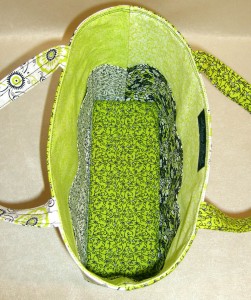 Belle Fleur by Avlyn
Claire Pattern Info
Do you have your fabrics picked out yet? Have you been dreaming of Claire combinations? One for each outfit this summer? I have. Well, hop to it and get started by printing off the back of the Claire pattern. It contains info on supplies, design options and notes.
claire-pattern-back
Next week – our new Claire baby gets here! Is it next week yet?
Enjoy!
Joan
PS: Thank you for posting such lovely Lazy comments. It is a true joy to hear what you think of our new Girl and share the fun (agony) of waiting for her to arrive.