Make a Bag Using a Border Print
Lazies, Fussy cutting, or cutting to feature a particular part of the fabric, is handy for creating balance and symmetry when working with repeats. The green fabric on the Claire Handbag below is a fussy cut of a border print, or an elaborate stripe, from the Hushabye line by Tula Pink for Moda.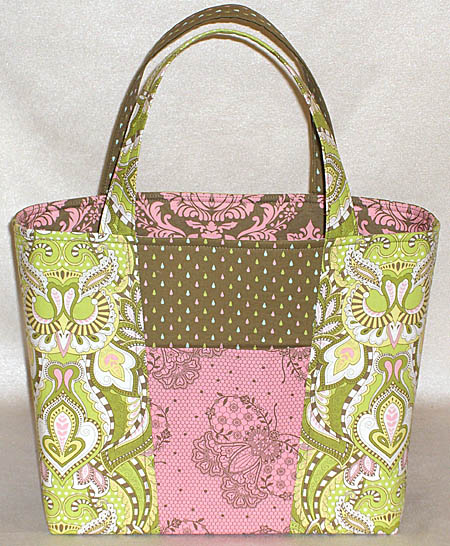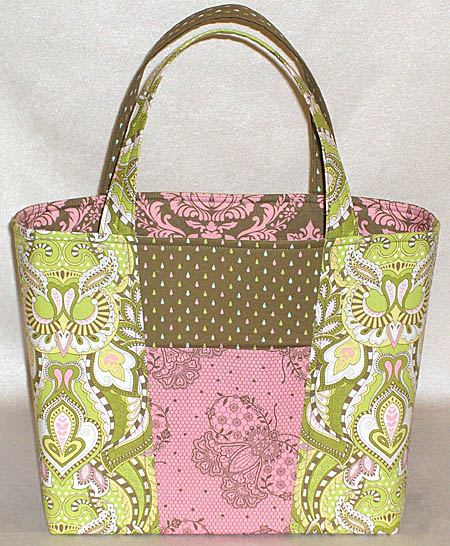 A centered stripe fabric, or border print,
makes up the symmetrical green fabrics.
Where To Start
Below is the striped fabric I used for this Claire. The stripe wasn't wide enough to use just one for the cover, but the stripes are close enough that I can use most of two stripes and the space between them.
I lined up the center of the green with a line on my cutting mat. Then I simply measure for half of the cover in each direction and cut.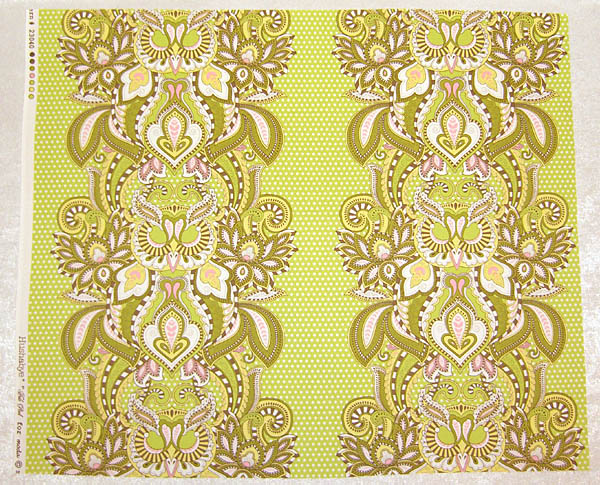 A wide stripe or border print can be fun.
I've overlaid the photo with a graphic showing the center and the overall cut size. The angled lines represent the center panel that will be swapped from the front to the back of the bag.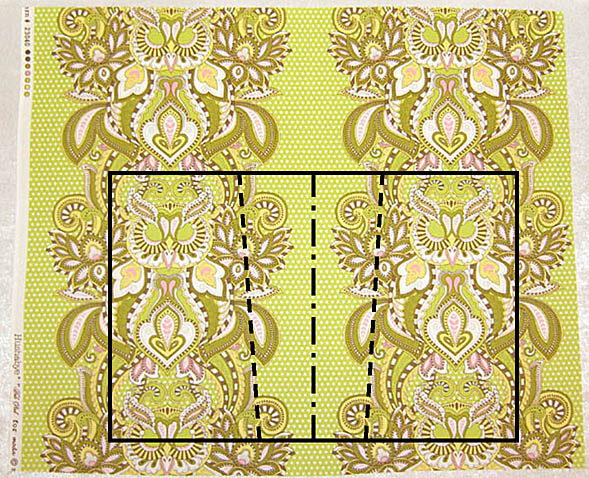 Find the center then cut the cover piece.
The Final Result
With the front and back views side by side, you can see where the center of the striped fabric offers a little variety on the back and the fabric is symmetrical because we centered the piece.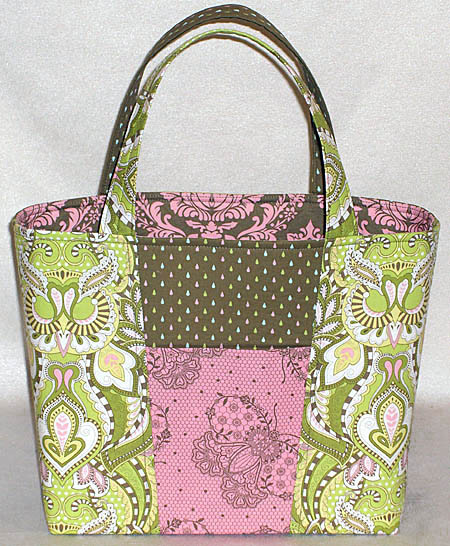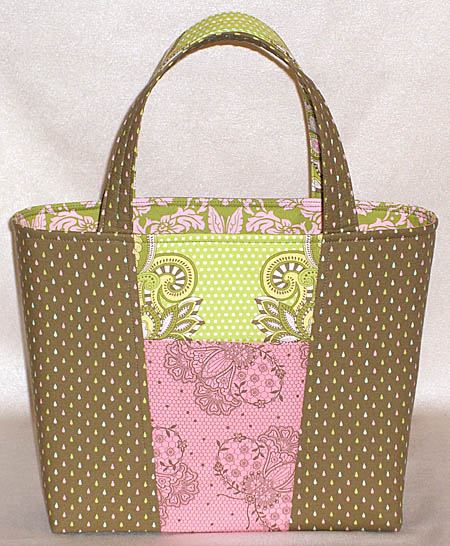 Front and back views of the same bag.
Here's a view of the inside of this Claire Handbag.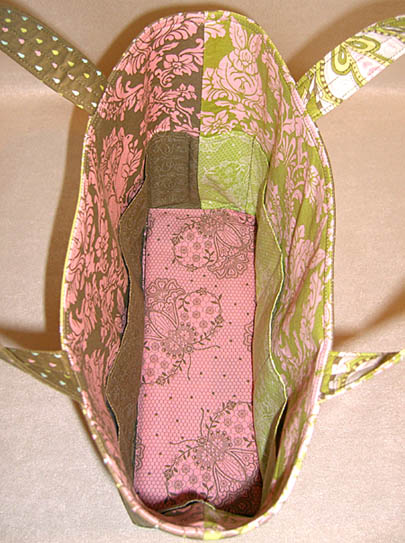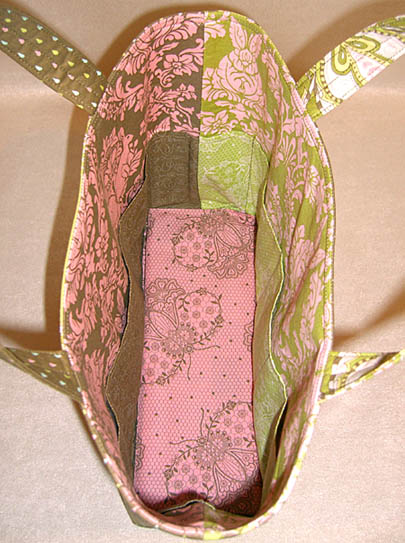 Critters and Cuties
Are you a fan of Tula Pink's designs? I am. I love Jen's critters and cuties which are composed of, and nearly hidden amongst her elaborate scrolling designs. The border print hides a dandy owl shown below. The pink 'V' is the beak. The lining features a bunny and you probably saw the butterfly on the pink fabric.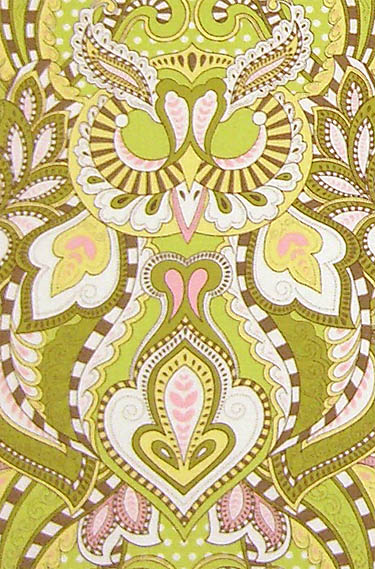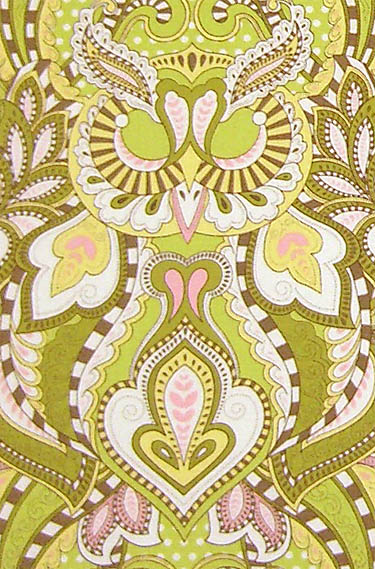 Where To Buy Claire Handbag Pattern
Get our Claire Handbag pattern here: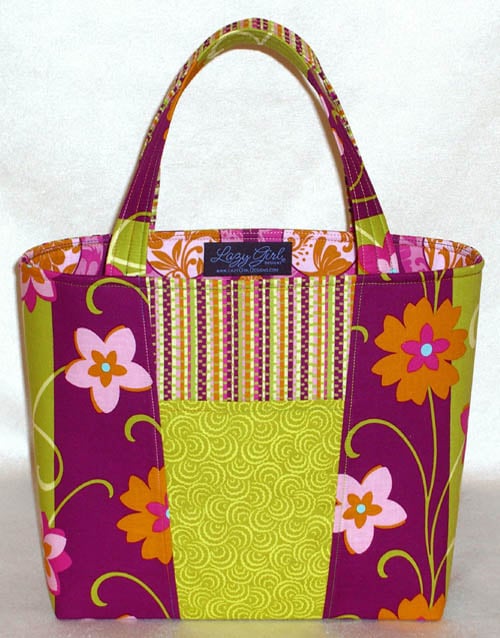 Enjoy!
Joan
Sew With Joan Online Classes | Joan's Sewing Group | Pinterest
Like and share this post with your stitchy friends.