Tutorial: Attach A Shoulder Strap To Your Bag Project
Lazies, Let's take a close look at how to attach a shoulder strap to a bag project and take note of the things to consider. Once again, we are working with the Miranda Day Bag from our previous blog posts. Be sure to check the news at the bottom of this post.
Considerations
– I want to be able to remove the shoulder strap if desired, so I need a detachable option for this project. I chose swivel clasps, available with purse notions and accessories at fabric stores as well as at hardware stores.
– The bag is finished, so there aren't any open seams or final construction to sew things into, so, I must sew things onto, which means exposed elements, no where to hide loose ends, etc.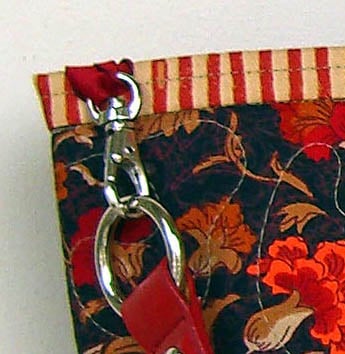 Here's a close up of the Roasted Red Pepper Handy Tab, swivel clasp and shoulder strap.
First Things First
We need to get from the bag to the hardware. We need to determine where to place it and how to attach it to the bag. I use our Handy Tabs, but you could use fabric or ribbon as well.
Our Handy Tabs are designed for this purpose, they are strong, all edges are finished, so they are ready to go. For cut fabric or ribbon, you'll need to address the raw edges somehow to prevent raveling. That usually means making a tube or double folding fabric as well as finishing the ends. All of this adds bulk. The Handy Tabs take care of all of those issues.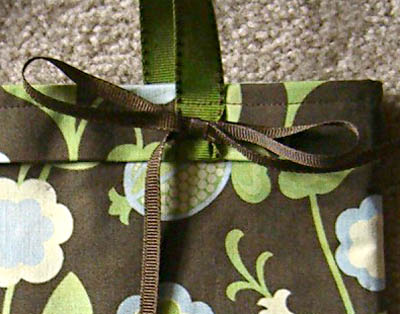 Handy Tabs are available in ten colors.
Use to attach handles, 'D' rings, key fobs, charms, etc.
Important: The fabric attachment for the hardware needs to be long enough so that the hardware can lay flat against the outside of the bag when not in use as shown here.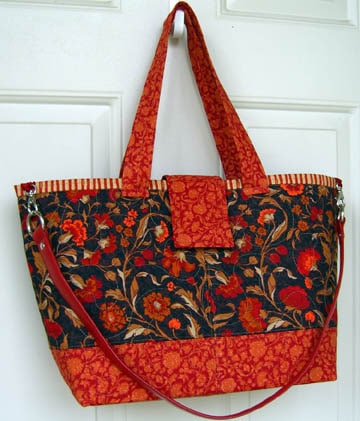 A well-behaved shoulder strap rests
nicely against the bag when not in use.
If the fabric is too short, the swivel clasp will rest on the top edge of the bag and smoosh it down in a most unsightly manner. And, it will cause the shoulder strap to jut out from your bag and probably be in your way, rather than rest nicely against the bag and behave when not in use.
How To Attach Swivel Clasps
Place the Handy Tab through the clasp, meet ends and pin as shown here. Note, the Handy Tab can be placed directly through the end of the handle, skipping the swivel clasp, for permanent attachment.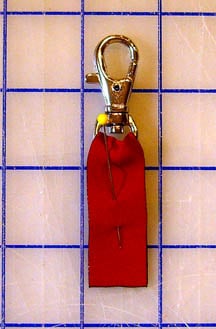 Next, place the Handy Tab ends on the lining side of the bag as shown below, allow the swivel clasp to hang over the edge to the outside of the bag, making sure it has enough length to allow the clasp to lie flat against the bag. Stitch across the ends of the Handy Tab. In this case, I aligned the stitching with the previous topstitching on this project.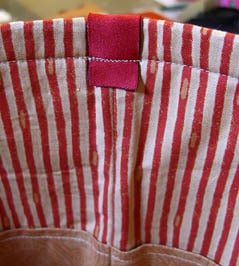 Here is how the swivel clasp should look when attached. Clip your handle in place. That's it, you are ready to go!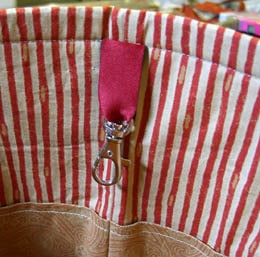 Use this same method to attach all sorts of purse hardware from fashion handles to 'D' rings, key fobs and more.
See more things to do with our Handy Tabs here.
Two News Items
Sew Simple Magazine: Our Handy Tabs are featured in the May 2009 issue of Sew Simple magazine, available now.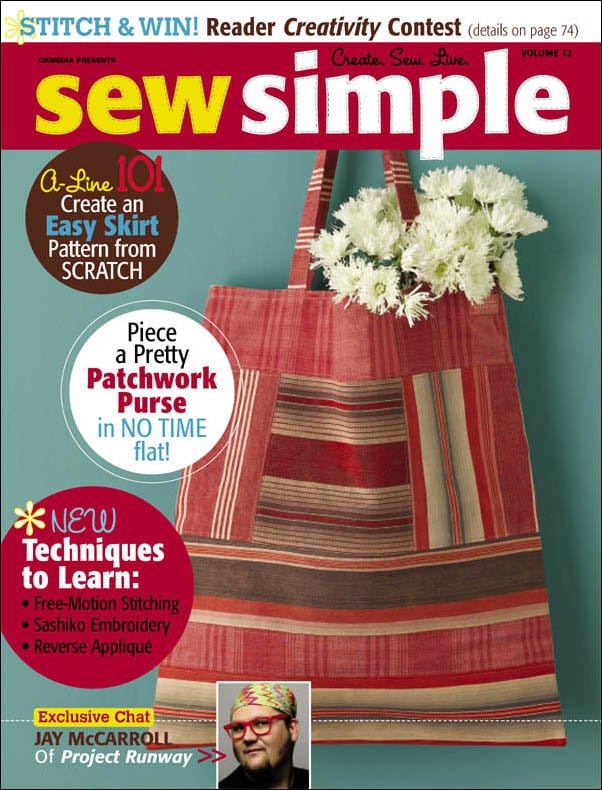 Traveling With Miranda: Yolanda Fundora wrote to me recently and told me how much she is enjoying Miranda. She wrote a nice piece on her blog, complete with pics, about her travels with Miranda.
Subscribe to receive emails for my blog and newsletters about new patterns and project ideas.
Enjoy!
Joan
Joan's Sewing Group | Pinterest
Like and share this post with your stitchy friends.