A Lazy Confession: Shortcut = Wrongcut
Lazies, When I made this gorgeous Claire Handbag, I made a cutting error. Yep, I make mistakes when working on my own designs. Don't be shocked, my whole company is geared toward getting away with sewing murder. Our criminal goal as always: the easy route to the illusion of perfection.  So, let me tell you what I meant to do. And we have a new feature at the blog – note at the end.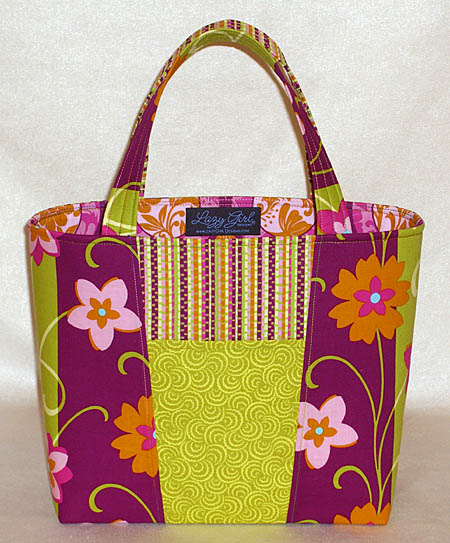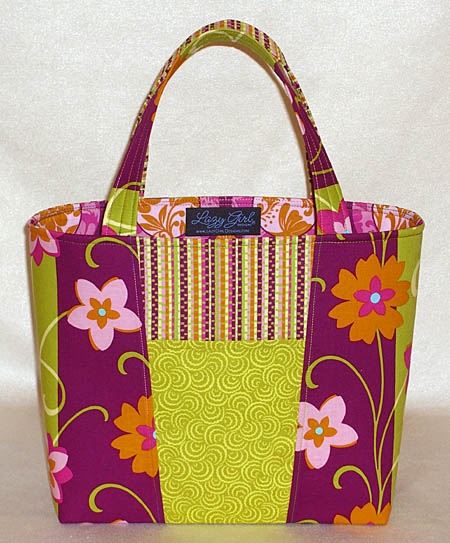 Here's the Claire Handbag design (LGD125) shown in the fuchsia color way of City Blooms fabric from Benartex. We saw the blue/green colorway last week on Cathy's Claire.
Going in the wrong direction
My goal for this Claire was to have the mini striped fabric cut on the horizontal, not the vertical. This is a minor issue, but I feel the overall final project would be more visually interesting if that mini stripe went side to side, rather than up an down.
Shortcut = wrongcut
How did I make this mistake – I took a shortcut and it didn't pay off in the end. I simply did not think through the cutting of my fabric. Shhhh, don't tell.
Here's what I did
I was working with fat quarter cuts. I  stacked the wide stripe on top of the mini stripe and cut the two pieces needed for the front/back covers of Claire. Remember, we stack, chop, and swap these two fabrics in this project. More about that here.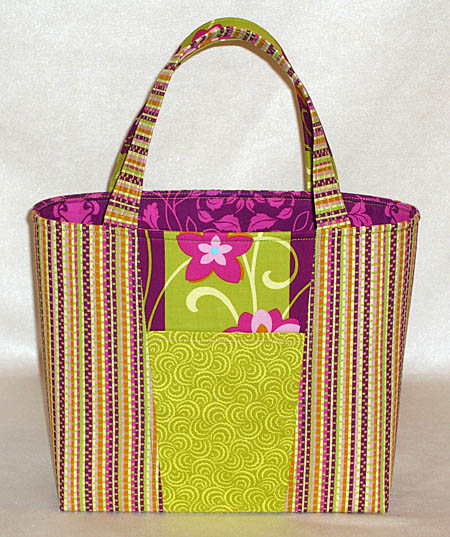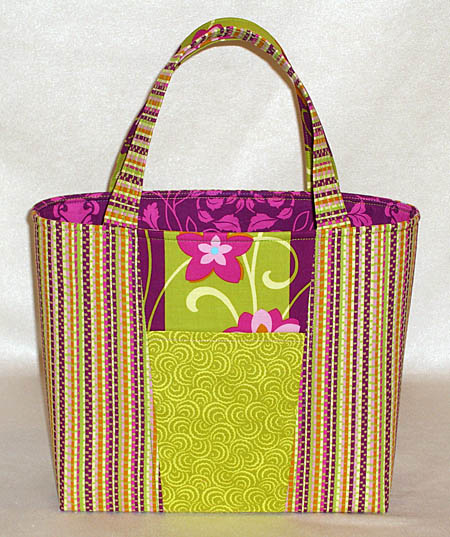 When I stacked the two fat quarters, I simply matched all of their edges and cut. As it turns out, the stripes on both fabrics were going the same way. I should have rotated the mini stripe the other way, or simply cut each fabric separately. I didn't think it through before cutting.
Why it makes a difference on this project
The two main fabrics in this project are stripes. It would have been more interesting if they went in different directions on the final project. The mini stripe would have been much more dramatic on the back if it was horizontal. And it would have flowed better with the handle.
Here's a peek at the inside of the bag.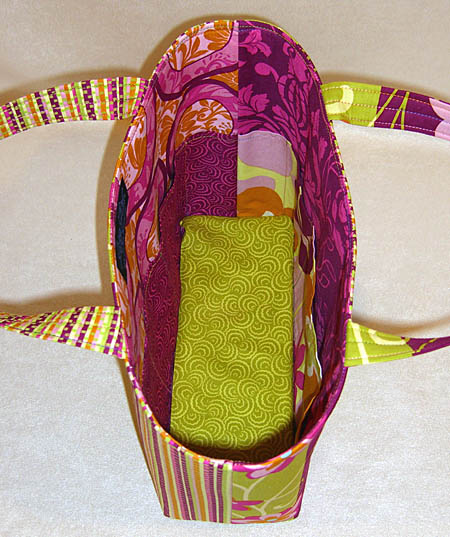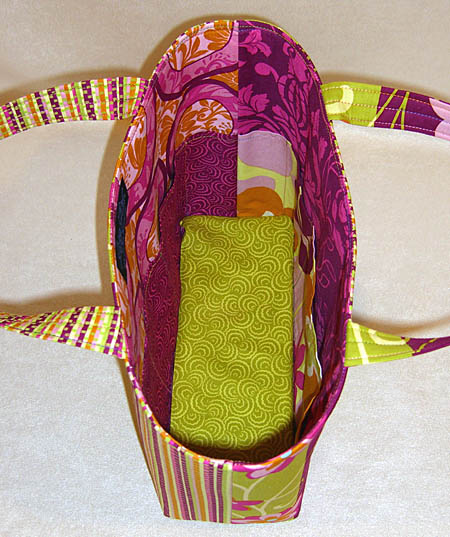 New blog feature
You can now easily print our blog posts using the 'Print This Lazy Post' link at the end of each post. See it below my name? Simply click that link and the post will refresh in your browser, stripping away all the stuff you don't want to print. Then click on 'Click here to print' at the bottom right of that screen. And, it's retroactive – you can go back to any post and print.
Enjoy!
Joan