Meet Sew Lazy: An Interfacing Fairy Tale Come True!
Lazies, Interfacing has been a bad bedtime story for too long. Bad product names, mystery properties, generic instructions – ack! Sew Lazy interfacing turns that bad bedtime story into a fairy tale come true. It's Sew Lazy and the 7 Dwarfs! Sew Lazy is seven of my favorite products for bag making, small crafts, table runners, apparel and more. Good names, instructions, project icons, color coding, etc, etc. Finally, we can make sense of these confusing products and know exactly what to buy, how to use it and what it will do for our projects. Grab a cuppa cuppa, I got a lot to tell you!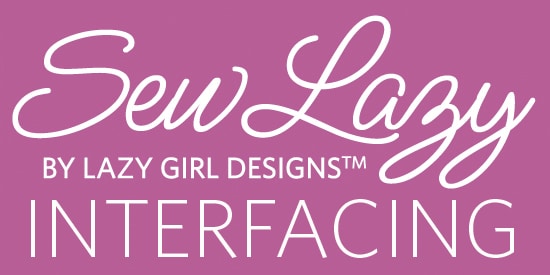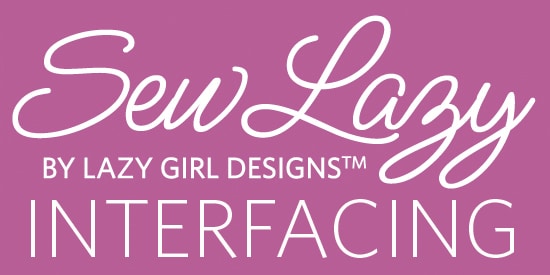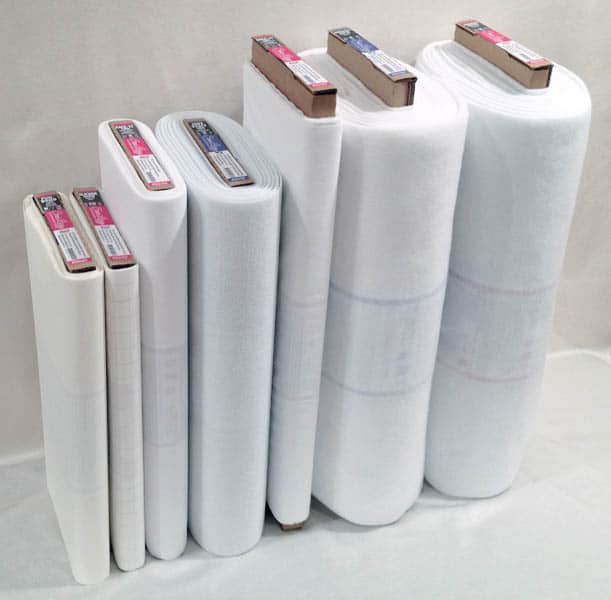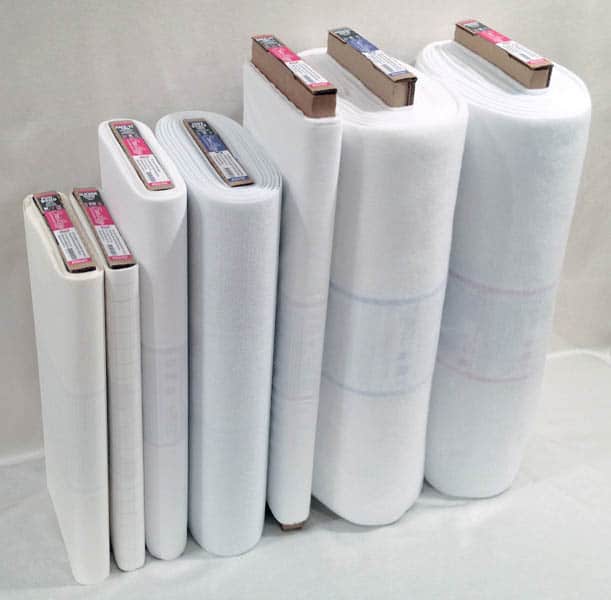 Please Meet Lazy Girl Interfacing
While Snow White had Grumpy, Dopey and Sleepy, I've got: Stiff Stuff, Slicker, Dreamy (2: sew-in and fusible), Face-It (2: soft and firm), and Fusi-Bond. Products that work. Names that make sense. Get to know these names, we'll be seeing a lot more of them. I've spent so much time with these little bolts, I've come to think of them as my 7 Dwarfs.
Why Sew Lazy is Special
– Products selected, tested and approved by me, so you know they're good and will work for you.
– Names that make sense and are relatable. Stiff Stuff to make your bag stand up – perfect!
– Bolt end labels clearly marked with all the info you need to make sure you're buying the right thing.
– Instructions and descriptions wound with each product. It's like I'm right there talking to you!
– These are the basic items plus a thing or two that might be new to you.
– Only available at your local quilt shop or their online shop.
– Made in the USA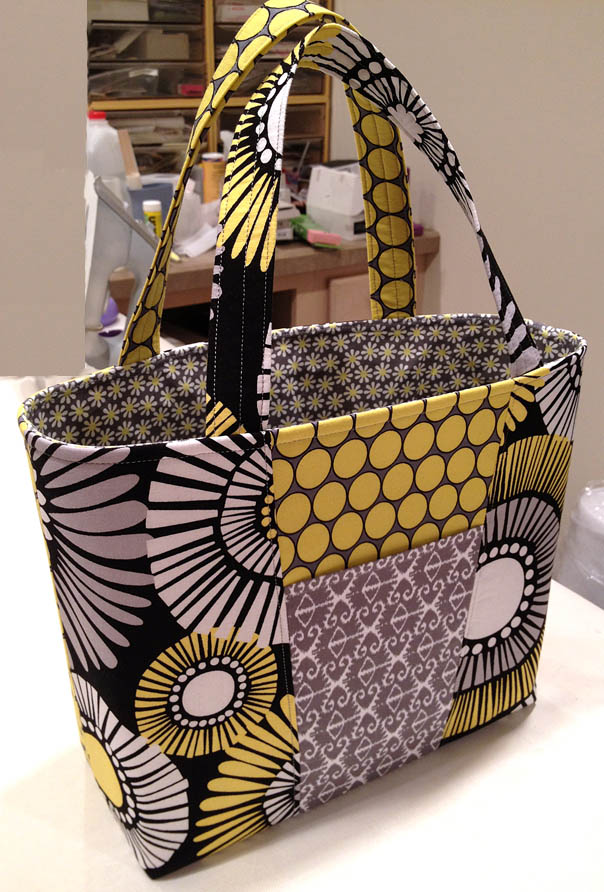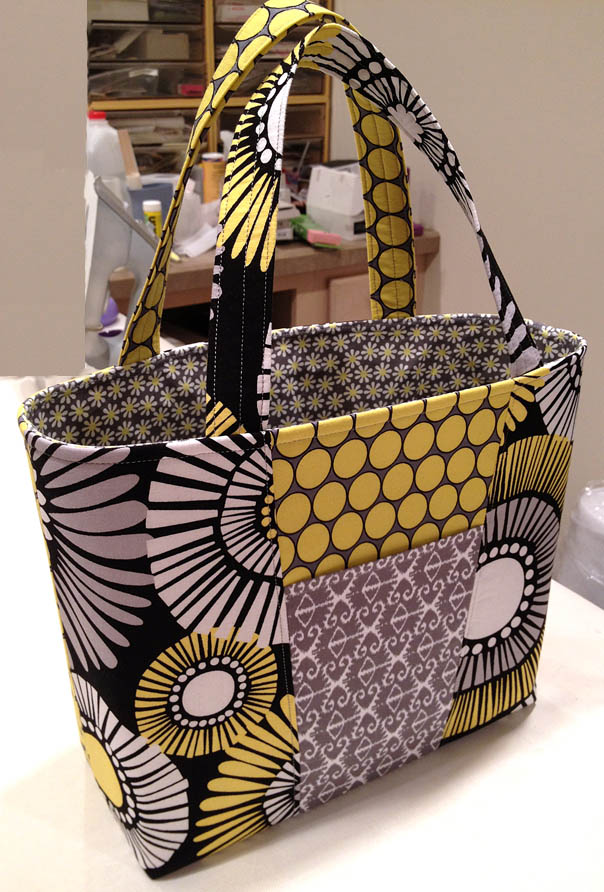 Claire Handbag (LGD125) made with Stiff Stuff in place of fleece
and Face-It Firm to interface the lining.
Products Details, Names, and Substitutions
Fusi-Bond Lite (SLG101, 17″)
An adhesive web perfect for applique and bonding layers of fabric together. It won't gum up your sewing machine needle, offers an even and consistent bond and won't add weight or stiffness to your project. Fusi-Bond = fusible bond.
(Use in place of: Heat N Bond Lite/Wonder Under)
Slicker (SLG102, 17″)
Iron-on glossy vinyl. Hey, we can laminate our own fabric! Fabric stays soft and is easy to work with. You'll meet the Slicker Tote (below) in an upcoming blog post. Slicker = it makes fabric slicker. NOTE: Do not microwave or use in oven.
(Use in place of: Pellon Vinyl)
Face-It Soft (SLG103, 22″)
Lightweight woven 100% cotton fusible interfacing. Face-It = interface it. There is no nickname for interfacing, so let's just 'Face-It'.
(Use in place of: Pellon Shape Flex.)
Face-It Firm (SLG104, 20″)
Medium/heavy weight non-woven fusible interfacing. Face-It = interface it, same category as above, just a different weight.
(Use in place of: Pellon Decor-Bond)
Dreamy Sew-In Fleece (SLG105, 45″) DISCONTINUED
100% polyester high loft sew-in fleece. Use in place of batting for small projects or in soft-sided crafts when you want more drape or softness than fusible fleece. Dreamy = creamy/dreamy consistency.
(Use in place of: Pellon Fleece)
Dreamy Fusible Fleece (SLG106, 45″) DISCONTINUED
100% polyester high loft fusible fleece. If you like Pellon fusible fleece, you are going to love this. Great consistency and no dimpling from over-fusing. Dreamy = creamy/dreamy consistency. It's as if fresh cream were whipped into a fleece, perfectly yummy with no calories and just the right loft.
(Use in place of: Pellon 987F Fusible Fleece)
Stiff Stuff (SLG107, 20″)
The new love of my bag-making life. Firm, yet flexible sew-in dense interfacing. It's forgiving and doesn't hold the fold like those other guys. You can crumple a bag into a ball and it will bounce right back and stand up straight. Use it in place of fleece or batting in a structured bag. Great for table runners and placemats, too. More on this later…a lot more! Stiff Stuff = I need some of that stiff stuff to make my bag stand up.
(Use in place of: Pellon Peltex, or TimTex)
NOTE: All intrefacing is available in packaged project-sized cuts, too.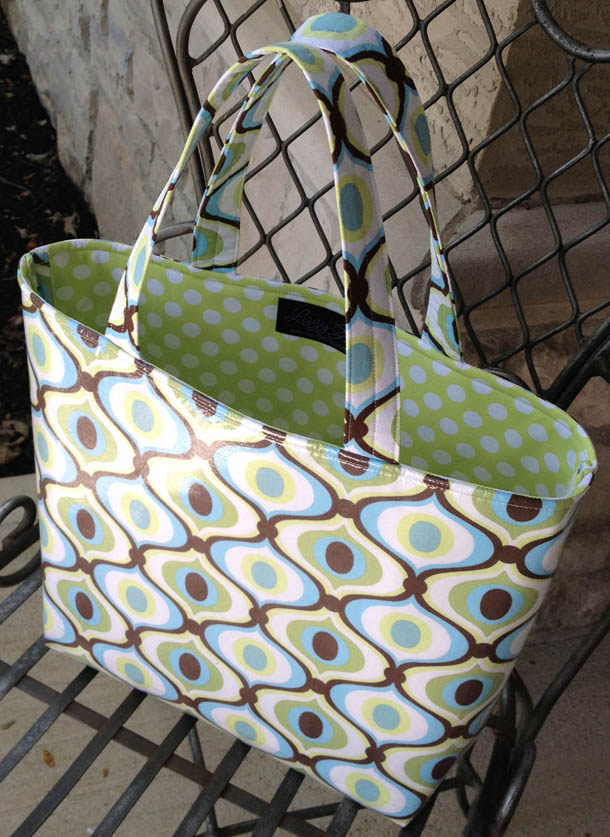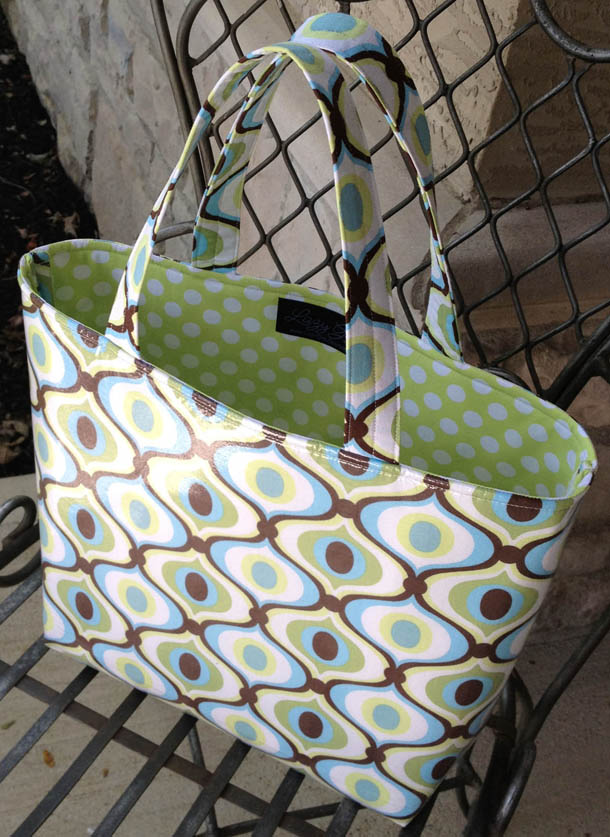 Slicker Tote, outside fabric laminated with Slicker,
Stiff Stuff used in place of fleece or batting for great stand-up-i-tude, dude!
Revolutionary Bolt End Labels
I am so tired of those confusing and non-sensical labels on the bolt ends. You know the ones. They say something like this: 100% polyester, all-purpose, non-woven, medium weight, fusible, I-stopped-listening-five-minutes-ago… Goodness! Just tell me what I need to know. Name, properties, what it will do for my project and how to care for it.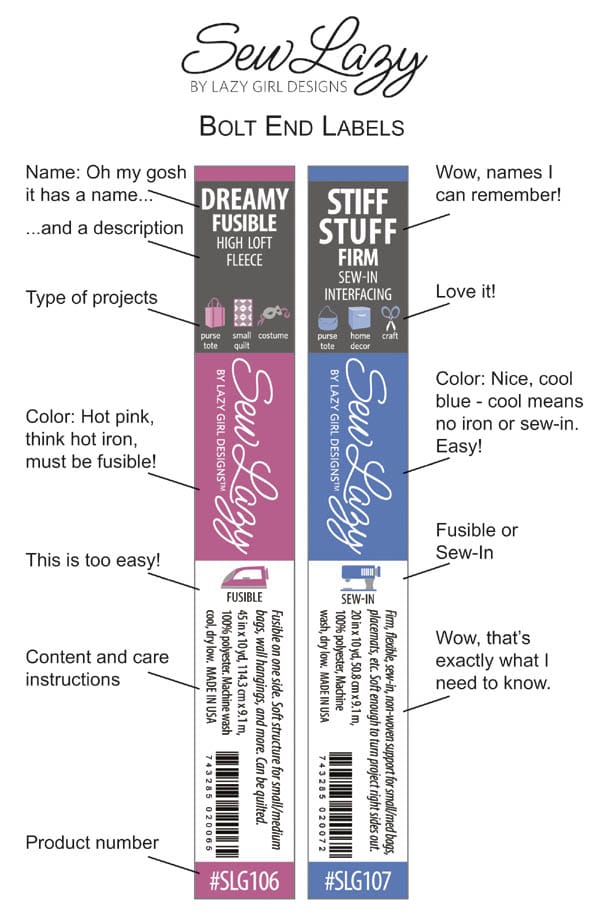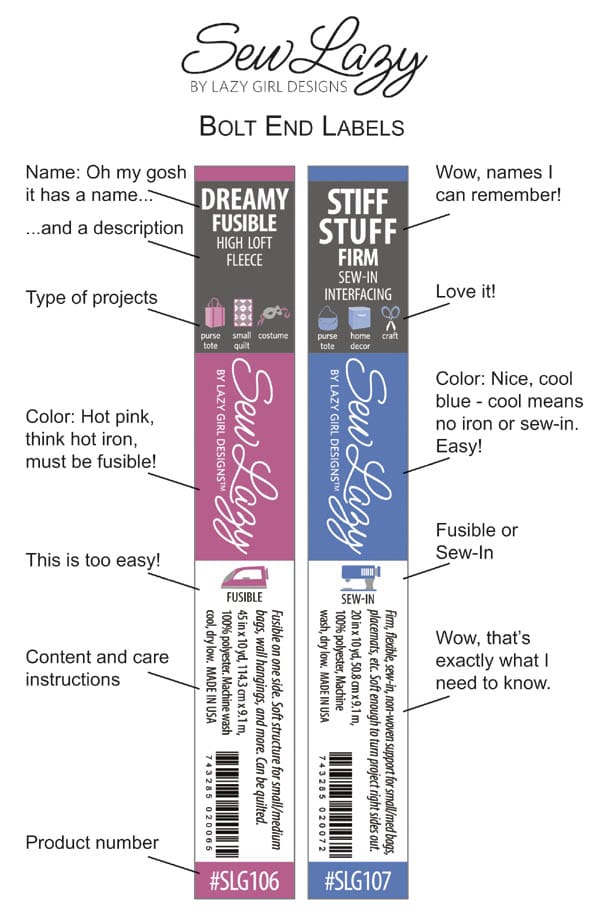 Interleaf Information and Instructions
Yes, those instruction thingies that come wrapped in the bolt have a name – interleaf. All five fusible products come wrapped with the pink interleaf. Hot pink = hot iron, therefore it's fusible. Easy peasy. Both sew-in products are wrapped with the blue linterleaf. Here's a snippet of the fusible interleaf, showing the clear labeling, project icons such as soft purse or apparel, product descriptions and instructions for use. Click to enlarge image.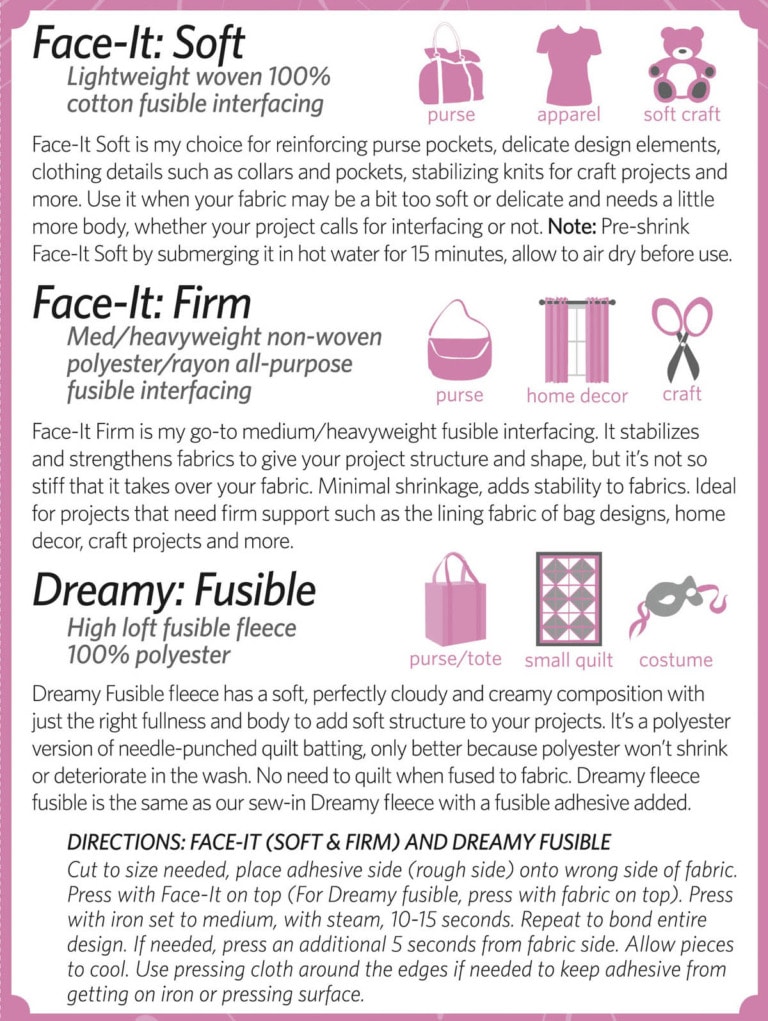 Store Owners – Need to Know Info
Sew Lazy is available through Checker, United Notions, Brewer, EE Schenck, Petersen-Arne, and Quilt Source. Lazy Girl is not stocking or shipping Sew Lazy.
Skinny bolts – put-ups of 10-20 yards instead of 15-35 for other name brand comparables.
All intrefacing is available in packaged project-sized cuts, too.
Where to Buy Sew Lazy
Ask your shop owner if they are/will be stocking it.
That's Pinterest-ing!
Join me on Pinterest here, remember to 'Follow' me there, and pin this post and pics to your Pinterest boards to save this idea.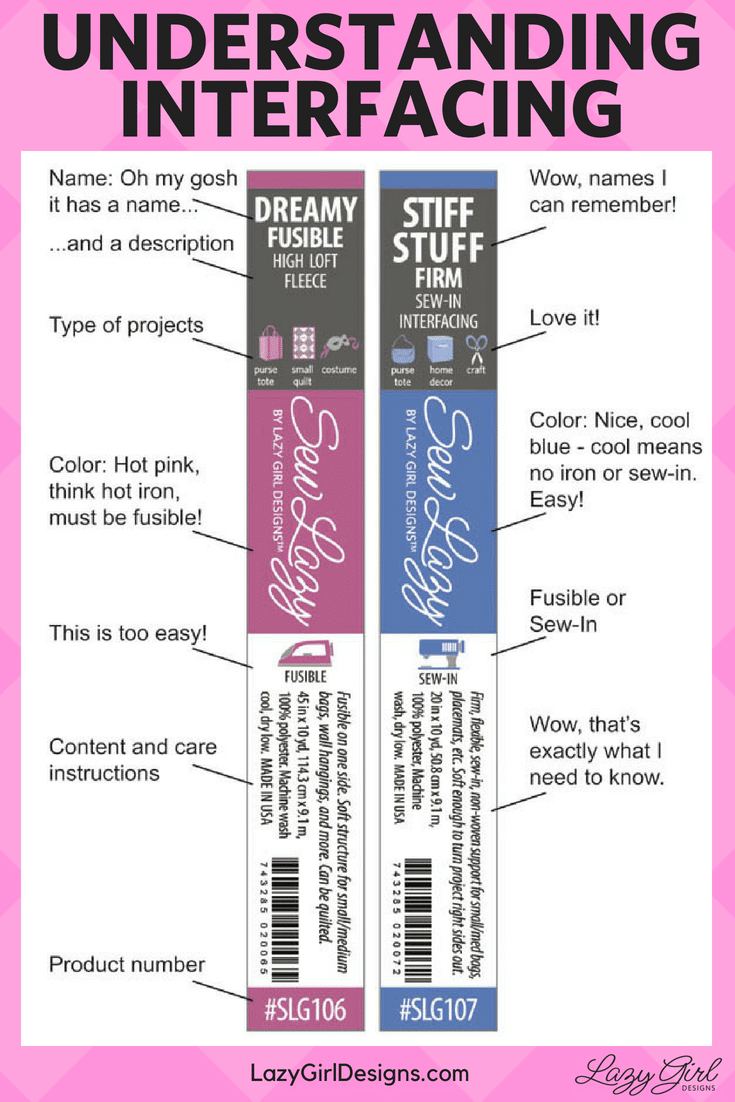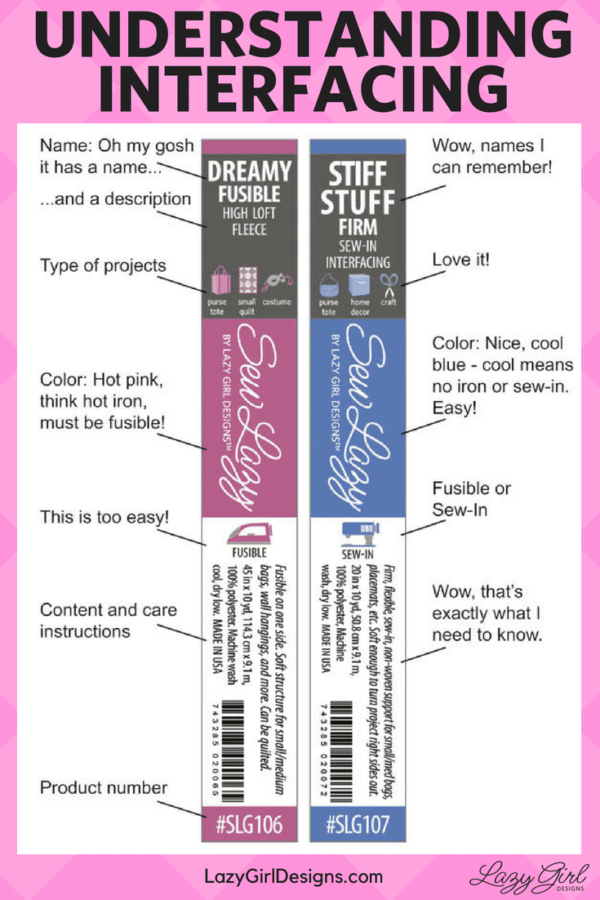 New to our blog? Subscribe to get emails so you don't miss a juicy morsel.
Like and share this post with your stitchy friends.
Join me in the Lazy Girl community on Facebook here: Facebook Lazy Girl
Enjoy!
Joan
Facebook Lazy Girl
Pinterest Joan Hawley
Instagram @JoanHawley
Twitter LazyGirlJoan
Save
Save
Save
Save