The Missing Ingredient in Your Next Recipe!
Lazies, Wouldn't it be nice to have just the right bite-sized pieces of supplies for your next project? Something measured, cut, packaged, and labeled so you know what it is? Just like those meal delivery services that send you a kit of this, that and the other. I'm introducing project-sized cuts of our popular line of interfacing for your next tasty creation. Read on for juicy details and a giveaway!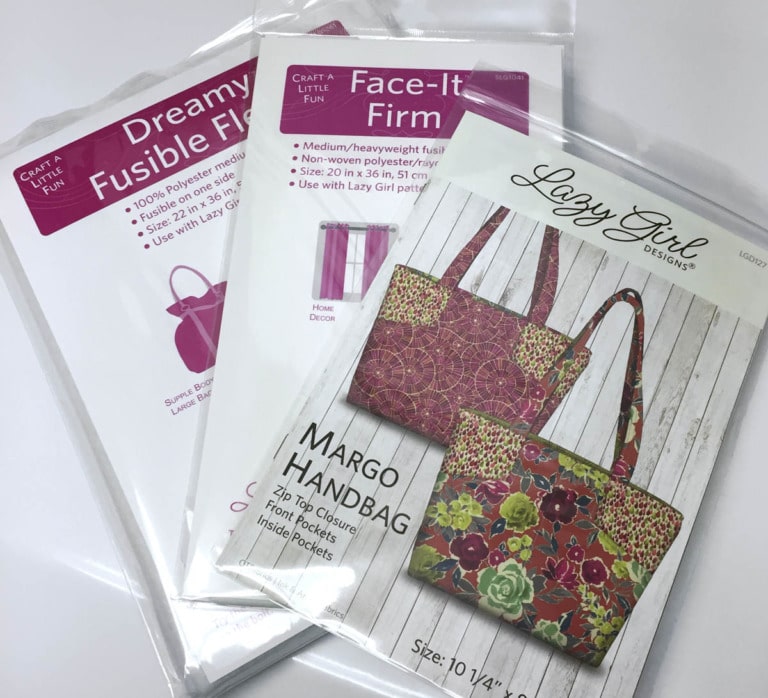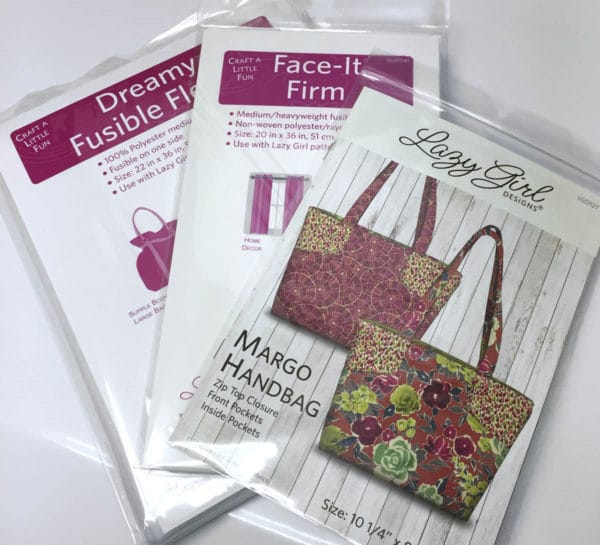 Dreamy Fusible Fleece, Face-It Firm, and Margo Handbag
Project Sized: About Two Fat Quarters
Most of my projects need about a half yard of interfacing or fleece. So each of the project-sized pieces are about a half yard, or two fat quarters' worth of goods.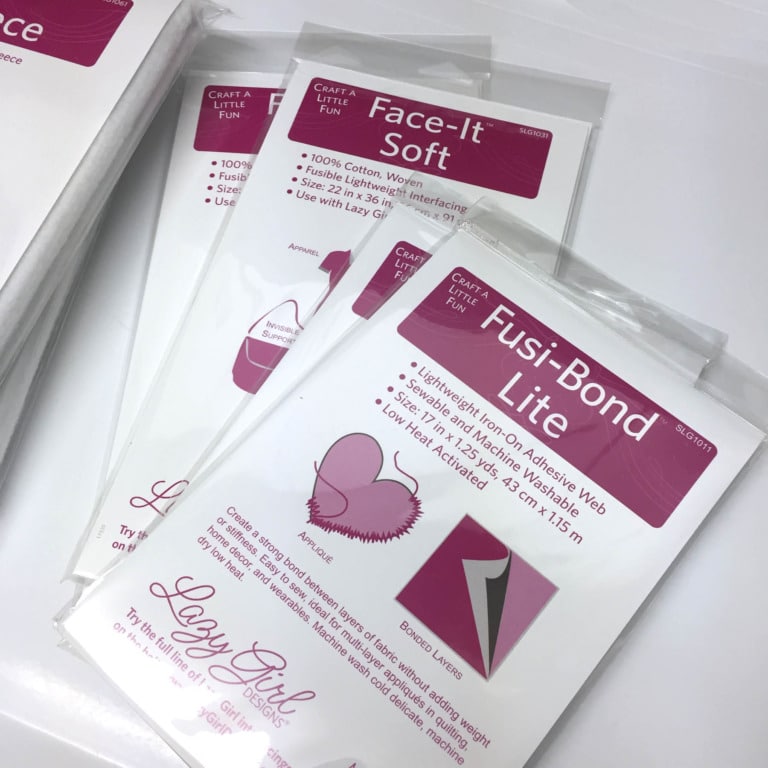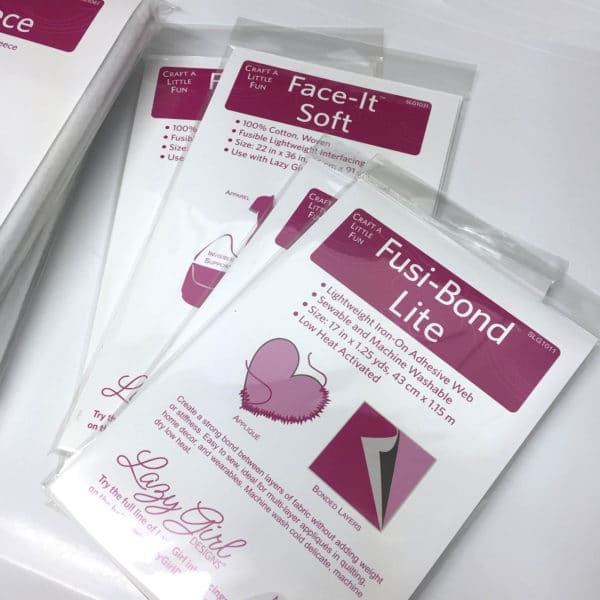 As cute as can be!
Talk To Me
These beauties have the same color coding, graphics and information as our interfacing on the bolt. So you'll know exactly what it is and how it will behave in your project.
Who Is Playing?
Here's who is packaged and ready for you.
Fusi-Bond Lite adhesive web SLG1011
Slicker Iron On Glossy Vinyl SLG1021
Face-It Soft woven lightweight interfacing SLG1031
Face-It Firm non-woven med/heavy interfacing SLG1041
Dreamy Sew-In Fleece SLG1051
Dreamy Fusible Fleece SLG1061
Slicker can be used with the new Glo and Go pattern from ByAnnie item PBA269.
Stiff Stuff will be joining the lineup when we have product back in stock in January. I can't wait!!!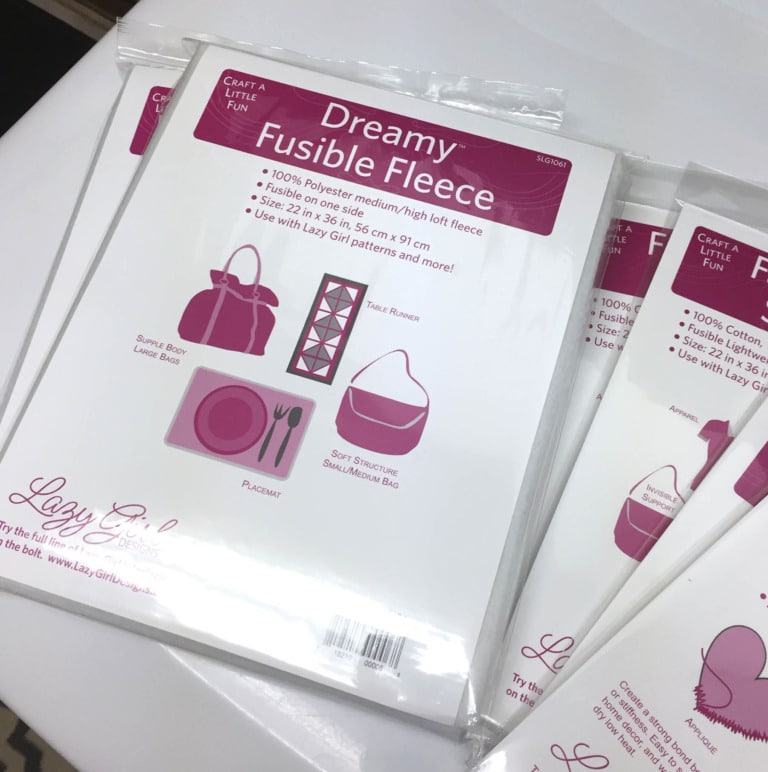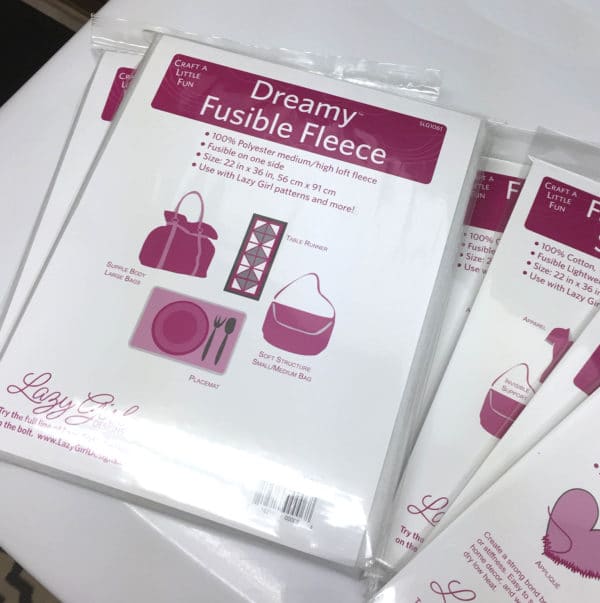 "Dreamy Fusible Fleece embroiders beautifully, it's the best on the market"
– embroidery expert Lisa Shaw of Bubbles Menagerie
Shop Owners
Debuting at Quilt Market next week in Houston, these cuties are pretty enough to display with the good china, so to speak. Stop by Brewer and Checker to see them in person.
Get your interfacing up off the floor, out of the corner, in from the other room, and let it sell itself through its packaging along side patterns, on display shelves, etc. The cuties are kit-ready, too. They've been measured, cut, folded, labeled and packaged, saving you time, staff, and guess work. Product numbers are the bolt item code plus the number '1', as in, I'll take one, please.
SLG1011, SLG1021, etc.
Giveaway
One winner will receive one Margo Handbag kit containing:
– Dreamy Fusible Fleece package
– Face-It Firm package
– Margo Handbag pattern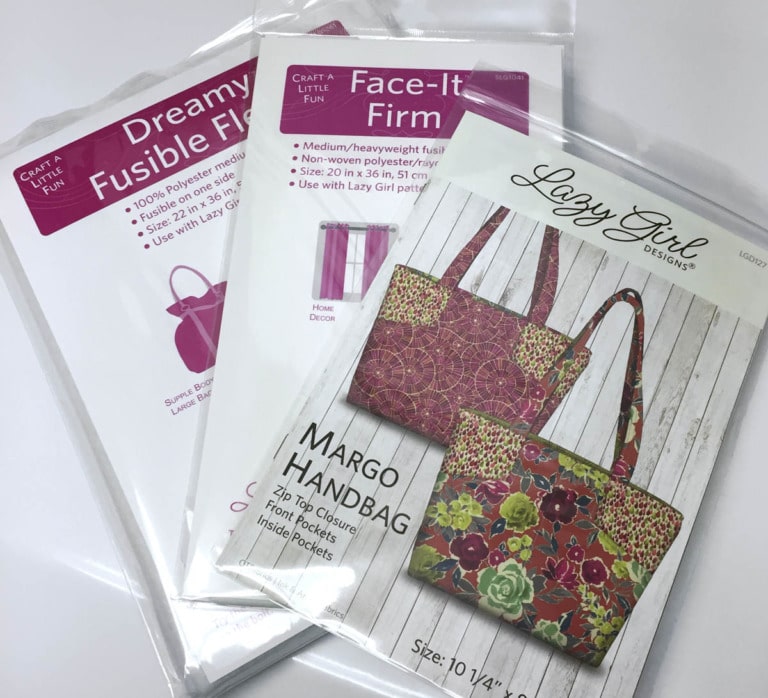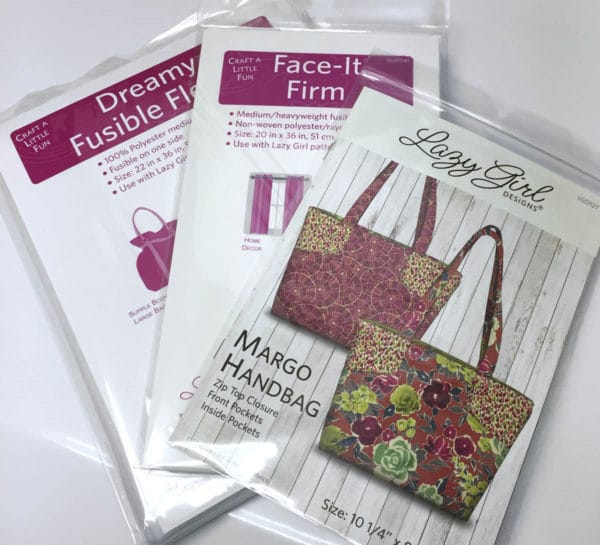 Dreamy, Face-It Firm, Margo Handbag
Enter To Win
– Enter by using Rafflecopter below.
– One winner will be chosen.
– Giveaway ends Wednesday, October 25, 2017.
– I'll contact the winner via email.
Thanks for joining in on the fun!
Remember to Comment: Tell me your favorite Lazy Girl interfacing.
Please like and share this post with your stitchy friends. Join the Lazy Girl community on Facebook here: Facebook Lazy Girl
Enjoy!
Joan
Instagram @JoanHawley
Facebook Lazy Girl
Pinterest Joan Hawley
Twitter LazyGirlJoan