My New Love: Stiff Stuff Firm Sew-In Interfacing
Lazies, Let's talk about our new Sew Lazy brand Stiff Stuff firm sew-in interfacing. Original announcement here. The best way to show you what is so special about Stiff Stuff is to see it in action. So, I've experimented with some video, courtesy of my oh-so-smart iPhone.
First up, used in place of batting or fleece, see what it will do for your next bag project. Here I simply scrunch and smoosh a Claire Handbag repeatedly. This particular bag has already had this done hundreds of times during the Sew Lazy debut last month. Watch how it bounces back on its own. It seems rather like an Olympic routine with a delightful dismount at the end. Ta da!
Stiff Stuff (SLG107, 20″, $5.29 yd)
The new love of my bag-making life. Firm, yet flexible sew-in dense interfacing. Similar to, but softer than Timtex/Peltex. It's forgiving and doesn't hold the fold like those other guys. You can crumple a bag into a ball and it will bounce right back and stand up straight. Use it in place of fleece or batting in a structured bag. Great for table runners and placemats, too. Name: Stiff Stuff = I need some of that stiff stuff to make my bag stand up.
For years now, I've been using fusible fleece (which I still love) to give my bag designs some stand-up-i-tude. Stiff Stuff is an option to use in place of fusible fleece that has more stability. Stiff Stuff is a sew-in product, so it is not ironed or fused to your project fabric. It must be stitched in place.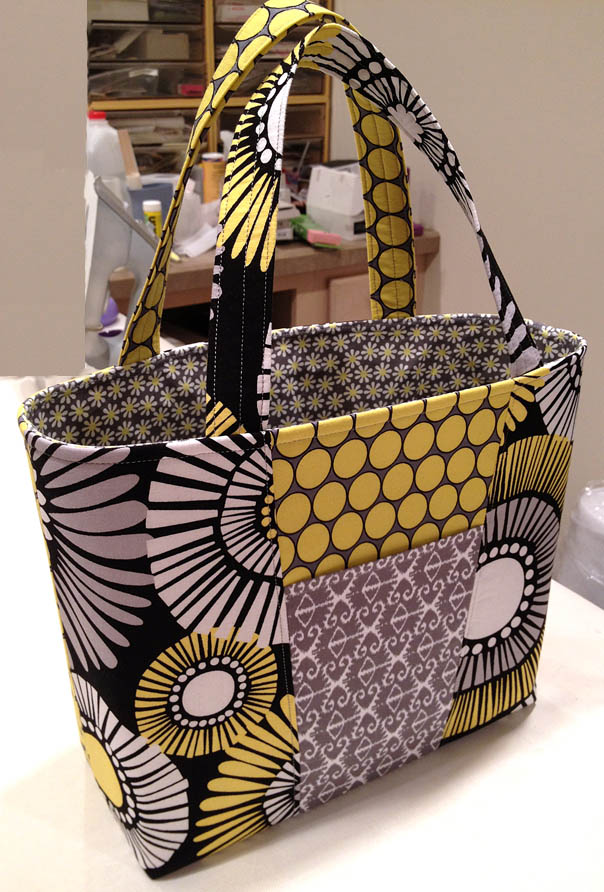 Claire Handbag (LGD125) made with Stiff Stuff in place of fleece.
Until now, there really haven't been many product choices for us between the soft structure of fusible fleece and the unbending structure of products like Timtex, which I feel is far too structured for my designs.
Stiff Stuff is an excellent option for placemats and table runners, too.
Stiff Stuff Properties
Here's a short video showing some of the properties of Stiff Stuff. This is just a small piece of Stiff Stuff cut from the bolt.
– First, I bend a corner, showing its thickness and flexibility.
– Then I hold it on the palm of my had and you can tell that it does have enough stiffness not to fall limp over my hand like other interfacings.
– Next, the big finish! I gather Stiff Stuff and crumple it in my hands and release. It bounces back and can be smoothed flat with my hands. No lasting folds or crunches. Outstanding!
How To Use Stiff Stuff
For all of my bag projects that call for fusible fleece, you can easily substitute Stiff Stuff. Simply cut Stiff Stuff to the size needed and stitch in place around the edges rather than fusing in place.
Here's a view of this Claire Handbag during construction. The fabrics for the front and back of the bag have been pieced and placed atop a piece of Stiff Stuff. Stiff Stuff does not stretch or distort, so it offers a very nice foundation and structure for our fabric projects. Simply smooth your fabric into place, matching edges all around. Then stitch through fabric and Stiff Stuff very close to the edge, perhaps 1/8″, so this stitching ends up in the seam allowance of the finished project. The Claire Handbag does not require any additional quilting. However, there is some topstitching next to the angled pockets, and it is stitched through the fabric and Stiff Stuff, offering more structure and security. Stiff Stuff can be quilted.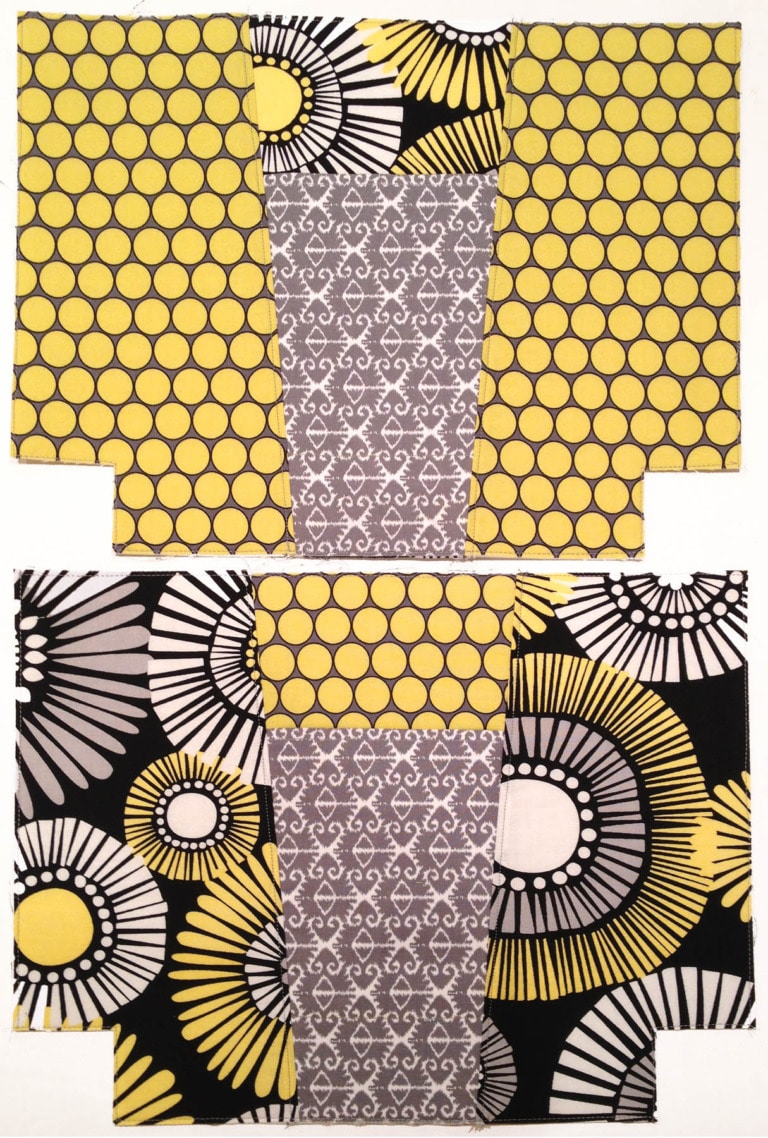 Below is a close-up of stitching around the corner notches, to hold the fabric to the Stiff Stuff during construction. Using Stiff Stuff in place of a fusible is just that easy.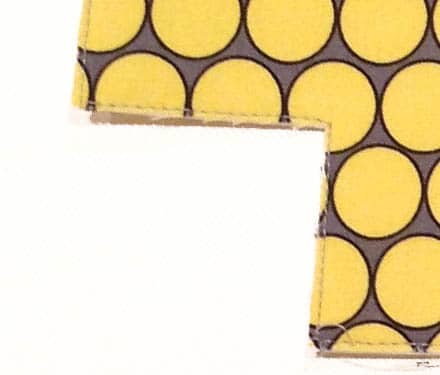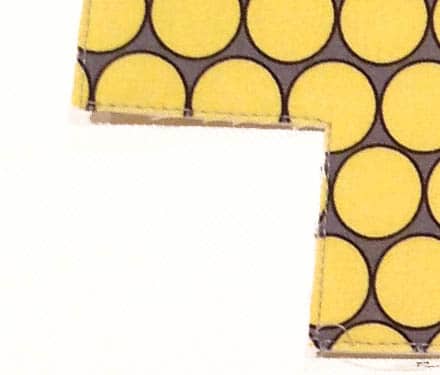 Sew Lazy Interfacing
I introduced Sew Lazy a couple of weeks ago on the blog here: Sew Lazy Interfacing



Click to enlarge bolt end label.
Which Projects to use with Stiff Stuff
Whether the following patterns call for fleece, fusible fleece or batting, you can easily use Stiff Stuff in its place. I am working on a master list of which patterns use which of the Sew Lazy Interfacing products. It's quite a list and I'm working at making it sensible and easy to use. I'll keep you posted. In the meantime, here are my bag designs which I recommend using Stiff Stuff with:
– Margo, Candice, Claire, Whimsy, Newport, Towne, City Bag, Veronica, Gracie.
– For Miranda, Mini Miranda (Use in place of fleece/interfacing for cover only. Continue to use interfacing with lining fabrics.)
Stiff Stuff comes in a 20″ width, rather than the traditional 45″ width called for when fleece or batting is listed in for pattern supplies. As a general rule of thumb, simply buy twice the yardage listed on the pattern, and perhaps add 1/4 yard for safe measure. I'll have more detailed info in coming posts.
Where To Buy
Sew Lazy Interfacing has started shipping to quilt shops. Ask your local quilt shop or online retailer for Sew Lazy.
Sew Thankful has it in stock here.
Quilter's Warehouse has it in stock here.
What do you think? Do you see a noticeable difference in the stand-up-i-tude of the Claire shown in the video? Ready to give it a try?
Enjoy!
Joan