Giveaway: Mini Miranda Pattern and Sew Lazy Interfacing
Lazies, We just went back to print with our Mini Miranda Bag pattern (LGD124) and I'm having a giveaway to celebrate! Mini Mi is a nice sized tote, loaded with pockets and makes a perfect purse, too. Be sure to leave a comment after this blog post to enter our giveaway for Mini Miranda pattern and Sew Lazy supplies.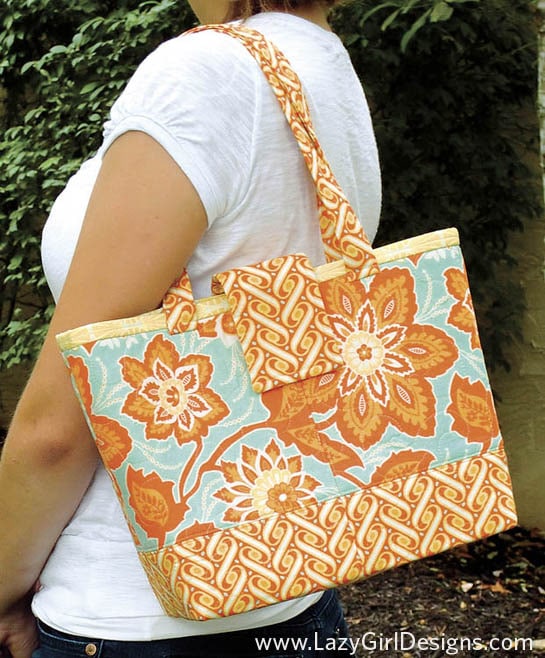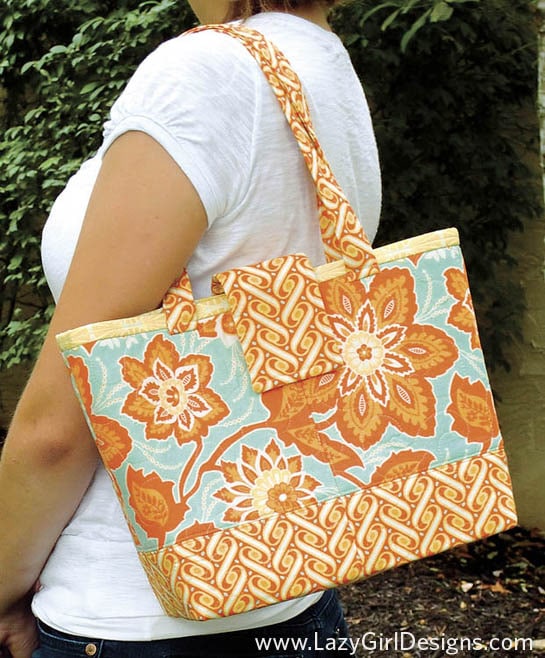 Bag Posture and Construction
Mini Miranda stands up straight and tall with our Sew Lazy Interfacings. Back in September we featured Mini Mi and walked through where and how to use our interfacings for this design. Be sure to catch that blog post here for a quick overview of the construction and materials.
Bag Interior
Here's a peek inside Mini Miranda. She's loaded with pockets to keep you organized. A fabric sleeve conceals our Bag-E-Bottom size F bag support, completing the interior with a beautiful finish for the bottom of the bag.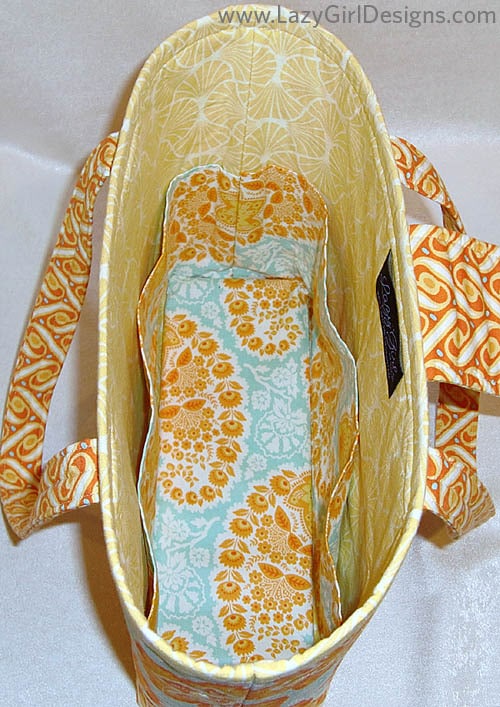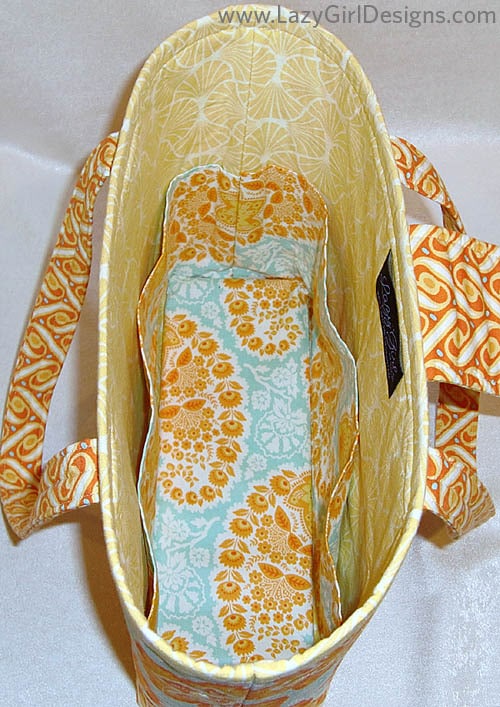 Who's That Girl
Our beautiful cover model is Jessie Skoglund, daughter of my dear Lazy friend Karen. I've mentioned Karen in my blogs from time to time. You might remember she's the one I feared would steal my fabric flower in a recent blog post. This is one of the outtakes from our photo shoot in my side yard.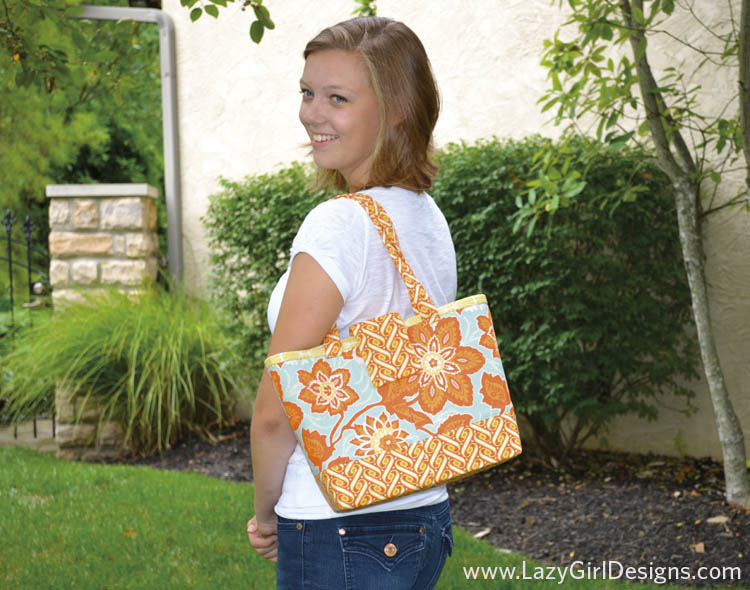 Pattern Cover
Here's the new Mini Miranda cover with Jessie. This is the first time we've shown a person on a pattern cover. I love the updated fresh look and design. Click image of pattern back to enlarge.
Mini Mi's Arrival
It's always exciting when a product arrives at Lazy Girl. Here's a whole palette of Jessie and Mini Miranda. Patterns then get bagged, bundled in dozens for shipping, and find their place amongst the rest of the Girls while they wait to go out to customers.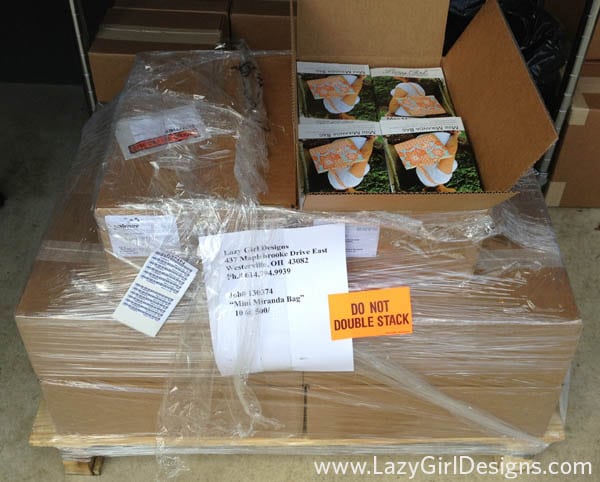 Giveaway
The giveaway includes both Stiff Stuff and Dreamy Fusible Fleece so you can choose which one to use for the batting in this project. I'll select one winner to receive:
– Mini Miranda Bag pattern
– Bag-E-Bottom size F
– 2/3 yd Dreamy Fusible Fleece
– 1 1/2 yd Face-It Firm fusible med/heavy interfacing
– 1 yd Stiff Stuff Firm sew-in interfacing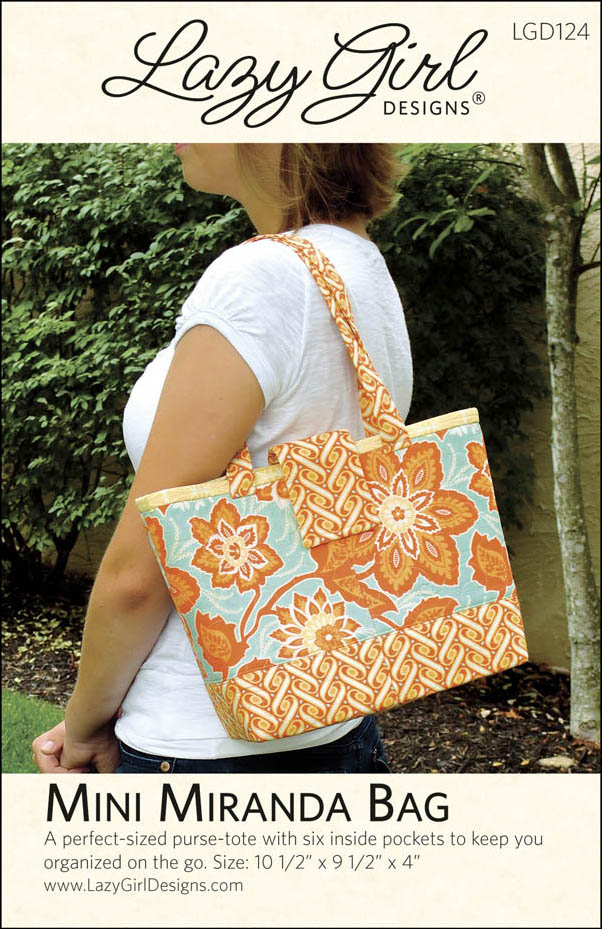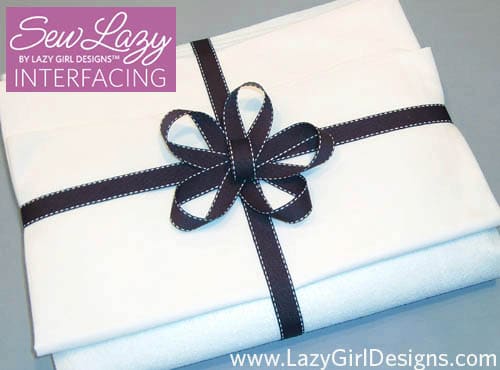 Enter To Win
– Enter by posting a comment below. Tell me – have you made a bag lately?
– One comment per person.
– Be sure you type your email address correctly so I can contact you.
– I'll pick 1 winner using the random number generator.
– Enter by Friday March 22, 2013, 10 pm Eastern time.
– I'll contact winner via email.
If you're new here, subscribe to our blog feed to keep up with the latest in Lazy.
Join the Lazy Fun at Facebook
Thanks for joining in on the fun of the Mini Miranda Bag and Sew Lazy Interfacings. Remember, comment below to enter the giveaway.
Enjoy!
Joan