Make A Simple Valentine And Fill It With Love…Or Chocolate
Lazies, With Valentine's Day right around the corner, here is a simple project that you can customize for a personal and special gift. Make an A-Door-Ables and fill it with notes of love or friendship. Your special Valentine can open a note a day and think of you!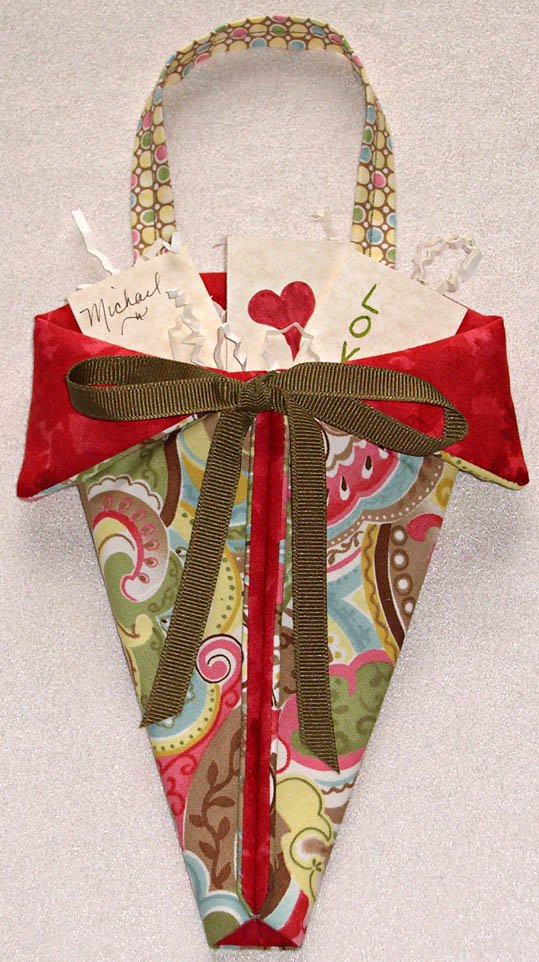 Valentine's Day A-Door-Ables filled with notes of love.
A-Door-Ables
Our A-Door-Ables design (LGD109) is a simple and decorative pocket you can fill and hang anywhere. The pattern includes two sizes. I used the large size and the Posh fabric line by Chez Moi from Moda Fabrics.
A Special Valentine
For Valentine's Day, I filled one of these special pockets with notes of love and special memories for my hubster Michael.Note Cards
To make cards, find some coordinating colored paper and cut it into small rectangles about 2 inches by 3 inches or the size of a business card.
Messages
Write messages of love, kind thoughts, favorite quotes or special memories on the note cards, then fold the cards in half and tuck in the A-Door-Ables. Or type all of your messages and print them onto special paper and cut into cards. Decorate the cards fronts, too. I placed some filler material below the note cards, in the bottom of the A-Door-Ables.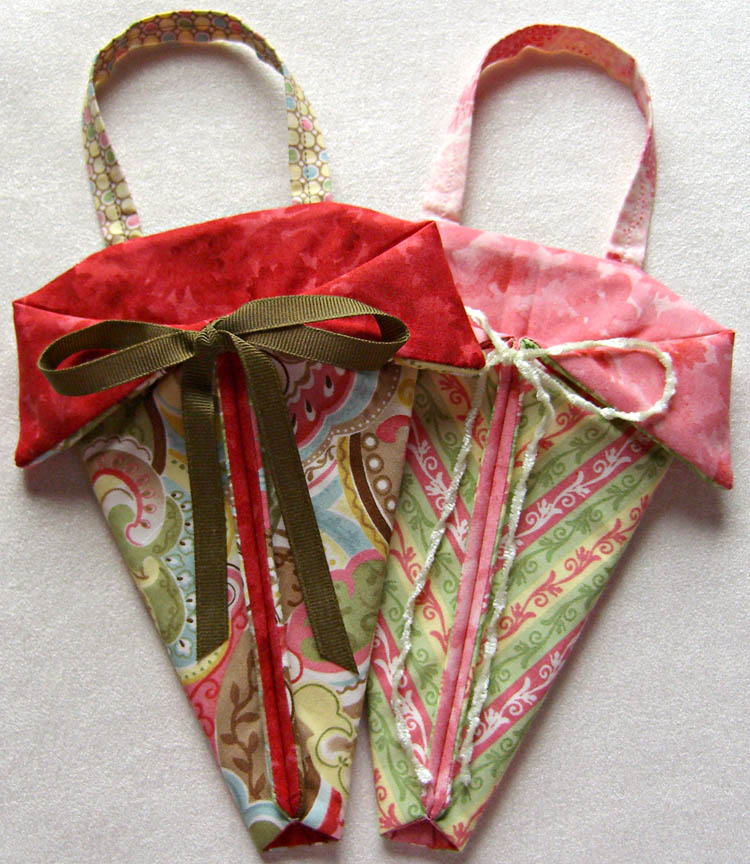 Make them for friends. Click image to enlarge.
Where To Hang
Hang an A-Door-Ables on a door knob, drawer pull or anywhere you like. You can even thumbtack it to a bulletin board.
Hang from the nightstand for a great place to hold your eye glasses overnight. Place near the door for your keys.
Yes, the A-Door-Ables is open at the bottom. And you can stitch it closed, stuff a little stuffing in there to clog the hole, or leave it as is depending on how you choose to use it.
Ideas For Fillers
– Individually wrapped chocolate or other candies.
– Wrap some chocolates in cellophane, tie with a ribbon.
– Love notes.
– Fill with scented potpourri and stitch closed for a sachet.
– Fill with treats for a pet lover.
Fabrics And Supplies
You'll need a small amount of fabric and some goodies for decorations. I used three coordinating fabrics for each A-Door-Ables and a little ribbon or yarn. Grab a couple of fat quarters of fabric and you'll have enough to sew up a handful of these versatile favorites.
Make Your Own
My project is from a simple concept that can be adapted to lots of hand crafted items. Grab some wonderful fabrics, make a special something, put some love notes in it, give it to your honey. If you want to make this project, our A-Door-Ables pattern (LGD109) is available at local quilt shops or online retailers. Check our store guide for lots of options.
What are you making for Valentine's Day? Post a comment and share your ideas with me and the rest of our readers.
Enjoy!
Joan
[tags]valentine's day, gifts, sewing[/tags]