Small Sewing Projects Offer Opportunities To Try New Techniques
Lazies, I've been dying to play with the new smocking products from Clover Needlecraft. Small sewing projects, such as the Wonder Wallet, can be a great way to test out a new technique. I decided to showcase a little smocking on the cover of this Wonder Wallet.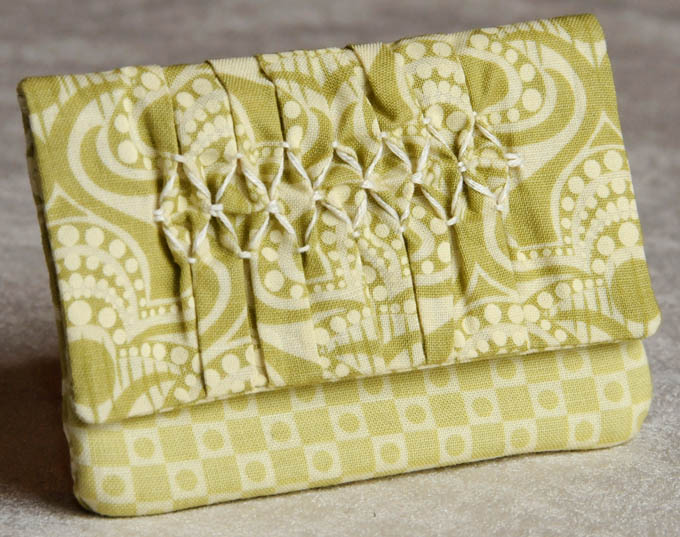 Wonder Wallet with smocking detail on cover.
Fabrics are City Girl by Benartex.
Clover Smocking Products
I talked about the new smocking products from Clover Needlecraft in a recent blog post here.
Getting Started
I loved this yummy green fabric and I paired it with the Diamond Design smocking product. I used four of the six strands of embroidery floss, in a luscious cream color to coordinate with the fabric. I used one of the Clover needles and their new needle threader for this project.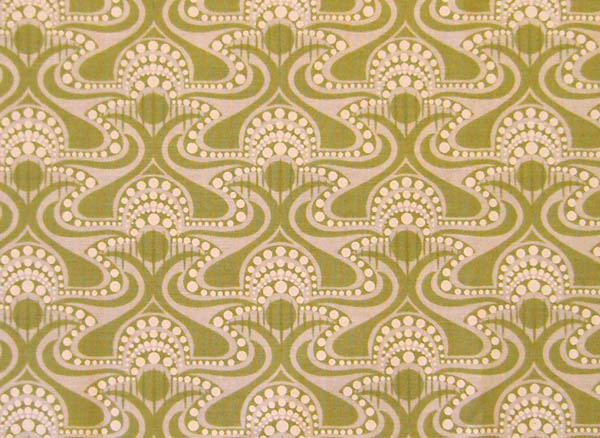 Here is the fabric before smocking.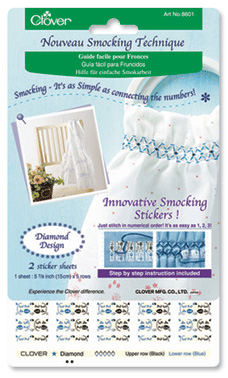 Diamond Design smocking product
from Clover Needlecraft.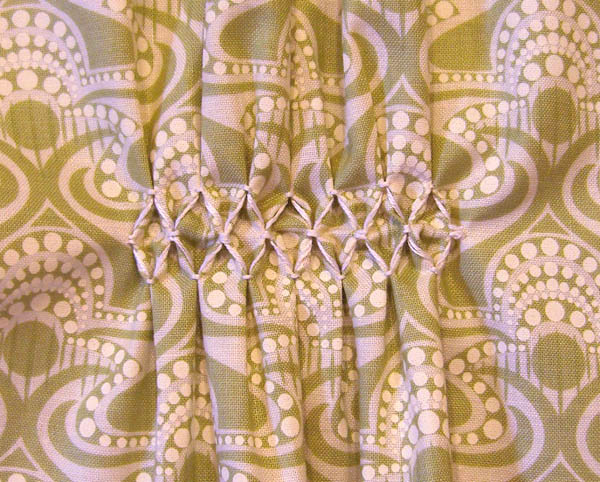 Here is the fabric after smocking.
Pleat Management
I needed to trim around the smocking detail in order to incorporate it into my Wonder Wallet project. Due to the gathered fabric at the center of this piece, the fabric did not lie flat. So I arranged the pleats a bit, pinned the corners to my ironing board to hold everything in place, then pressed the whole thing every so lightly with a hot iron.
Tape Instead of Pins
It's hard to tell in the photo below, but I put a piece of clear tape above and below the smocking. I used the tape to help keep things manageable while sewing along the cut edges. Click on the photo to enlarge and see the tape. I left the tape in place while I sewed this into to cover piece of the wallet. As an alternative, you could also turn under the edges and topstitch the smocked detail onto a finished item.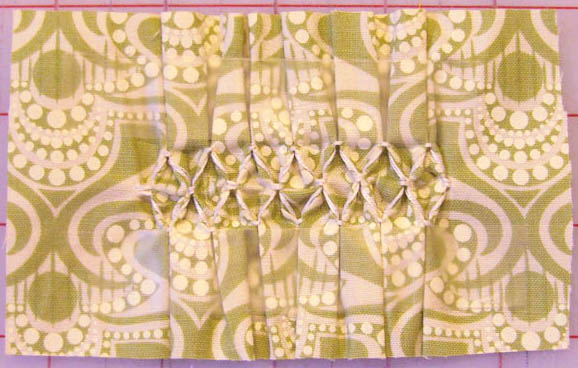 Smocked detail trimmed for Wonder Wallet project.
Final Thoughts
I like how this project turned out. I smocked a small piece of fabric, then incorporated it into the rest of the project. I found the smocking product easy to use and I'll look for ways to use it again in my designs.
What do you think? Have you tried smocking or the new Clover smocking products? Do you think there is a place in your sewing repertoire for a little smocking? Post a comment and tell me about it.
Enjoy!
Joan
[tags]smocking, Clover Needlecraft, fabric wallet, sewing pattern[/tags]