Simple Sewing Alterations You Can Make On Any Bag Project
Lazies, Tracy Chapman, owner of Sew Thankful, had a great time creating this Miranda Day Bag for herself. Tracy made two versatile alterations to her Miranda that I want to share with you today.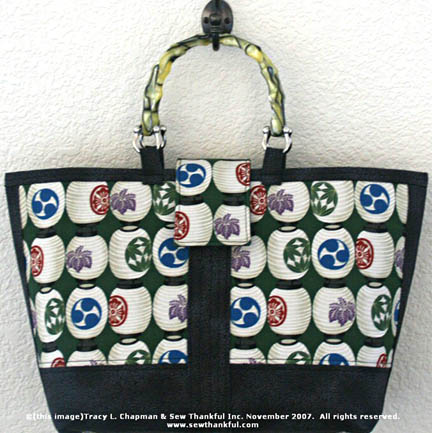 Miranda Day Bag pattern from Lazy Girl Designs (LGD123).
Alteration: Applique Instead of Piecing After The Fact
The first alteration Tracy made was the vertical black strip at the center of the bag in the picture above. Tracy simply appliqued strips of fabric over the vertical seams on the center of the front and back covers of the bag. I love Tracy's creative addition to make the bag exactly what she wanted.
Applique doesn't always have to mean adding a flower or other design. This appliqued rectangular element fits beautifully with the theme of Miranda.
Benefit: Don't Unsew, Re-do, or Start Over
The beauty of this alteration is that Tracy added these strips after all the piecing and quilting was done. If Tracy wanted to insert the strips in the seams, or otherwise change the appearance of the project at this point, she would have had to unsew, redo or start over.
Adding strips on top of the already sewn cover allowed Tracy to customize her project and move forward without losing any of the work she had already done.
Benefit: Fortification
These appliqued strips also add more strength and stand-up-itude to an already posture-pretty design. In this case, adding fabric on top of the design adds to the design.
Alteration: Piecing Fabrics To Get What You Want
Tracy wanted a black fabric for the faux binding around the top edge of Miranda. This same piece of fabric becomes the lining of the bag as well. Tracy didn't want a dark interior, so she craftily pieced two fabrics to achieve her goals for this bag.

Inside view of Tracy's Miranda Day Bag.
Here's a peak at the interior of Tracy's Miranda. You can see the black fabric around the top, and then a brighter fabric to liven things up, which works its way behind the inside pockets.
Using dark fabrics for the lining of your bag can make the bag dark inside, making it harder to find your things. Miranda is a large, open bag, so a dark lining here won't create a vast black hole at the bottom of the bag like it might on a small purse. Remember, you can always brighten things up with your choices for pockets.
Benefit: Create The Perfect Fabric
Most of my designs do not include piecing fabrics. I rely on one fabric to get a job done within a design. In this case, the lining fabric has two jobs – the lining inside the bag and the faux binding around the outside top edge of the bag.
Tracy wanted different fabrics for each of these two jobs, so she pieced fabrics to get what she wanted.
Benefit: Make A Little Fabric Go A Long Way
This alteration is a great way to stretch your fabric if you are running short. If you only have one fat quarter of fabric and want to use it for the lining, simply split your valuable fat quarter to use for the top edge of the lining pieces and use another piece of fabric to make up for the rest of the fabric requirements.
So, where to piece or put the seam – close to the top, the bottom or somewhere in between? If you piece your lining fabric for this purpose, I recommend a minimum of the first six inches for the top part of the lining pieces. That will ensure that your pieced seam will be down inside your bag and away from the wear and tear toward the opening of the bag.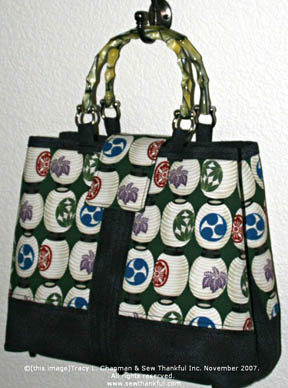 Another view of Tracy's Miranda.
Tracy has two wonderful blog entries regarding her experiences with Miranda. The first talks about making the bag. Tracy added purse feet, Clover fashion handles, and swivel clips to cinch the sides at the top.
In the second blog post, Tracy declared Miranda the top bag pattern for 2007 – that tickled me to no end. Thanks Tracy!
Be sure to sign-up for Tracy's newsletter – it's wonderful. She always has a great combination of news, special offers, product notes and a pleasant message for her fans.
Thanks Tracy for sharing your Miranda project with us.
What do you think of these simple alterations? Have you used techniques like these? Leave a comment and tell us about it.
New to our blog? Subscribe to get emails so you don't miss a juicy morsel.
Like and share this post with your stitchy friends.
Join me in the Lazy Girl community on Facebook here: Facebook Lazy Girl
Enjoy!
Joan
Facebook Lazy Girl
Pinterest Joan Hawley
Pinterest Lazy Girl Community
Instagram @JoanHawley
Twitter LazyGirlJoan
Images courtesy of Tracy Chapman of Sew Thankful.